"It's all in the amount of seasonings added," says Roy, who has been making salami at home for the past 40 years and organised the first Griffith salami festival in the year 2000 with the late Tony Fattore.
"I am always asked about the best recipe, but everyone who makes salami has their own version and uses different amounts of seasoning and ingredients," he says.
Some add more salt, others add a touch of fennel, an extra dash of pepper and now a little chilli is a popular additive, along with the pork mince and fat.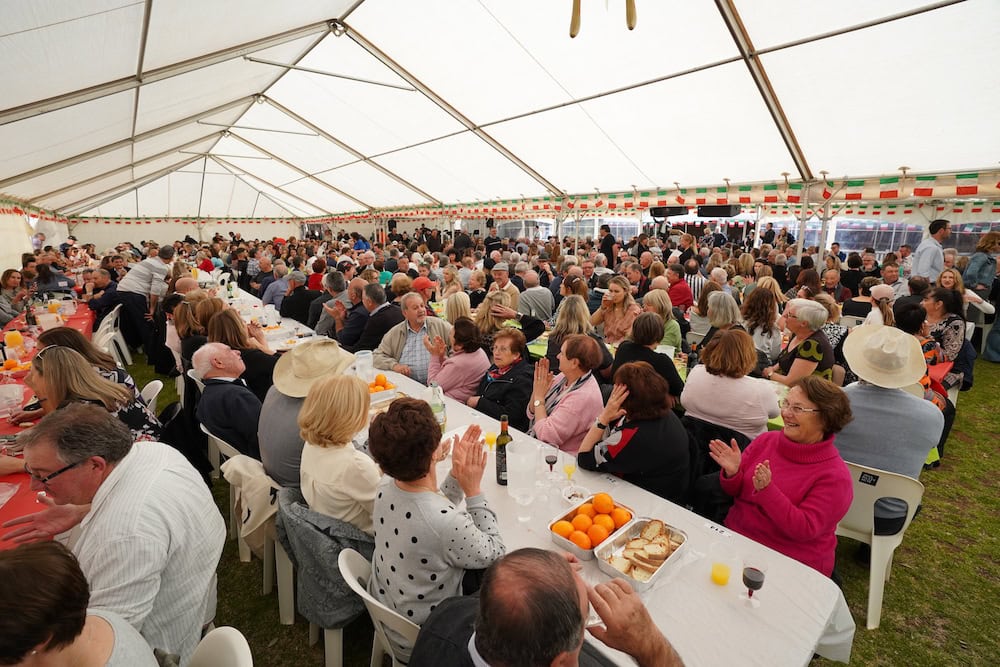 Many salami recipes have been handed down from generation to generation – often originating in Italy – and are a closely guarded secret.
Then there are the new world recipes from younger salami makers who want to preserve the tradition. "Salami making is a great activity for family and friends to do over a weekend and it brings people together," says Roy.
A festival from a meaty wager
The Festa Delle Salsicce – the Festival of the Sausage – is held in Griffith on the last Sunday of August. This year's events saw a record number of salami entries from around the country, all vying for the honour of best salami.
"We had entries from Western Australia, South Australia, Queensland, New South Wales and Victoria," says Roy. "Some arrived in the post while others were couriered or hand delivered for judging."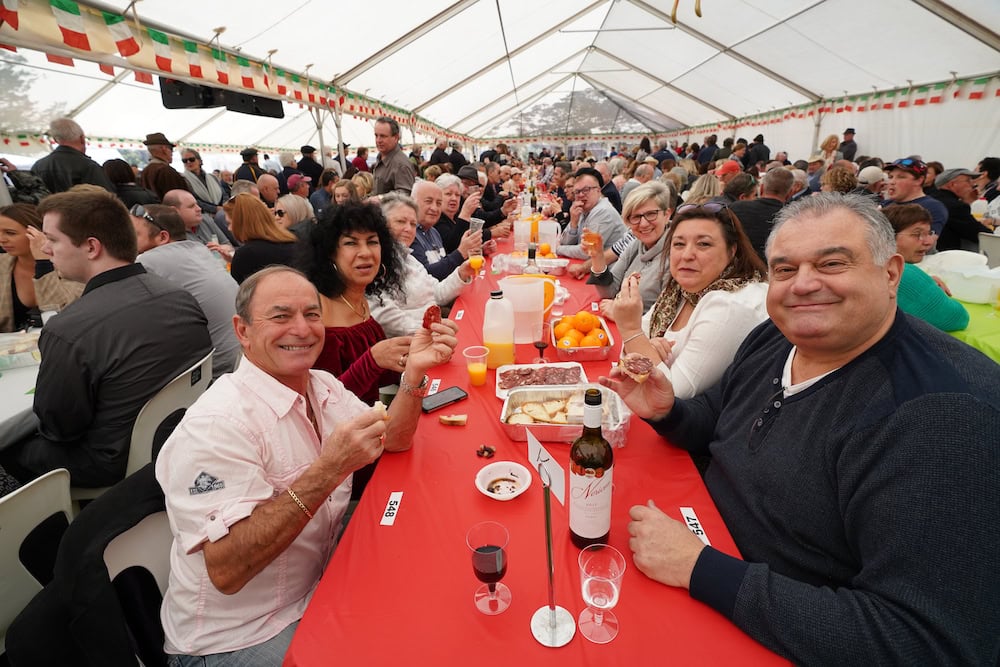 The inaugural festival stemmed from a friendly rivalry between Roy and Tony about who could make the best salami – northern or southern Italians.
"It started with a simple bet between two friends about who makes the better salami," says Roy. "My family is from Calabria and the Fattores are from Abruzzi. I won the bet that first year because the winner – Giuseppe Trimboli – was from the south," says Roy, who has organised every festival held since.
A hotly contested event
Roy says the festival is about all things Italian with the salami judging taking place on the Saturday morning at the Yoogali Club with the winners announced at the Sunday long lunch.
"This year we had 24 judges and to be fair to all, we gathered them from different backgrounds – some with heritage from southern Italy, central Italy, northern Italy, Calabria, Sicily, Australia and some celebrity judges and foodies," says Roy. "It's a hotly contested competition, believe me."
Six judges of mixed heritage are seated at each table and nibble at the finely sliced salami, recording their scores.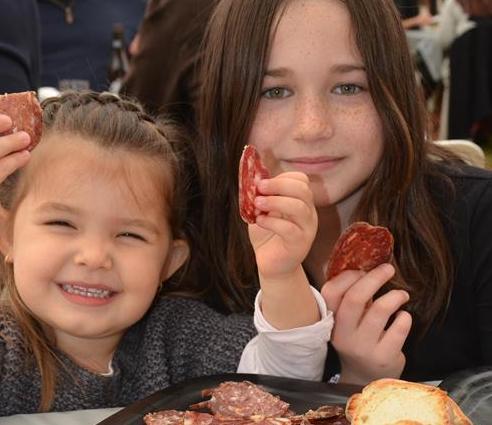 "We had about 13 salamis the first year and now we have up to 150 entries and a wait list of 250 people to attend the festival which was capped at 1,000 this year," Roy says.
Each salami is awarded a score out of 30 with points for texture, aroma and taste and then the scores are entered into a computer.
The top 20 salamis are taste tested again and the scores re-entered with the top three taking out the prize and prestige. The best salami receives $2,000, the second $1,000 and it's $500 for third place.
The winning salami is auctioned on the Sunday with money raised going to a local charity and a perpetual trophy awarded to the salami maker.
"We often get it up to $9,000 so it's a great way to raise money, and everyone has a fun time at the long lunch," Roy says.
Not giving away too many secrets about his prized family recipe, Roy believes the salt content makes a difference when it comes to a good salami, and it can vary from between 1.5 per cent to three per cent of the contents, and then there is also the fat.
"Northern Italians often fancy more fat while southern Italians go for less," he says.
According to some salami makers it's important no air gets in the sausage skin when it is being filled and it is hung from between six to eight weeks in a cool, well-ventilated space.
"We have entries that probably haven't been hung for as long, but they're still tasty," Roy says.
Bringing people together with salami
Although the festival was put on hold over the past couple of years, Roy says up until then there was renewed interest by a younger generation in salami making.
"We noticed there was a resurgence in salami making, and many people we spoke to said they were keen to start a tradition with family and friends coming together," he says.
The Sunday festival held in Griffith's Pioneer Park also includes traditional folk music, tasty Italian treats, entertainment and a long lunch to celebrate the end of the salami making season.
Roy, who retired from his role as manager of the Griffith Medicare office in 2007, is also co-founder of the Griffith Italian Museum and the Griffith Calabrian Community Committee which over the years have raised more than $100,000 for those needing help.
According to Tourism NSW, his salami festival has also generated more than $2 million for the Griffith economy over the years, and he was presented the Local Hero award at the 2019 Australia Day ceremony in Griffith.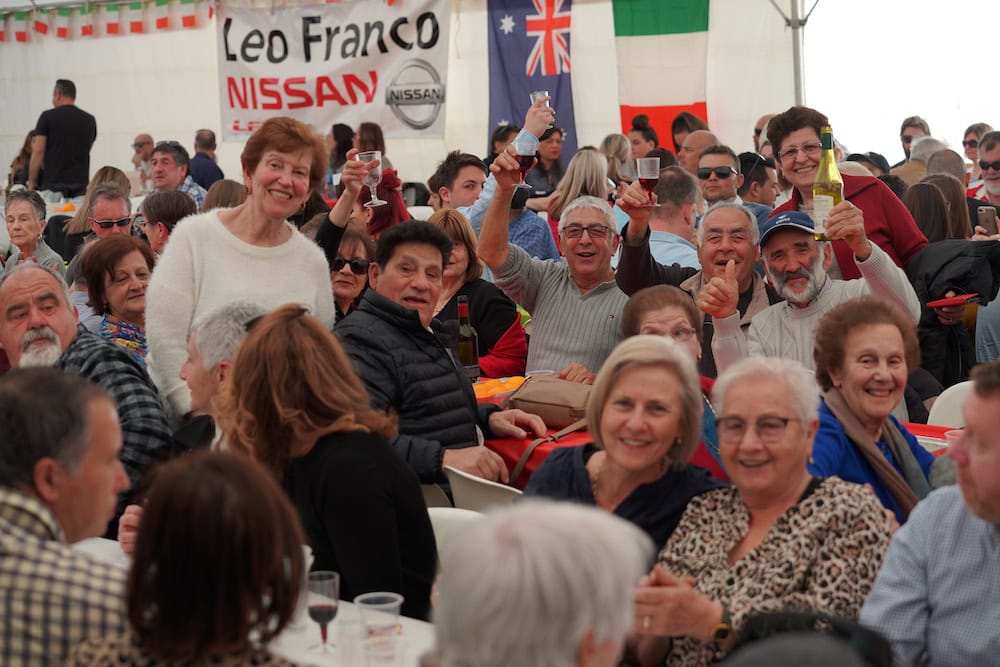 Roy says he has always enjoyed his involvement in the festival, and it was great to see people enjoying themselves again, especially after a tough few years.
Italian heritage is strong in Griffith, with more than 60 per cent of the population claiming Italian ancestry, so there are lots of salami lovers.
It's all about meat selection, mincing, mixing, filling, curing and savouring the final result, having fun and enjoying being with family and friends.
Roy's advice for next year's Festa Delle Salsicce is to book well ahead and brush up on your salami making and hanging methods.
If you enjoyed this feature, you might like our story on mobile butchers.