Whether it be an Italian Bolognese, Thai curry or Chinese stir-fry, you are guaranteed to find inside a humble garlic clove (or five) packing a flavourful punch. Given our unique melting pot of cultures, it's no wonder Australian garlic is so popular – it's been estimated that we consume 13,000 tonnes every year.
But our love of garlic far outstrips what we grow domestically, and consumer expectations that it should be available year-round means that at least 80 per cent of garlic sold in Australia is imported, overwhelmingly from China.
In fact, after tariffs were removed in the mid-1990s, the local garlic industry was all but destroyed by cheap imports, retailing for as low as $2 a kilogram – five times less than Australian garlic at the time. The industry collapsed, and it's taken decades for it to recover.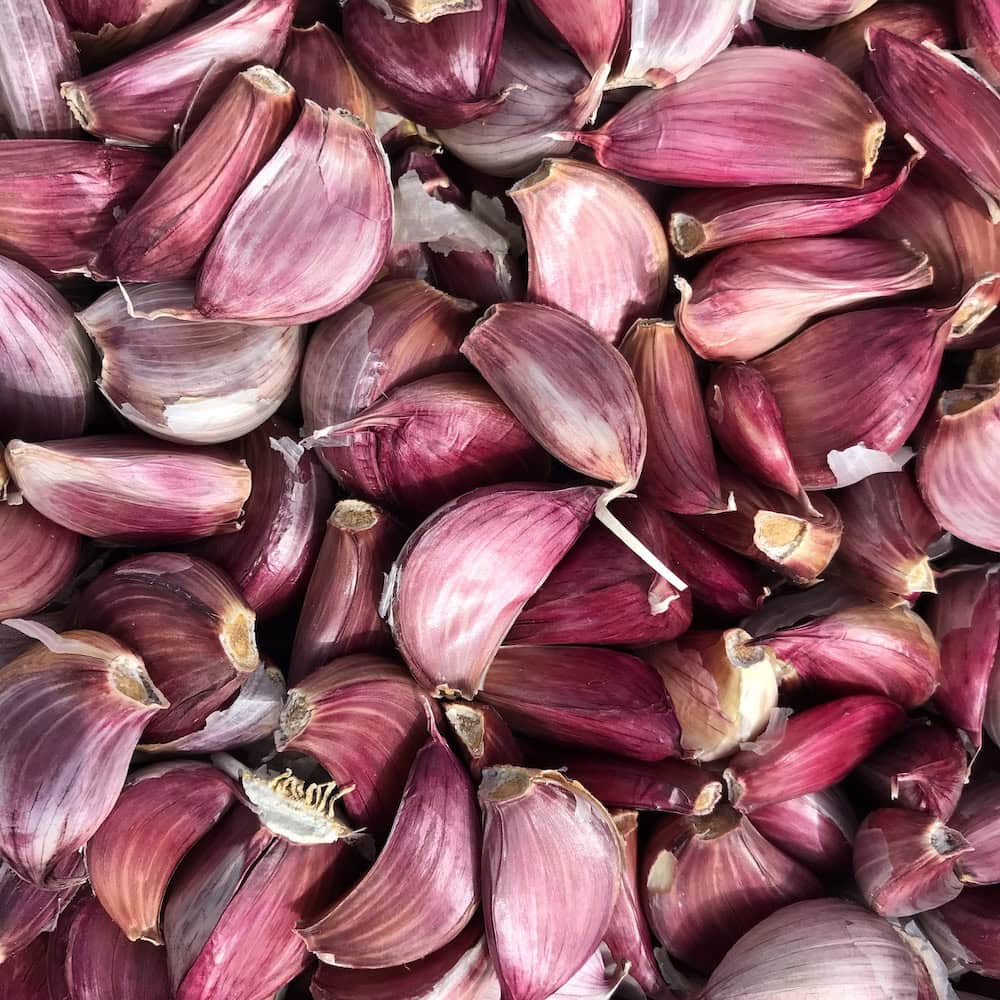 Quality over quantity
"The tricky thing for the garlic industry is still the cost of imported garlic," says Thomas Christie, owner of Four Acre Farm, near the town of Dungog in the Hunter Valley. "So it depends on what customers are after, and if they're prepared to pay a bit more for something that's locally grown and ethically produced."
Garlic is the biggest crop on Thomas' farm, and along with his wife is producing roughly 10,000 heads of garlic per year across two varieties – Southern Glen and Italian Purple. Like many small-scale growers, Thomas mostly sells direct-to-consumer through farmer's markets and online.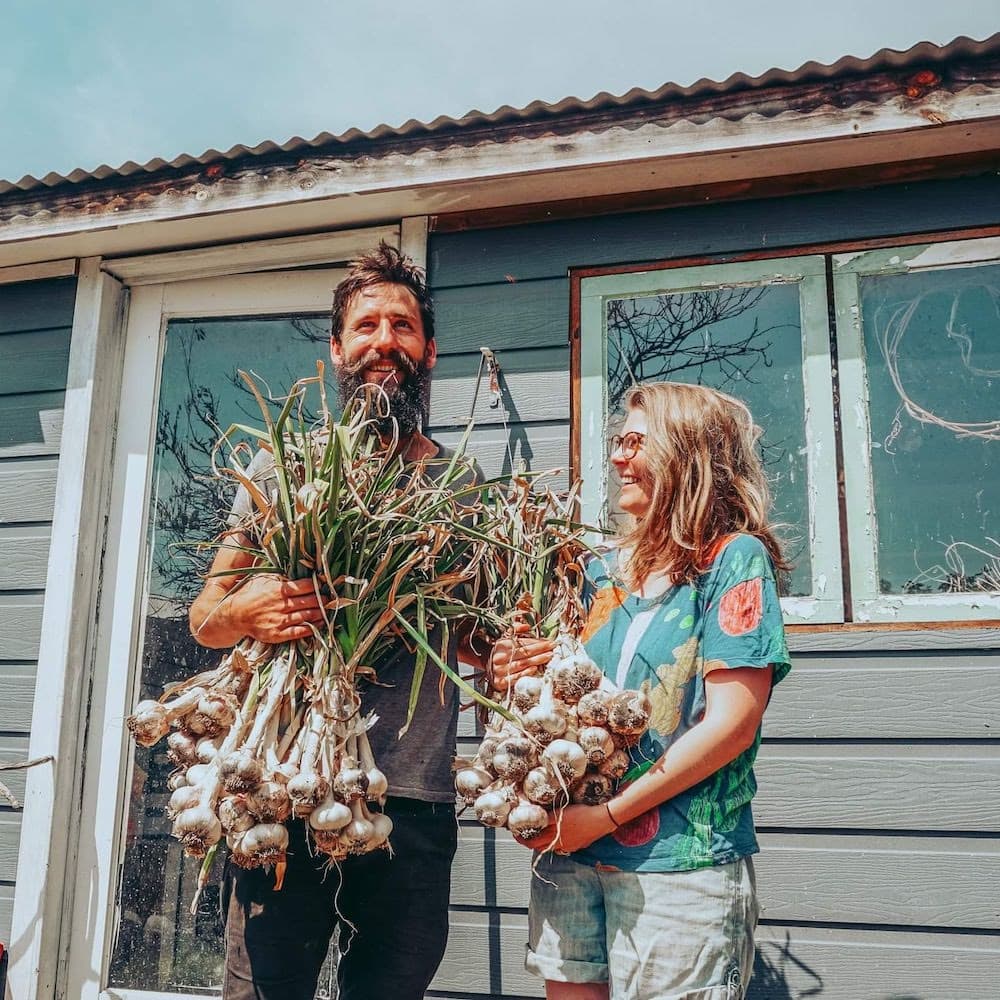 "While people are interested in the organic growing process, the comments I get from customers the most are about the taste and flavour, and saying how much they enjoy it compared to other garlic," confirms Thomas. "People says it's not only stronger, but the taste is more complex, and each variety will change in different ways as you cook it."

The Australian Garlic Producers group reports that China uses a range of chemicals on its garlic that are banned in Australia, and often bleach the bulbs to ensure a spotless white colour, reducing the garlic's flavour and intensity. This means the average Australian shopper likely doesn't know just how great garlic can taste.
"There's always been a demand for either organic or chemically-free garlic, or garlic from smaller growers such as myself for the restaurant and café trade, and the farmer's market trade," explains Dougal Munro, owner of Boutique Garlic.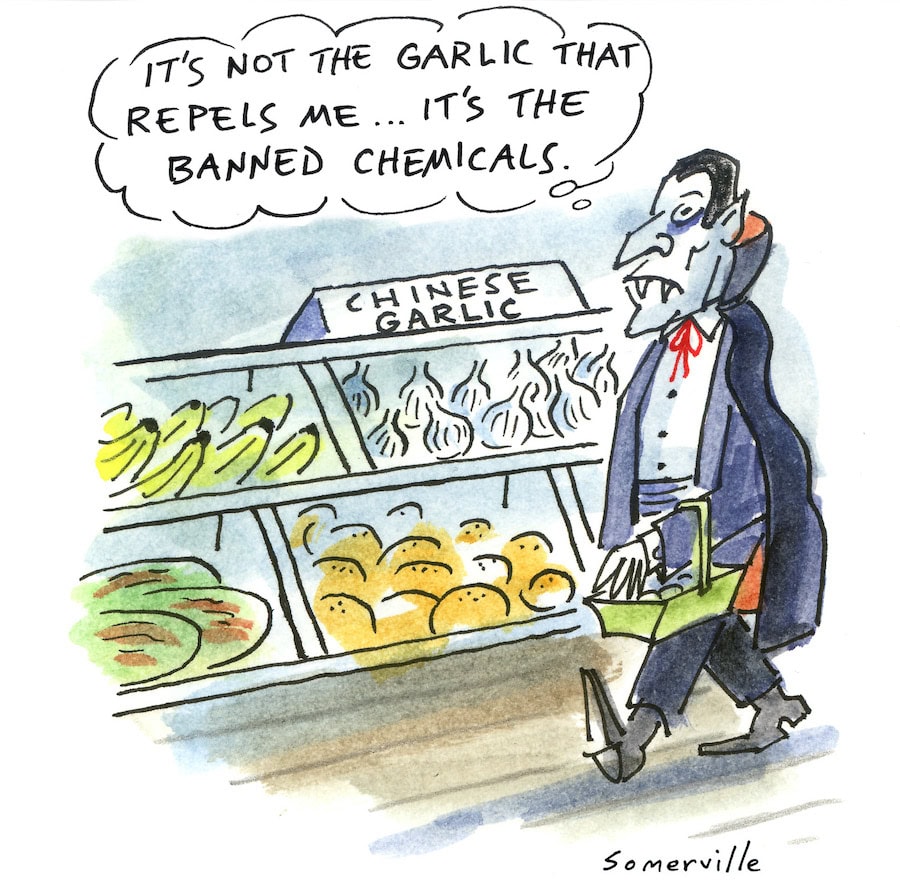 Dougal began growing garlic 10 years ago on his family's farm in Springside just outside of Orange. He grows 39 varieties at last count, and produces 40-50 tonnes of garlic annually when the farm is working at full scale. In recent years, a lack of water has meant planting a full crop hasn't made sense, and the COVID-19 pandemic has brought its own challenges.
"For smaller operators our usual customer base, like cafes, haven't been open or operating, because they're basically in survival mode," says Dougal. "But it's quite a versatile crop and people are only just starting to realize that. People are processing their own garlic products, pre-packaged or preserved, like minced garlic in a jar, right through to people making black garlic. I am looking into value-added products as well, with some chef friends of mine, using some of the by-products of the garlic plant."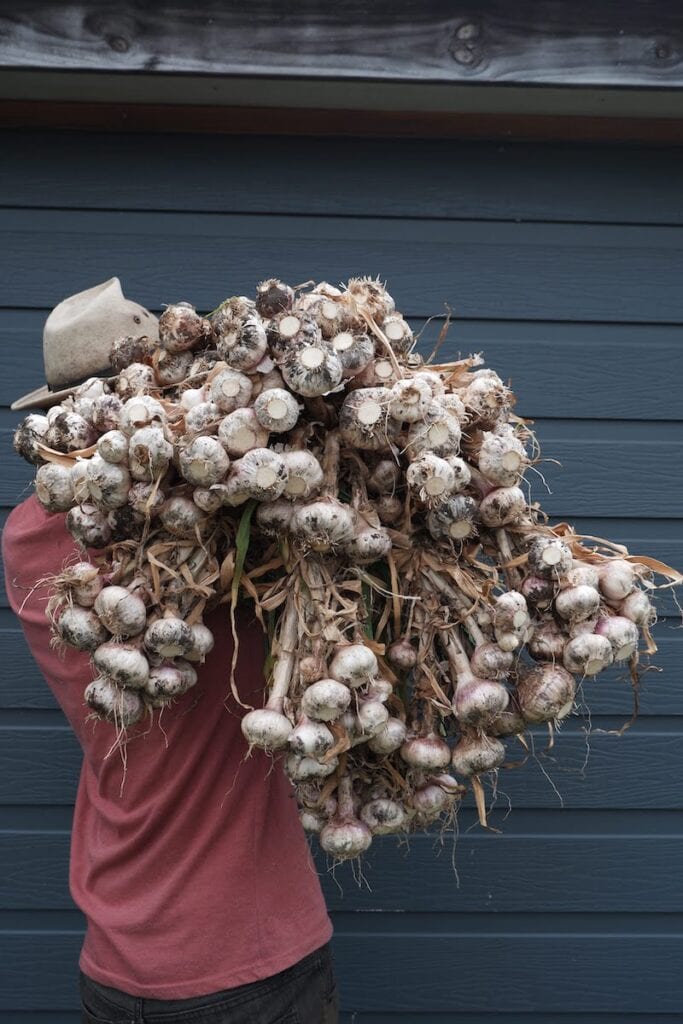 A black future
With the difficulties of scaling up or down to meet the domestic demand for fresh garlic, niche and value-added product markets are a key opportunity for small-scale Australian garlic growers. The health benefits of garlic are widely documented, and while products like garlic oil are slowly making their way on to the market, it's the 'superfood' black garlic that is making headlines.
Incredibly popular in China and Korea, black garlic looks the same as regular garlic on the outside, but on the inside the bulb is entirely black. The cloves are less pungent and have a sweet, caramelised flavour. Sold for roughly $180 per kilo, compared to $30 for Australian garlic, and $10 per kilo for imported product, black garlic has a profitable future.

"Black garlic is not a variety of garlic, but a process whereby regular garlic is held at low temperature and high humidity for 30-plus days. It is an on-trend superfood, high in antioxidants. It adds umami depth, especially in plant-based diets and is gluten-free and vegan friendly," enthuses Cathy Owen, Founder and Director of Garlicious Grown – Australia's largest producer of black garlic.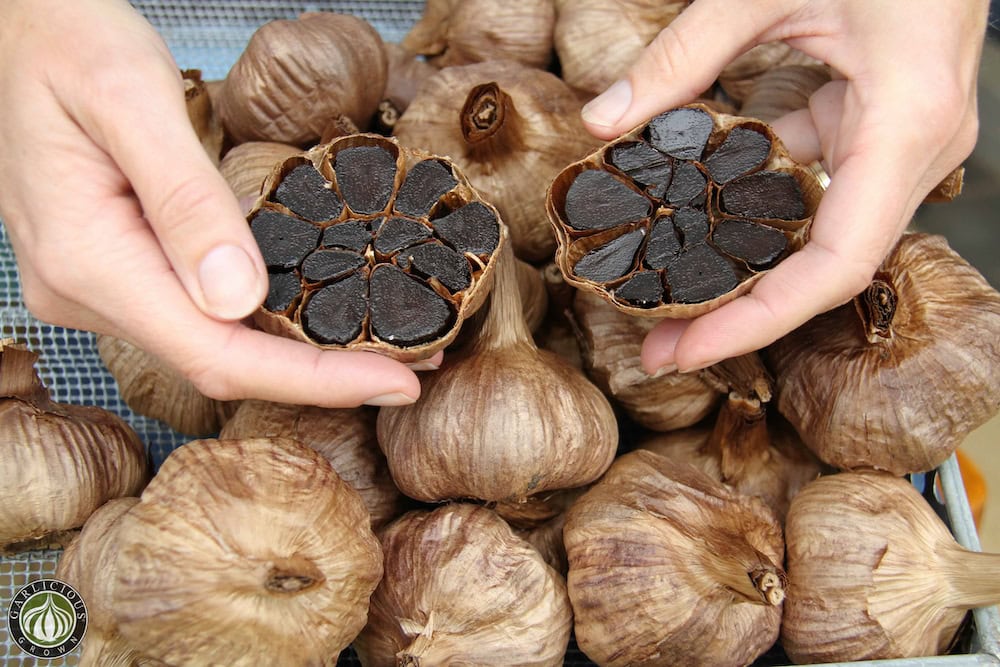 Working as a rural doctor in Braidwood, Cathy met her co-director Jenny Daniher on the sidelines of their sons' football field, and saw the potential to create something new with their local garlic crops. Just five years into their business they already sell their products (including cloves, paste, dressing, aioli and powders) across Australia, with their biggest customer being the Hello Fresh meal kit company, and export to Asia and the Middle East.
According to the Australian Garlic Industry Association, Australians consume only 2,000-4,000 kilograms of black garlic a year, classifying it as a micro market.
But Cathy sees lots of drivers pushing the market forward.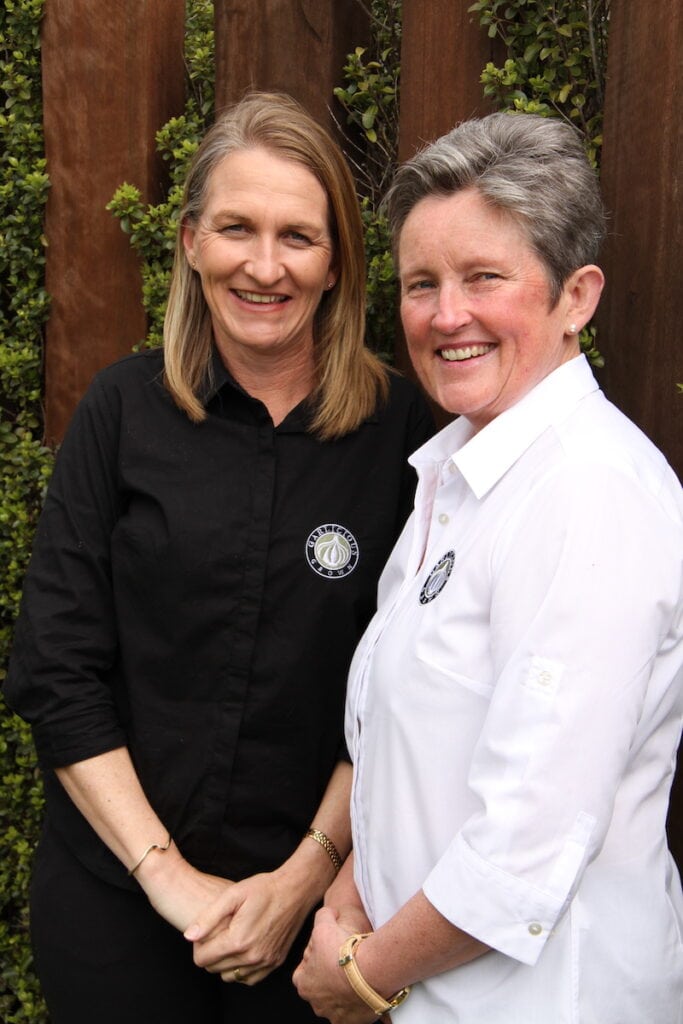 "With the rise of TV cooking shows and high-end foodie magazines, premium ingredients are a key focus for consumers today," she says. While more restaurants are using black garlic in their dishes, growth will stem from food trends, and with Summer just around the corner, and gatherings likely to be outdoors thanks to COVID, we're excited to introduce the world to our picnic-worthy essentials, like black garlic paste or our black garlic white balsamic dressing."
That's not to say that 2020 didn't throw up some trials for Garlicious Grown.
"Several of our garlic growers were burnt out by the bushfires, but the rains of February 2020 allowed them to put in another crop this year – they are a resilient bunch!" Cathy says. "And the rains have eased the burden of attempting to grow garlic in the drought of previous years, as good garlic does require adequate moisture to produce quality."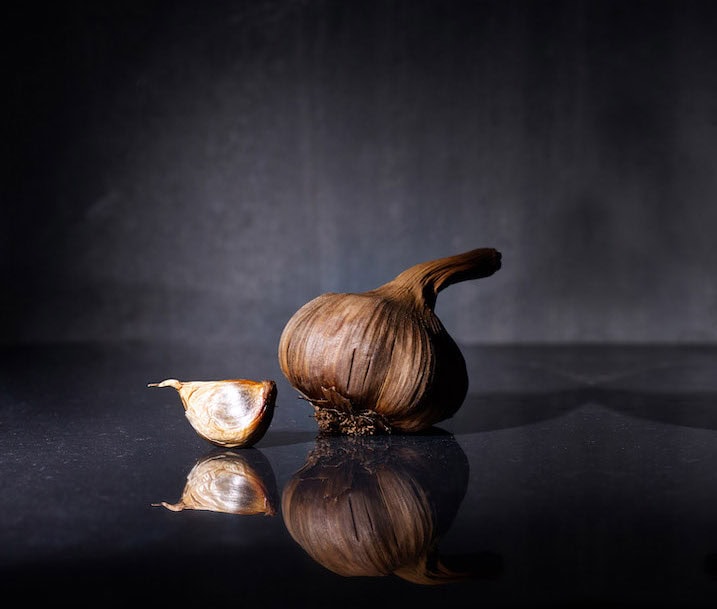 And while COVID brought the immediate loss of significant food service trade, Cathy's company focused on recipe box services and sharpening marketing plans to include a heavier focus on direct-to-consumer trade. "Sales have been booming," she confirms.
Garlic is a crop Aussies will always want, and with the next planting season just around the corner, there are plenty of opportunities for NSW farmers to turn a profit. Whether it's organic, locally-produced, or value-added, Australian-grown garlic is finding new ways to stand out from the imported crowd, and the results couldn't be tastier.
If you enjoyed reading this trade story, you might like our feature on beef jerky and biltong.