For most Australians, the words 'meat' and 'snacks' don't go together, but beef jerky and biltong is regularly found in lunchboxes and pantries in other parts of the world.
But over the past decade, American-style jerky and South African biltong have grown in popularity across Australia. An increase in protein-based diets, and Australian-made products that use grass-fed meat and are nitrate-, preservative- and sugar-free, have opened up a whole new snack category.
Just like Australian craft spirits, the beef jerky and biltong industry is built upon quality produce, traceable local provenance and a desire from customers to hear directly from owners and makers. We speak to three producers about what drew them to 'the jerky life' and what farmers need to know about this burgeoning sector.
Riverina Beef Jerky from Lavington, NSW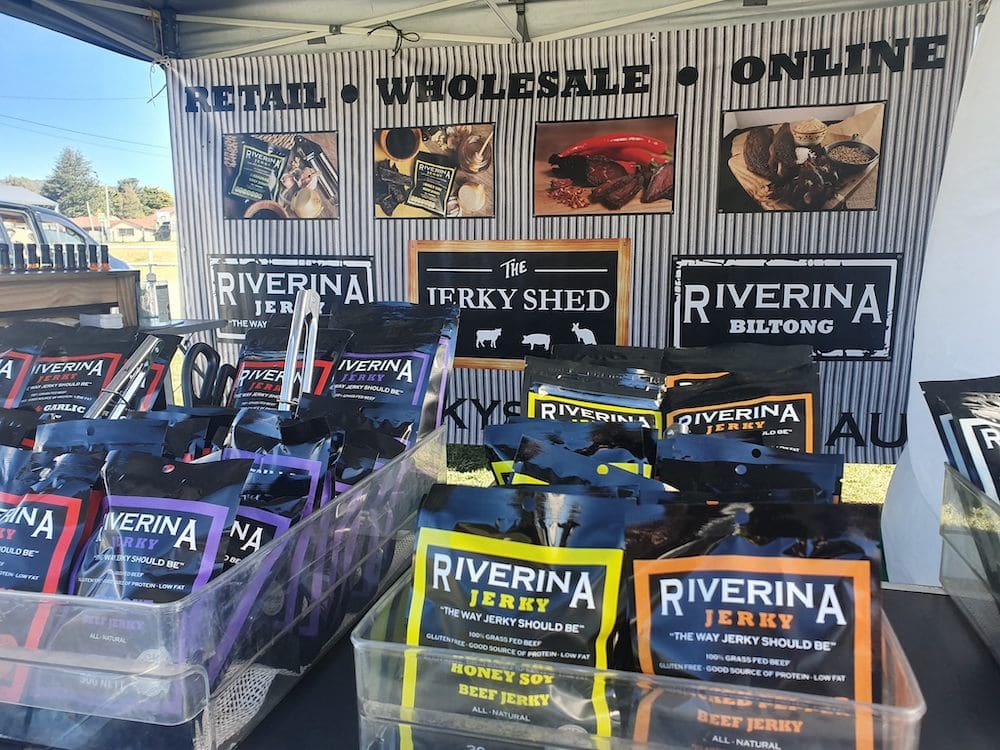 A vegetarian jerky maker seems quite the oxymoron, but that describes Lisa Cohen, owner and director of Riverina Jerky. After her husband became addicted to beef jerky and biltong on a 2009 US holiday, Cohen began making jerky based on her own recipe. Free of any preservatives, artificial flavours and sugar, her output was so popular among friends and the patrons at the local pub where her husband worked, the couple decided to open their own business in 2012.
"We won our first medal in 2013 and still, to this day, we are the most awarded jerky in Australia," says Cohen. "We have 16 flavours of jerky, and two of biltong, and we don't just use beef anymore, but also pork, kangaroo and venison. We have also released our own line of jerky marinades. It's our exact recipe, because we want to encourage more people to make their own jerky in Australia."
Cohen explains that in 2012 there weren't many Australian competitors, but that has changed in the past eight years. "So many have come and gone because they think they can make a quick buck out of it," she says. "But it's not a cheap or quick process. If you're going to do it right, it has to be good meat. The overseas supermarket stuff has a place, but for people that want good quality jerky, there are not as many producers out there."
Cohen only uses 100 per cent grass-fed beef that is graded YG so the beef jerky has a lighter, tender flavour. It also must be completely denuded, so its fat-free, as fat does not cure well and leaves a rancid taste on the palate.
"Australian farmers are very on the ball when it comes to trends," notes Cohen. "We support local as much as we can, but it's got to be good quality. Farmers want to produce the healthiest cattle there is, and we've got some very decent producers that have a lot of grass-fed beef. The problem we have is keeping it here. Two months prior to Christmas, we struggle to get meat because it's all exported. We had to start getting our meat from Gippsland because we couldn't get any local." Despite the health benefits of jerky, especially for people on paleo and keto diets, and the low amount of salt Cohen uses, she says the meat snack continues to have a reputational issue in Australia: "People don't see it as a healthy, pure protein; they see it as that salty bar snack. We don't add additional salts, nitrates or any sugar to ours, but the majority of our customers buy it for its flavour."

Field to Fork biltong from Sydney, NSW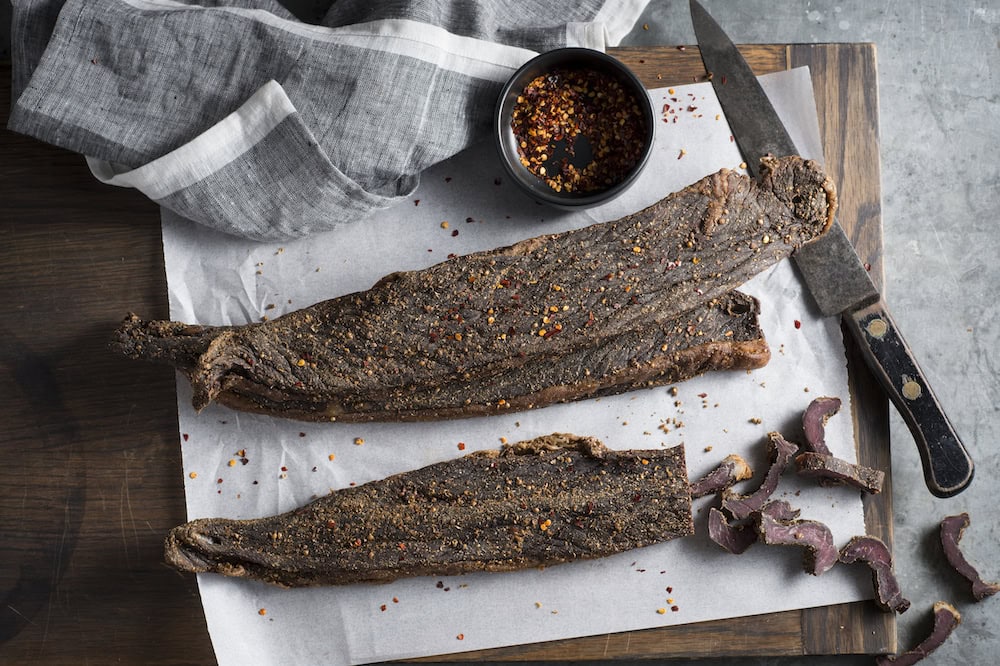 When the Horwitz family decided to open a butcher shop in Bondi back in 2014 there was never a question that biltong would be on the chopping block.

"From day one we were making our own biltong," explains Joshua Horwitz, supply chain manager of Field to Fork. "My parents are both South African and Dad grew up making biltong with his father as a hobby. In our house it was always a treat. When we opened up the store, we knew we had to make our own using my grandfather's recipe."
Having expanded to a second location in Vaucluse, each store makes its own biltong twice a week – about 80 kilograms a batch. While both locations have large South African populations, Horwitz says that once people try biltong they often come back for more: "I'd say that not even half our customers that buy biltong would be South African. A lot of them are just looking for a healthy, high-protein snack."
Field to Fork only sources grass-fed and pasture-raised beef that is hormone- and chemical-free, and cure their meat with salt, spices and malt vinegar overnight in the cooling room. They then hang it in a purpose-built drying chamber for 72 hours before it's air-dried. For such a labour-intensive process, biltong is actually made with lesser cuts, such as silversides and topsides. Horwitz notes that making biltong is a great way to use the cuts a butcher would ordinarily mince, but the product has proved so popular, they have to buy extra grass-fed silverside every week to meet demand.

"As it grows in popularity, it's going to be really important for farmers to pay attention," says Horwitz. "You wouldn't want to be selling silverside for too little when a butcher shop or producer is going to take it and have a huge mark-up on it. Silverside might become one of the most desirable cuts in Australia, as it is in South Africa."
Byron Beef Jerky from Bangalow, NSW

Graham Moule, co-founder of Byron Beef Jerky, established his family farm in the foothills of the Byron Shire hinterland in 2002, and over seven years became the supplier of choice for locally grown salad mixes and herbs. But disease and increasing rains led to failing crops more often than not, and in 2010, with his wife Melissa, Moule looked to find a more robust and stable product.
"We were looking for something that had a better shelf life. I'm South African and making biltong was something most of us learned as little kids," explains Moule. "We started with biltong, but the local market was much more aware of what jerky was. People thought all jerky was rubbery, sugary, red leather kind of stuff. But that's not what jerky is. We always opt for the lowest sugar options, no added hormones and the meat must be grass-fed."
For consistency, and to build a solid working relationship, Moule uses just one meat supplier based out of Brisbane. It can be very hard to source good quality beef in Australia due to the export market, especially when the dollar drops, he says: "The meat price can go through the roof and we can't necessarily pass that cost on to the consumer. As a domestic producer we often take a back seat to exports."
Today, Byron Beef Jerky is stocked in Woolworths all along the east coast, independent carriers like service stations and the business's own biltong retail outlets. But despite there being no need anymore, the Moules still love to set up a stand at farmers markets and local shows.
"With our retail outlets, markets and our shows we engage about 10,000 people a week, giving out tasters and samples and explaining our story," says Moule. "Now that's five million tasters we've done in 10 years, to build our brand and awareness of jerky. The people that buy from us are aware of what nitrates and sugars do to your body. They need healthy snacks, so you're talking tradespeople, athletes, trail walkers and mums. Mums are so important to us, as we are parents too, and we want to make sure what we give our children is healthy and chemical-free just like they do."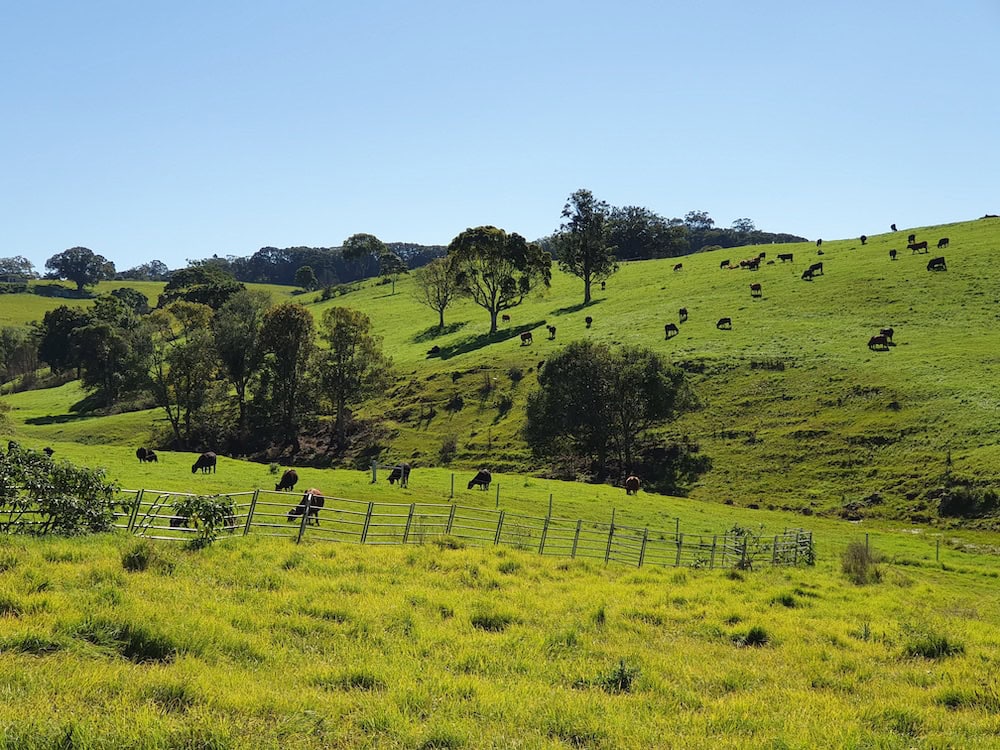 Fast facts about beef jerky and biltong
Within the growing global snack segment, products described as containing protein are growing at a rate of 22 per cent.
In the United States, 14 per cent of snacks are beef, but in Australia the figure is around two per cent.
Mintel research from 2017 reveals that 31 per cent of Australian consumers say they sometimes eat snacks instead of having a meal.