When Vito Mancini was growing up in Griffith his Italian grandparents had a citrus orchard filled with Valencia oranges, just like everyone else in the region. "But in the backyard there was this rare blood orange tree, which I found very peculiar as a child," he recalls. Little did he know that this childhood memory would form the basis of Redbelly Citrus, producers of one of Australia's most sought-after niche fruit.
Blood oranges are one of the cherished fruits of Sicily, where Vito's maternal grandparents had emigrated from in the late 1950s. The arancia rossa di Sicilia even has Protected Geographical Status there.
In 2005, Vito and his cousins Anthony and Leonard Mancini decided to get into the citrus farming business – but they needed a strategy to operate on a larger scale to support three families.
"It was about this time that large superannuation companies were jumping into the game, and we wanted to find something more niche and novel as a family business. We researched everything from pomegranates and figs to almonds, but none of them suited us because of the steep learning curve involved."

Vito Mancini, Director of Redbelly Citrus
They revisited citrus farming options, and blood oranges came to the top of the list.
"We learned that while the Northern Hemisphere produced about a million tonnes of blood oranges, the Southern Hemisphere produced less than 2000 tonnes – so there would be a great opportunity to offer a counter seasonal supply," explains Vito. "We also knew they grew well in Griffith. We had a great story to tell about them based on our family heritage, and we thought we could market them effectively."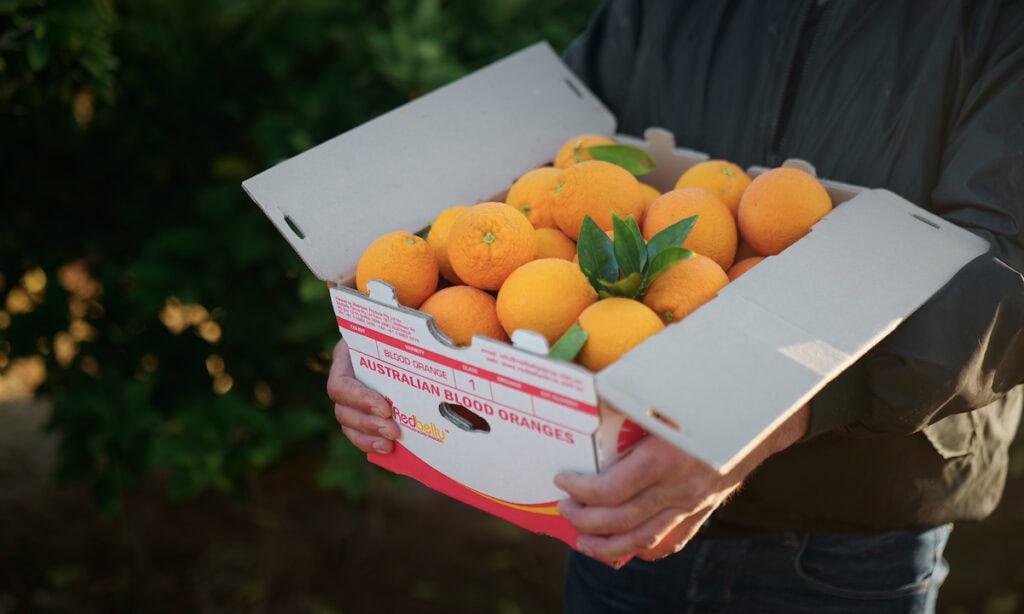 Red, rare and ripe with nutrients
Packed with vitamin C, blood oranges also have a distinctive dark red, almost blood-like flesh because of the presence of anthocyanins, which are polyphenol pigments common in fruits such as raspberries and blueberries but rare in citrus fruits. These micronutrients are rich with antioxidants, which can help lower the risk of chronic health problems such as cancer, heart disease and diabetes.
Blood oranges, however, cannot produce fruit year-round, and need specific environmental conditions to build the right level of anthocyanins in the fruit. Not only do they need hot, dry summers and cool, nippy winters, but also during autumn they require high daytime temperatures and almost freezing night temperatures to stress the tree sufficiently for the fruit to develop those much-needed anthocyanins.
"It's like they have to shiver with cold during the night and be sweating hot during the day. This 20-degree temperature difference must happen when the fruit is maturing to get that blood red colour," explains Vito.
It just so happens that the Riverina region around Griffith delivers those conditions perfectly.
In 2007, the cousins started planting two 20-hectare blocks exclusively with blood orange trees. At the time, this represented 50 per cent of Australia's total plantings. Today they have 36,000 trees of the Arnold and Tarocco varieties of blood orange, and their state-of-the-art, high-density Redbelly Citrus orchard is the largest single blood orange farm in the Southern Hemisphere. As Australia's only dedicated blood orange grower, they have the latest orchard temperature regulation technologies to develop the 'bloodiest' blood oranges in the country.
As far as orchard management goes, he explains that finely tuned pruning is essential for the quantity and quality of fruit.
"We decided to do high-density planting and to keep the trees short both to maximise early yields and enable easier picking with no ladder work," says Vito. "You can get more colour when the crop size is large, but the size of each orange will be too small. It's always a balancing act to get a good crop with sufficient stress to produce the blood red colour."
"We made a decision when we planted the orchard that marketing was essential to the success of our business," adds Vito.
Redbelly Citrus allocates 5 per cent of its turnover to the marketing budget. "Marketing is challenging for farmers because you're selling wholesale, but marketing direct to consumers stimulates demand so suppliers stock your product."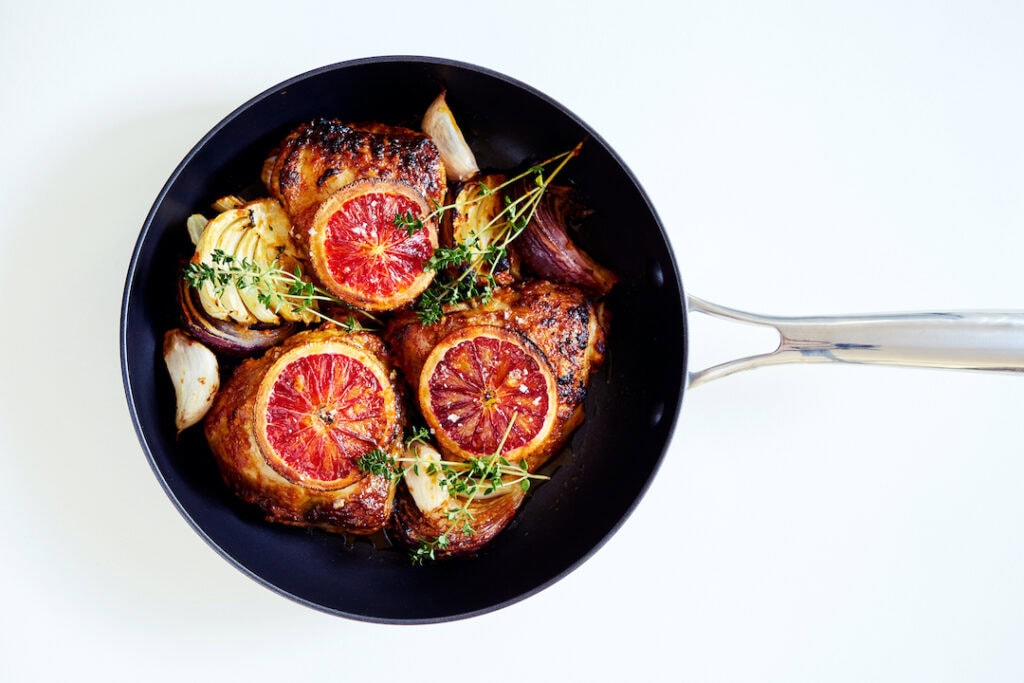 "We're not a fruit bowl item but rather a special occasion purchase that goes towards the creation of a cocktail, unusual salad or dessert. As such we can sell at a 30 to 40 per cent price premium, but we must engage and excite the consumer because building loyalty is so important," says Vito, who is also chair of the Griffith and District Citrus Growers Association.
"A lot of Australia's horticulture is very fragmented with little unified marketing, with the exception, perhaps, of bananas and avocados," he explains. "It's very rare to see citrus marketing."
It certainly helps that blood oranges are very versatile fruits with both sweet and sour notes and even raspberry-like flavours that can be teased out for savoury and sweet recipes. They also have a strong visual impact on social media. Redbelly Citrus has used this to great effect, running Twitter and Instagram competitions for household chefs and posting the results on their website and social media channels. They've also done professional chef collaborations and worked with boutique breweries and distilleries.
Harvest havoc
It's an intense time during the blood orange harvest season, which extends from mid-July to the end of October. While there can be a 30 per cent seasonal variation, Redbelly Citrus produces, on average, 1000 tonnes of blood oranges a year.
Their sales strategy is also well defined. "We've always worked on the principle of a third goes to export, a third goes to the Australian fresh fruit market and a third goes to juice production," says Vito.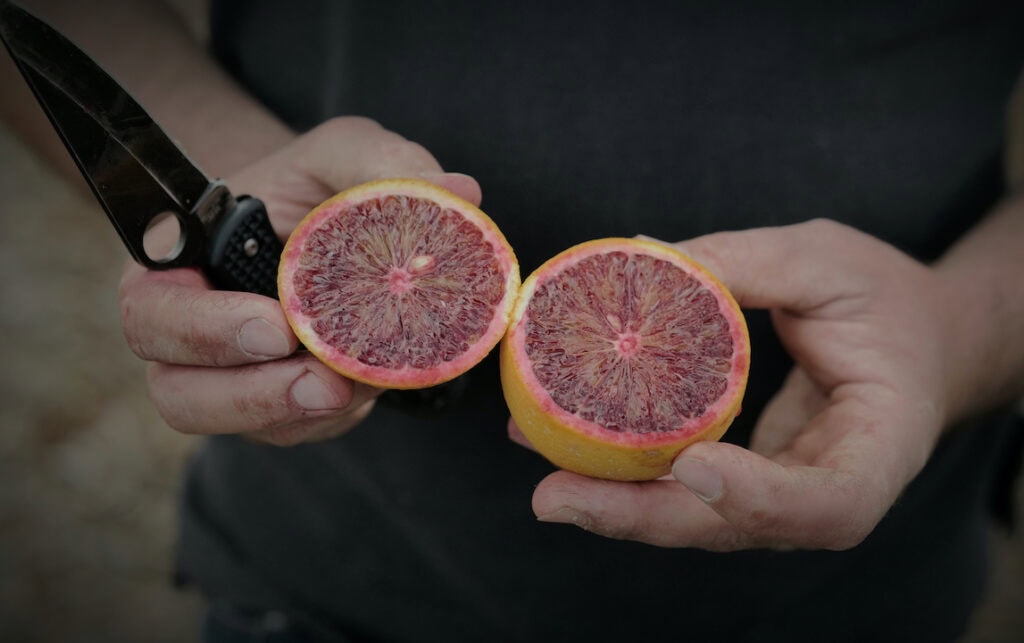 They engaged an export broker to get into the US, which is still their largest market. They also export to South Korea, Hong Kong, Singapore and Canada.
"There is still a lot of growth potential as international markets become more aware of the quality of Australian fruit," says Vito.
Redbelly Citrus also has a loyal following in the Sydney, Melbourne, Brisbane and Adelaide wholesale markets, whose buyers engage with top-end providores and fruit buyers. And juice production is always a useful way to utilise blemished fruit and extra volume.
"We're already at 100 per cent capacity with our current sales strategy, but we're beginning to explore the potential of nutraceuticals, which are products derived from food sources that offer extra health benefits. It's a multibillion dollar industry that growers are not really tapping into yet," Vito says.
"In hindsight, we took a big risk concentrating solely on blood oranges," he admits. "Other growers just added a few rows of them as a marginal extra product to hedge their bets, but they don't focus on the specific needs of blood oranges like we do. We've always believed in their unique potential. We treat blood oranges as a specialty and, as a result, we get a significant price premium because our customers, both in Australia and overseas, trust our quality and our brand."
There's much debate going on throughout Australia's citrus industry. Join the conversation here.