Nick and Kylie Bradford knew from the moment they stepped inside the woollen mill in the historic gold mining village of Nundle in north-west NSW that it was their destiny.
"There was just something about it; we knew it was the right decision. We had both worked in the textile industry in high-powered jobs and travelled extensively, but taking on the mill just seemed a great fit – and it has been the best thing we've ever done," says Nick.
The couple took over the Nundle Woollen Mill in 2007, running it remotely from Sydney until they left city life behind in 2013.
"We loved it from the moment we arrived in Nundle and we are very fortunate it has all gone so well," says Nick.
One of four woollen mills in Australia, Nundle Mill – which opened in 2001 – is the only one with vintage machinery dating back to the 1900s, and also featuring historic production techniques.
"Nundle is the only mill that has remained true to Australian heritage, working from greasy wool straight from the shearing sheds. The other mills import cleaned, semi-processed wool from China," Nick says.
History in the making
In the next 12 months the Bradfords are predicting more than 45,000 people will visit the mill to learn about Australia's wool heritage, listen to the hum of the eight antique machines, take a tour and purchase fabulous yarn and knitwear.
"People are eager to learn about the history of our wool industry and are fascinated by the old machinery," says Nick.
"There's something about watching the old traditional spinning machinery transforming raw wool into our knitting yarn that is quite mesmerising. People love it.
"Some of the machinery is more than a century old and we continuously maintain it to ensure it's working at its best."
The oldest machinery was rescued from Geelong's McGregor Mill, including the magnificent carding machine manufactured by Platt Bros & Co in 1914 in Oldham, England, which was relocated to Tamworth, then Nundle.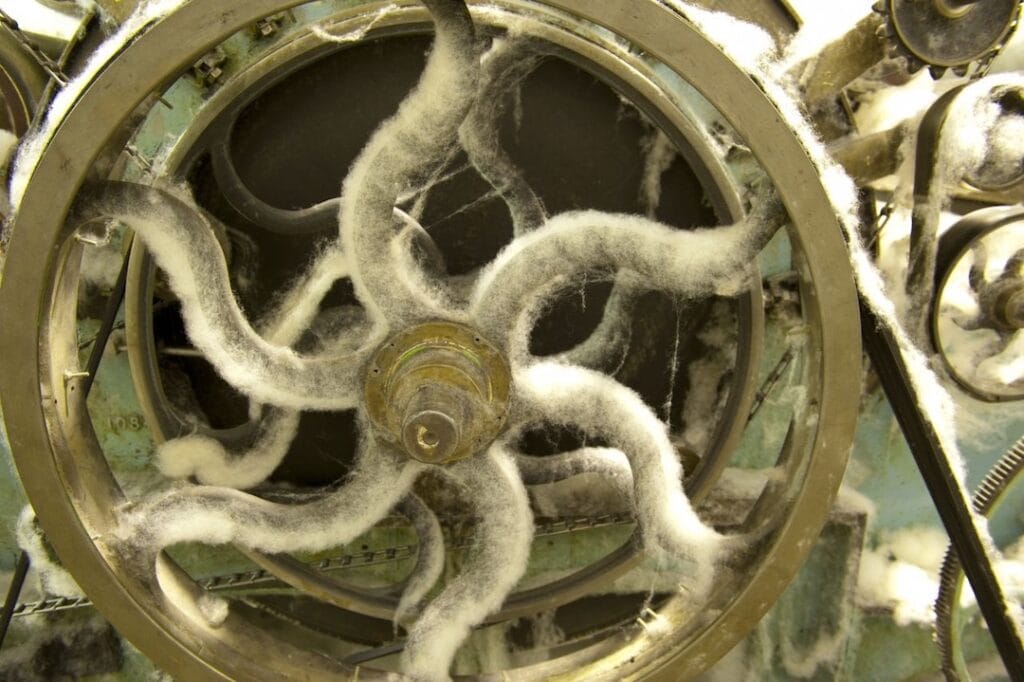 "We often have people calling us about their old treasures and we are keen to conserve the industrial heritage as well as traditional skills and production processes that prepares, cards, spins, dyes and winds the yarn into balls. It is amazing to watch."
The Bradfords are passionate about their venture and preserving part of Australia's history.
"We also want to add an element of entertainment to craft supplies, ensure our customers feel comfortable and fashionable in the garments we sell, and we want to create a reconnection with Australia's wool heritage," says Nick.
Over the rainbow
Known for its bright yarns, the mill has its own dye-house that takes yarn at the end of the production chain and transforms it into one of 40 colours.
"We offer one of the best colour selections of dyed yarns in the country, in 4, 8, 12, 20 and 72 plies, plus the thick Wool Vine which is about 200-ply," Nick explains.
"We cater for modern 'yarnistas' who love chunky rainbow coloured wool as well as traditional knitters."
So, what's so good about the yarn? According to Nick, it's made with premium unpolluted wool from Tasmania, along with lots of love and care.
"Our producers include father and son Alex and Crosby Youl, who are fifth and sixth generation wool producers. Their property at Elsdon in the Northern Midlands has been in the family for more than 200 years," he says.
"We love how they are committed to the health and welfare of their animals, and that they breed a high-quality product very specific to our needs to produce the yarn our customers keep coming back for."
Made in Australia
Nick says he's also noticed customers are really embracing Australian made products.
"We're producing more yarn now than ever, and that's because something has happened over the past few years: our customers are feeling warm and fuzzy about supporting Australian made; they want to leave their hard-earned dollars in the country."
The staff of 10 help process up to 8,000 kilos of clean wool, which is sold worldwide and in demand from knitters, textile artists and soft-furnishing designers.
Their hard work has been well recognised with a string of national, state and regional tourism awards.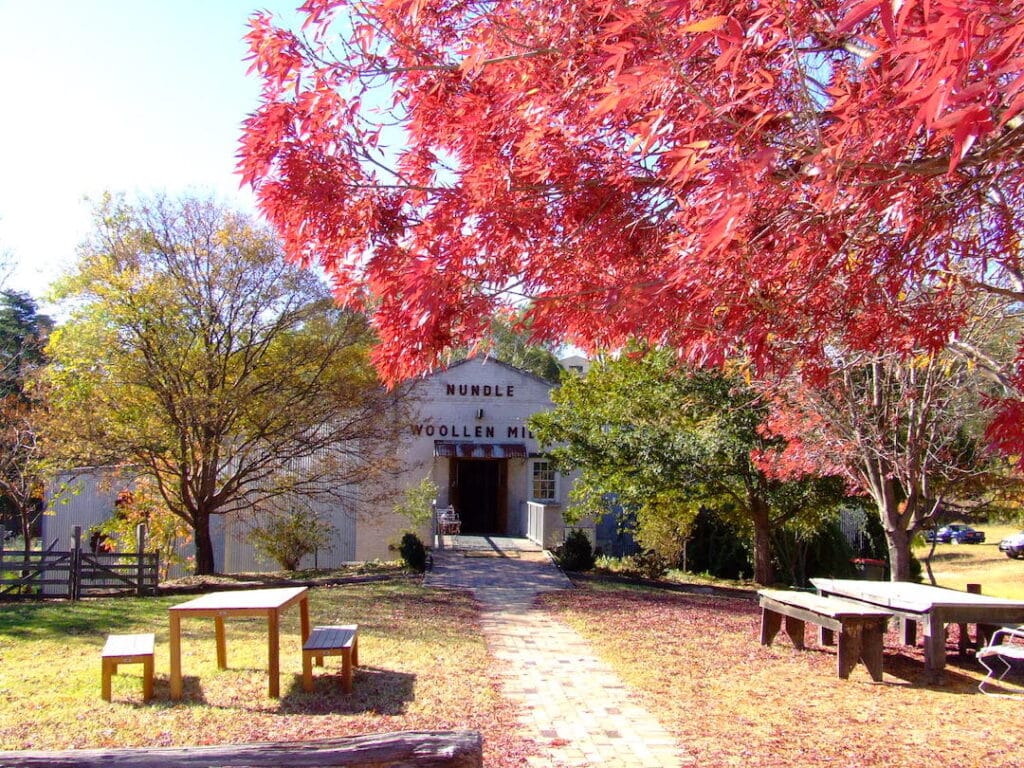 Both Nick and Kylie grew up on the land. Nick studied wool and marketing at the Melbourne College of Textiles in the '80s, and worked in the textile industry in Italy, Germany and Asia.
Kylie completed a Bachelor of Business at Charles Sturt University in Bathurst in the early '90s, and together they established a successful wool fashion company in 2001 called Inter Wool, which included in-house labels Sheer Bliss and Infinite Wool.
The mill venture followed, and their turnover has tripled since 2007.
Nick says the mill is financially sound, the business profitable, and they are now ready for the next step.
The history of Nundle
Set on the banks of the Peel River, Nundle is located 60 kilometres south of Tamworth.
It was one of Australia's first wool producing areas, and by the 1860s had a reputation in the UK and Europe for producing the finest merino wool in the world.
The first land grants were to the Australian Agricultural Company at Goonoo Goonoo Station in 1837, and Wombramurra Station in 1847, where Nundle was established in 1853. It was also a gold mining centre.
"It was a busy village back in the gold rush days, with 30 pubs," says Nick.
These days there's a primary school, post office, quirky shops and just one hotel.
"It is a wonderful place to live, and brilliant for kids. I can honestly say we have lots of genuine friends in Nundle. People are so caring – we wouldn't want to be anywhere else," he says.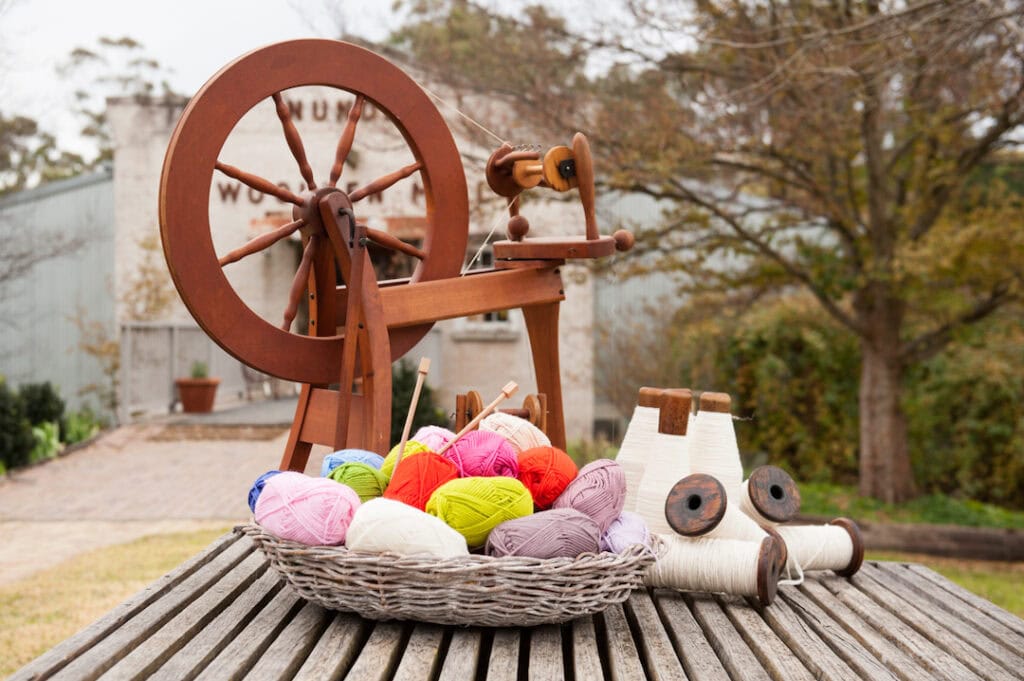 Nundle Mill tours
Nundle Woollen Mill is open daily from 10am to 4pm, and for groups by appointment only. The 30-minute tours run Monday to Friday at 11am and 2pm and cost $5 – which includes a $5 gift voucher to spend in the store. Bookings are recommended.
Viewing is from a mezzanine floor that overlooks the production area. The retail shop sells yarn and Australian-made woollen clothing, footwear, toys, blankets and gifts, and the famous Nundle socks. The mill's landscaped gardens have picnic facilities, a historic wool press, drays and a 1947 Chevrolet truck.
For more information, visit nundle.com