What is your favourite thing to do on the farm?
Swimming in the dam and getting really wet and completely muddy. No one else ever seems to be as impressed as me when it comes to how much mud I can bring back home.
Have you ever done something really naughty?
I sat on the sofa in my boss' favourite spot, and watched a whole lot of Netflix while he was out having dinner. How good is Ozark?
What is your worst habit?
Eating rocks. But it's not much fun getting them out…
What is your favourite food?
Rocks and sardines. My boss needs to find a good recipe so I can enjoy them together.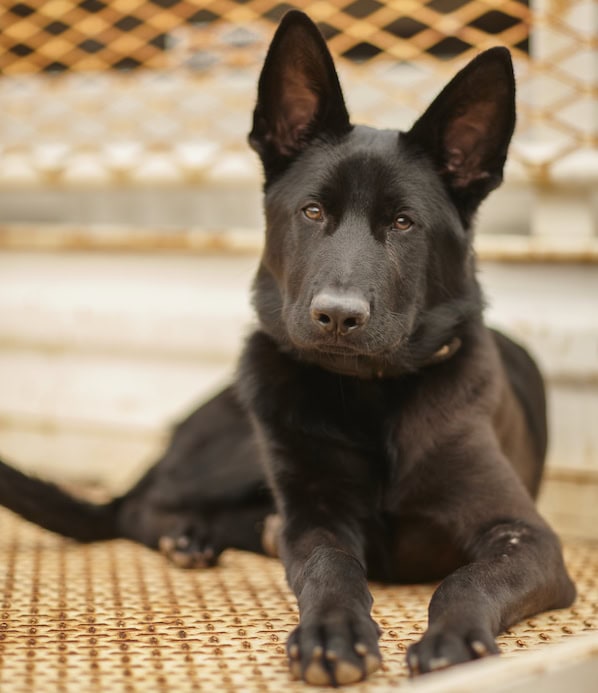 If you became famous for one thing, what would it be?
Being really good looking. What can you do when you're born that way?
Is there something that drives your parents mad?
Pooping on the verandah. Sometimes I don't like to get my feet wet and it's been raining a lot up here in Mullum.
If you could have another animal friend, what would it be?
A piglet called piglet. He'd be really cute like me.
Favourite thing to play with?
My collection of rocks and my squeaky piglet toy.
What does everyone love about you?
That I am an all-black German Shephard with a big heart.
Any last words?
All pups be warned – it's not a good idea to jump off the back of a moving ute – you'll break your leg in two places and vets are notoriously expensive.
If you enjoyed this feature on farm dog Normie, you might like to meet Kenny from New England.