Siblings Alex and Tess O'Reilly and their partners raise cattle, grow and distill organic tea, make tea tree essential oil, and harvest seasonal cut flowers at Olive Gap Organic Farm near Woodburn in the Northern Rivers region.
It sounds idyllic, but this farm was just one of many immersed in catastrophic floodwaters affecting parts of New South Wales and Queensland in February and March.
When the floodwaters came, Alex's partner Tara Luca describes it as feeling surreal, as despite earlier heavy downpours, when the flood arrived there was no current or rain, just still waters rapidly rising before their eyes.
Despite this almost gentle arrival, the destruction was anything but. The waters rose up to three metres, inundating two of the property's three residences, farm machinery and sheds, submerging tractors and welders, as well as their newly packaged tea tree oil stock, ready for launch in April.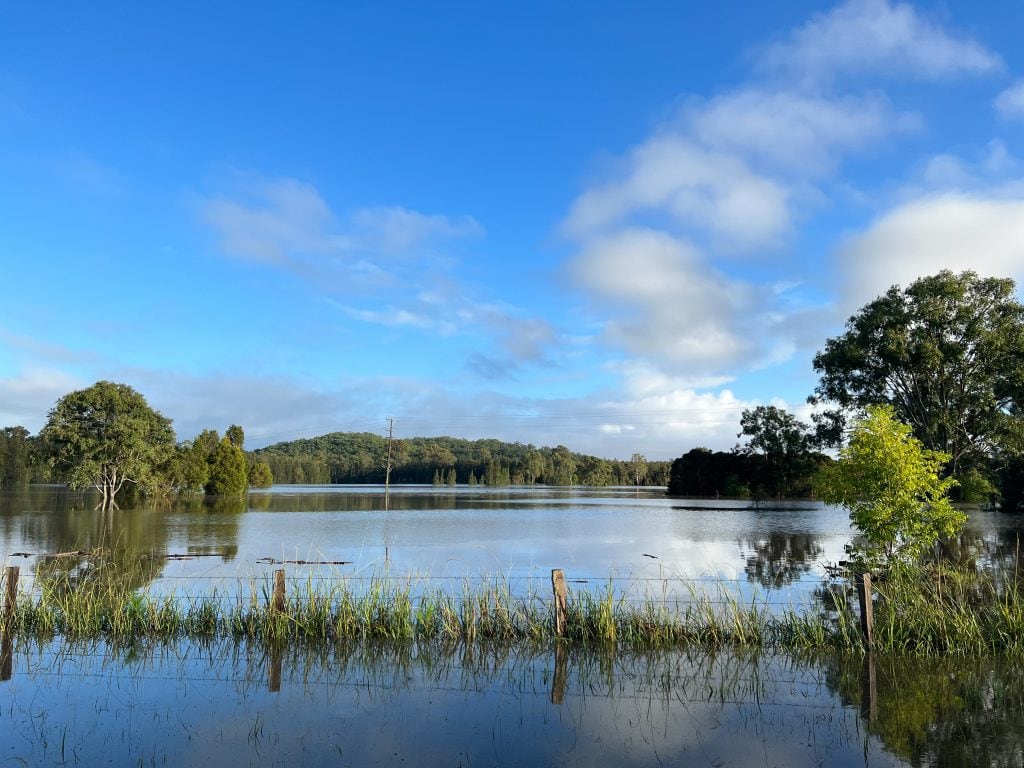 "We did flood preparation the night before knowing it was going to flood, but even in the last few big floods, it's only ever touched our back paddocks," Tara says.
"It was two to three metres deep where we have our higher ground on the farm, and that ground has never gone under before."
The family saved all of the animals, even kayaking two calves across waters to reunite them with their mothers, but the trauma experienced by so many other farmers is not lost on them. Many were unable to save their stock and suffered even greater infrastructure losses.
A devastated community to rebuild
Tara says that they received incredible support, including orders coming in for what stock they salvaged, but it would be a long time before their community of Woodburn will be able to return to normal life.
"Woodburn was just devastated and I have no idea how many buildings will be condemned and need to be torn down."

Woodburn farmer Tara Luca
"There are so many homeless people and it still looks like a war zone – the rubbish hasn't been collected and the main street is covered in people's belongings," Tara says.
"Defence has been here and people had short-term accommodation, but that's drying up. A lot of temporary accommodation being offered is on the Gold Coast, but people have jobs that they need to come back to."
Tara says that one of the hardest things for people was that they couldn't get in touch with anyone. "People couldn't even call triple zero," Tara says.
"In my kids' school there are now three different schools and a pre-school on site, as the other schools are not going to be habitable for a long time."
Looking to the future
It's hard to comprehend where to even start in the aftermath of floods. At the moment, Tara says they are letting everything dry out and doing 'unplugged work' – such as mopping up and using the tractor. The off-grid farm lost its generators and inverters in the flood, but they hope to salvage solar panels.
"Amazingly the tea tree is flood-resistant, but it still doesn't like being under three metres of water," says Tara. "Undoubtably our harvest will be smaller this year, but it still has about six months to put leaf back on."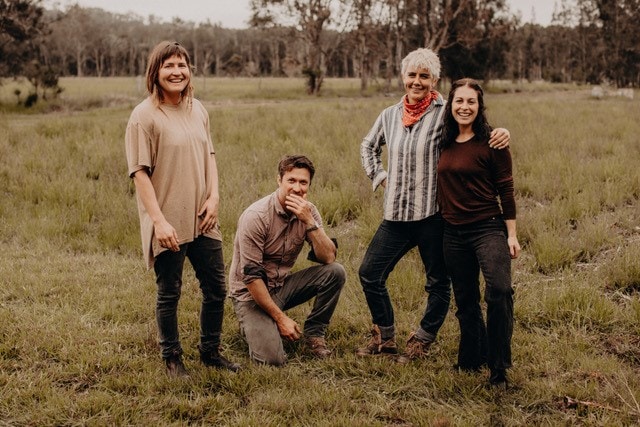 Tara acknowledges that the flood was a game changer, not only for them but the wider communities affected.
"We are definitely lucky that we grow an Australian native that doesn't mind the floods and the fires, but now I am rethinking the flowers and it's making me reconsider what crops to grow."
There are also practical measures, such as more resilient buildings and creating a better evacuation plan.
Ever the optimist, Tara is grateful for what they've been able to salvage.
"We ended up quite lucky in lots of ways, and we do have some positive stories," she says.
Small farmers can now apply for flood grants
Flood-affected small farmers in the Northern Rivers, north coast, Sydney Basin, Hunter and some southern regions can now apply for the Rural Landholder Program, which features grants of up to $25,000.
Landholders and oyster farmers in declared Local Government Areas (LGAs), who have holdings of at least 10 hectares of rural land or a Class A aquaculture permit authorising at least 1 hectare; and receive at least $20,000 in income from primary production per annum are eligible to apply.
Applications are open until 30 September 2022 through the Rural Assistance Authority. Landholders are encouraged not to self-assess and to apply for the scheme so the RAA can determine eligibility.
Click here for more details and to apply online.
NSW Farmers CEO Pete Arkle has thanked the government for its $25,000 grants for small farmers in the state's flood-affected north. Read more here.