Ian Edson has been connected to the outback soils of the Ivanhoe district since he was born. His grandfather and World War I veteran, Charlie, was granted a 11,000-hectare Returned Soldiers Block west of Ivanhoe and called it Stirling Vale Station.
Ian grew up on nearby Orana Station with parents Charles and Neta, and inherited Stirling Vale at the young age of 12, after the passing of his grandfather.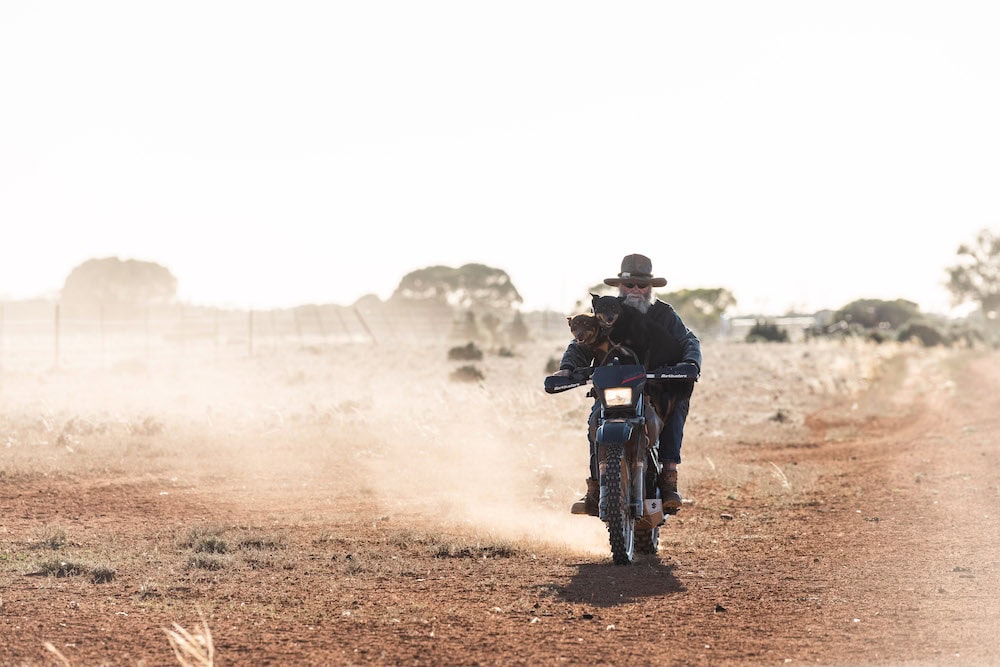 "The inheritance came with all the bills and probate that still needed to be paid, so it was not an easy start," Ian says. "My father was made guardian to help guide me through things until I was 21. That was 1978 and I went deep into the red to purchase my brother's and sister's share of the property.
By this stage, Ian's grandfather and his father had already started cutting the property up into two-mile by two-mile paddocks. "They constructed ground tanks so the sheep had less travel to get to water, and we could have smaller flocks," he explains.
"Some of the neighbours thought they were crazy putting in the ground tanks, but the idea was to reduce the dust load in the wool. It helps to preserve natural ground cover when you reduce the distance sheep walk to water."
Ian explains that the location of the ground tanks, which are 8,000 to 9,000 cubic metres in size, were carefully selected based on topography and surface water movement. Each tank has a smaller 'catch tank', which captures the surface water first.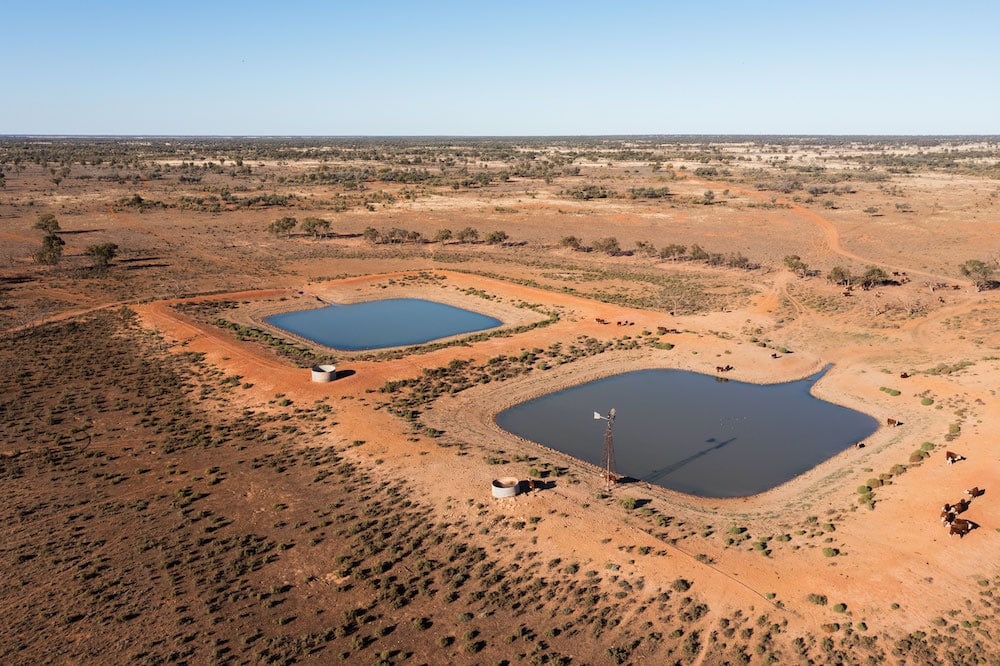 Stirling Vale now has 22 ground water tanks to capture the maximum amount of water from an annual rainfall of 220mm. Solar pumps, which have replaced most of the farm's windmills, pump water into rainwater tanks for gravity feeding into 22 water troughs for the farm's 6,000 Merino sheep and 300 cattle.
"I prefer to stay on the ground these days and the solar pumps have proven ideal for moving water out here," Ian says. "We can pump the water for miles now, and we couldn't have done any of it without the old yellow CATS."
Ian is referring to his father's progression to Caterpillar D6 and D8 dozers to construct all of the tanks, one of which he still operates to this day – a 1962 Caterpillar D8 that has notched up 25,000 hours.
"In my grandfather's day it used to take six months to do a ground tank. It takes about 222 hours on a D6 and 54 hours with a D8. They also enable you to clean out and desilt the dams on a regular basis," he explains.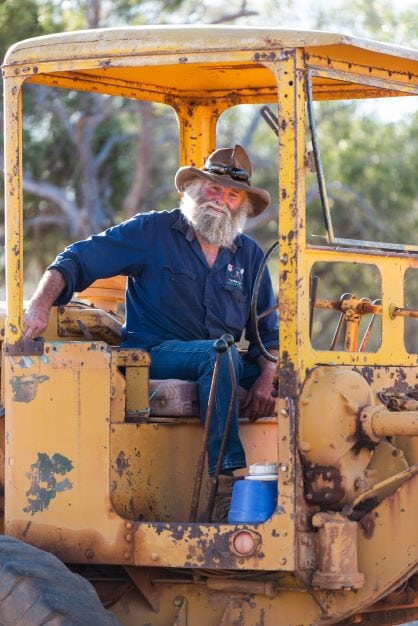 "My grandfather started out contracting using horse drawn scoops and Dad continued the contracting business for most of our younger lives with the Cats. At the time, the farm was too small to make a living off, so Dad got into big earthmoving equipment."
Ian says the drought proofing strategy started by his grandfather has worked.
"Stirling Vale has only been out of water twice, 1944 and 1968. We do have one bore, but that has only been used twice in 30 years."
Ian adds that the ground tanks also have environmental benefits. "They attract a huge array of birdlife, including ducks and sometimes swans. It saves them flying to the river, which is 100 miles away. The wildlife just moves around from tank to tank."
Ian has enhanced drought resilience through rotational grazing, which enables paddocks to rest and revitalises the natural pastures that drive the farm's Merino wool and beef production.
"We've used water to grow the farm business, and what was 27,000 acres is now 79,000. I have not had to do any contracting for 15 years because we can now make a good consistent living off the property," Ian says with pride.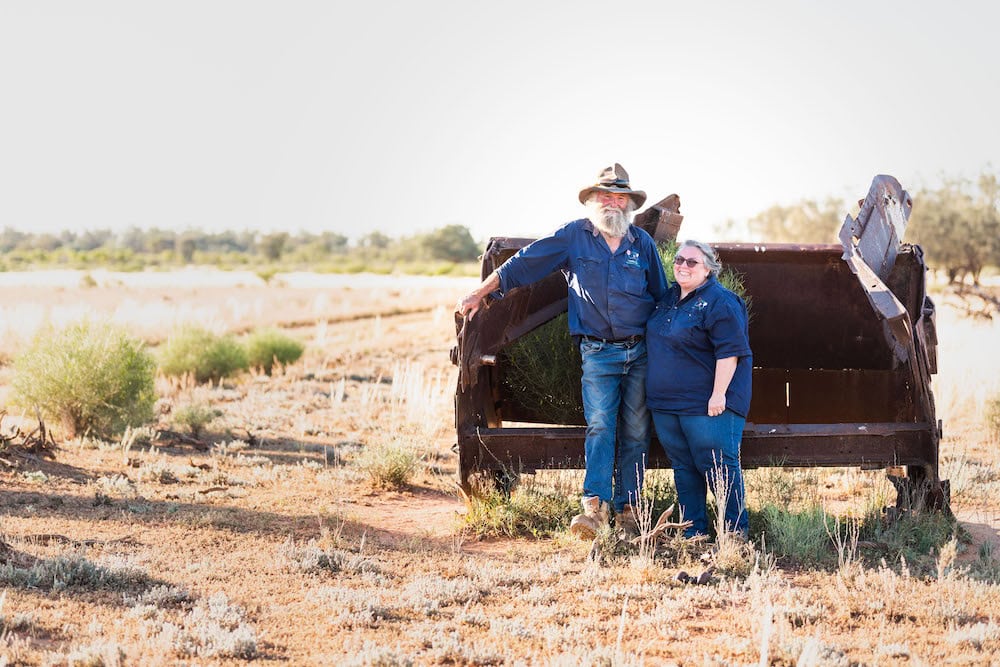 How the Edsons met, and Trudy's story
Ian's wife Trudy – who has inspired much of Ian's business and personal growth over the last 30 years – has a vastly different background from her husband's outback upbringing.
Trudy grew up in the southern suburbs of Sydney and trained to be a nurse, eventually working in a number of hospitals in Sydney and surrounds.
Their two worlds collided thanks to a chance sighting of a newspaper advertisement for a remote area nurse at Ivanhoe.
"I had a friend working out there and I had always been intrigued by far western NSW, so out I went to Ivanhoe on a nursing adventure in 1988. I have kept that advert all these years," Trudy says.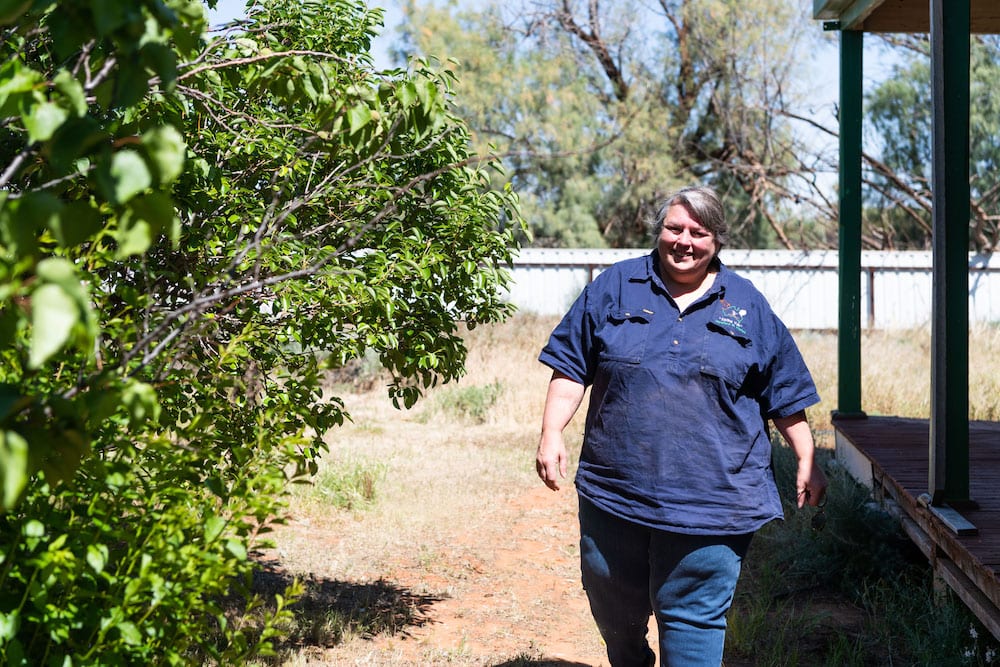 Trudy worked at the Ivanhoe hospital and first met Ian while caring for his father who had become ill.
"Ian was pretty persistent in getting to know me, and a nursing colleague convinced me to go on a date. Ian invited me out to Stirling Vale for dinner. He was an absolute gentleman and cooked a beautiful baked lamb dinner with all the trimmings."
"It was the day before my birthday, and I had planned four days off. Ian wasted no time and showed me around the property, and six months later we were married."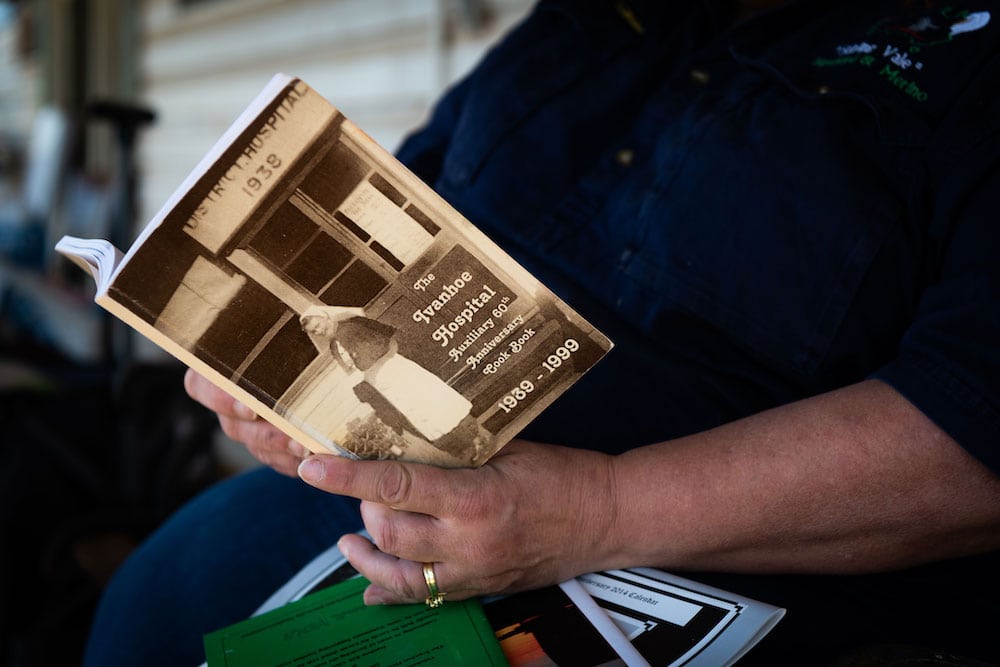 Trudy continued nursing and provided St John Ambulance first aid training to more than 250 Ivanhoe locals.
"I am very proud of the first aid training," Trudy says. "I know that some of those people have gone on to save other people's lives."
Now she has retired from nursing, but life remains busy supporting Ian, the farm business and the Ivanhoe community.
"I had never done anything with sheep or farming before I met Ian, and he is a great teacher. He had a way of explaining how things that I was learning could be applied to the farm."
"I say that Ian has dirt running through his veins. His grandfather bestowed upon him the skills of reading Mother Nature and her seasonal changes as well as how native animals behave."
Ian joined Trudy in attending courses on topics such as wool classing, welding, using drones and cell grazing. "We have done everything as a team, except for computer training and accounting," says Trudy. "Ian wasn't too keen on that!"
Trudy wanted to help Ian by understanding what he had been learning for all of his life. "I learned quickly that what he had achieved while supporting his family meant the world to him. And I could tell he has great pride in caring for his sheep and producing quality wool," she says.
Trudy convinced Ian to complete a Diploma of Agriculture at Rural Skills Australia in Adelaide to validate his lifetime of hands-on knowledge.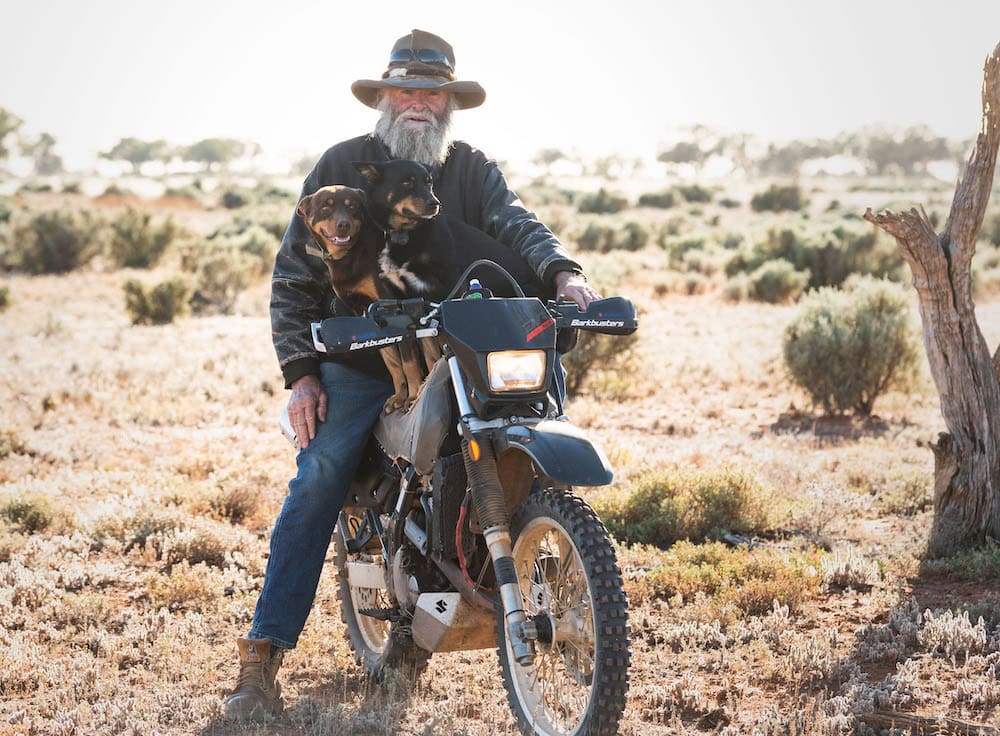 "I was so proud of him when he finished that," she says. "He did not need to do it because he had already achieved so much on the farm. But we would go to a lot of meetings, and I could tell that people who were not farmers would look at Ian and think he could not contribute much. They were wrong, and Ian proved it."
Ian's confidence to contribute at meetings and assist with local issues grew with Trudy's encouragement. He became Chair of the NSW Farmers Ivanhoe Branch and joined Trudy as Branch Secretary every year at the NSW Farmers Annual Conference.
The Ivanhoe community has also benefited from Trudy's outback nursing adventure. "Ian has always encouraged me to do what I love, which is arts and crafts and supporting the Ivanhoe community," she says.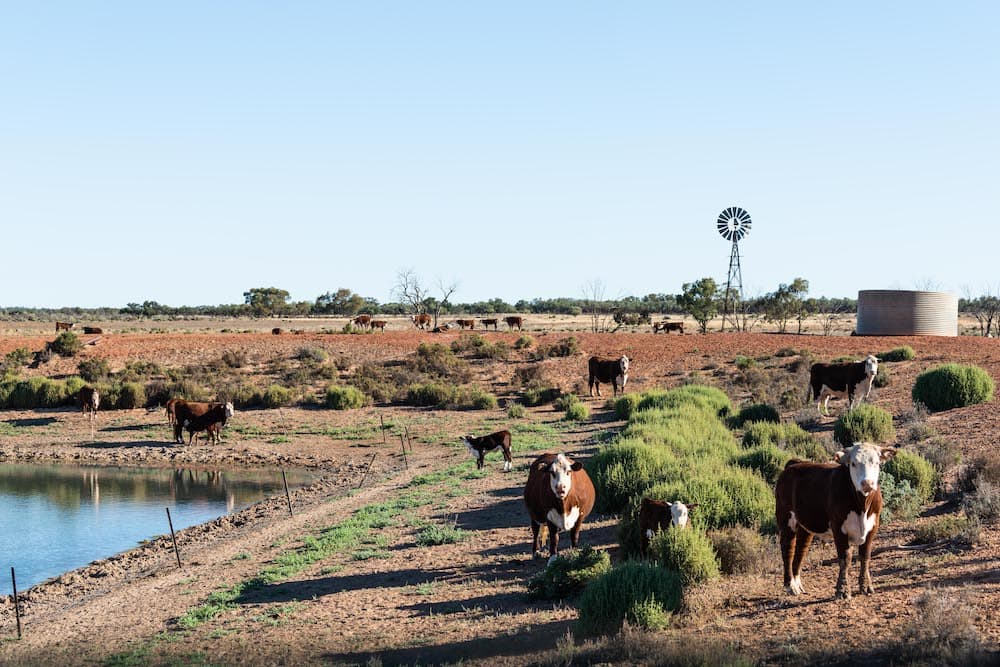 Ivanhoe, population 200, is not known for its arts and culture, but Trudy found solace through supporting the Ivanhoe Outback Arts & Craft shop, the Ivanhoe Patchwork group and a Pink Crafters Outback Crafts fundraiser for the McGrath Foundation.
Trudy has also notched up countless volunteer hours supporting the Ivanhoe Hospital Auxiliary, the community run Ivanhoe RSL Club, and the local NSW Farmers branch.
Her volunteer work was recognised in 2018 with an Australia Day Citizen of the
Year Award.
If you enjoyed this feature on the Edsons, you might like our story on the Cupitts from the South Coast.