In 1928, Tony Costa – a migrant from an old winemaking family in Italy – opened a small fruit shop in the Victorian town of Warrnambool. Two decades later, Tony's sons Frank and Adrian Costa took over and expanded it into a wholesale provedore.

Over the next half-century, the business kept expanding, supplying fresh fruit and vegetables to supermarket chains with distribution centres around Victoria and other mainland states. Today the Costa Group is one of Australia's largest horticultural companies, producing berries, mushrooms, tomatoes, bananas, avocados, citrus fruit and other crops for domestic and foreign markets. Listed on the Australian Securities Exchange, the company has a market capitalisation of more than $1.4 billion.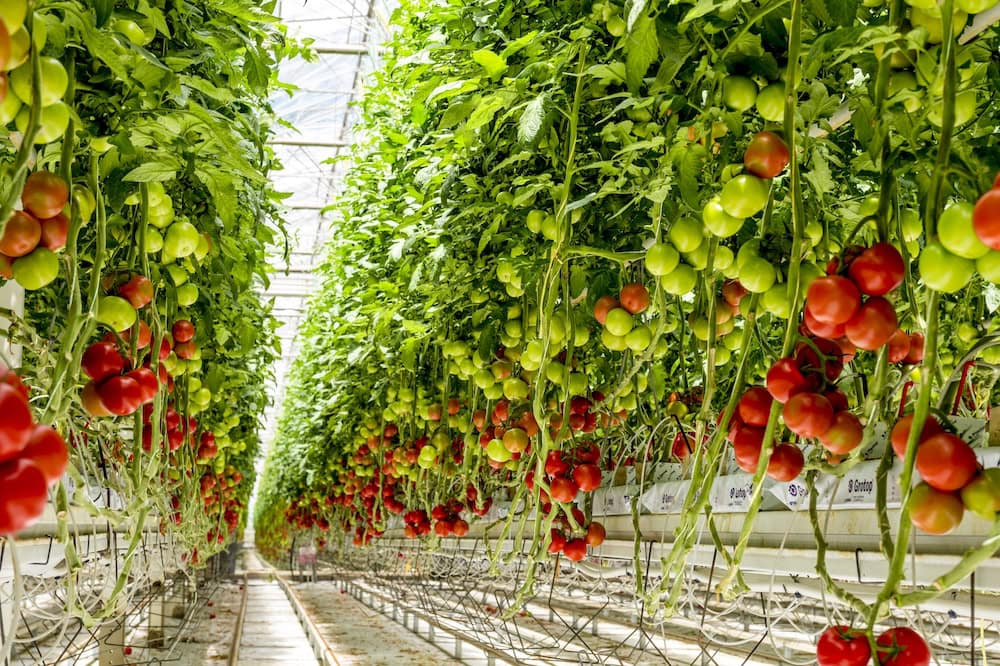 Investments in technology have been key to the Costa Group's stellar growth trajectory. It recently developed a Virtual Reality training simulator in conjunction with Melbourne Polytechnic that teaches pickers about the correct sizes of mushrooms to harvest and optimal cutting techniques.

It has rolled out an Artificial Intelligence system designed by Sydney ag-tech firm The Yield, that measures soil moisture, wind and 12 other variables in real-time to help it better manage the quantity and quality of its berry crops.

And in the town of Guyra on the Northern Tablelands of NSW, it has established one of Australia's most efficient and productive farms. Set within six glasshouses with a combined footprint of 30 hectares, the facilities combine hydroponic technology and vertical farming techniques to produce an average of 70kg of truss tomatoes per square metre – around six times more than the best farmers in Australia can grow on land.

Here we take a behind-the-scenes look at the technology, systems and people that have made vertical farming in Guyra such a runaway success – and how the jobs and opportunities it has created have breathed new life into the town.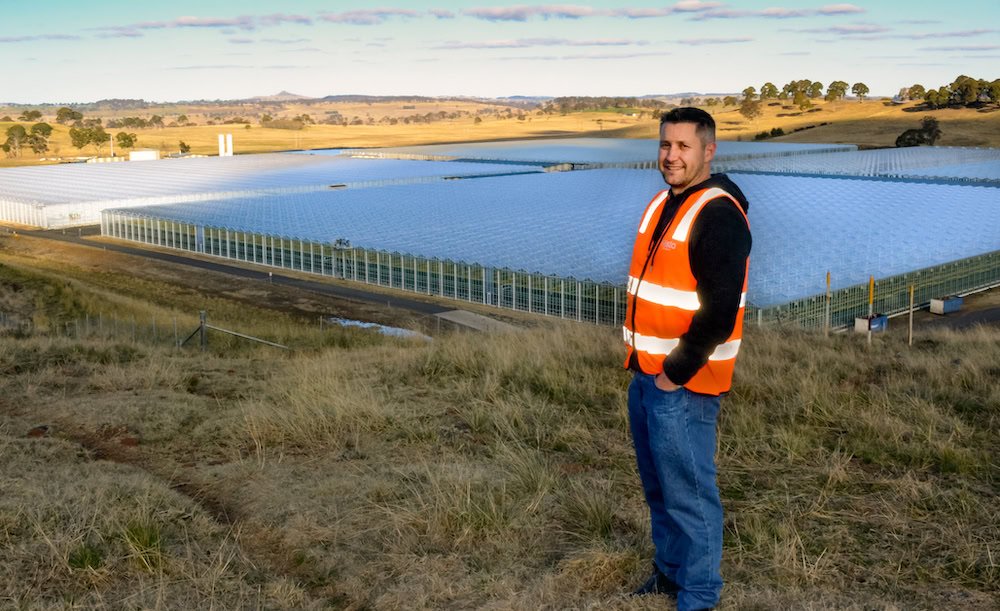 Vertical farming
Just like the Costa Group's founder, Tal Kanety, a senior grower manager for vertical farming, migrated to Australia in search of his dreams.
"In Israel, we have compulsory army service and I served in a brigade that combines infantry and farming on collective farms called 'kibbutzim'. It was there that I got the agriculture bug and learned about irrigation," he says.

After leaving the army, Tal backpacked around the Far East and met his future wife: a girl from the Blue Mountains. They spent the next decade traipsing back and forth between Israel and Australia before landing a job with the Costa Group in 2011.

"The main attraction for me was that Costa is a leader in ag-tech, not just in Australia, but in the world. Basically, everything we do is about resource efficiency – how to grow more food using less land and less water. If you consider we will have to figure out how to feed 10 billion people by 2050, it's one of the most important jobs in the world," he says.

Tomato plants in the Costa Group's glasshouses do not grow in soil. Instead, seeds are planted in balsa rock sealed in insulation pads set on hanging gutters in glasshouse structures up to seven metres high. "The beauty of balsa rock is that it's completely inert – it has no nutritional value – but acts as a perfect growing medium which allows you to have exact control over water content, fertiliser content and temperature of the root system to bring the most genetic potential out of a plant," Tal explains. "The technology was developed by the Dutch, the super-powers of glasshouse production. Their structures are not covered with plastic sheets like in Israel but with glass that is much better at transmitting light."
Most of the carbon emissions released by the heating system in the glasshouses are pumped back into the structures to assist with the photosynthesis of the plants. And the structures are also almost entirely water self-sufficient.
"We harvest all the rain that falls on the rooves and other hard surfaces and collect it in a series of dams," he says. "More than a third of the water we use – as well as half of the fertiliser – has already been recycled. So we never ran out of water during the drought but in 2019 we had to push the boundaries in terms of water efficiency to get through the worst of it and wait for the rains. Looking back, it was actually a blessing in disguise because it forced us to think outside the box for ways to future-proof our business."
Growing people at the Costa Group
The Costa Group currently employs 700 people in Guyra. Among them is Peter Davis, who was born in Guyra but moved to Brisbane at the age of 19. But in 2010, he moved back to his hometown to work as a labourer in the glasshouses alongside his dad.

"I never expected that I would be able to move back home before retiring, so I was very lucky that the tomato farm was here," he says.

After noting his potential, the Costa Group moved Peter into a workplace safety role. The company's motto is "we grow people" and this man is living proof. Today he's Tal's boss – State Manager for vertical farming in NSW.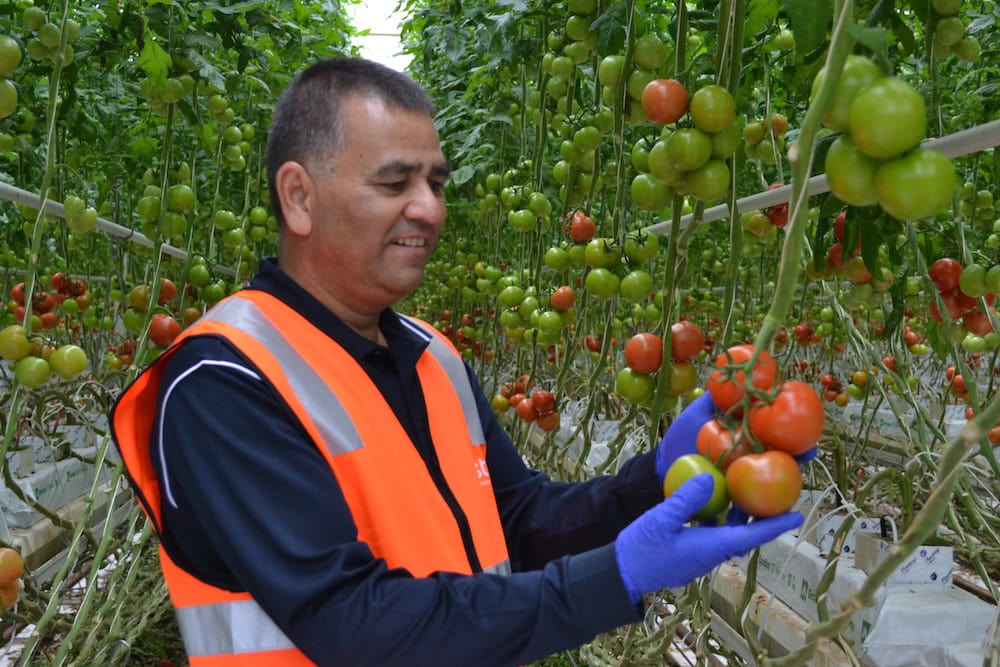 "Even though we pride ourselves on employing locals, we have a very diverse workplace," Peter says. "We've hired a lot of people who live in Guyra and nearby Armidale. We also employ seasonal workers from Tonga, the Solomon Islands and Vanuatu, and backpackers and university students from Armidale to cover all of our labour needs during harvest. Although we're less dependent on seasonal workers than may traditional farmers because most of our jobs require specific training and skills."

The glasshouses, Peter says, have reversed the fortunes of many Guyra residents, after a large abattoir that employed 350 people closed its doors in 1995, leaving them all unemployed.
"The company has definitely brought Guyra back to life again. There would not be as many shops on the main street, we might not have a supermarket, and house values would not be doing so well. It's added a lot of value to the community," he says.

NSW Farmers' President James Jackson, who lives on a sheep and cattle farm about a 20- minute drive from Guyra, shares those sentiments.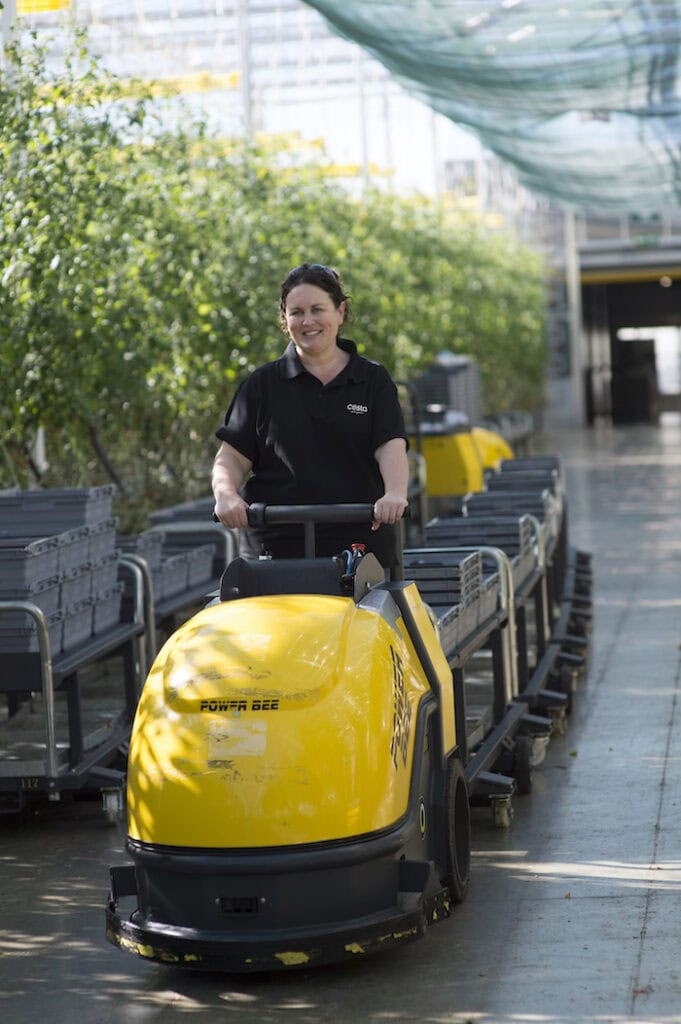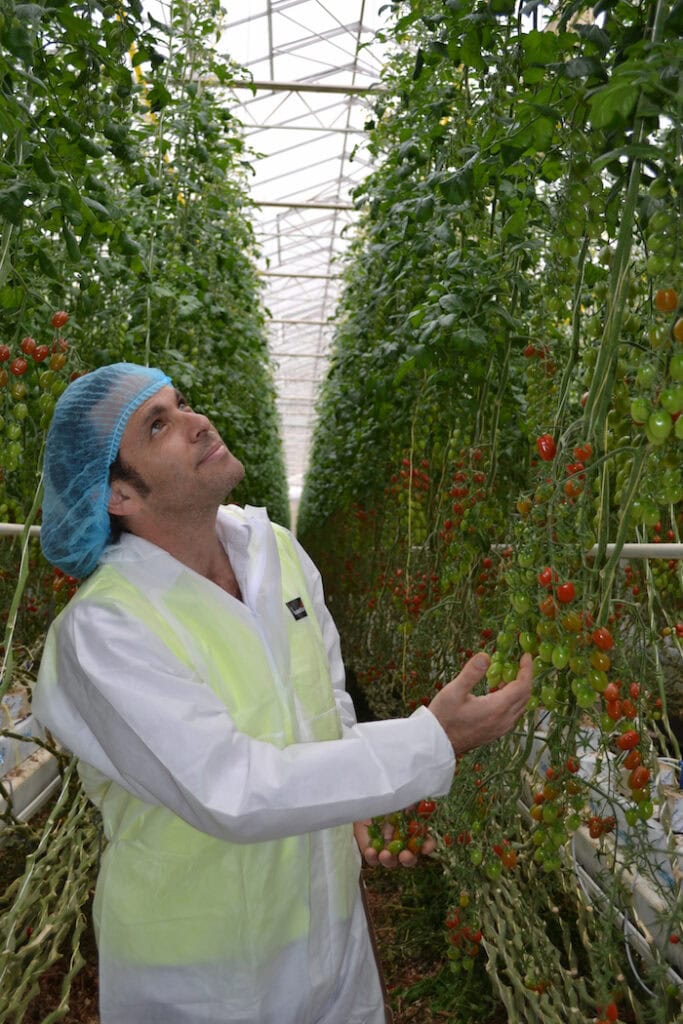 "The glasshouses have been a boost to the local economy and the regional economy as well. It's had a huge economic flow-on effect through the community – plumbers, electricians, there are a lot of coffee shops in town and now there's one girl with a shop that sells exotic vegetables, he says. "They've created an economical 'critical mass' that kept Guyra going throughout the drought when there wasn't much money coming in from anywhere else."

Next year Guyra is going to get even busier when the Costa Group erects another 10 hectares of glasshouse and a new plant nursery that were supposed to be finished this year but were delayed by the pandemic. The expansion will increase tomato production by 25 per cent and create an additional 160 jobs, and provide hundreds of thousands of dollars' worth of work for local contractors during the construction process.

Above and beyond the economic aspects, diversity of the workforce at the Costa Group has also made Guyra a more colourful place to live.
"The locals welcome people from different cultures," says James. "The Tongans – who are quite religious – they have really got the Methodist church going. I attended a service recently, and you should hear them sing!"
If you enjoyed this story, you might like our feature the flower industry.