There has been outcry across the country and a fierce debate is raging about whether fresh 100 per cent no-added-sugar Australian fruit juice should have a lower Health Star Rating (HSR) than some diet soft drinks.
The Australian and New Zealand Ministerial Forum on Food Regulation – a group made up of state and territory food ministers – rejected federal Agriculture Minister David Littleproud's second bid for juice to achieve a Health Star Rating of four at a meeting last week.
The forum voted to increase the HSR for some diet soft drinks to 3.5 stars, but uncertainty remains for fruit growers and the juicing sector as the forum has delayed a decision on downgrading the HSR for 100 per cent fruit and vegetable juices with no added sugar.
The controversial move to reduce the HSR for juices with no added sugar came after health authorities pushed for the downgrade due to the risks associated from consuming too much sugar.
Mr Littleproud argued that evidence shows juice contains nutrients vital for physical and mental wellbeing.
There is another meeting scheduled for February 2021 to specifically address the potential downgrading of the health rating to 100 per cent fruit and vegetable juices with no added sugar.
Queensland, Victoria, Tasmania, Western Australia, Northern Territory, the ACT and New Zealand voted against Minister Littleprouds' proposal, with New South Wales and South Australia the only states to vote for fresh juice to receive a rating of four.
NSW Farmers Member and citrus grower Sam Lentini, who operates Eastcoast Beverages at Kulnura, says authorities need to compare apples with apples.
"You cannot compare drinks like fresh orange juice with sugar in its natural state, with drinks that have had other sugars and sweeteners added," Sam said. "I firmly believe that the full health benefits of 100 per cent Aussie juice are not being taken into account."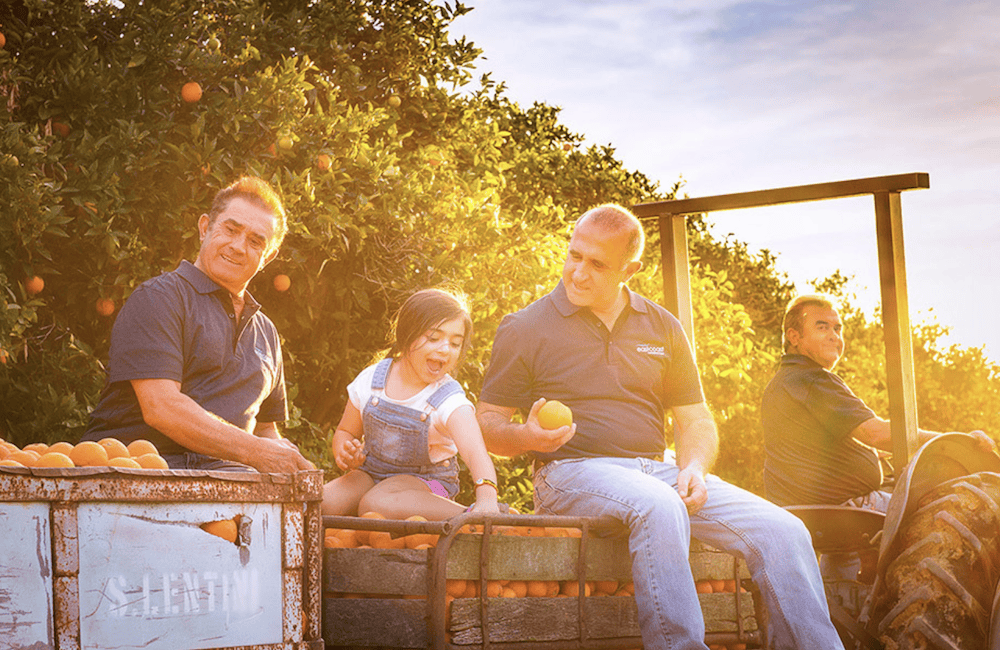 Anti-sugar lobby blamed
The citrus industry says it's shocked and disappointed the current five star health rating of fresh fruit with no added sugar is being jeopardised.
"We are gutted for our growers that produce world class juice for the Australian population, only to be told diet coke is the better option," Mr Hancock said. "What message does that tell the Australian agriculture industry and Australian consumers?
"Despite evidence that fresh juice contains nutrients vital to physical and mental well-being, these governments have deferred to the anti-sugar lobby, which has had fresh juice in its sights since the Health Star Rating system was formed."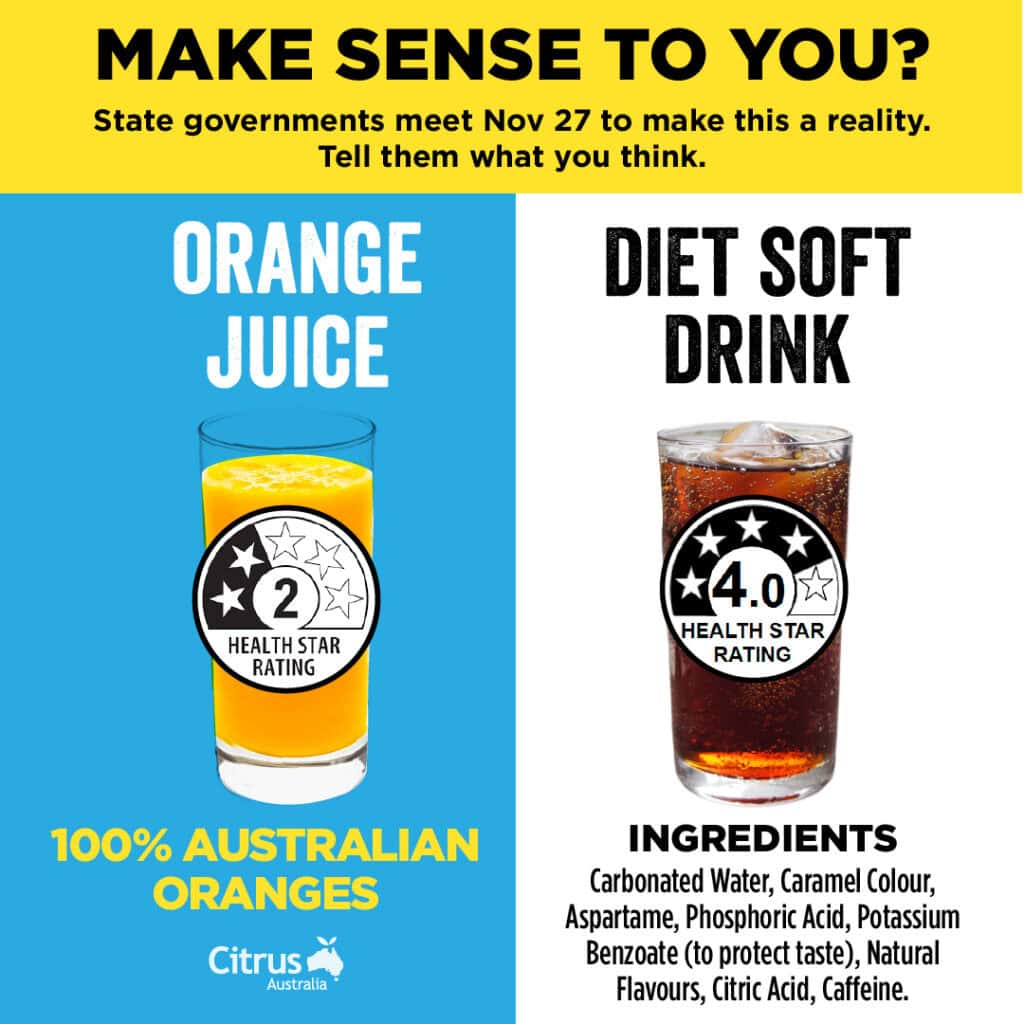 WA, Victoria and Queensland governments blamed
Mr Hancock said the governments of Western Australia, Victoria and Queensland, which reap the benefits of a strong citrus sector, have sold out their own growers.
"These states reap the reward of strong citrus growing sectors, who provide financial and social benefits to rural and regional communities.
"These family operations received no support from their state governments, who deferred to their health departments that had a laser-like focus on one element of juice.
"These governments may as well just relabel the Health Star Rating system as the Hate Sugar Rating system and be done with it.
"The average consumer in Australia is consuming sugar in products like white bread, breakfast cereal, tinned products and diet yoghurt.
"Instead of supporting an Australian grown and produced product, governments have sent a clumsy message about the relative health benefits of diet soft drink."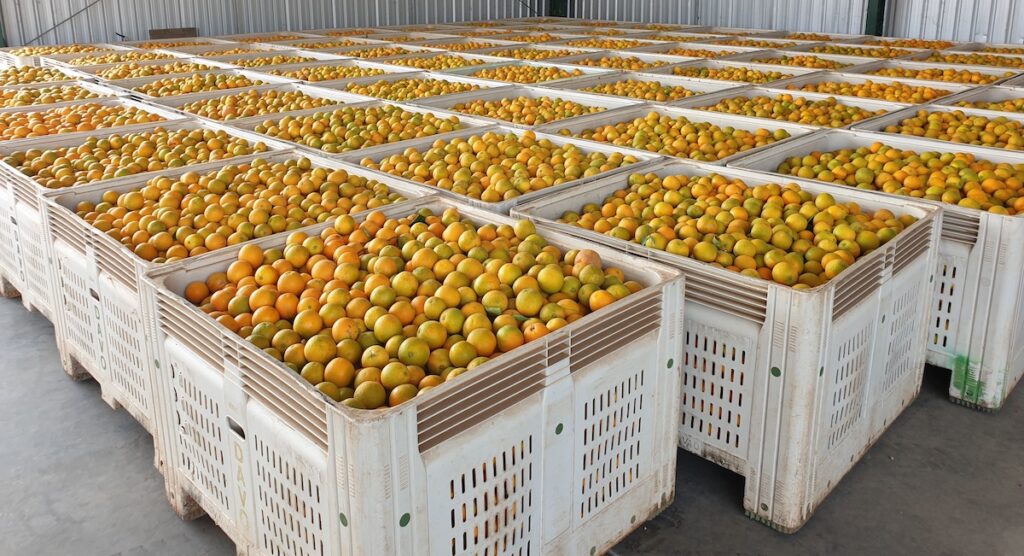 Integrity of the system already in question
Mr Hancock said the fact a packet of chips has a three-star health rating, shows the system is broken.
"We know that many small and large scale companies are planning to remove the HSR logos from their products as a result," Mr Hancock said.
"Australians can have no confidence in this system to provide them any advice on what to eat or drink. It is government intervention where it isn't needed and is a mockery on the Australian consumer's good sense."
'It's madness': David Littleproud scathing of system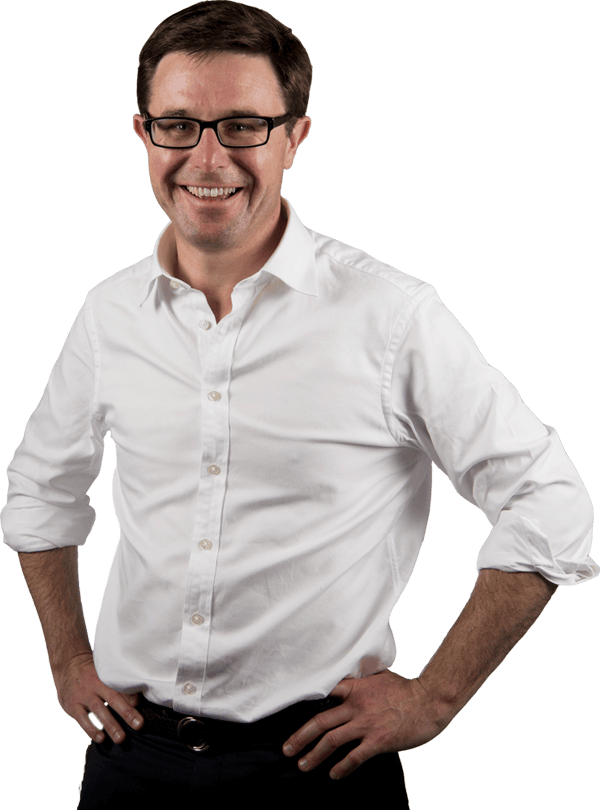 Mr Littleproud was scathing of the result and said the Food Ministers Forum has abandoned Australian citrus growers.
"I presented a paper about the important role fruit juice has in the diet of Australians that recommended an automatic four-star rating on 100 per cent fruit and vegetable juice with no added sugar," Mr Littleproud said.
"The Forum rejected this proposal even though it's clear to me that retaining a four-star rating would address industry concerns, maintain the commitment of our growers and juice industry to the health star rating system and retain jobs."
"It's madness. Fresh, pure, vitamin-rich Aussie OJ is better than soft drink every day of the week and our Health Star Rating system should reflect this.
"At a time when we need more jobs, and our farm and food processing sector need more support, governments are abandoning them.
"It will cause consumer confusion and impact sales in an already difficult year for farmers."
Meeting in February 2021 to further address the issue
In the minutes of the November 27 meeting, it was recorded:
"The Forum supported a proposal for a minor adjustment to the HSR review calculator to address an anomaly. Diet beverages will now achieve no more than 3.5 stars, as this option best aligns with the intention from the HSR Five-Year Review recommendations and with the Australian and New Zealand dietary guidelines."
The Forum also noted that "the Australian Government Department of Health will provide further advice in relation to adjusting the HSR calculator for 100 per cent fruit and vegetable juices (no added sugar) for discussion at the next meeting, to be held in February 2021."
To read more about how the decision will impact citrus farmers, please read this story that was published on The Farmer last week.