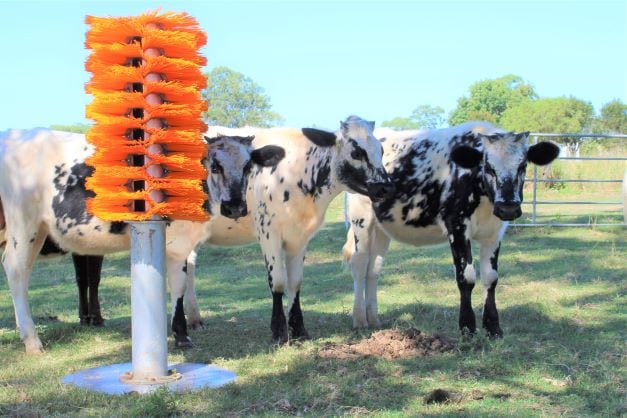 The Totem Pole scratching post is a livestock brush designed for almost any farm animal wanting to scratch their itch.
The paddock-based itch relief is distributed by Bow's Barn, a family business based on a small farm in Queensland.
"We have small hobby farm with a mix of cows, goats, sheep, miniature horses, ponies, riding horses and even a couple of thoroughbred racehorses," says owner Nick Sharp.
"I know how much cattle and horses like to rub up against anything to scratch their itch.
"Fencing, trees, Utes, buildings, you name it, and they will rub against it. It's safe to say cattle and horses are motivated by anything that will give them a good scratch. The Totem pole helps to discourage that destructive behaviour."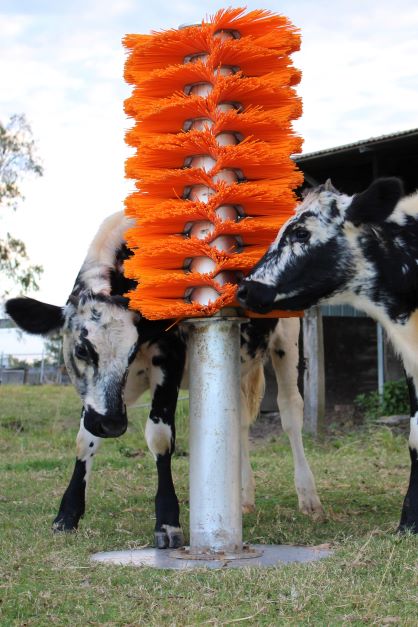 Nick says the Totem Pole brushes do more than just help relieve an itch.
"Grooming is an important behaviour for cattle and our Totem Pole brush helps them to keep a healthy coat and skin by removing dirt and parasites. It lets cattle groom where they can't reach themselves.
"There circulation is increased with each use, and boredom, stress, and abnormal behaviours all decrease."
Bow's Barn is currently offering an exclusive discount for The Farmer readers, with $150 off per pole and free shipping when purchased in May or June. Use the code 'FARMER" when purchasing at bowsbarn.com.au.
The Totem Pole's unique inground installation makes it easy to install in any paddock or bolt it directly onto a concrete pad indoors or outdoors. The robust design can handle the roughest and heaviest animals all year round whether it is a large horse or a 1-tonne bull.
The brush is made up of 22 individual brush rings with a unique wave design to provide the best scratch for that livestock itch, without the need for a motor or electricity.
Bow's Barn also offers fully automatic electric scratching brushes as well as the Totem Pole brush for all your indoor livestock scratching requirements.
For more information, contact Bow's Barn on 07 30731414.