Don't miss out this EOFY. New Holland have a wide range of their renowned tractors ready to round up. All with tax incentives and New Holland's great EOFY finance rate.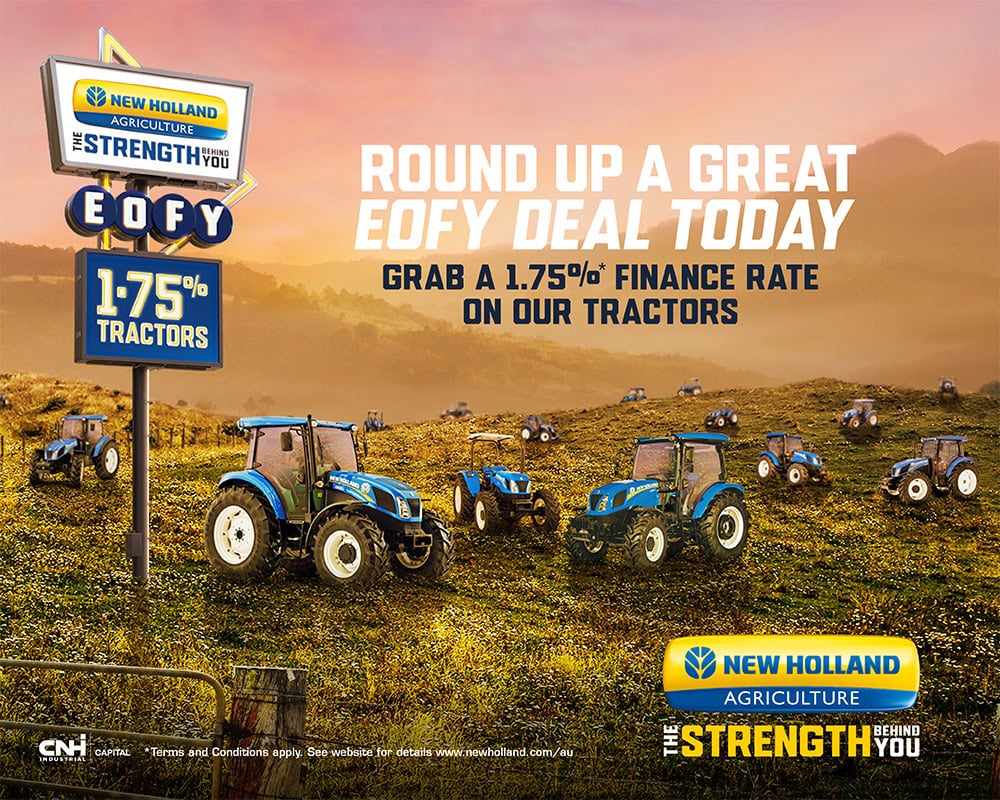 ROUND UP A GREAT EOFY DEAL ON A TRACTOR TODAY
June 30 is always an important date for farmers across Australia. A chance to upgrade machinery and take advantage of tax incentives at the end of the financial year. But after two years of COVID, it seems many manufacturers may be battling for stock – with long waits for many popular models.
New Holland has a great herd of tractors ready to roll into a field near you. All at a great EOFY finance rate.
There's the renowned, high horsepower TD5. It combines maximum performance with lower fuel consumption and minimised exhaust emissions. Driving the TD5 is a pleasure too, with its spacious, ultra-comfortable VisionView cabins delivering 360-degree visibility and reduced noise levels.
Or you could opt for the reliability and dynamic performance of the TT4. It offers 55, 65 or 75 HP engines and a comfortable cabin with ergonomic controls. With its 2.5 tonne lift capacity and 10 transmission options, it offers farmers the ultimate versatility.
Talking versatility, you can also grab an EOFY deal on the T4S. It offers the perfect balance between modern efficiency and a simple design that delivers exactly what you need. You get four-wheel drive for added traction. And a four-post cabin for all round visibility. It's designed for hard work, all while delivering great fuel efficiency.
So if you're looking to retire your old tractors and increase your efficiency and productivity with a brand new T-Series tractor, pop into your local New Holland dealer before June 30. Your farm returns will thank you for it.