According to the Australian Bureau of Statistics, in 2021, around 30 per cent of primary-aged and 40 per cent of secondary-aged students in Australia attend a private or independent (non-government) school.
Of the total enrolment of NSW students in 2021, 17.8 per cent were in independent schools and 17.7 per cent were in Catholic system schools. It's a growing trend. This was 23,743 more students than in 2020, or a growth of 3.5 per cent.
There has been steady growth in the sector year-on-year according to data released by Australian Independent Schools NSW.

Since 2018, independent schools have enrolled three out of four of NSW's additional students. In 2018, about 34.3 per cent of students were enrolled in non-government schools.
Anglican and Islamic independent schools are picking up the additional students, according to the ABS annual schools report, recognising Australia's changing demographic and parents' need for their children to receive values-based education.
All of this has put the pressure on, and investment is rising. In fact, since 2014, 40 new independent schools and 35 new Catholic schools have been built in NSW.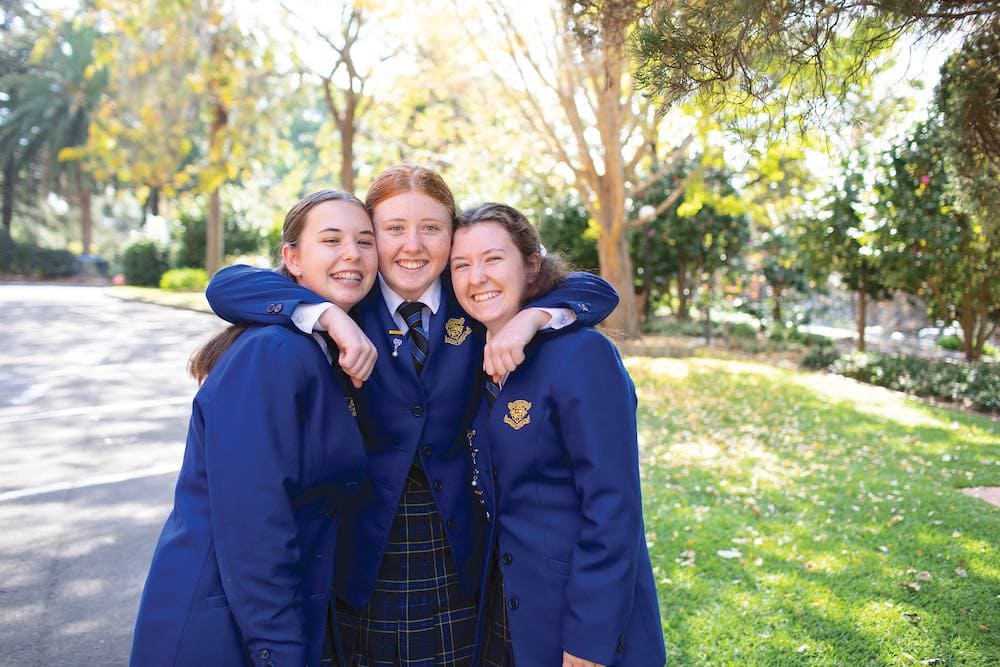 The history of non-government funded education is strong in Australia. Many schools were set up by parents well before government-funded education became the norm. That history continues across the nation.
On top of the demand for non-government funded education providers is access to boarding facilities. While there may be a broad perception that boarding schools exist in cities, there are many boarding schools in regional centres as well.
Staying at boarding school – whether it's for the entire term, weekly, or on an adhoc basis, one or two nights a week, or to participate in school activities outside of the normal day – provides students with opportunities to participate more in peer-to-peer activities, including tutorial programs, sport and cultural activities.
Students also learn to live with other people – people who aren't their families and siblings – and they learn life skills because they are expected to keep their own room and common rooms clean and tidy, and they're often expected to participate in a roster to help in the kitchen and dining rooms.
For parents, the boarding facility is often an add-on to their child's education and a significant financial and family commitment.
One of the issues that non-government schools face is enrolment caps – limiting the number of students and staff – imposed by local council planning authorities. It's a long-standing imposition that doesn't apply to government schools[JS2] .
Having multiple campuses to spread increased enrolment numbers each year, has enabled the approximately 1,000 NSW non-government schools to work with this imposition, especially in regional centres.
Learning from the past
While Australia is seeking a guided way forward towards reconciliation of past colonial deeds and misgoverning, implementing cultural responsiveness into learning has gained impetus, including in the boarding non-government schools sector.
Australian Independent Schools NSW (AINSW) hosts an annual conference for educators to facilitate conversations about how to bring Aboriginal and Torres Strait Islander culture into subjects from english and legal studies, to science and mathematics, to support the development of a culturally safe environment for students.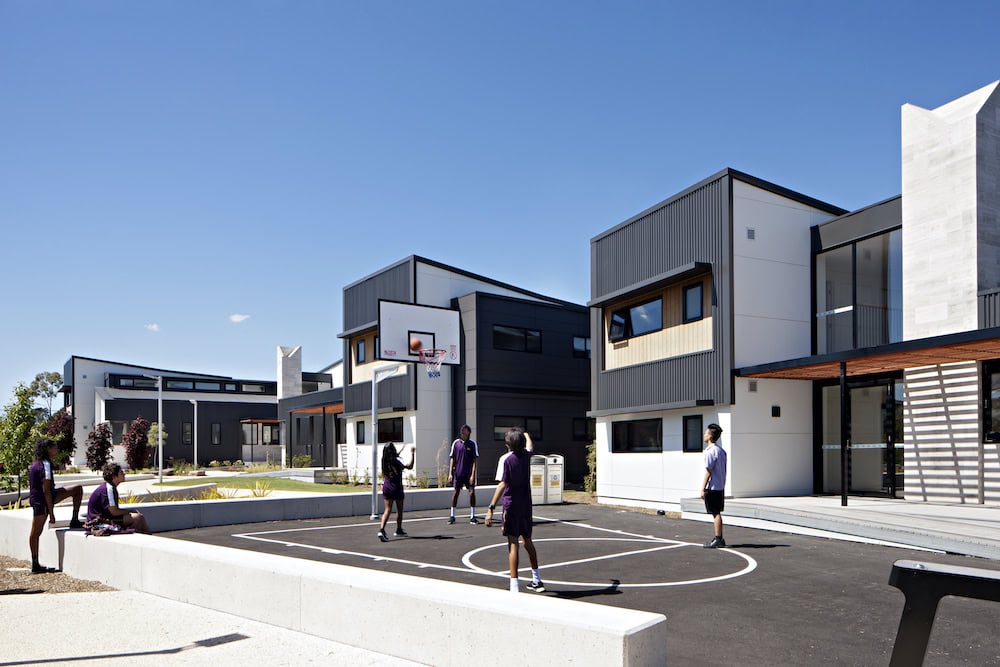 Roz Thomas, AISNSW Aboriginal Education Consultant, says the conference enabled teachers to explore their role in creating a culturally responsive integrated education system for all students. She says implementing Aboriginal and Torres Strait Island perspectives was good for the entire school body.
"Aboriginal and Torres Strait Islander students thrive in education when they can see themselves acknowledged, whether that's visually through symbols and images across the school environment or by seeing their cultural knowledge respected and taught through the curriculum in their classrooms."

Roz Thomas, AISNSW Aboriginal Education Consultant.
A 2020 independent evaluation funded by the AISNSW identified that due to this shift in teaching, Aboriginal and Torres Strait Islander students improved their academic results, and the students' literacy overall was lifted, as was their confidence, self-management and aspiration for learning.
There were initially 649 Aboriginal and Torres Strait Islander students participating in this culturally responsive integrated education system in 2016, from four NSW urban and regional independent schools.
Each of those schools became a hub or spoke to support three more schools to participate. This meant 16 schools participated in the most recent evaluation, which was facilitated by the Jumbunna Institute for Indigenous Education and Research at the University of Sydney.
The evaluation reported improved literacy, positive and successful transitions in the school and boarding environment, with increased engagement with and motivation to learn, increased aspirations for further education and employment opportunities, strengthened connection to and pride in Indigenous culture and heritage, and improved social, emotional and physical wellbeing for students.
The evaluation project has now been expanded to 25 schools[JS3] .
Loreto expands boarding to accommodate demand
Loreto Normanhurst is building on its 125-year history and rich legacy of boarding education for girls by constructing a new, modern facility to meet the needs of students and the expectations of families, for the next 125 years.
The independent Catholic day and boarding school in Sydney, provides education from years five to 12 for girls from across Australia and overseas, with an emphasis on graduating independent, articulate and compassionate women.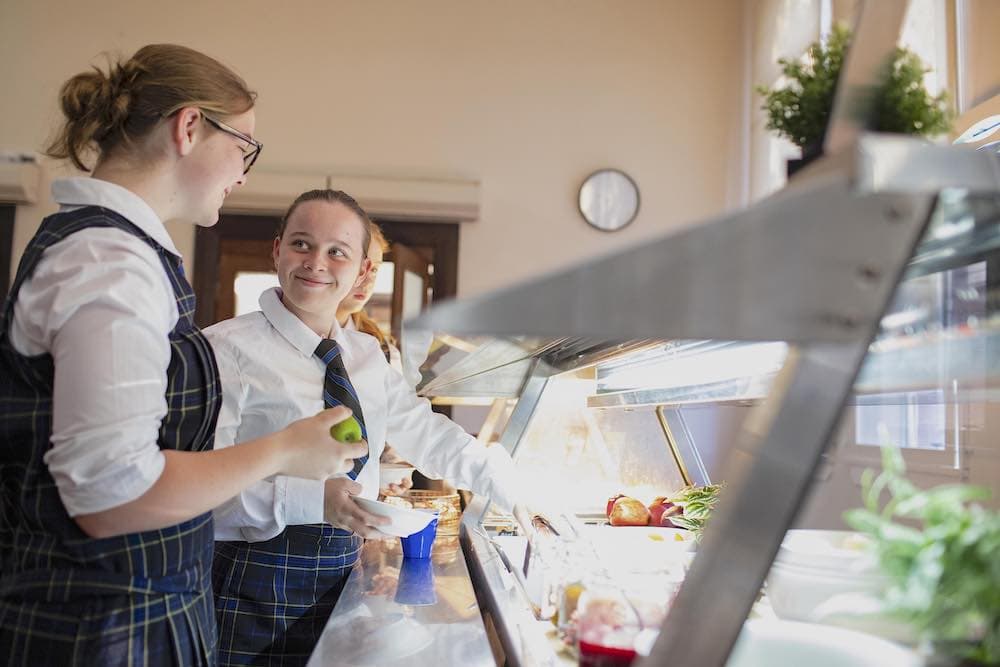 The new boarding facility will see the school grow its community of boarders to 216 students, and as the 'heart' of Loreto Normanhurst, its design features multiple gathering spaces for the school community.
Loreto Normanhurst principal, Marina Ugonotti, said she will welcome day students, their families and friends to designated areas of the boarding school to strengthen communal connections and extend the hospitality intrinsic to the Loreto community.
"The new building will include spaces where we can extend the hospitality of our facility and the surrounding grounds to all families of students at Loreto Normanhurst, and to alumnae, past parents and friends," Ms Ugonotti says.
"The residential facilities will also be able to be used for school holiday and sports camps."
The Loreto Normanhurst Boarding School redevelopment will also support the enrichment of diversity within the Loreto community and broaden access to the wholistic education first envisaged by Loreto foundress, Mary Ward.
"We recognise contemporary life has unique demands. Our boarding facility is the heart of our school and is a home away from home for our students. It's important our new and modern boarding facilities help us build a sense of community among our boarders, their families and within our entire school.
"We will continue to break down the barriers to provide access to a Loreto Normanhurst education for all girls, including rural and Indigenous girls, through our boarding program." Ms Ugonotti says.

Loreto Normanhurst principal, Marina Ugonotti.
The new ecologically sustainable boarding facility (to be completed for 2025) meets two of the strategic commitments of the school. It is part of new building works across the Normanhurst site that have already included new collaborative student learning spaces, multi-use meeting spaces, and an open-plan staff area.
The 1897 heritage buildings will remain and be repurposed as teaching, learning and recreation spaces.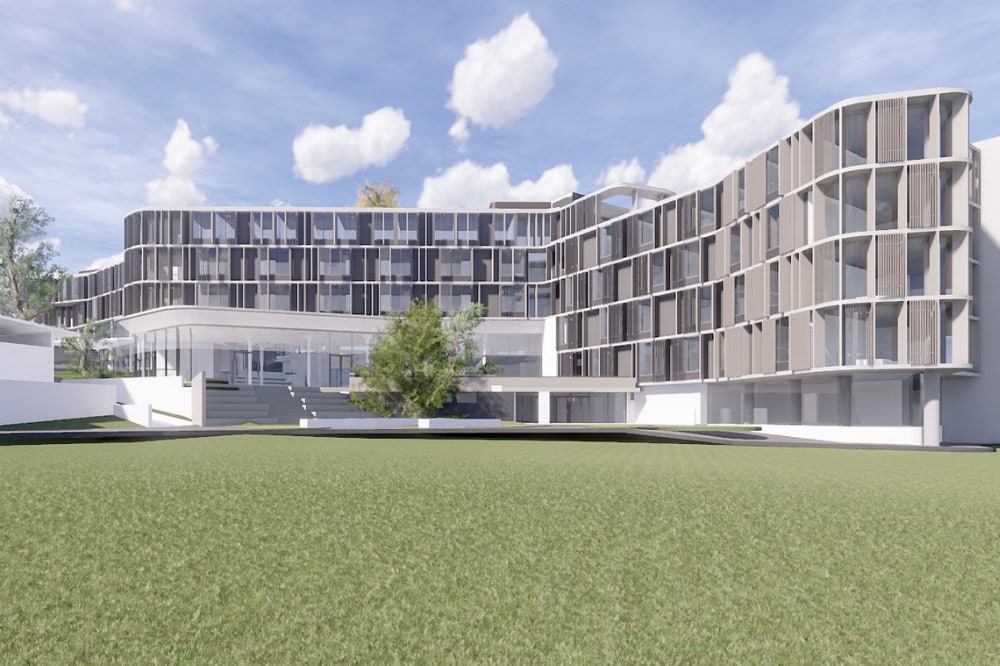 Regional base is an advantage
The regional city of Bathurst hosts two expansive campuses of Scots All Saints College, across 150 acres, enabling students from preparatory school to year 12 to experience learning in a rural environment.
The school was created with the merger of The Scots School and All Saints' College in 2018.
Living and learning in a rural environment can only be seen as a positive experience, with a range of agriculture, equestrian, debating, music and sport pursuits integrated within the curriculum.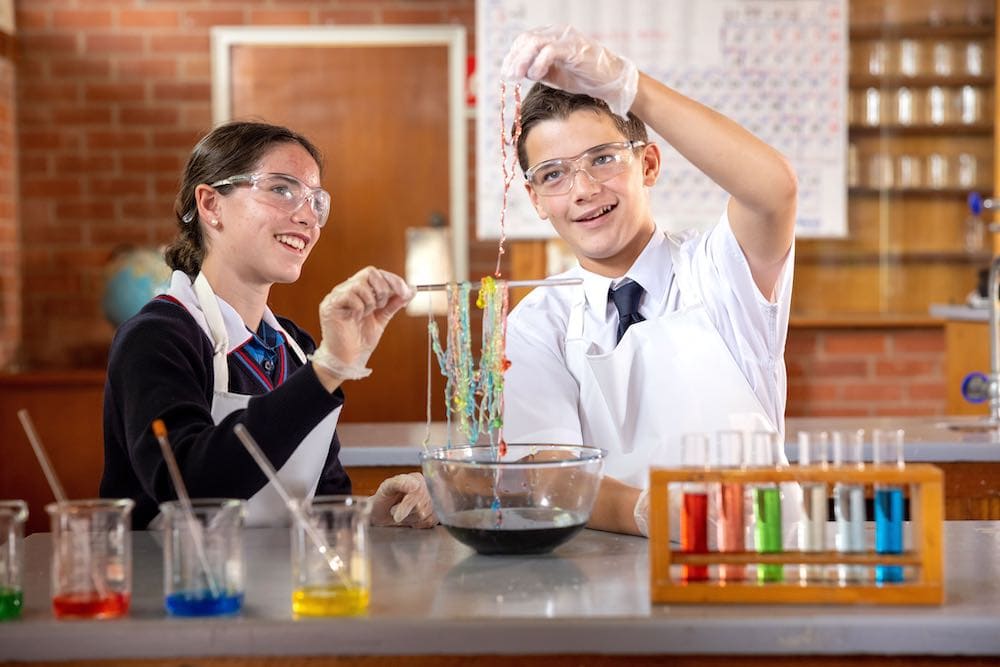 Quality education in a regional school of choice with specialist facilities, caring, experienced teachers, and diverse opportunities for children to flourish, led to the Class of 2021 achieving an outstanding 15.5 per cent Band 6 result in the Higher School Certificate. The College also celebrated 37 per cent of students achieving ATARs in the top 20 per cent of the State.
Student achievements have been helped with investment into a state-of-the-art Innovation Centre that was recently built on the junior campus providing integrated and virtual learning activities. There are plans for a STEM centre to be built on the senior campus next year.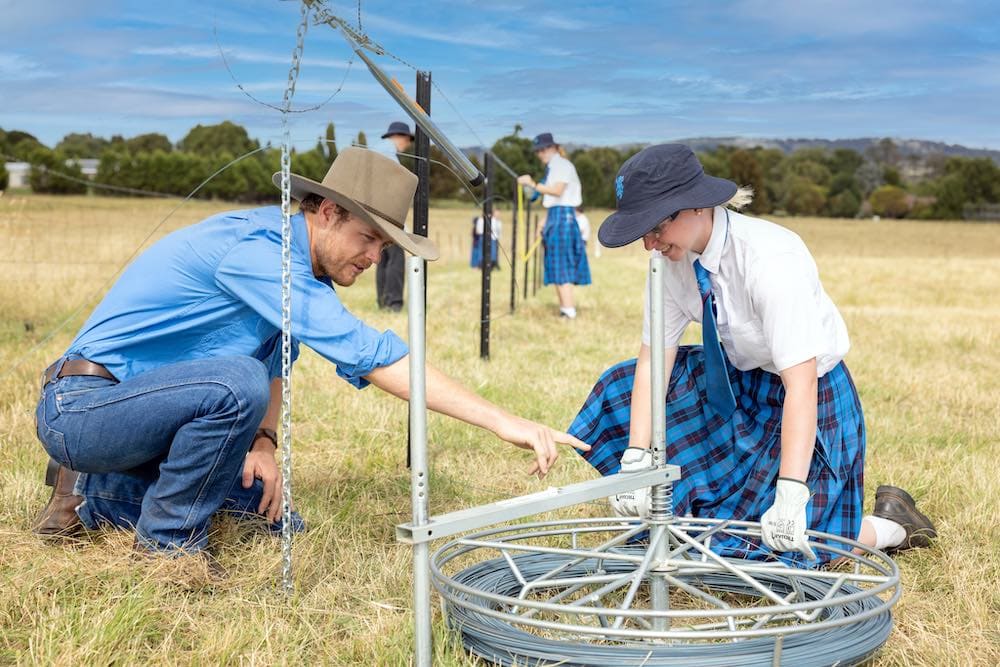 "We understand the impact an education in STEM can have on students entering the workforce," says Scots All Saints head of college, John Weeks
A large number of sports fields, outdoor all-weather and inside courts and a pool ensure a range of competitive and recreational sports are available for students across both campuses. There is a comprehensive library as well as a range of recreational reading spaces on the junior campus.
Scots All Saints is the only co-educational boarding school in the regional city of Bathurst, and with more than 150 acres of land makes it one of the largest campuses in Australia. The 150 acres includes a working farm for cattle and sheep as well as an equestrian centre.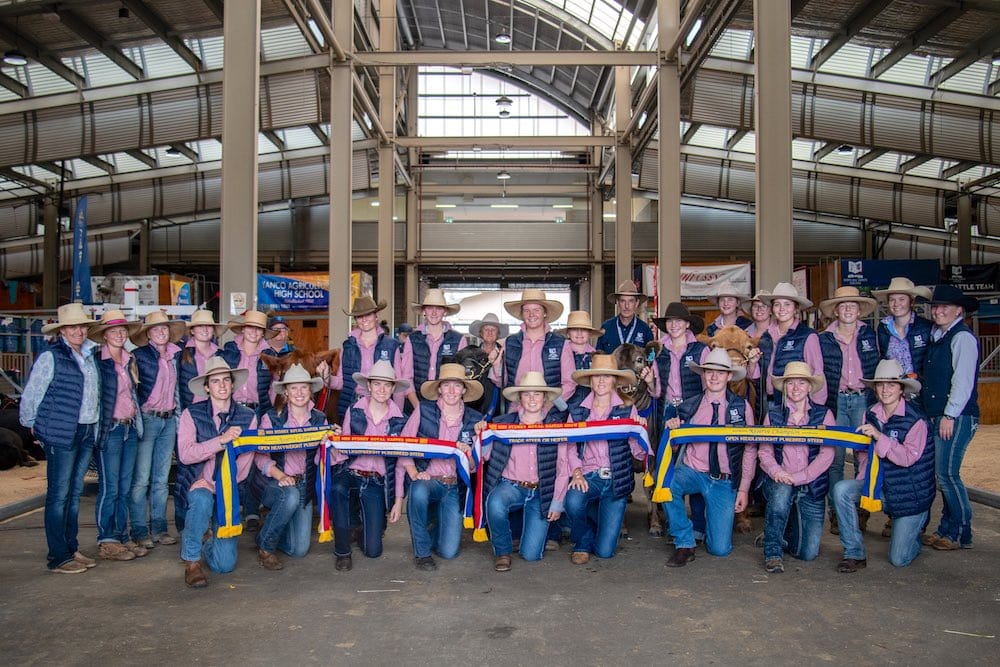 Three well-appointed residential accommodation houses means full-time, weekly and short-term boarding accommodation is available to students from years 7 to 12. Located on campus, the accommodation enables students to walk to class and participate in after-school tutorial and homework programs, the math and chess clubs, as well as sport and community activities.
The majority of students at Scots All Saints College are from regional NSW, as rural parents recognise the value of the school – including students from areas such as Nyngan, Dubbo, Moree, Mudgee, Tullamore, Condobolin and Crookwell. A few students are from interstate or Sydney, with less from overseas.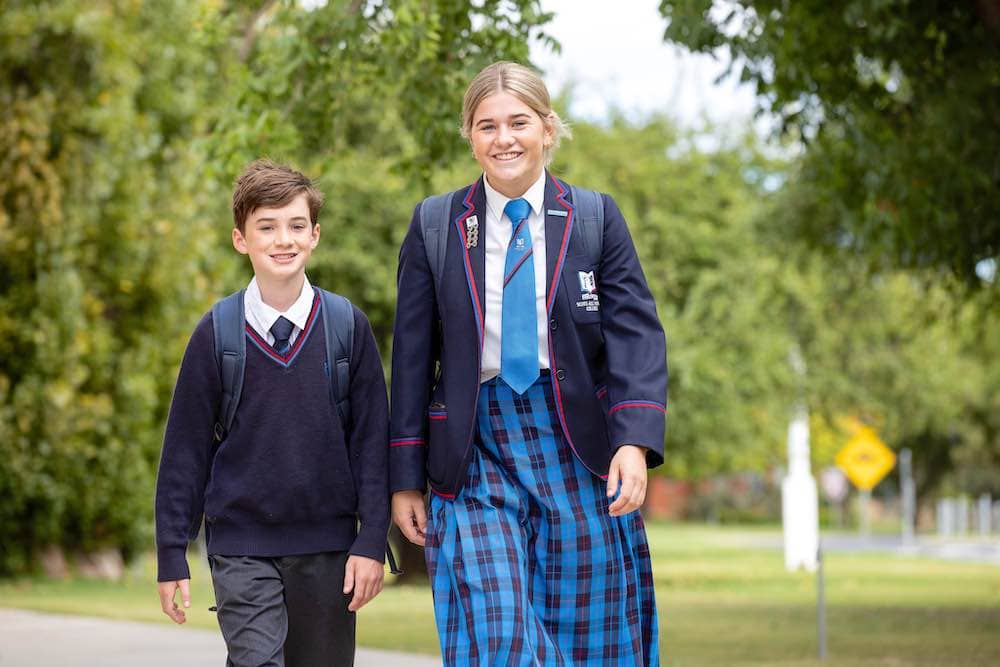 Accommodation is also available for parents who want to travel to Bathurst to attend a sporting fixture, a drama performance or other events at the College.
At the heart of the College is a sense of belonging. The mission of Saints All Saints College is to develop students into men and women with a firm foundation for life built on the Gospel of Christ.
Helping children to develop skills of empathy and compassion, and to be informed about the world, includes participation in the community. The College's Chaplain works with Hope Church, building and distributing hampers and food to local services that help homeless people. Scots All Saints students are also involved in this ministry work.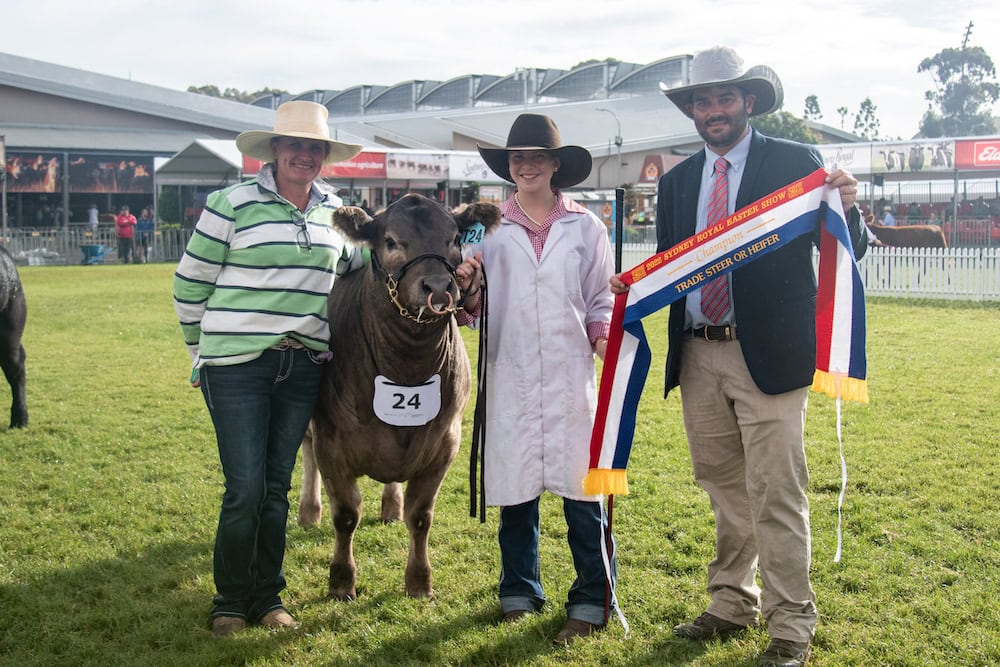 A unique feature of the College is its Pipes and Drums band, which is regularly asked to perform at local events, including ANZAC Day services and to residents of local retirement villages.. Students learning theatre studies through the Performing Arts Academy represent the school at the Bathurst Eisteddfod.
Boarding students are able to bring their horses to school and participate in weekly lessons with qualified instructors, training in show jumping and flat work. Students also have the opportunity to participate in cross country clinics as well as polocrosse training.
Cattle team training involves preparing and exhibiting the College's own cattle and involves students from year nine. Cattle are shown by students at the local Bathurst and Blayney shows and the Sydney Royal Easter Show.
Bringing farm life to school
The last 15 years has seen considerable growth in the agriculture and equestrian programs at Scots All Saints College. The College Farm is set on about 40 ha of the campus and has a Limousin Stud, an Australian White Stud, and livestock cross-breeding and finishing programs.
Students begin their agricultural journey in year seven, studying food and fibre with hands-on involvement in poultry farming and growing vegetables. They also participate in the dairy industry's 'cows create careers' program.
In years 9 and 10, students can take this learning further with involvement in intensive and extensive plant and animal production systems.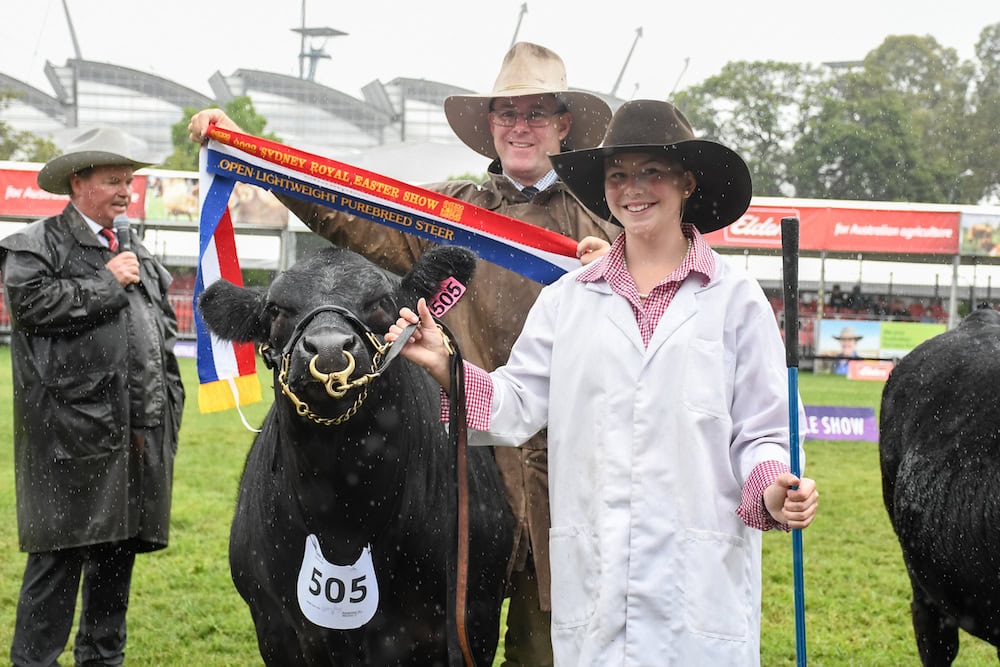 Students are involved with breeding first-cross ewes to join to Poll Dorset rams to produce and raise prime lambs. There is a cropping program that involves the students, where they learn tractor driving skills and how crops are used to fill the winter feed gap and to finish lambs and weaned calves.
There is also a feedlot on the farm, and each year up to 30 steers are prepared for the 'hoof and hook' competition at the Sydney Royal Easter Show and the Upper Hunter Beef Bonanza, held in Scone.
The quality of the livestock program has earned accolades for students and the College – winning many Grand Champion ribbons at the Sydney Royal Show. The College steers have been awarded Interbreed Champion ribbons and the school has received the most successful school exhibitor award many times at the annual Show.
Further agriculture and primary industries study enables students to undertake Vocational Education and Training (VET) courses, leading to a nationally recognised Certificate II in Agriculture.
Libby Dawes, Director of Agricultural Students and Equestrian, said gaining the Certificate II has enabled students to work as a stockperson, farm or station hand, or as an assistant animal attendant. They can participate in more training to receive a Certificate III in Agriculture, and go on to agriculture studies at tertiary level.
Wesley sets the standard for boarding
With the International Baccalaureate (IB) sitting alongside the Victorian Certificate of Education (VCE), students attending Wesley College have a choice of world-class education that opens up their opportunities beyond school.
Wesley College is a leading co-educational, open-entry IB World School with three metropolitan campuses in Elsternwick, St Kilda Road and Glen Waverley, enrolling more than 3400 students. Wesley's Glen Waverley campus offers a combined day and boarding school.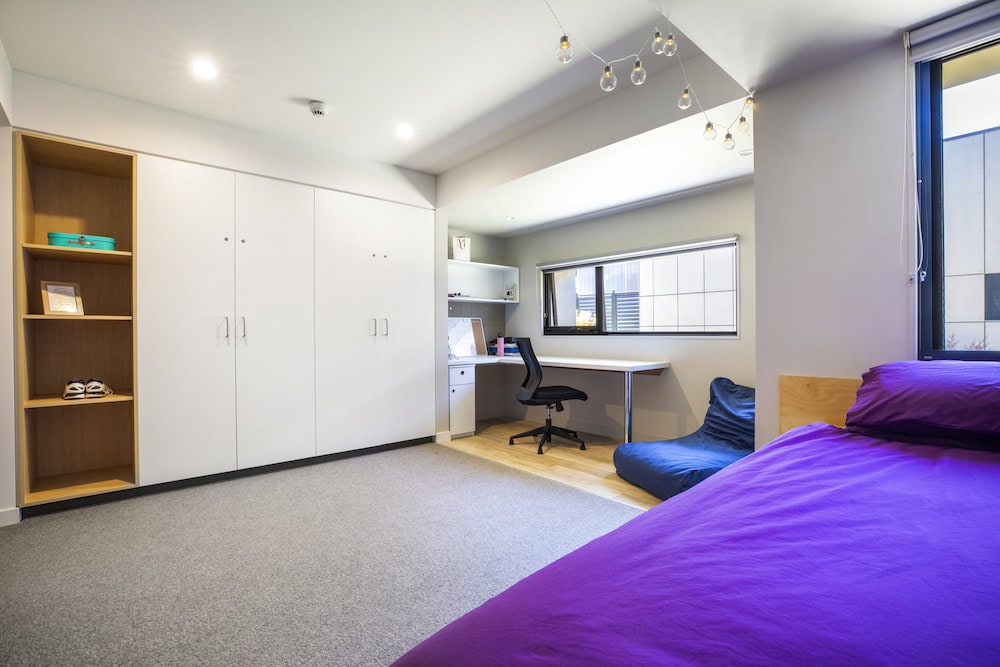 In 2021, 99 per cent of students who studied VCE and IB at Wesley College received a first-round tertiary offer. The IB median ATAR for the class of 2021 was 96.25. Nine students attained the highest possible ATAR of 99.95.
Experiential learning activities include a year 9 residential program at Clunes, three outdoor education camps in Victoria, a year 10 induction program at the Yiramalay Studio School in The Kimberley, WA, and specialist international and local tours to support students' learning.
At the heart of Wesley's approach to education is a commitment to developing well-rounded individuals who aspire to achieve their personal best in all areas of learning.
The breadth and depth of a Wesley education provides extension, enrichment and co-curricular programs that include visual and performing arts, sport, music, outdoor education, community service, debating, drama, and literary festivals.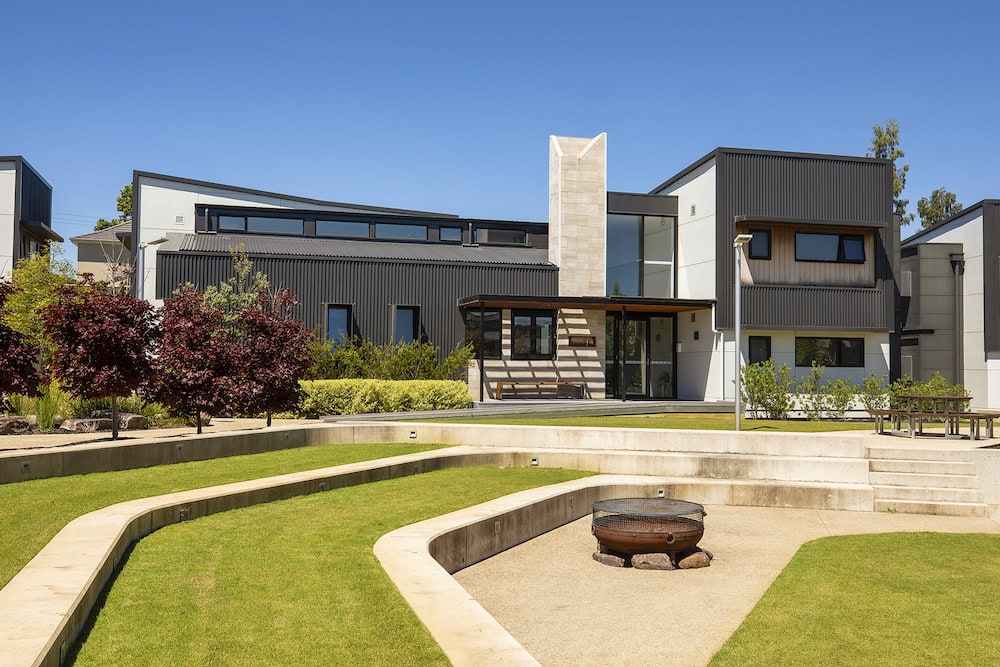 With the demand for boarding facilities for students, Wesley College purpose-built a contemporary residential facility at the Glen Waverley campus, available for students in years 9 to 12, called Learning in Residence. Boarding students bring a diversity of life experience to the school, being from metropolitan Melbourne, rural Australia and international locations across Asia and Europe.
There are eight two-storey residences, each housing up to 16 students and one staff member. Students in years nine to 11 share twin bedrooms with ensuite bathrooms. Students in year 12 each have their own private ensuite room.
The communal dining room comfortably seats up to 240 people and is open to all of the day and boarding students.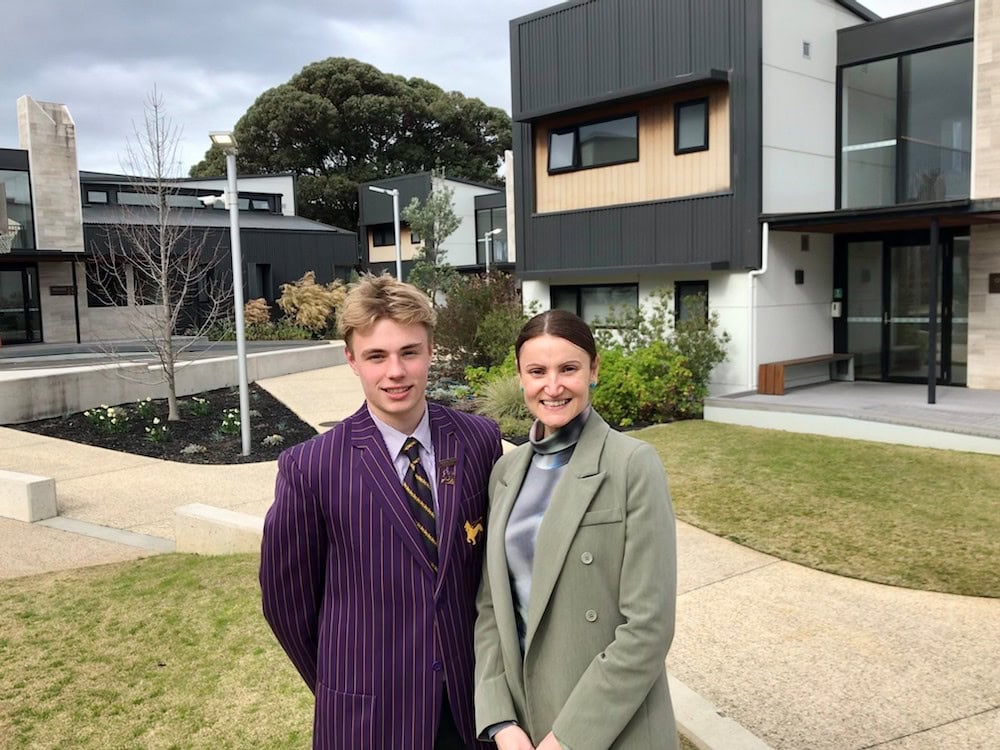 The boarding facilities are supported by a Learning in Residence program with a focus on student development with academic, employment, extension and health and well-being programs.
Small group tutorials and individual learning assistance provided by expert mentors and experienced College teaching staff also supports students completing homework and assignments.
Boarding scholarship applications for 2023 at Wesley College are now open.
From Wagga to the big smoke
Tom Wilson moved from Wagga Wagga to Melbourne to board at Wesley College, commencing in year 10. He was so popular among his peers that they voted him the Learning In Residence Captain.
Tom's mother Karen Wilson said when they started looking at boarding schools, moving as far as Glen Waverley in Victoria was not originally what they expected, however Tom knew. Tom knew two boys from the local football club who had already settled into the boarding residences at Wesley College.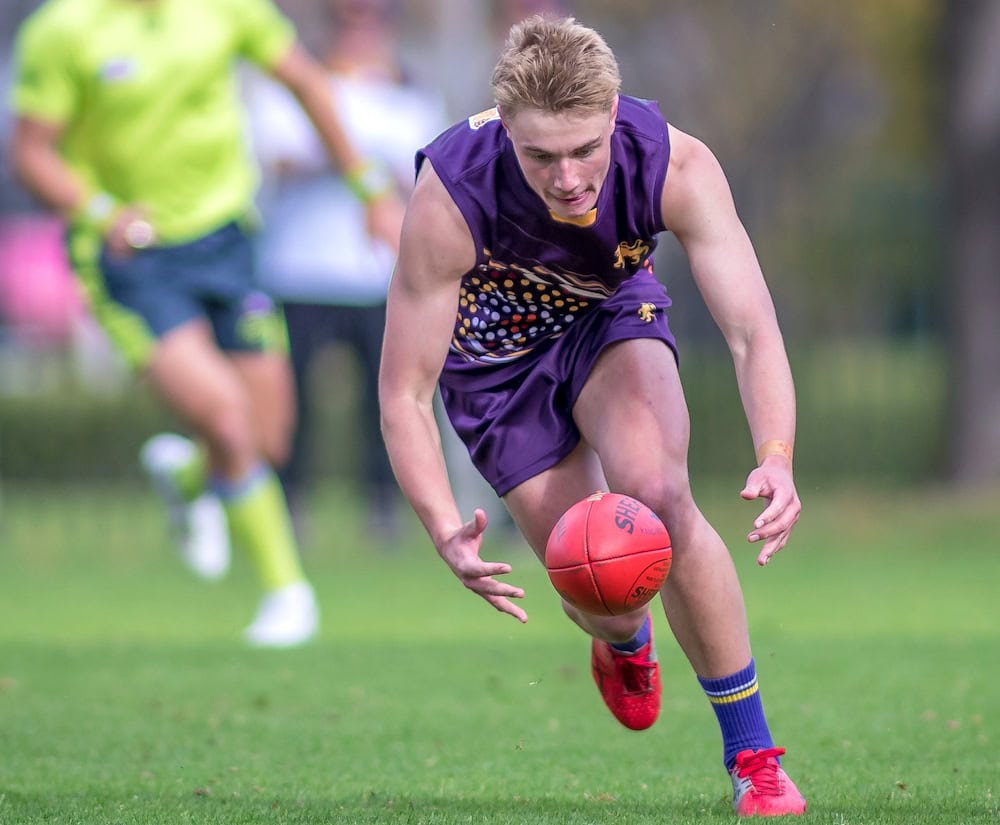 "Boarding in another State wasn't something Craig and I had planned for our son. We agreed to drive to Melbourne to look at several schools, but we thought Tom would be staying in Wagga Wagga," Karen says.
"Our first visit to Wesley left us in awe. The facilities, the environment, the staff, everything was amazing. We spent the 4.5 hour drive home asking ourselves, 'how are we going to make this work?'
"Tom took some time to think about it, but he wanted to start at Wesley College the following year."
Karen was impressed with how inclusive the pastoral program was for Tom and his parents. "From the very start, the engagement with Wesley was great. We had regular phone calls from Sean Cox, Head of Learning in Residence, from Jill Caple, Head of Senior School and from the AFL and cricket coaches – both of these sports are great passions for Tom," she says.
"Sean invited us to drop in anytime we were in Melbourne and Tom participated in a sleepover in December prior to him commencing the following year. This opportunity helped to make the transition really smooth.
"Overall, it has been a very positive experience. We've felt like a part of the Wesley family right from the beginning.
"There are so many layers of support and it's not only academic; it's health and wellbeing, medical, mentors, the dining staff and the ladies in the laundry – Tom is being looked after at every level."
Tom has chosen to study the VCE and admits he was attracted to the extensive ovals and grounds of the Glen Waverley campus.
"Right from the beginning it felt like home because of all the open space. It doesn't feel like I'm in Melbourne, but I can go to the AFL, cricket and go-karting in the city," he says. "The support from all the staff and mentors has been fantastic. They feel like family now.
"As part of the support program for boarders, I'm offered access to tutoring sessions – it's nice to know the academic support is there if and when I need it."
Tom uses the gym on-campus, and was rapidly promoted to the Wesley Firsts football team. He also credits the personal growth opportunity to live with peers.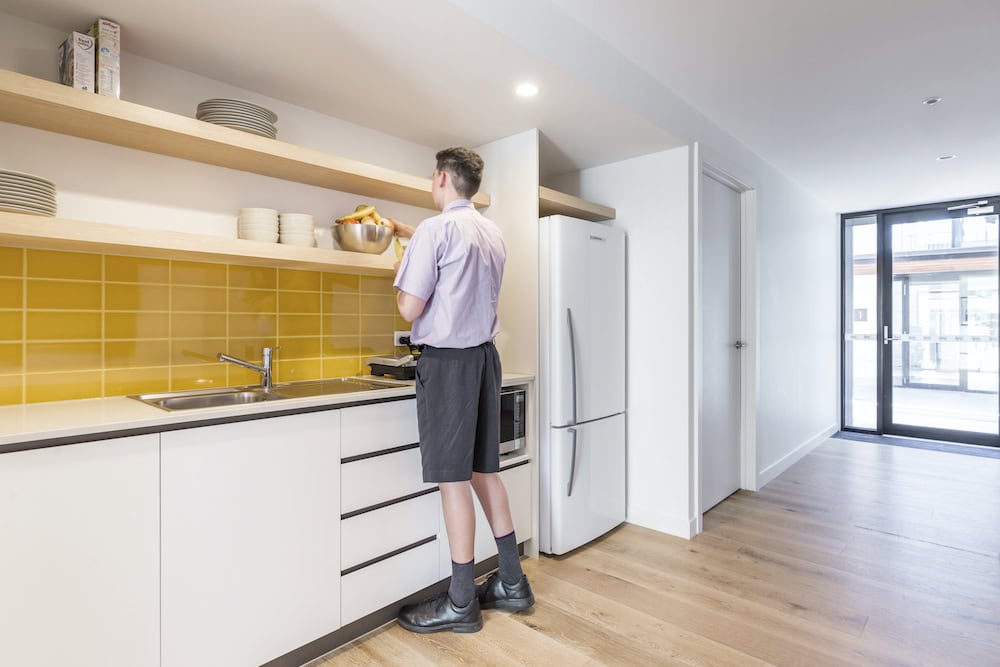 "Living with people who aren't your family isn't always easy, but it's helped me to develop my people skills and I've definitely grown in confidence," he says.
"I've also met a whole bunch of people who I wouldn't have had the opportunity to meet at home. My advice to anyone thinking about boarding is just do it.
"And commit to it. Open yourself up to the experience, grab as many opportunities as you can and see where it takes you."
Tom was recently the recipient of one of the inaugural ROAR awards, a prize voted by staff and students and given to a peer-nominated student who displays the characteristics of Respect, Opportunity, Achievement and Resilience.
Abbotsleigh girls build strong connections
Abbotsleigh provides a leafy haven for education in the city, situated on 12 hectares of land in Sydney's North Shore, which welcomes rural girls to a space they can relate to, grow as people and happily learn within.
Boarders enjoy the benefits of Abbotsleigh's wholistic education, underpinned by the Christian faith, and utilising world-class facilities which are all located right on their doorstep.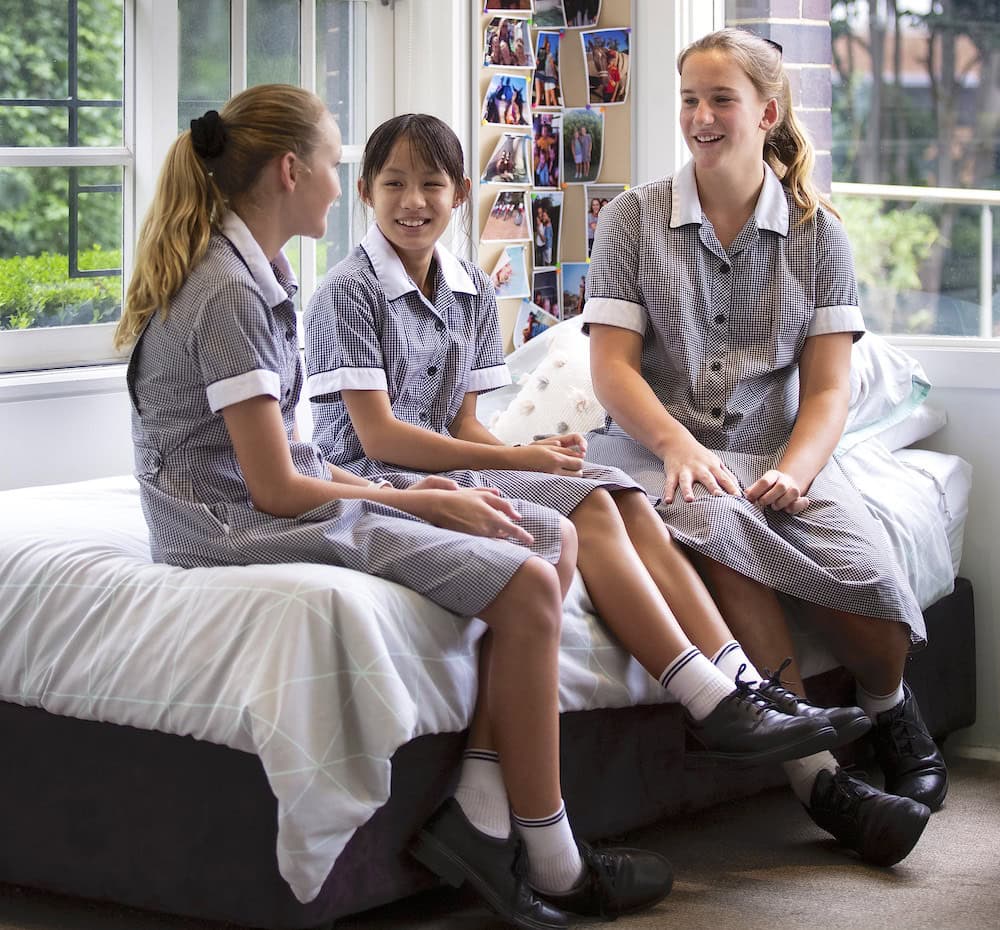 The large city school recently welcomed a new Head of Boarding, Mrs Chemane Fairleigh, who is passionate about boarding and brings with her a wealth of new and exciting initiatives.
"Our goal for boarding is to have happy, confident, healthy girls of great character who leave at the end of year 12 and make a positive impact on the world outside of the Abbotsleigh gates," Mrs Fairleigh says. "Abbotsleigh boarders enjoy some of the best accommodation available in Australia.
"Young girls benefit from the unique charm created from specially converted homesteads. Senior girls live in a purpose-built boarding house where they enjoy single rooms with an ensuite bathroom shared between two rooms.
"I love the noise, laughter and drama of living in the boarding house. It comes to life during term time. It is exciting and vibrant, challenging and busy, emotional, and it's fun."
Rhonda Kaan (nee Turner) is a former boarding student at Abbotsleigh. For her, the boarding experience developed self-reliance and a high level of motivation for life. She now helps with the current cohort of Abbotsleigh's boarders and maintains the links between past students as the school's Old Girls Relations Assistant.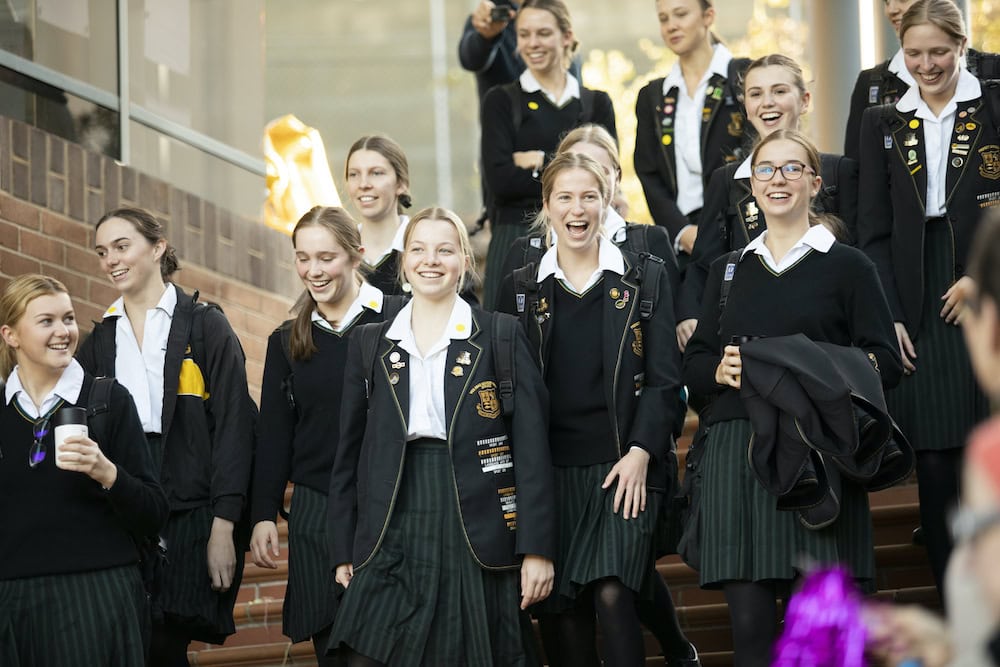 "I came from a mostly grazing property at Gurley, near Moree," Ms Kaan says.
"My first day at boarding school was also my first time in Sydney. Dad always said he regretted sending my brother and I to boarding school. He said not only did he lose his two best gate openers but we instantly became independent. He said we missed out on valuable family time but, in some ways, I think going away probably brought us all closer together.
"Experiencing life without them made me appreciate my parents and brother more and any time spent at home during school holidays was always precious.
"Not that they ever discussed it with us, but it was obviously an enormous financial sacrifice for my parents – especially given the timing of the collapse of the Australian Wool Reserve Price Scheme in the 1990s."
Local conditions at Gurley meant rain would make the road impassable and there were few opportunities for after-school activities, living three hours from their local school. Boarding school was an option that delivered on education, extra-curricular activities, and a peer-to-peer community.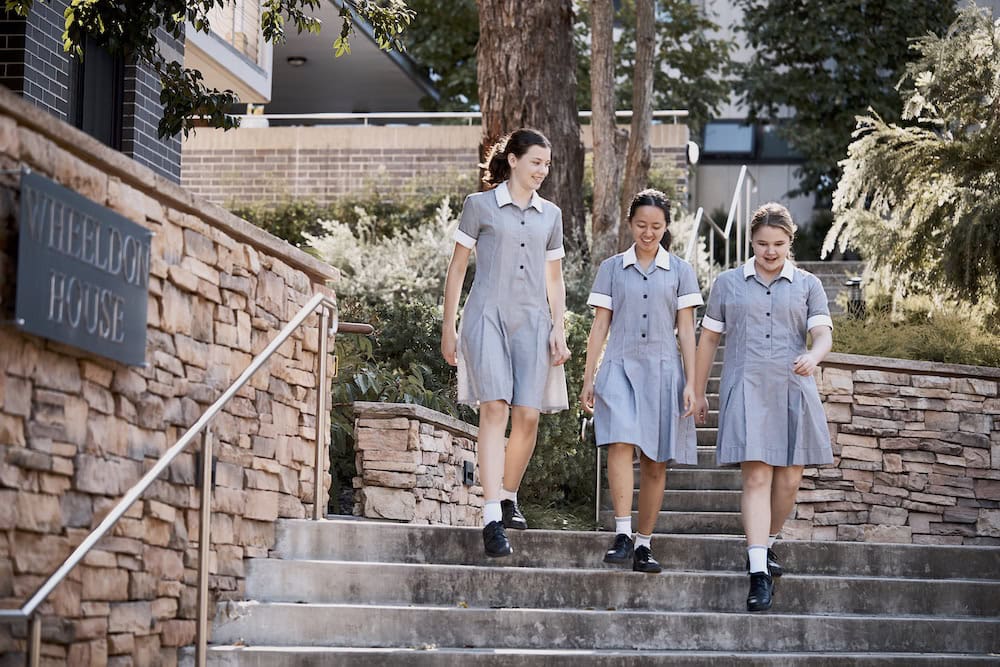 According to Ms Kaan, the biggest benefit to being a boarder is the tightknit circle of friends she made.
"If you haven't been a boarder, you simply can't understand it," she says. "I was surrounded by girls who were all equally appreciative of the sacrifices being made by their families. They were from Moree to Cootamundra and everywhere else in between including Walcha, Coonamble, Forbes, Molong, Lithgow, through to the Central Coast."
Nearly 30 years later and Ms Kaan said her Abbotsleigh boarding mates are still some of her closest friends. Some of them are extra family.
"We call ourselves 'Soul Sisters' and we are godmothers to each others' children. We'd drop anything for anyone at any time if needed," she says. "I can't think of a better place for girls to mature, learn real resilience and form valuable lifelong connections as they commence their life journey."
If you enjoyed this feature on boarding schools, you might like our story on winners of the NSW Farmers tertiary scholarships for 2022.
---