Silo art is rapidly appearing across the rural Australian landscape. Australia is pioneering the way forward in terms of sheer numbers. Over 49 silos have been recorded throughout the country with more on the way. New artworks appear regularly as rural towns begin to understand the tourism benefits silo art can provide.
Annette and Eric Green travel rural Australia documenting silo art. They established the Australian Silo Art Trail – a self-funded campaign which helps enhance tourism in rural areas by mapping silo art locations.
"Art unites rural communities and makes them stronger by exploring a forgotten past. If everyone bought a coffee and a pie on their way through a town it would make a small economic difference and that's my goal."

Documenter of silo art, Annette Green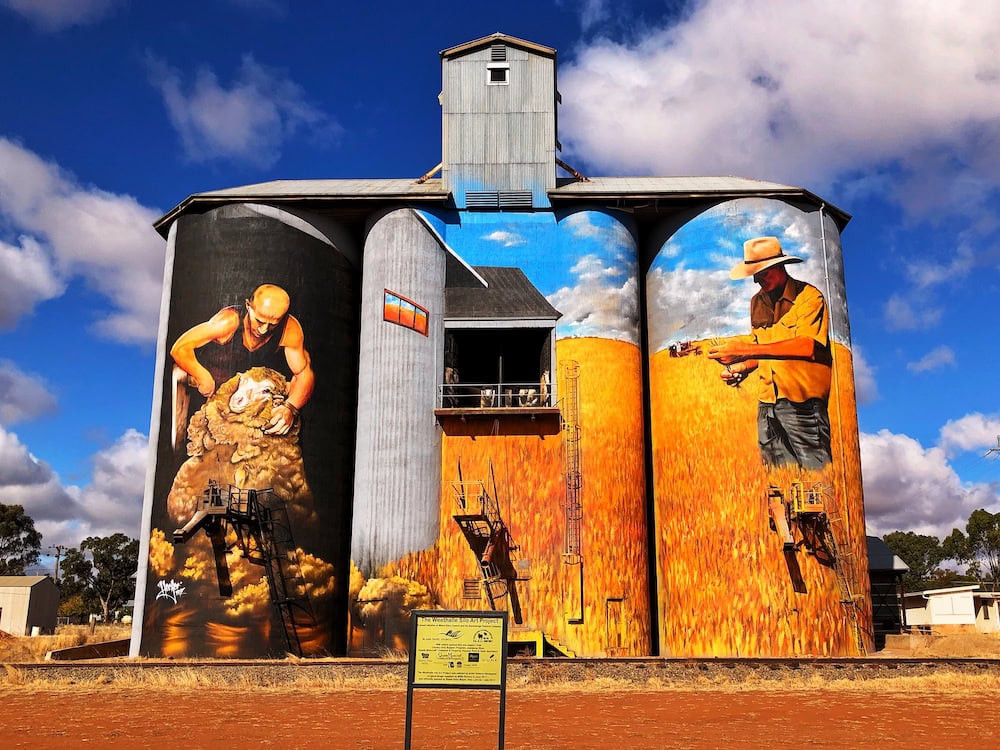 Northam in Western Australia was where it all began for Annette with Australia's first ever silo art which was completed in March 2015. Annette takes pictures, records information and shares her love for these iconic Australian wonders, all while her husband Eric drives.
Tribute to farming history in Weethalle
Weethalle, in the Central West, is home to the state's first silo art which was completed as recently as July 2017. It stretches a staggering 21 metres high by 31 metres wide and was painted by artist Heesco Khosnaran. It's a tribute to the farming history of Weethalle and the community.
"The silos are the soul of the town – the story and feel of what a place is all about," said Annette. "Once life returns to normal after the pandemic, Australian silo art could be an international tourism wonder."
Grenfell is an agricultural hub located 162km east of Weethalle. Heesco was commissioned by Grenfell Commodities to paint the mural two years after his completion of the Weethalle silo. The artwork took five weeks to paint and displays how Weddin Shire's agricultural landscape has influenced the town identity.
"People are always grateful and curious about my work. It's quite progressive of rural towns to take on public art and they appreciate it more than in the city. In such a grand scale, it will help boost local tourism similar to the Big Banana or the Golden Guitar."

Artist Heesco Khosnaran
Along the trail, viewers can find art in the town of Portland, north of Lithgow on the fringe
of the Blue Mountains. Guido van Helten painted The Foundations which captures the portraits of six locals who worked at the Portland cement works. They were a part of the story of the Town That Built Sydney, as well as building many foundations that Portland still stands on today.
Annette says, "There are other countries that have silo art but they're scattered here and there. We're the only country so far that has mapped out a driving trail and connected them all. I retired in March 2018 and since marking these locations, I've never been busier."
The water diviner of Barraba
The silo art in Barraba, in the New England region, is proudly owned by Simon and Amanda Koopman. The mural, depicting a water diviner, was painted by Fintan Magee, after speaking with the local community while it was experiencing one of the worst droughts in history.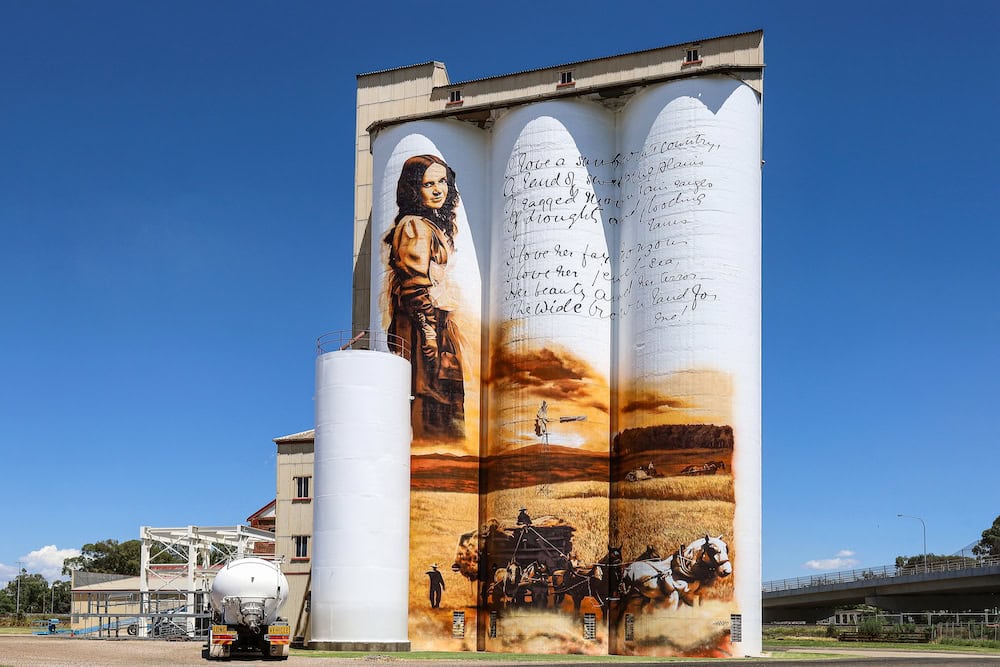 "It was painted to represent the significance of water in that area, especially after the 2019 drought that hit most of NSW. The water diviner evokes a lot of emotions around a time of real hardship."

Amanda Koopman
The maize mill in Gunnedah is home to the third of Heesco's artworks, making him the most prolific silo art painter in NSW. It features the second extract from Dorothea Mackellar's poem My Country. The artwork reaches an astonishing 29-metre height.
"As younger generations continually leave regional areas, silo art is a way to keep the culture alive," said Heesco.
Annette thinks more towns should consider an art mural. "New cafés have appeared near these artworks and they're a reason people stop on their way through a town." Silo art demonstrates the history of a town while repurposing outdated infrastructure.
"Sometimes there can be 200 kilometres between silos, so visitors might travel through three or four towns on one part of the trail. They might buy morning tea or lunch on the way, and so inadvertently this brings economic assistance to a region. Some of these towns really need some help, and we are seeing the benefits of the art trail already."
If you enjoyed this story on silo art, you might like our feature on the biggest collection of tractors in NSW.