Shear Outback Australia has rapidly become one of Hay's best attractions. The not-for-profit was built in 2002 with help from the government, and it is located on a six-acre slot where there's plenty of room for large tour buses to get in and out.
With each tour bus, Kathy Finn, Museum Director of Shear Outback first points towards the toilet. "That's usually the first place people need to visit after a long journey," she says with a laugh.
Shear Outback boasts five areas for visitors to explore. Six including the bathrooms. Besides being regularly confused as the local information centre, what really lies behind the doors is a buzzing café and 'world-famous' gift shop, a museum, the Hall of Fame and shearing demonstrations in the historic Murray Downs Woolshed.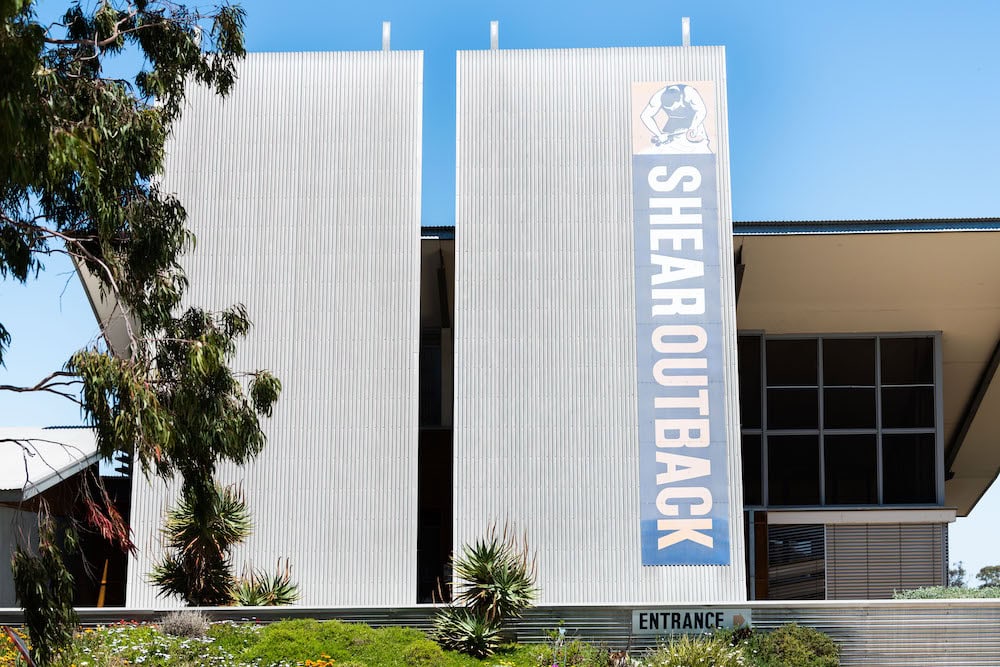 The history of Shear Outback Australia
The woolshed was built at Swan Hill in the 1920s and was transported to Hay in 1998 where it has now become a permanent feature of the exhibition experience. Over the many years, where hundreds of sheep have leant, the square wooden beams of river redgum have gradually been curved.
"Visitors from Sydney, Melbourne and elsewhere, gather their cameras and head towards the main entrance before asking me if the sheep will be shorn in the foyer," says Kathy. "It's surprising how many people think a sheep can be shorn in the foyer."
Apart from the regular confusion of where the sheep will be shorn, the only other thing Kathy must keep her eye on is the Shear Outback Museum. Often complemented for its architectural design, the round building has glass walls on the inside and out allowing visitors to view artefacts from all angles.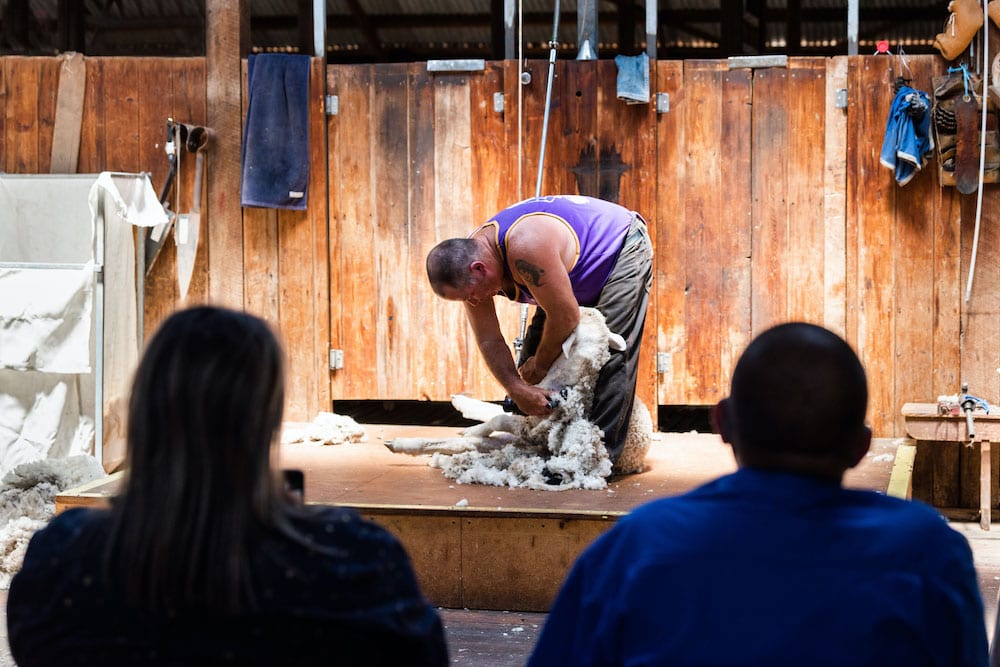 "I always hear this banging sound coming from the museum and I think – 'Oh no, they're on the sling again!' I must admit, for a kid it looks like a fun swing set," says Kathy. For those not versed in sheep slings, shearers wear them looped around their torso to take the strain off their backs while working.
Shear Outback Australia is growing the museum's collection and accepts all shearing-related donations, DVDs, handpieces and even pictures from the woolsheds. Often, people will visit the museum to simply drop off memorabilia they don't want lost to time.
"We often have people drop in to leave an old set of clippers or even a book on wool. They don't want all the history to be discarded so we keep it," Kathy explains.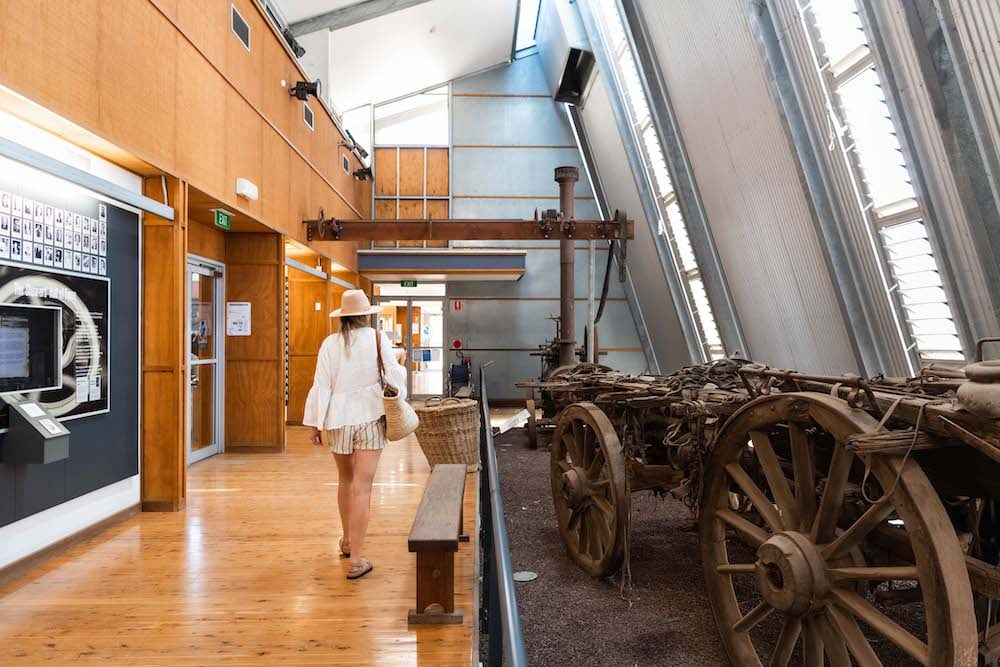 The hall of shearing fame
As a visitor, once you've bought a ticket, you'll be directed to the Hall of Fame. Currently, 48 shearers have been inducted so far, with the hall welcoming its first female to the ranks.

Cathy Wendelborn began her shearing career at Millicent Homestead in 1982. Climbing the ladder by winning a plethora of events in the 1980s, Cathy shore before the Queen and presented her with a lock of wool in 1988 at the opening of the National Wool Centre in Geelong. Cathy also won the Ladies Invitation event at the 1998 World Championships in Ireland.
Another standout is Gene Mills, who was born in 1954 in Crookwell. Gene is the only inductee this year still shearing at 68 years of age, and he is renowned as a fast and clean shearer.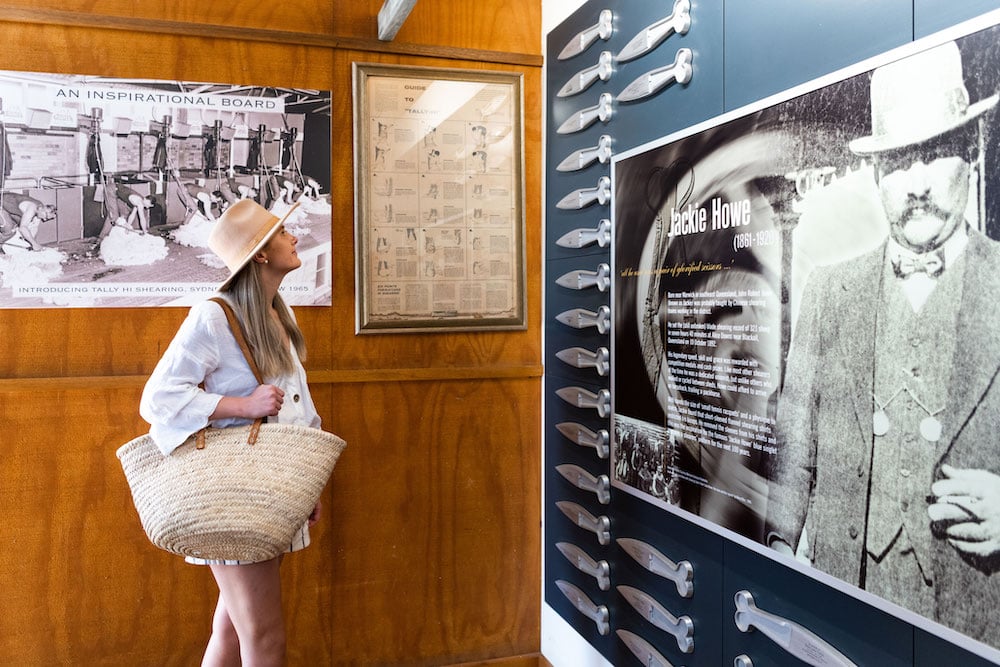 Gene has won several awards in the past such as the Canberra Shearer of the Year (five times), Longreach Diamond Shears, National Stock Show in Denver, Colorado as well as the Australian Open twice and the Australian Strong Wool twice. He can still be found in the wool sheds around Central NSW sharing his passion and knowledge amongst the up-and-coming shearers of the outback.

This year's inductee list also sees the likes of Ray Anderson who had won over 200 competitions during his shearing career, George (Dan) Cooper who achieved a world record 316 sheep at Bundoran Station in Queensland in 1910, and Bernie Walker who was awarded an OAM for his contributions to shearing. Bernie helped establish Golden Shears Australia and the bi-annual test matches between Australia and New Zealand.
"Watching the new inductees being honoured in the Hall of Fame is a heart-warming experience," says Kathy. "It's a big event with family, friends and fans. The inductees who are still alive and can attend often wear their Australian jackets they once competed in with such pride."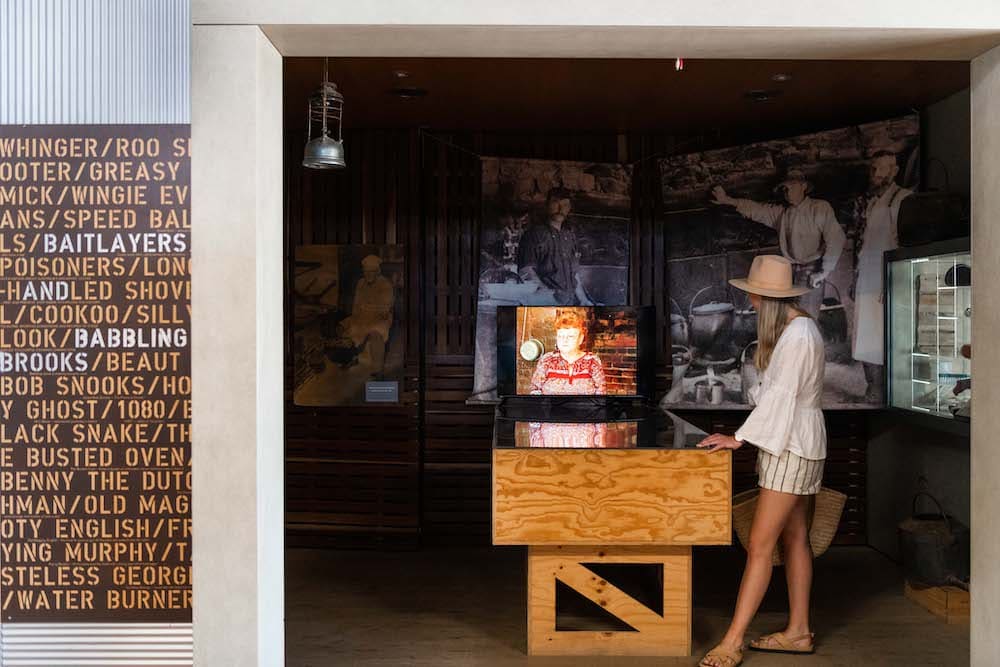 Socks, singlets and handbags
The world-famous gift shop (as Kathy calls it), sells several Australian wool products such as socks and singlets, but sauces and other knick-knacks grace the shelves as well.

"The shearers love the singlets and jumpers, and you might wonder why a handbag is in a shearing museum gift shop but they're extremely popular," Kathy explains. "You see, the shearers can't go home to their wives empty-handed, so the handbags are a big seller."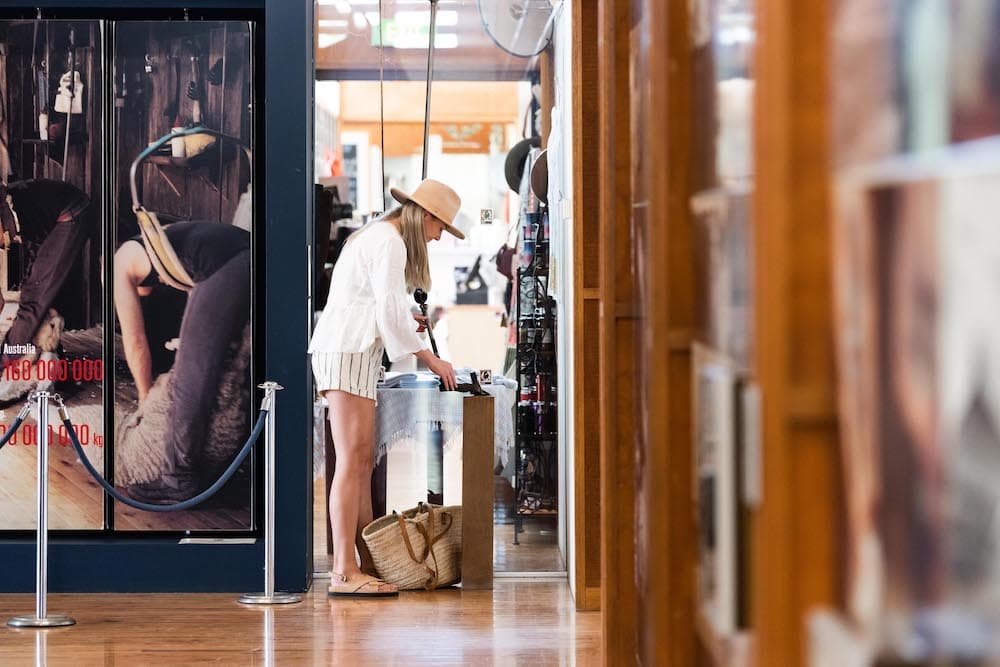 As a big venue in a rural town, Kathy says they've seen it all – weddings, live music and meetings over a long lunch at the café. So, it's no surprise Kathy's not opposed to turning a blind eye to a bottle of wine every now and then. That, however, should not be public information.
"People love coming out and learning about shearing as well as wool. I've been around the industry a while now. My husband's a shearer and so is my brother-in-law and I am still learning new things every day," Kathy said.
If you enjoyed this story on Shear Outback, you might like our feature on Love Merino.