A multi-arts and choir program turned regional arts organisation, focusing on connecting regional youths and communities with cultural identity and music, has won its founder and artistic director a $15,000 grant from Westpac. She now also has the chance to represent NSW and the ACT in the nationwide AgriFutures Rural Women's Award finals, to be announced at a gala dinner on 12 September.
Michelle Leonard OAM took out the top honours for her work founding and directing her regional choir organisation Moorambilla Voices, from a competitive field of three talented finalists, including Albury woman Dimity Brassil, founder of A Lasting Tale – a personal storytelling service – and Rochelle Olsen from Dubbo, the founder and facilitator of the Baby Loss Mentor service for grieving mothers.
"All three finalists are truly inspiring women who are applying their strengths to make a difference to our regional communities," said NSW Minister for Women Jodie Harrison, who attended the awards this month at the State Library of NSW. "Thank you for all your dedication to your crafts and congratulations on being finalists for this prestigious award."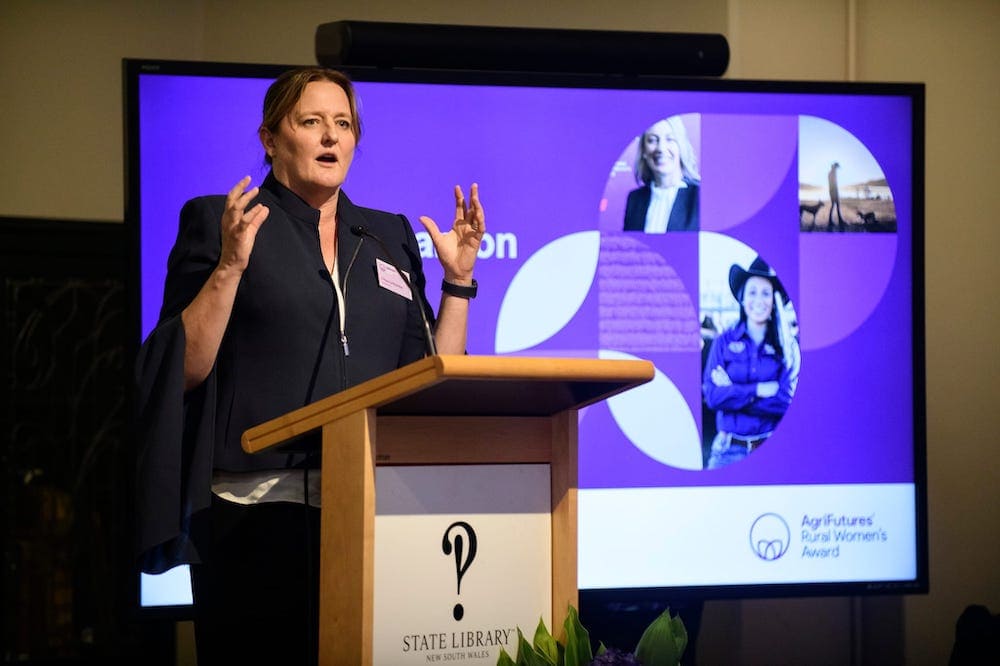 The NSW/ACT AgriFutures Rural Women's Award is supported this year by Platinum sponsor Westpac, and by State sponsors NSW Farmers, the NSW government, and the Country Women's Association of NSW.
Minister for Agriculture, Regional and Western NSW, Tara Moriarty added that the awards are an ideal showcase for innovation and leadership, specifically as regional women work to motivate and advance their communities through their work.
"Women have always been agents of change and it is fantastic to see the new generation shining through," Ms Moriarty said. "The benefits the finalists are delivering to their communities are immeasurable. Through passion and commitment, this year's finalists are demonstrating positive leadership and are empowering other women along the way. I thank them for the impact they are having on regional and rural NSW."
And the winner is…
Moorambilla Voices is a project that has a reach far beyond its original remit as a choir, including online learning opportunities, yearly residency camps, tours and concerts, and working with known community leaders who can help inspire and lead local children.
"Moorambilla Voices is unique in the Australian arts ecology," said Ms Leonard in her description of the program. "Through cultural immersions, partnerships with extraordinary artists and collaboration with our wonderful participants, we create a multi-arts program that speaks directly to our shared connection to country. When our children sing in language, dance together, passionately play Taiko, make lanterns, tour, record and perform we re-energise ourselves, our audiences and our songline with confidence and joy."
The organisation has provided skills development workshops now to more than 40,000 school children from 21 Local Government Areas, since it began in 2006.
Ms Leonard is planning to use her $15,000 grant to fund travel that will allow her to meet and learn from those who have already achieved successful programs in rural and remote communities and collaborations with Indigenous Australian Elders.
The two other NSW/ACT finalists each receive $2000 in sponsorship from the Country Women's Association and NSW Farmers to support the development of their businesses.