COVID-19 shut down Australian fresh fruit exports in January 2020, leaving produce valued at millions of dollars sitting on pallets in cool rooms at the Sydney wholesale markets. Among the casualties was 5,000 kilograms of fresh jujubes – also known as Chinese red dates – from the Duffell family who operate Prickle Hill Produce at Coleambally.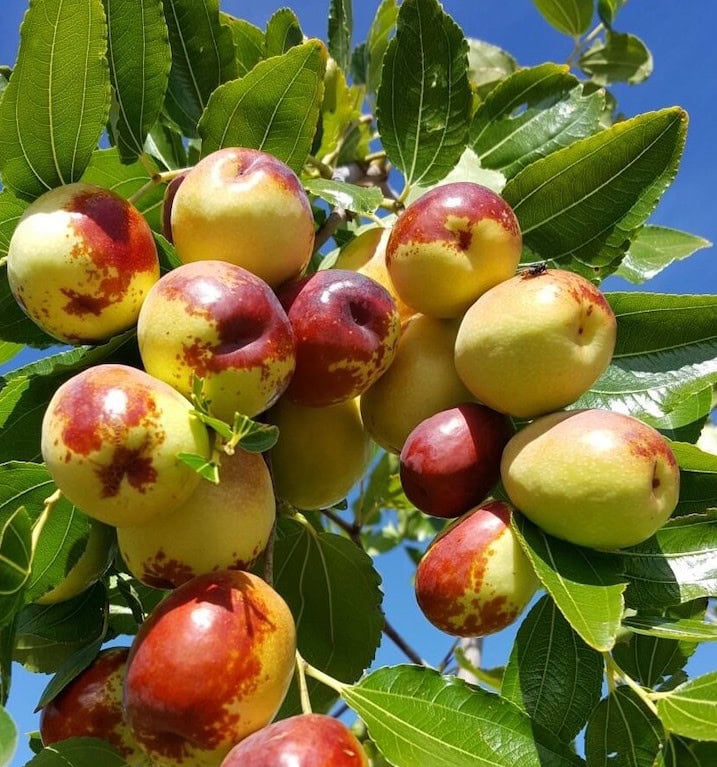 Forced to move quickly to find new customers, the Duffells dried most of the surplus fruit for sale online and at farmers markets across Sydney and southern New South Wales.
The blows kept coming but so did their ingenuity. When many farmer's markets closed during the first nationwide lockdown from March 30, they began offering home deliveries to Sydney residents.
Co-founder Roy Duffell, a third-generation fruit grower, says making the changes took a lot of effort but it was the only way to ensure they could stay in business.
Roy, his wife Judy and their son James are no strangers to hard work, or being at the mercy of changing consumer and market trends. Roy and Judy began growing jujubes in 2012 at a time when demand for prunes had declined and they were looking for ways to diversify and add value to their fruit.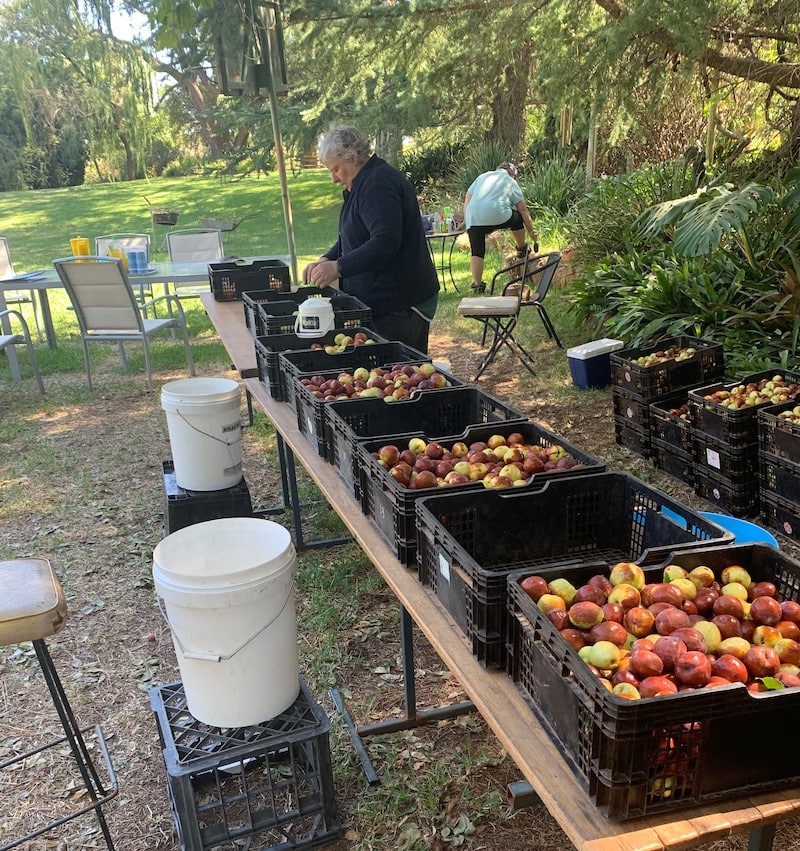 Their story began with Roy's grandfather, William, who established a fruit block at Yenda in 1920 after returning from service in World War I. He became known as The Fruit Salad King and was famous for his nectarines. William's son, John, also grew fruit: peaches, apricots, oranges, grapes and the sugar plums that are dried for sale as prunes.
Roy developed his own orchard on a sand hill, 15km south west of Coleambally, in the 1990s and was heavily involved in research and the development of new prune varieties. But the popularity of prunes continued to wane, and local fruit was displaced by a flood of cheaper imports from the United States and Chile.
Encouraged by daughter Joanne Stratford, a former horticulturist at the Royal Tasmanian Botanical Gardens who has returned to Prickle Hill as a horticultural adviser, Roy planted a trial plot of jujubes in 2012.
"We thought jujubes were well-suited to our climate here," he recalls. "They're suited to the sandy soils we have because they prefer well-drained soils. They don't mind the heat, they don't mind the cold and they don't need as much water as other fruit trees. There's no known diseases at this stage and they don't require much in the way of fertiliser. We thought, 'Wow. This sounds good!'."

Roy Duffell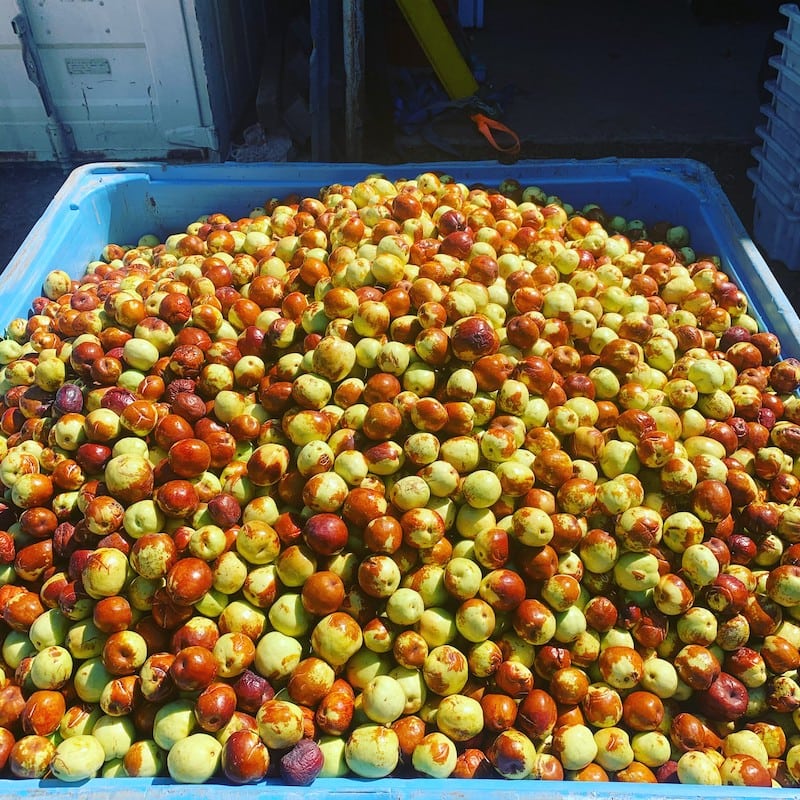 Since then Roy has propagated his own trees, grafting three different varieties, Li, Lang and Chico, onto root stock. The orchard now has about 4,000 jujube trees producing 15-20kg of fruit each year. Whole jujube fruit is 20 per cent lighter than other types of fruit and the trees can grow up to 10m tall, but Roy prunes them to 3–3.5m for ease of harvest.
Unlike many other fruits, the jujube tree bears fruit on the current season's wood, which can grow up to 20cm and keeps throwing new flowers from October to January. That rules out mechanical harvesting because pickers must carefully work their way through the canopy, taking only fruit that is ready and of the right colour. Pickers also must dodge sharp thorns, which can grow up to 3cm long, and try not to knock off any of the flowers that will produce fruit later in the season.
"You probably cover the same tree twice a week for about two months," Roy says. "The beauty of it is we're not flooding the market all in one go, as happens with some of the other fresh fruit. We pick for colour, then we sort them into about three grades and send them off to the market."

Roy Duffell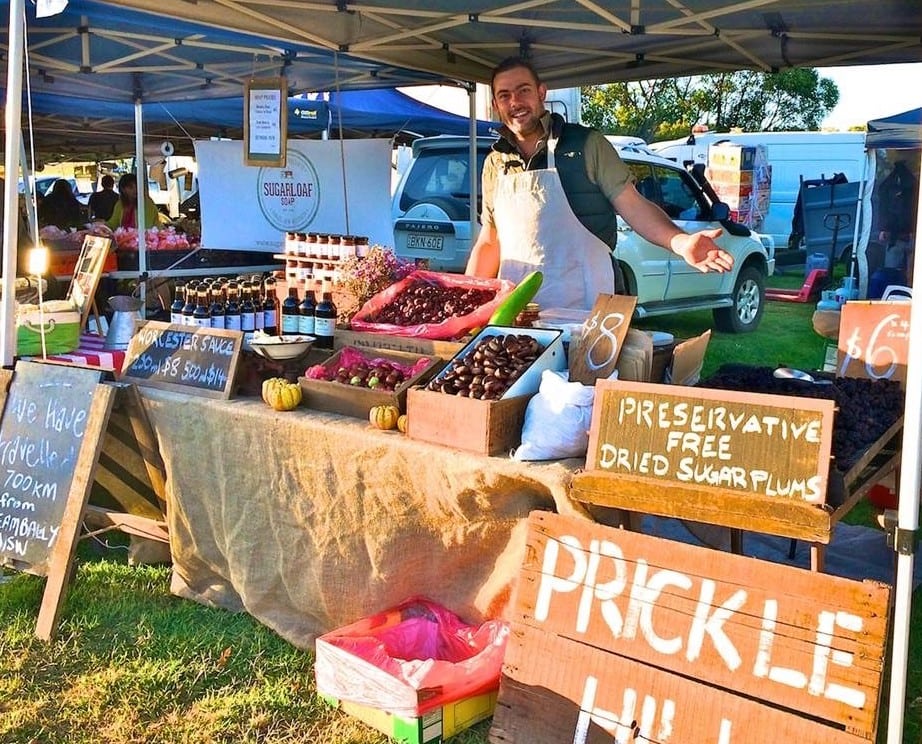 At the same time as the Duffells began their foray into jujube production, Roy, Judy and James started selling fresh and dried plums, olives, oranges, peaches and apricots, as well as relishes, jams and Roy's silver-medal-winning prune-based Worcester Sauce at farmers markets across southern NSW. No preservatives are used on the dried fruit and the farm is operated on organic principles, although it isn't certified organic.
James, a former chef who had been working as a project manager, saw an opportunity to expand their reach and introduced Prickle Hill Produce to farmers markets in and around Sydney in 2015.
"It was all about prunes to start with, and the jujubes came on board a little bit later," Roy says. "We then started value adding and things have been going fairly well for us. It's picking up all the time. There's a lot of work involved but the return is there, and the satisfaction. Instead of just taking what the supermarkets say the price is, we can dictate it a little bit more."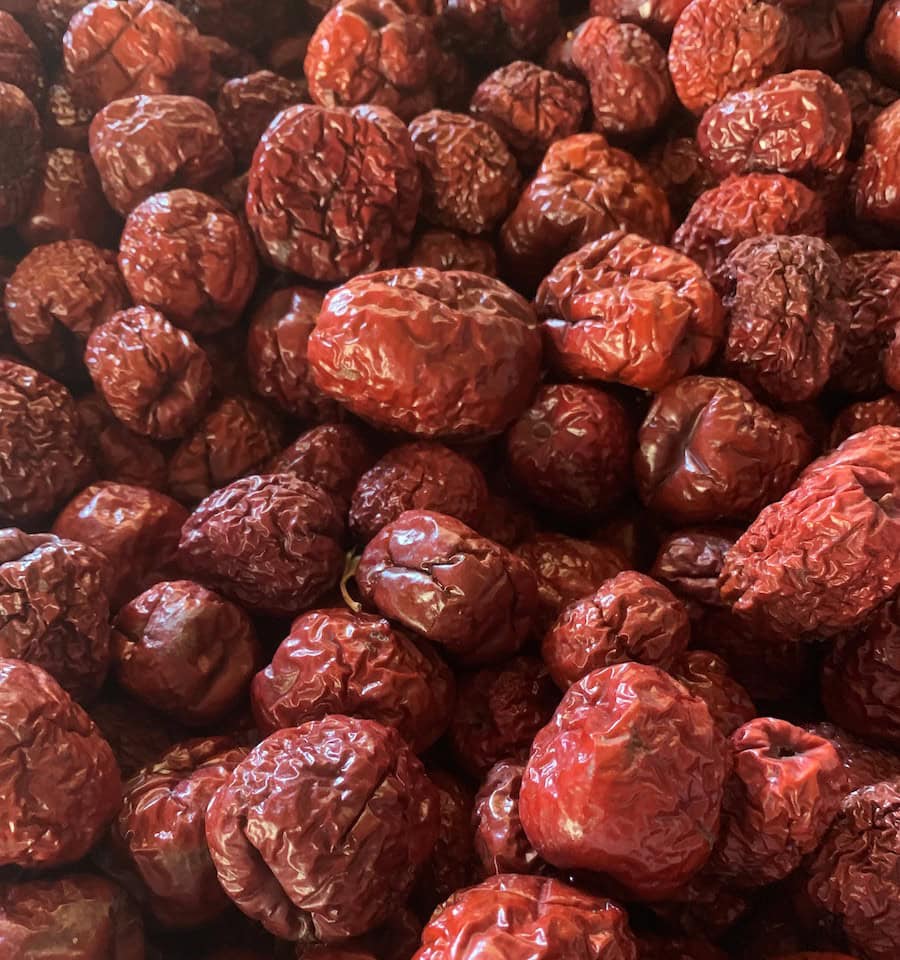 Most of the fresh jujubes are sold to Asian customers and greengrocers who are familiar with the Chinese superfood that is a key ingredient in many traditional Chinese herbal medicines. Fresh jujubes are sweet and crisp like apples, while the dried fruit is chewy and tastes a lot like dates, which is why they're commonly known as Chinese red dates.
Roy estimates about a third of his crop is bought by exporters – jujubes are a popular ingredient in dishes to celebrate the Chinese New Year – which is why the sudden halt to exports in January came as such a shock.
They had already dried a larger proportion of jujubes than usual because of sunburn from 21 days of above 35 degrees Celsius, including nine days above 40 degrees, in November and December 2019.
"But then COVID-19 hit and that shut down the export markets overnight," Roy says. "Suddenly, the domestic market was clogged with our product, plus all the others that have got jujubes. There was a lot landing at the market at the one time, so we had to take a hit on price."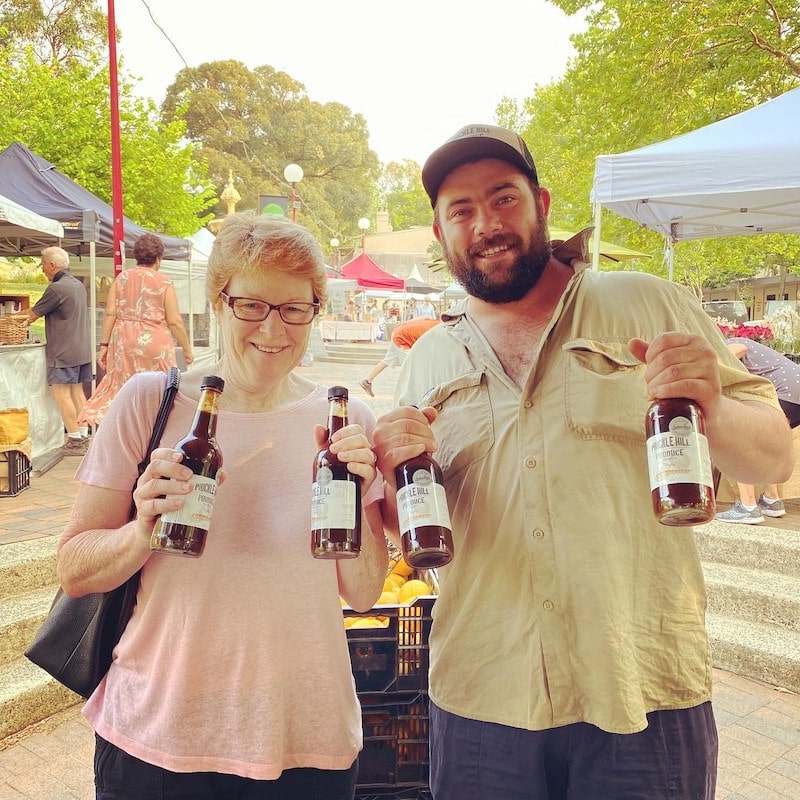 Unsold fruit was kept in cool rooms for several weeks as Roy and James methodically hand sorted the best quality fruit to be sold fresh. The rest was trucked back to Yenda for drying in the gas-fired dehydrator James uses to dry the sugar plums each February.
Despite farmer's markets being deemed an essential service, many closed during the first nationwide lockdown.
"That made it very difficult for James and he had to find some other way to keep going. He did a lot of home deliveries and online sales. There was a lot of work involved in setting it up and doing it, but it was worthwhile – it was either that or shut down and walk away."

Roy Duffell
James started taking orders from Sydney customers by phone and online through the Farmer and Son Produce website for Prickle Hill preserves, and fresh fruit, vegetables, herbs and eggs sourced from their own and other family-owned farms across NSW.
As restrictions eased and farmer's markets returned to the 'new normal', James found himself running two growing businesses. Demand from the home delivery market shows little sign of slacking off, so he's looking to employ more people to help with both ventures.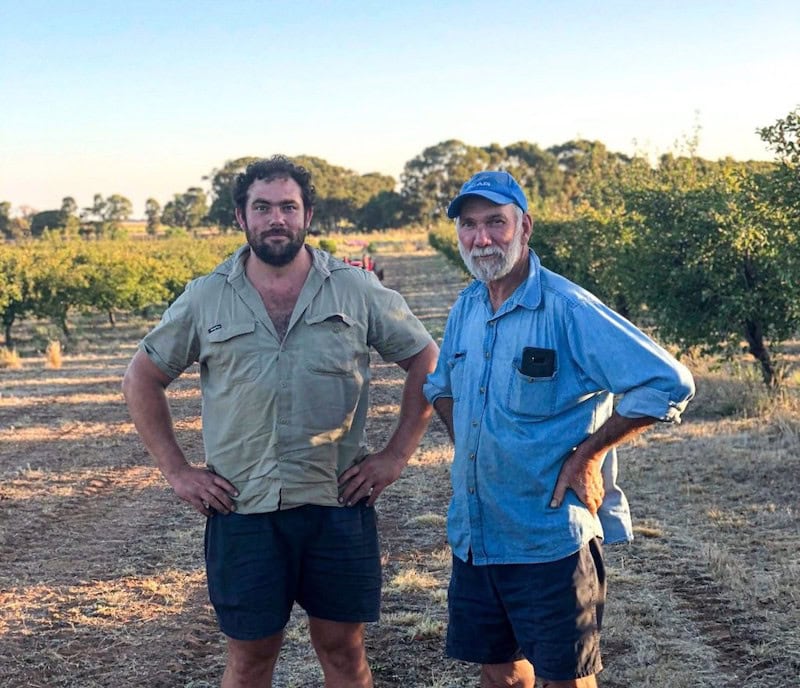 Roy has also been kept busy building a new shed at the farm to house a packing line and cool room. "At the moment, we take it all to our shed in Yenda, which is 100km away," he says. "That's a bit awkward because we need to put (fruit) straight into a cool room and then pack out from the cool room and send it straight off to the market."
Ever the optimist, Roy hopes their next harvest is much less eventful. "Things have picked up again, but I don't know what it's going to be like," he says. "I know it's a product the Chinese want. We're counter seasonal with fresh fruit to China, so they'll be looking for it, and they seem to prefer Australian product."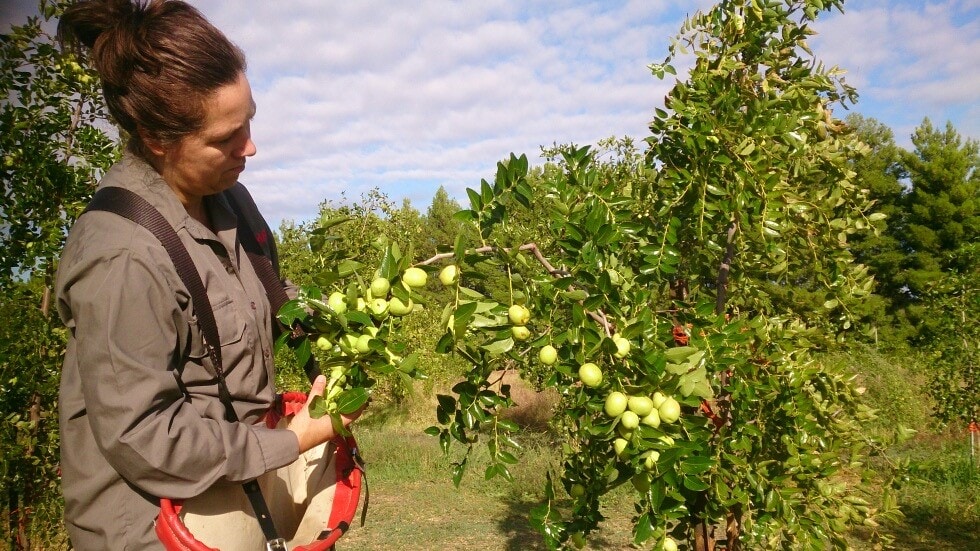 About Jujubes
Jujubes are indigenous to China and one of the country's most important fruit crops, consumed as a food and used in traditional Chinese medicines for thousands of years. China is the world's biggest grower of jujubes, producing an estimated 9 million tonnes in 2015.
What are jujubes like?
The fresh fruit is smooth and bright, like a large red pearl. The flesh is as sweet as honey and as crisp as an apple or pear.
What is the nutritional profile of jujubes?
The fruit is particularly rich in nutrients, and contains high levels of Vitamin C and B, cyclic nucleotide, proline, triterpenic acid, potassium, iron and zinc.
It contains twice as much sugar as apples, 100 times the Vitamin C, and 1000 times the cyclic adenosine monophosphate. The fruit is also a rich source of polysaccharides, triterpenic acids, flavonoids, alkaloids, polyphenols and pigments.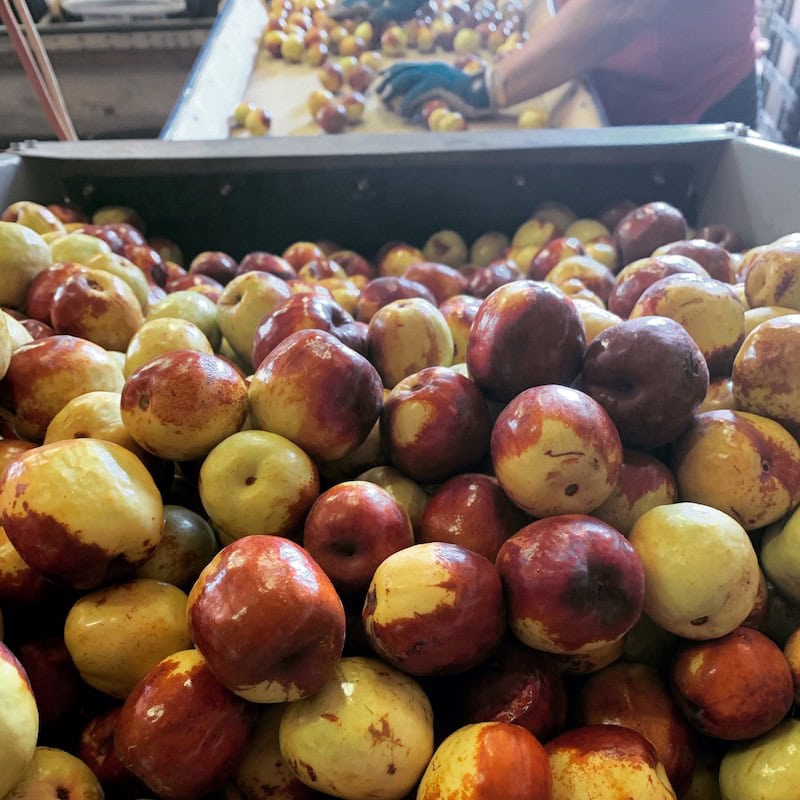 What is jujube used for?
The fruit is eaten fresh or dried and made into confectionery, tea, syrup, and wine. The fruit, seed, and bark are commonly used in traditional Chinese herbal medicines for stress and insomnia, and as an appetite stimulant or digestive aid.
The sweet smell of the fruit is said to make teenagers fall in love, and also has very positive meanings in Chinese culture, representing a sweet life, a flourishing business, fertility, harmony and happiness.
If you enjoyed our feature on Prickle Hill Producers, you might like our story on NSW's garlic sector.