My name: Walker Edson
Favourite thing to do on the farm:
Sit next to my best friend Ian Edson when he is out on the grader. But it's scary when he's doing drain work and we are on a lean, so I snuggle up close because I know he'll look after me.
Have you ever done something naughty:
We have lots of helicopters flying over our place. I was with my brother Chocolate and when we first saw one, we didn't know what one was so we chased it until we went a really long way from our kennels and the main house.
It got dark so we couldn't be sure of our way home. Then a storm started with lots of rain and it was scary. The next morning our tracks were washed away we were lost. It took Chocolate and I three days to find home after we found Ian's motorbike tracks. We thought we'd be in so much trouble but all Ian did was hug us close and tuck us in our kennels and give us water and food. Gosh we slept well that night.
What's your worst habit:
Chasing rabbits. I love it. I don't always hear Ian call if I am concentrating on the rampant running rabbits.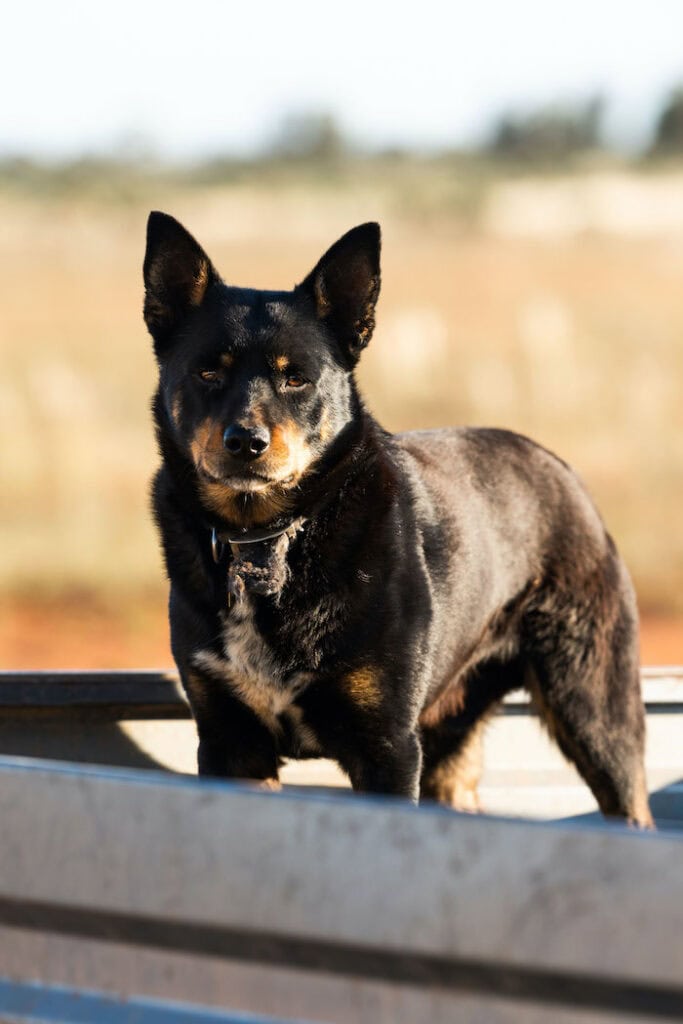 What's your favourite food?
I love sneaking into the chook pen of a morning and getting a nice fresh egg before anyone sees.
If you became famous for one thing, what would it be?
Being tough, resilient and being able to know who is good or bad and who really loves me like my Mum B.
Mum B was an unwanted drover's dog from up north. She had been ill-treated and needed a home. Ian found Mum a loving friend whom she could trust, but it took a while. There were six of us when I was born. I went for my first real walk with Trudy from the main house to the wool shed – I was only little – and that was how I got my name Walker.
One of the workers on Stirling Vale became my friend and asked if he could keep me. Ian agreed as I grew up with the worker, but then he moved on and he couldn't look after me. The deal was that if ever this happened, I was to be returned to Stirling Vale. So I hitched a ride with a new worker home to where I was safe, and now I stick close to Ian. I protect him and he protects me.
Is there something that drives your parents mad?
I'm a great jumper and I jump the main house fence to chase the cats. I let my brother Chocolate do most of the running when mustering, and I only do as much as I want to.
I do not like sharing Ian with Mum B or Chocolate. When I ride the motor bike with Ian, he says I am his second skin.
Favourite toy or thing to play with?
My bed that Trudy bought me. I drag it out of my kennel when it's hot or I want to be in the open, and Ian helps me get it back into my kennel when it is cold. Goats are toys really – they can be fun to muster up!
Any last words?
I do not take a bad photo, do I? I'm pretty handsome aren't I? I knew I would stand out from the others!