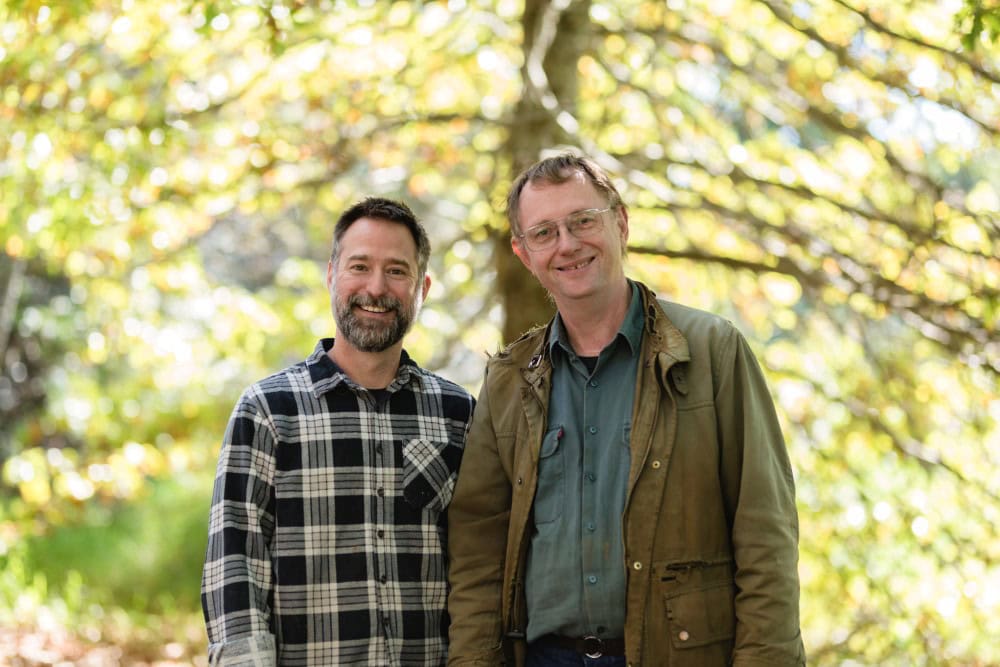 Organic farmer and budding soil biologist Phil Lavers has shifted his focus on farm recovery to a local food fundraising effort to support families impacted by the devastating earthquake in Türkiye and Syria.
Phil produces premium organic fruit and vegetables at Moonacres Farm- a paddock to plate farming business that includes two cafes in Robertson and East Bowral.
The 60-hectare farm, which is based near Fitzroy Falls in the Southern Highlands, is in rejuvenation mode after more than three metres of rain last year.
"The scale of devastation in northwest Syria and southeast Türkiye is beyond imagination," Phil said.
"We have two Turkish cooks working in our cafes and they were of course concerned about family and friends and asked if we could do a fundraising dinner event."

NSW Farmers member Phil Lavers from Moonacres Farm
"They then went out and asked for some of our suppliers, including local farmers, if they would like to be involved."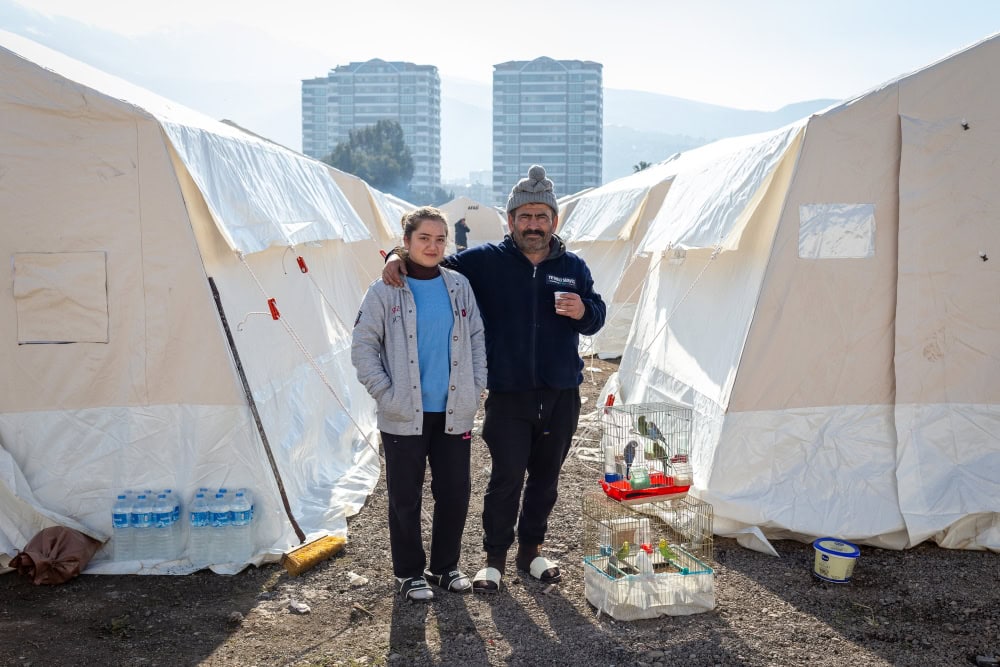 Phil said local farmers have all willingly said yes despite being in recovery mode on their farms.
"The involvement of our suppliers is inspiring. They are putting their struggles aside to help people in a much worse situation."
The team at Moonacres, chef Stephen Santucci and staff have all joined in to help organise this fundraiser, which will be held at Moonacres Kitchen in Robertson on 18 March.
The three-course dinner will feature local produce from Maugers Meat and Robertson Butcher, Jamberoo Mountain Farm, Pecora Dairy, Moonacres vegetables and Wholegrain Milling flour donated by Two Providores. Mount Ashby are donating drinks.
Auction items on the night include an original work by Ben Quilty, a cooking class by chef Ish Kaba at Moonacres School, artist Kate Vella is donating a framed painting, and a family photo package by Sarah Norton Creative. Other local businesses getting involved include Fikri Films, Jamberoo Florist, The South Store and Josh's Cafe in Berrima.
All funds raised will go directly to the charity Humanity For All. Dinner tickets are sold out but donations can be made directly to Humanity for All.
Soil biology shines at Moonacres
Flooding and heavy rainfall disrupted local food production at Moonacres Farm in 2022, but soil microbes have continued their good work in feeding Phil and Lisa Lavers' organic farming future.
The Moonacres journey stared in 2006, when Phil, then working as a financial trader in Tokyo, and Lisa decided to bring their young family back to Australia to enjoy a more family-oriented way of life.
"I had no idea what I was doing," says Phil. "I used to go to the Burrawang pub to ask for advice," Phil said.
Fast forward to 2023 and Phil and Lisa have built a thriving paddock to plate farm business based on what Phil has learned about the wonders of soil microbes.
There were plenty of trials and tribulations along the way, none more so than the weather events of last year.
"We had four metres of rain over the farm in 14 months, which destroyed crops and tested our resilience. We went from 190 work hours a fortnight to 19 hours with our farm staff this time last year."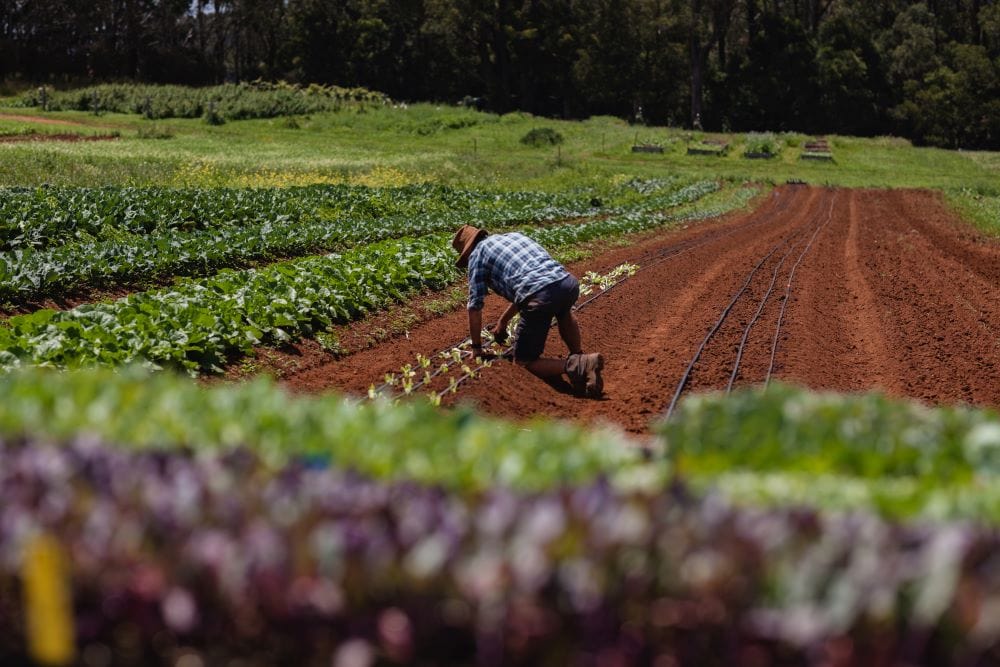 "We are on the long road to recovery, but it's positive. Our long-term customers have been supportive and were back to buying from us as soon as we got back into production."

Phil Lavers from Moonacres Farm
Phil attributes the farm's production recovery to years of enhancing soil biology.
"The main source of our nutrients is from the soil microbes. We have good soils with well-balanced minerality and the right mix of microbes makes those minerals available to the plant."
Phil 'rests' vegetable paddocks to take time for soil microbes to feed on his magic soil biology ingredient- cover crops.
"A healthy cover crop with a number of varieties is our starting point. It will do all the work you need in building up the soil structure, soil humus and soil microbes."
Like the wide assortment of Moonacres fruit and vegetables, cover crops at Moonacres are diverse. They include grasses like oats and barley, legumes such as woolly pod vetch, root crops and flowering crops.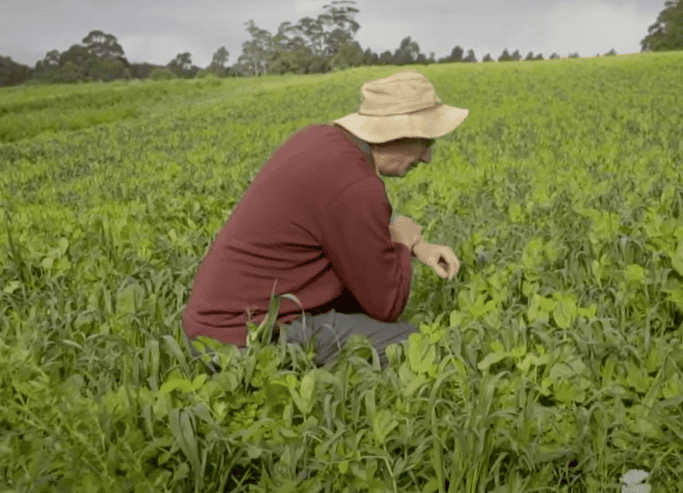 "Each variety of plant comes with its own symbiotic relationship with soil microbes. A diverse cover crop means you will get a diverse soil microbe population to enhance soil biology."
Phil said compost is also added to the rested paddocks to help boost levels of trace elements in the soil.
"That gives all the minerals we need to grow our vegetable crops."
Most of the produce is sold through organic wholesalers, fresh food delivery companies and restaurants in Sydney. Much of it also features on the menu at the two Moonacres cafes.
"We start at apples and end in zucchinis. It's pretty much everything from A to Z, everything that we can grow here, we do grow here."
"There is about 50 acres that we are currently not using. There is about 20 acres of fruit trees, and we farm about 20 acres of vegetables on a rotational basis. The maximum land under vegetable crops would be six acres."
Microbes are set to be game changer for carbon farming. Read more here.