In the early 1960s, the father of Dave Blight – co-owner of Bringelly Pork and Bacon – bought 10 acres at Leppington in Western Sydney and started breeding pigs and chickens.
"I'm a second-generation farmer and now we have the third and fourth generations working here too," says Dave.
"Originally we sold our pigs to an abattoir but in the 1970s we built a meat processing plant and put a butcher's shop at the front of the farm to sell directly to the public."

Dave Blight – co-owner of Bringelly Pork and Bacon.
The company's top selling product is leg ham, which they sell most of at Christmas, and a lot of detailed planning goes into the process of getting them from paddock to plate.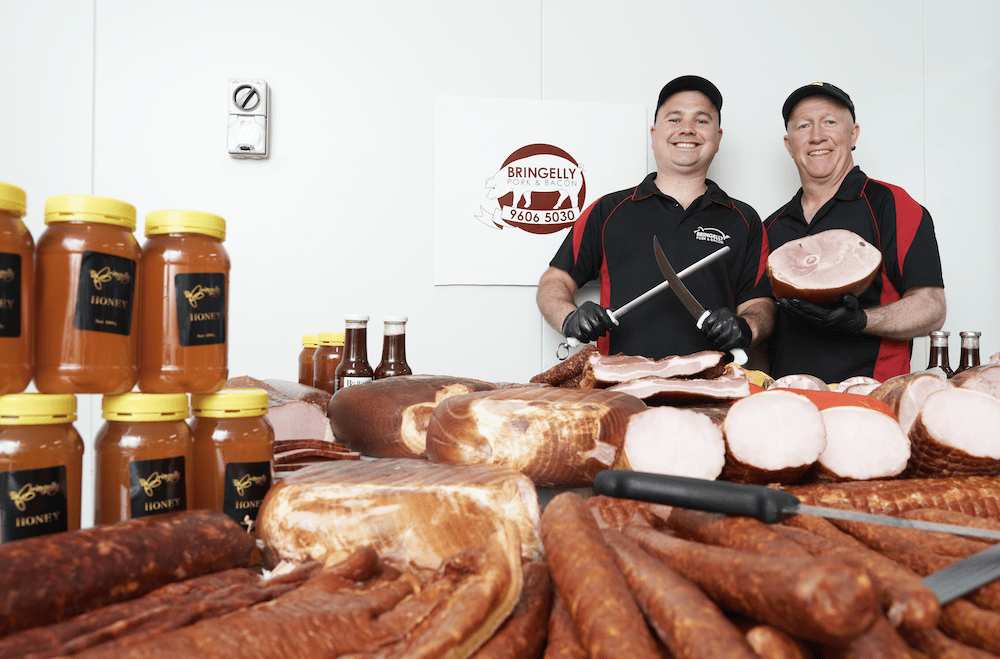 "We start by choosing legs that are suitable for ham, trimming them and freezing them," says Dave. "We then pull them out in early December and cure them, soak them, smoke and cook them. Then we package them ready for customers to take home and glaze."
Time is obviously a limiting factor, so the plant runs 24 hours a day in December to make as much product as possible.
"We do a lot of maintenance and repairs in the last few months of the year to make sure we can make it through the Christmas rush, and that includes having a lot of backup mechanisms ready to go," Dave explains.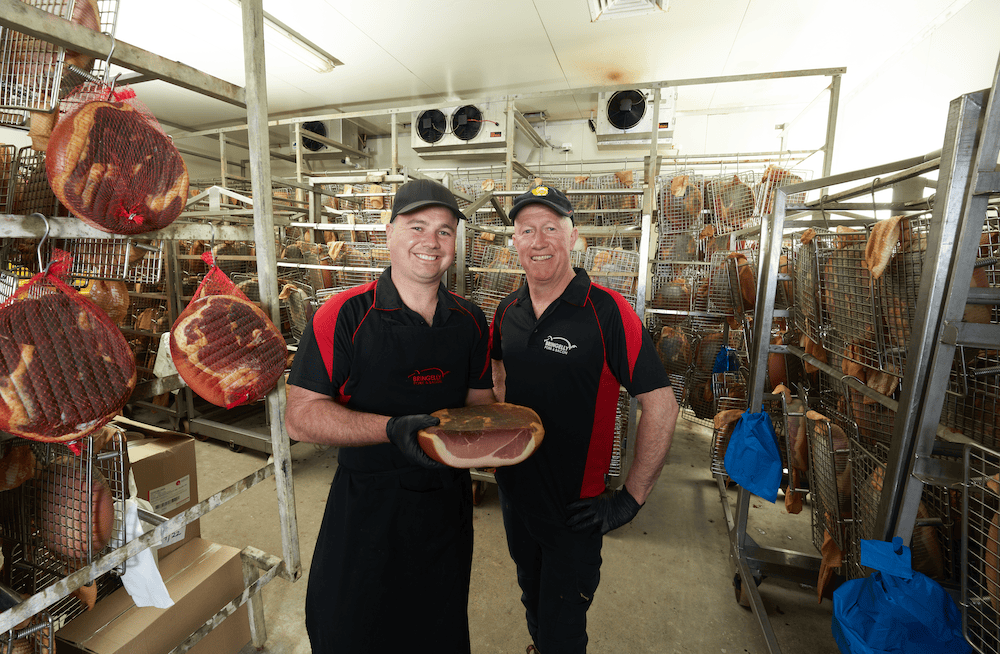 "One year, about three weeks before Christmas, we melted the electricity line right off the telegraph pole because we were using so much power. Because of our backup generators, we only suffered about six hours of downtime. The next day the electricity company came and installed a new fuse box. But if we didn't have those generators, we would've lost a lot in sales."
Labour is a challenge for the business, especially with staff shortages affecting the entire country. "We're a family business, we pull together and we also understand that our working days can be up to 16 hours long," says Dave.
"We usually have eight full-time staff but that doubles in December. We are also able to tap into our extended family who help us with rudimentary jobs such as putting sticky tape on boxes, filling plastic bags and answering the phone."

Dave Blight – co-owner of Bringelly Pork and Bacon.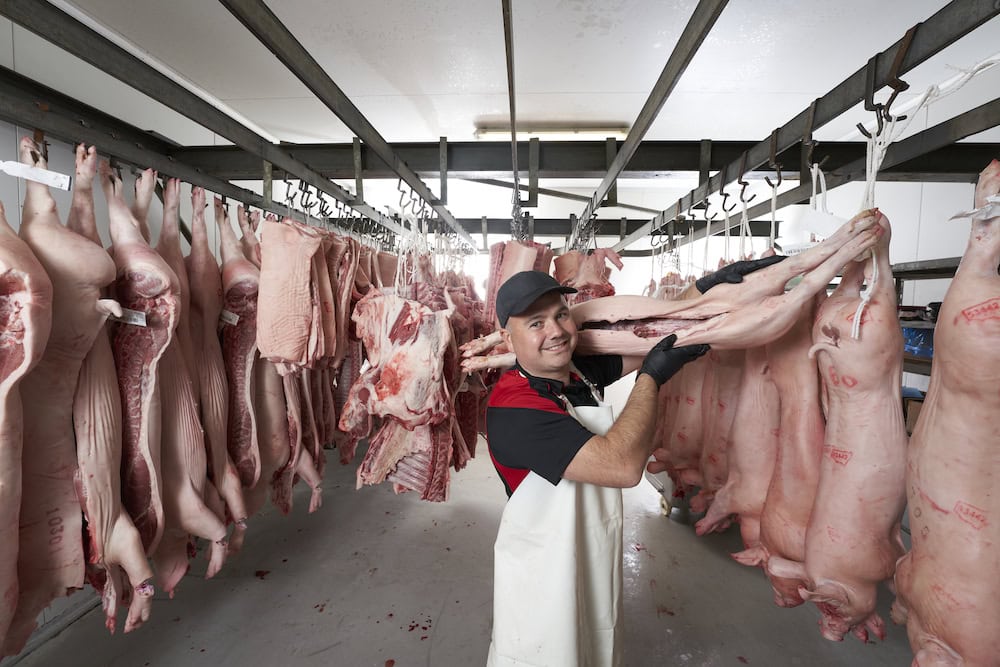 To get everything done and make the most of the Christmas rush, everyone works through Christmas until January 8.
"We have lots of customers from different cultural backgrounds, including Orthodox Christians, and they celebrate Christmas on January 7. It's nowhere as big as December 25, but it's definitely worth keeping the business open," Dave says.
Dave has some advice for other producers – and that's to diversify.
"You need an economically viable business model, no matter how much you earn, because you need to keep your systems and people going all year round," Dave says. "That's why we've developed our own line of products including sausages and salamis. This is really top-quality stuff that we sell to butchers and to pizza shops. We believe our small goods are some of best in Australia."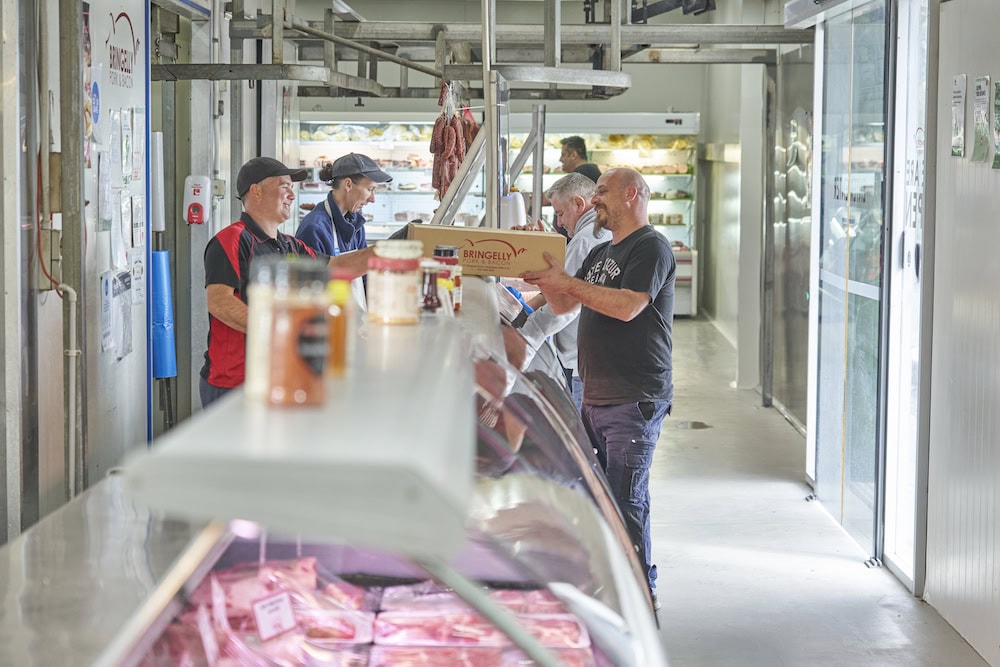 Summer's biggest turkey
"In 1999 I married my husband Angus and moved to his family farm at a little village called Murringo, near Young in the Southern Tablelands," says Sonya Dowling of Enviroganic Farm – a certified organic chicken and turkey producer.
"Angus' father was an old-school grazier but he was always interested in organic farming and followed organic practices long before there was such a thing as organic certification," Sonya says.
"We did some research at the time and discovered there was a shortage of certified organic meat chickens, so we started with 50 chickens a week. It went really well and gradually increased that to 200 chickens a week, then started with organic turkeys. By 2015, we were producing 5,000 to 6,000 certified organic turkeys every Christmas."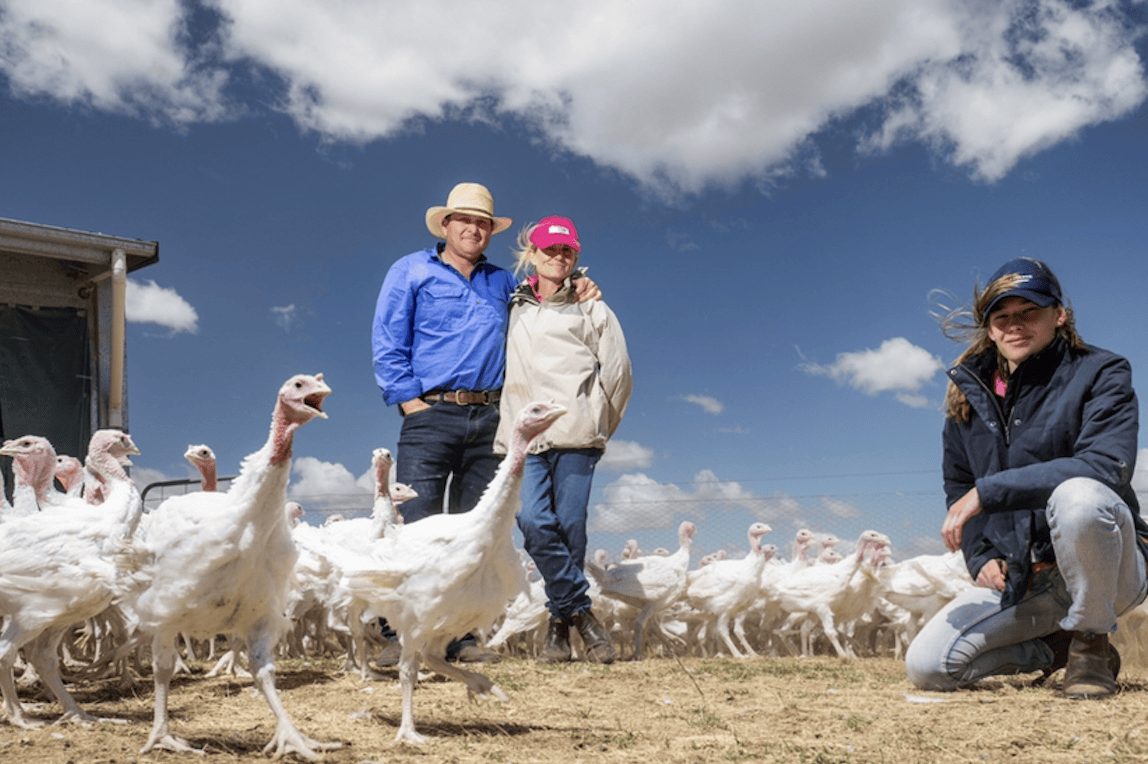 During the first few years, Sonya confesses that the workload was manic, especially in December. In these early years, the business was using contractors in Sydney to do the processing.
"They did their best but they would leave feathers on birds and spots of blood in the poly bags, closed with tie-ons – the shelf life was poor and the product was just not up to scratch," says Sonya. "I was doing the sales and marketing myself – looking after all the smaller retailers and organic shops. I was burning the candle at both ends."
Everything changed when the company started working with a big name brand.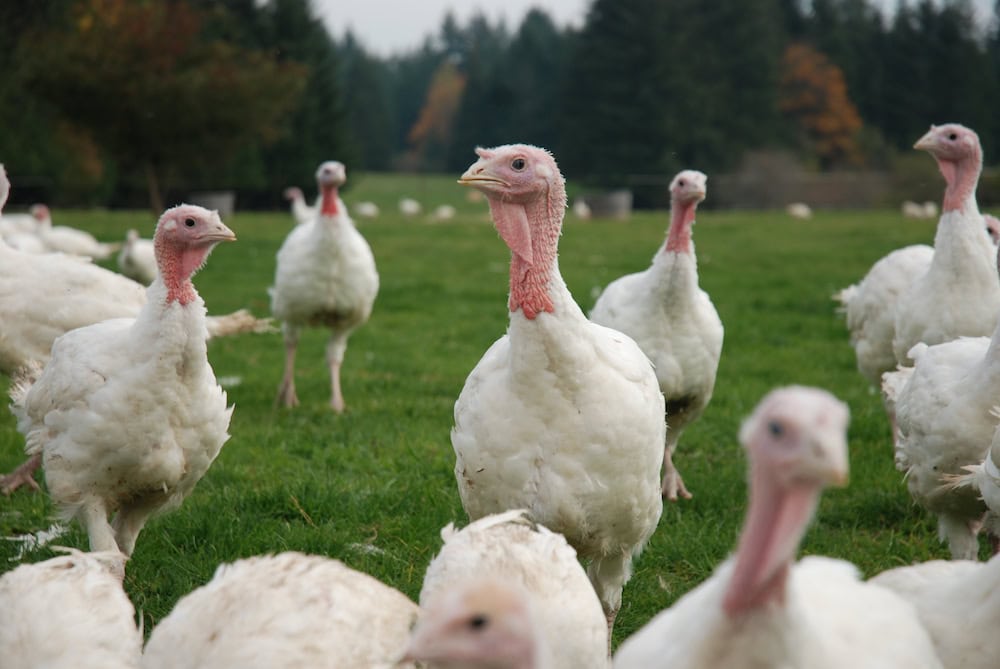 "That step made our business what it is today," Sonya says. "A few weeks before Christmas, contractors turned up with their trucks, machinery and catchers and transported the turkeys to their processing site not far from here. It was amazing to see them at work. They freight a percentage of the product and sell them under another brand. Though most of it is sold under the Enviroganic Farm brand."
Another thing that made the business a success was signing up distributors in each state.
"This allowed us to focus on what we are good at – production – leaving them to despatch our turkeys in stores. We still have to be super organised for the Christmas rush," says Sonya.
"That means every year come June or July, I start requesting my distributors to place their orders, which requires their orders from retailers," Sonya explains. "It's not an exact science and we have to work with ballpark figures.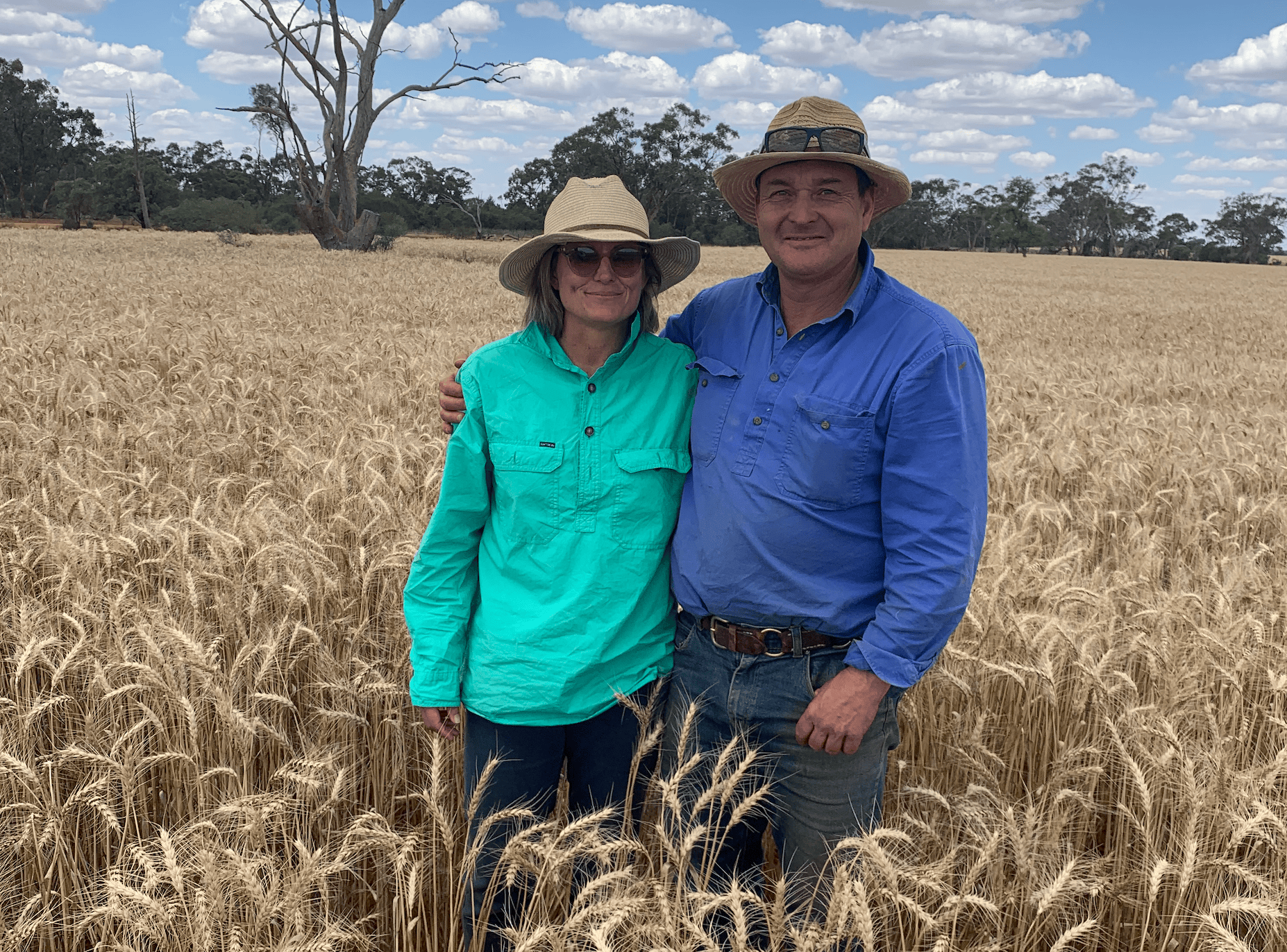 "Given organic turkeys are such a niche product – they take 12 to 13 weeks to grow from chicks which is a longer timespan than conventional turkeys – we all have to work as a team to avoid disappointment.
"Some leave it to the last minute and call me a few days before Christmas asking for 10 turkeys!"
Recipe for Christmas: Spiced honey and orange glazed Christmas ham
Ingredients
• 3/4 cup of orange juice
• 1 cup sieved orange marmalade
• 1 cup of honey
• ¼ cup Grand Marnier or whisky
• ½ teaspoon of nutmeg
• 5kg leg of Australian ham
• 60 cloves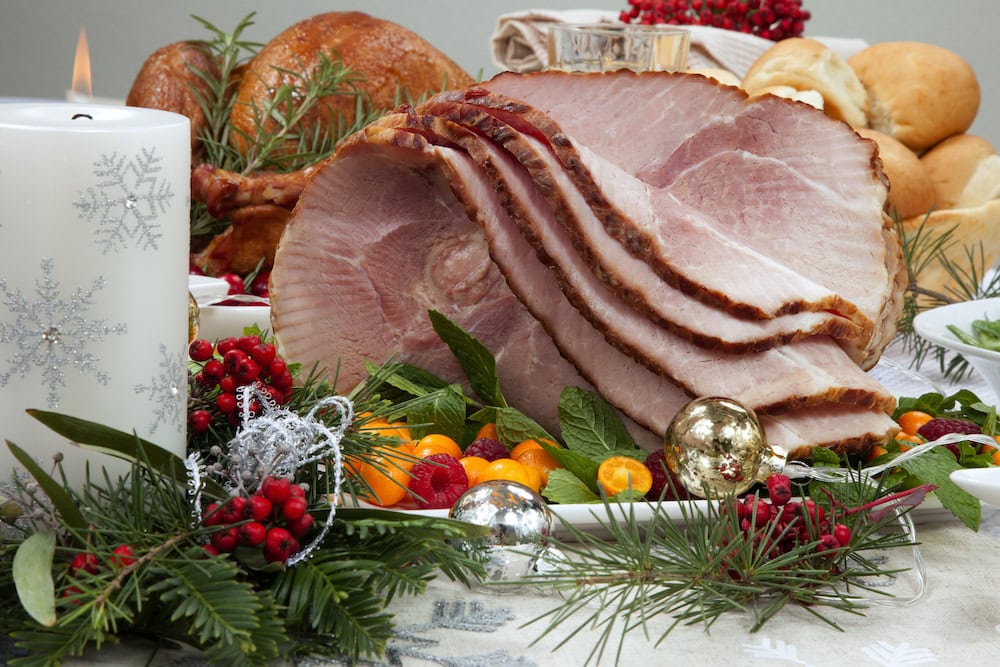 Method
1. Remove the skin from the ham carefully to expose the fat.
2. Score the fat into diamonds and stud the ham with cloves.
3. Combine orange juice, nutmeg, honey, marmalade and Grand Marnier into a saucepan and simmer over low heat until the ingredients have dissolved. Continue to simmer until the liquid is reduced by half.
4. Place ham into a large baking dish and brush with the glaze.
5. Bake ham in the preheated oven at 170° Celsius for one hour, basting frequently.
Note: Due to Covid-19 and the labour shortage crisis, Enviroganic Farm will sadly not have certified organic turkeys available this Christmas.