There are few tangible reminders of Thomas Sutcliffe Mort, perhaps Australia's most ingenious early entrepreneur and social benefactor, besides the embossed words Goldsbrough Mort on buildings in Sydney's Pyrmont, the statue of the man himself at Macquarie Place, and his Gothic revival mansion in Darling Point. But his legacy is everywhere in Australia if you know what to look for.
An entrepreneurial genius and pioneer
It is almost inconceivable that one man could have pioneered so many agricultural, mining and engineering developments. He created a prototype of the first wool brokerage firm and established international wool markets for Australia. He laid the foundations of the Australian meat export industry by facilitating transport of perishable food through refrigeration. He promoted the sugar industry around Moreton Bay, established dairy farming in Bodalla, floated the Great Nugget Vein Mining Company, was a founding director of the Peak Downs Copper Mining Company in Queensland and the Waratah Coal Mining Company in Newcastle, developed a large dry dock in Balmain and was a director of the Sydney Railway Company.
Thomas Sutcliffe Mort was born in 1816 and grew up in a middle-class family in Manchester, England. When his father died his estate was not sufficient to support the family, so when Thomas was offered a position in Sydney he saw it as a way to restore the family fortunes. Arriving in 1838, he gained experience as a clerk in local and international commerce, and soon after married Theresa Laidley, the daughter of a prominent colonial administrator.
Wool-brokerage trailblazer
Mort's wool brokerage business was developed at the right time in the right place. While the sheep that came to Sydney with the First Fleet were mainly a food source, this changed when John Macarthur imported the first fine merino sheep from Spain in the late 1700s. By the 1840s, wool had become Australia's main export, with the annual wool clip over two million kilos.
In 1843, Mort established Mort & Co as an auctioneering and brokering business and, while he was not the first to auction wool in Sydney, he pioneered regular wool-only sales, which drew specialised sellers and buyers. By the 1850s he was the colony's premier auctioneer, and he organised systems for growers to consign wool through him for sale in London. These integrated pastoral services became the model for later wool-broking firms. The company eventually merged with a Melbourne firm to become Goldsbrough Mort & Co, whose wool stores were prominent in Sydney's Pyrmont and Ultimo neighbourhoods through the mid-20th Century. After several more mergers the company now trades as Elders, one of Australia's major agribusinesses.
Mort opened Australia's first dry dock, which repaired the new commercial steamers, in 1855. He later added iron and brass foundries, boiler-making, blacksmithing, and general engineering facilities, which were used to assemble, among other things, imported railway locomotives. In 1870, in a radical move for the time, he offered his employees a share in the business.
Social conscience
With convict transportation to NSW ending in 1840, Mort, as a prominent Anglican layman, believed in the social role of the Church to help the colony establish a new moral foundation. He contributed generously to the building of St Mark's in Darling Point, St Andrew's Anglican Cathedral in Sydney's CBD, and St Paul's College at the University of Sydney. He also created the Australian Mutual Provident Society (AMP) as a non-profit life insurance company "to nourish collective prudence among the poor".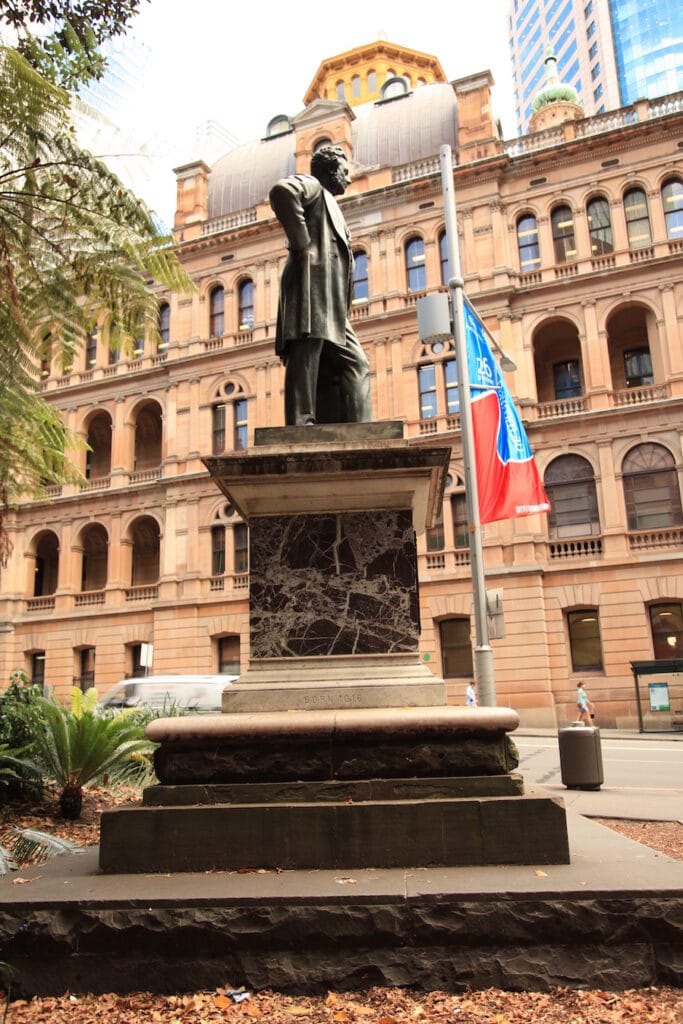 According to Australian colonial historian Alan Atkinson, "Mort believed he should play a major role in rescuing the poor and converting the rich so they had a conscience".
Dairy industry innovator
In 1860, Mort acquired a property in Bodalla which he saw as perfect dairy country. He was quoted as saying, "Every morning you wake up with dew on your shoes, which could only mean one thing: fresh grass all year." He established a township, had the land cleared, swamps drained, imported grasses sown, farms laid out, as well as the milking sheds, cheese and butter making equipment set up. He ran the entire estate as three farms with specialised hired labour, efficient stock breeding and management, and controlled blending of milk from different breeds that paid off in higher-quality products.
Refrigeration pioneer
In the mid 1860s, he financed experiments by French engineer Eugene Nicolle to develop refrigeration machinery to address several of his business needs. Specifically, he wanted to utilise his Balmain engineering plant to manufacture refrigeration equipment that would directly improve his milk and butter delivery into the Sydney market, as well as potentially be used for the shipment of frozen meat to England. Their NSW Fresh Food & Ice Company eventually created commercially viable systems for domestic refrigeration, including slaughtering and chilling facilities in the Blue Mountains, a cold store in Darling Harbour, milk depots in the Southern Tablelands and refrigerated railway vans for meat and milk.
Personal passions
While Mort's investments into refrigeration were made more for community service than financial gain, his many entrepreneurial endeavours brought him great wealth. His house Greenoaks (later known as Bishopscourt when it became the residence of the Anglican archbishop), in Sydney's Darling Point, was transformed into a Neo-Gothic gentleman's estate by the architect Edmund Blacket. Mort embellished the home with antique oak furniture, Elizabethan armour, coats of mail, and a cabinet once owned by Marie Antoinette. A keen gardener, he was at various times president of the Horticultural Society of NSW and vice-president of the Agricultural Society, and he opened his impressive gardens and private art gallery to the public.
Mort died from pleuropneumonia in 1878 at Bodalla, where he is buried. He was survived by nine children and his second wife, Marianne Elizabeth Macauley, who built the Bodalla All Saints Church in his honour. A meeting of working men in Sydney described him as "the greatest benefactor the working classes in this country ever had," and resolved to show their esteem by commissioning his sculpture in Macquarie Place.