The release of 60,000 Olympic Pools' worth of water over two days from the Menindee Lakes has swamped the Menindee community and swelled flood waters on surrounding farms.
An unprecedented 9,000 gigalitres of water flowed from the Darling River into the town's lakes in 2022. Despite regular water releases to create airspace throughout the year, the Menindee lakes have remained above full supply level since February 2022.
WaterNSW, which conducts water management at Menindee Lakes, has been releasing 75,000ML/day through the Menindee Main Weir.
Located 110 kilometres south-east of Broken Hill, the Menindee Lakes were a series of shallow natural ephemeral lakes along the Darling River which have been developed into a water storage. When full they hold three and half times as much water as Sydney Harbour.
River levels at Menindee were sitting at about 10.3 metres this week but could rise to as high as 10.7 metres from tomorrow, exceeding the 1976 flood record of 10.47 metres.
"It's still rising at home. I have never seen one quite this big in my time. You would have to go back to 1974 or '76 to see one as big as this," says NSW Farmers Menindee branch chair Wayne Smith.
Wayne predicts the 2023 flood will exceed the might of the 76 event, with only 35 centimetres in height to go to break the record on his farm.
"It is incredibly slow moving. I don't think we will hit our peak here south of Menindee for another three weeks."

Menindee farmer Wayne Smith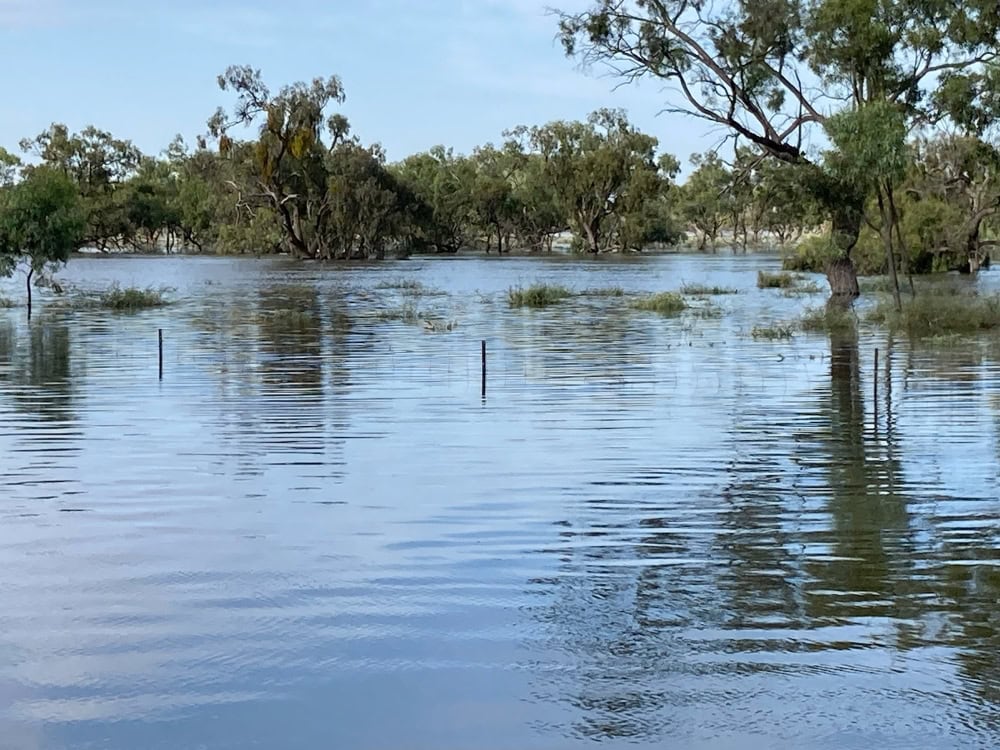 The Smith's 60,000-hectare Karoola Station runs Dorper sheep and rangeland goats and has 45 kilometres of Darling River frontage. NSW Premier Dominic Perrottet and Emergency Services Minister Steph Cooke flew over the farm as part of visit to flood impacted region on the weekend.
"Our house is fine, as is most of the farm," Wayne said.
"We will probably only have around 10,000 acres under water when it peaks, but there are lot of others in the farming community who are worse off. I know of one family whose farm has basically been cut off since March last year.
"Most of the farming community are baring ok, but the Menindee township was hit hard by the release of 75,000 megs a day over two days."
Wayne said there would be hundreds of kilometres of fencing for farmers to replace once waters recede.
"Some of these fences will have been under water for two or three months already and will be for another couple of months. Repairing the road infrastructure damage is the other key challenge for farmers and the community. It could be months before some farmers can transport livestock.
"The main road between Menindee and Pooncarie has been cut and the water will still be coming across that road for the next two or three months."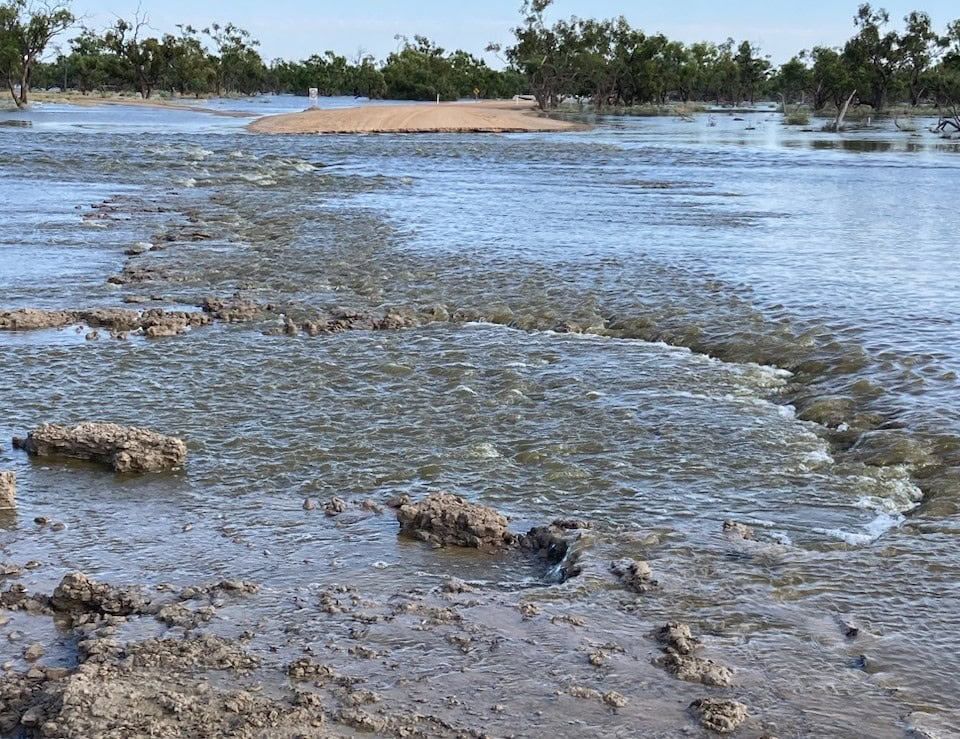 Wayne said there had been no reported livestock losses, with plenty of 'islands' available to move stock onto.
He said the huge amount of water will present a new lease of life for local vegetation in 2023.
"It will certainly be good for replenishing for the aquifers and for some trees in the Box country that have not seen water for up to 50 years."
It will take some time for pastures to recover though. A lot of our country will need a bit of rain after the flood waters recede to produce valuable stock feed."
The SES says water levels are expected to remain above the major flood level (9.7 metres) at Menindee through to mid-January.
Major flood levels continue upstream at Tilpa and Wilcannia, where a prolonged peak above the major flood level is likely to continue.
The SES says major flooding continues in the state's far west and southwest, along the lower Lachlan, Murrumbidgee, Murray and Darling rivers.
Need for more flood gauges
The NSW Farmers Menindee branch has repeated calls for the installation of additional water gauges along the Darling River to improve forecasting.
"There is a serious lack of gauging. There are no gauges around here. the closest one is at Wilcannia, which would be around 200 kilometres of river away," Wayne said.
"We weren't really notified by Water NSW that it was going to be this big. We could have done a bit more homework ourselves in terms of water levels upstream and in the lakes, but we were expecting more information from Water NSW."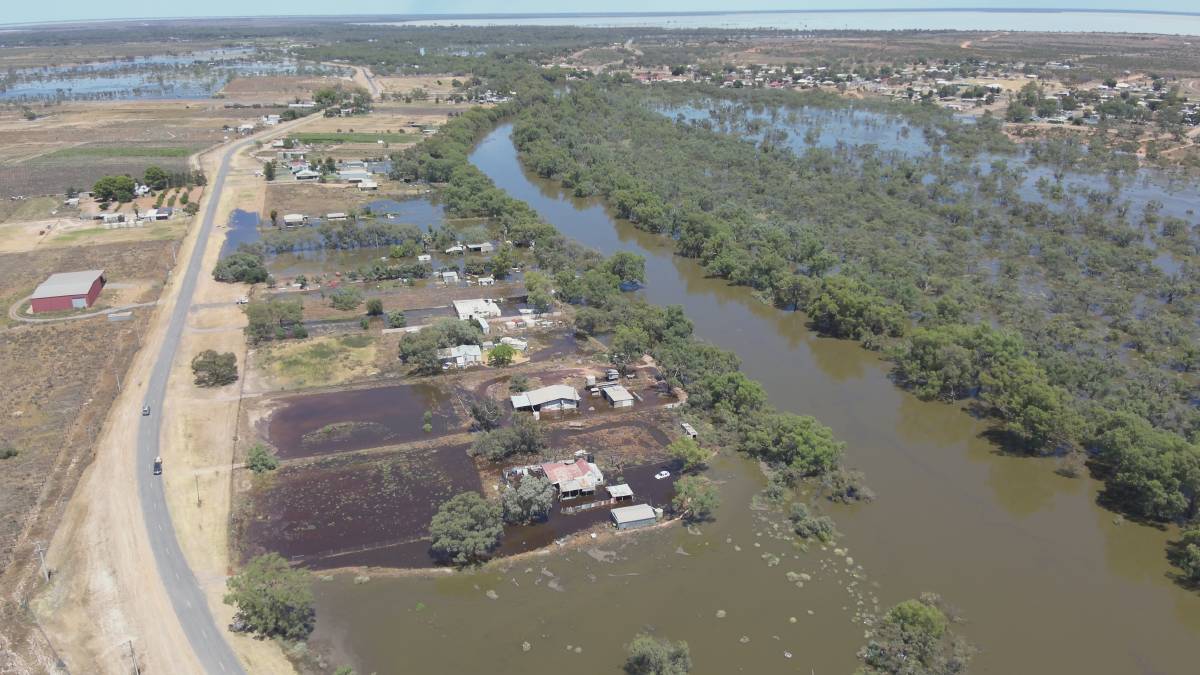 A WaterNSW spokesperson said the community has been receiving notifications about incoming floodwaters from October through operational updates, announcements, public meetings and community information from WaterNSW, the State Emergency Service, and the Bureau of Meteorology.
"Even with WaterNSW consistently releasing large quantities of water last year, the lakes' total volume has remained above 100% of capacity since February 2022," the spokesperson said.
"The current major flooding is a result of water entering the lakes since Christmas that was well above forecast volumes and peaks."
"Typically flood peaks at Wilcannia are a good indication of the likely peak to hit Menindee shortly afterwards. However due to unpredictable floodplain dynamics involving the Talywalka Creek, Wilcannia peaked at approximately 45 gigalitres per day (GL/day) in late December, while Menindee lakes has been receiving at least 70-80 GL/day since Christmas."
The SES also voiced the need for more gauges with the Premier during his weekend visit to the region.
Speaking at press conference in Menindee, Mr Perrottet told reporters that extra gauges would have provided more warnings for farmers and the community.
"It's very clear to me after being here that more gauges would have made a real difference," Mr Perrottet said.
"It was one of the main findings in the flood inquiry. We've seen through the flood inquiry that there a whole range of measures that we need to put in place."
The inquiry found the design of the current rain and river gauge network is 'not fit for purpose', identifying issues around gauge location, ownership and maintenance, and a lack of leadership and coordination.
Mr Perrottet thanked the local Rural Fire Service, SES and NSW Police teams for their 'amazing work' in assisting the community.
"It's also great to see some surf life savers coming out here to lend a hand."
Read more on the outcomes of the state government's Response to Major Flooding inquiry here.