Last Spring, farmers in the Central West were up in arms after thousands of influencers trespassed on their properties to snap selfies in canola fields for their Instagram pages, causing thousands of dollars of damage.
But blaming Instagram is like blaming your television set for bad news. It's a tool that can be used for good or evil. To see the other side of the coin, we spoke to three influencers from the bush who have successfully harnessed the collective power of Instagram to help build their businesses and personal brands.
Wool in his veins
Name: Neil Allan
Profession: Sheep and cattle farmer
Handle: @farmerneil9
Followers: 11,800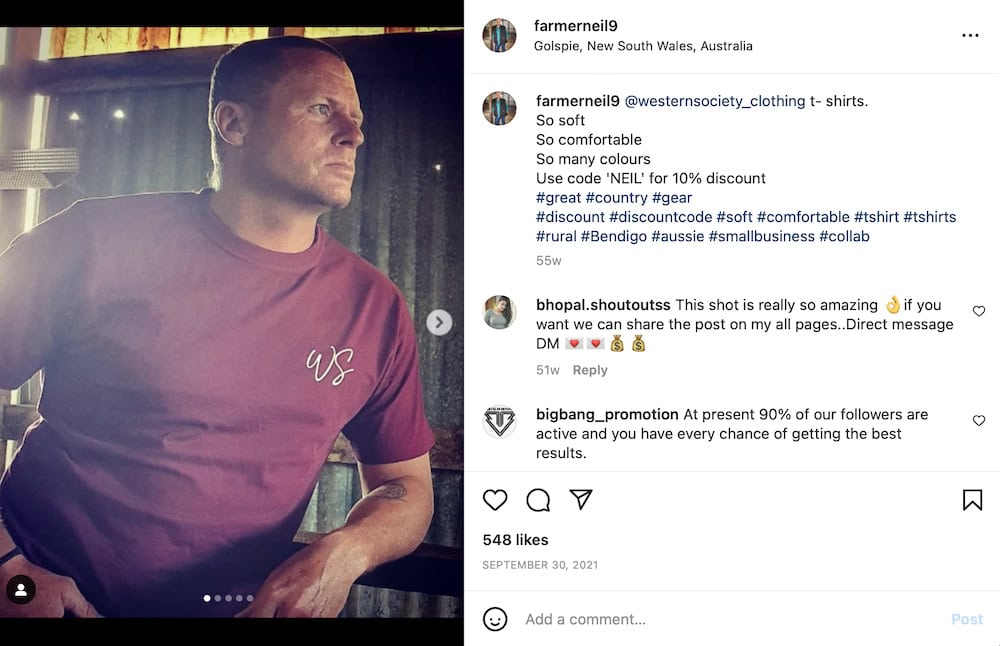 "I was on 'Farmer Wants a Wife' in 2019 and that's where most of my followers came from. Before that I thought Instagram was just a photo-based version of Facebook," says Neil, who runs a 2,000-acre sheep and cattle farm near Rosemont in the Southern Tablelands of NSW. "But once I started marketing myself there I realised Instagram is a fantastic business tool if used properly. Because in the same way you can choose who you follow, you can also choose who you market to.

"When you have a relatively small number of followers as I do, the pay-off is not often in cash. It's usually a product-based sort of thing. I have a deal with a clothing label. I market their products and in return, I sort of get free access to their clothing," he explains.
"I also have dealings with the Australian Wool network and AWI (Australian Wool Innovation) and make sure they are tagged in all my posts. Covid-19 kind of threw a spanner into our collaboration but I am hoping to make it happen again soon."
"Wool is my passion and if there is one thing I hope I can drive through Instagram it's wool and wool products in Australia."

Neil Allan, sheep and cattle farmer.
Some may ask, does everything on Instagram need to be flowery?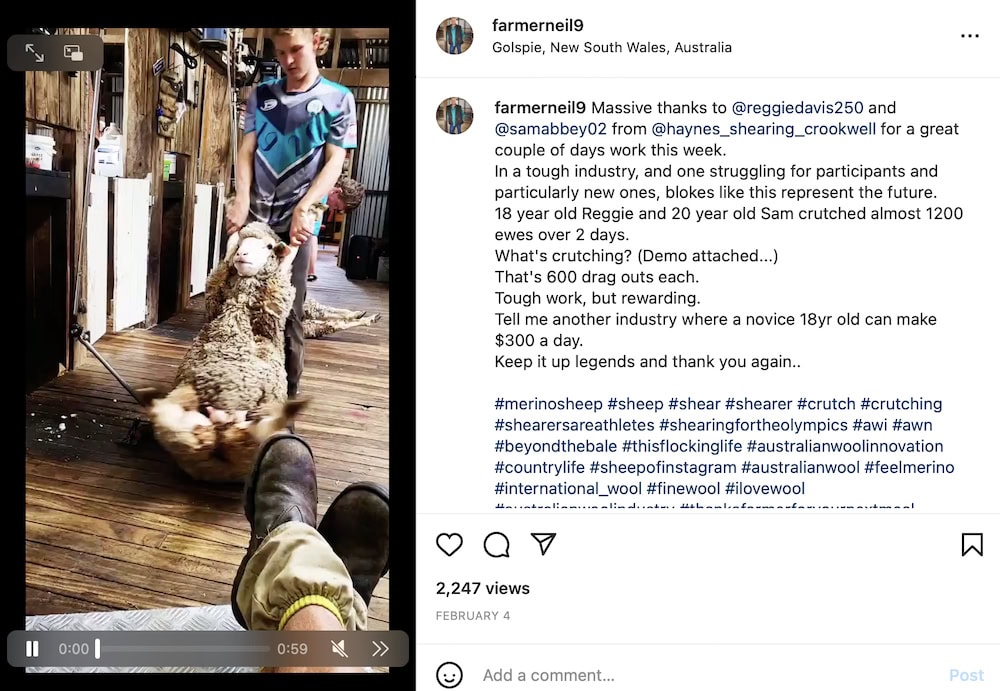 "It depends on your market, but basically, for me, it's a yes. My followers don't want to know about the hard stuff about farming or the boring day-to-day chores. They want to see cute little lambs jumping up and down in perfectly green paddocks," he says.

"One thing you need to be aware of are scams," Neil warns. "As soon as you start putting your private information out there people try to take it, so you need to be aware. When the journalist who wrote this story contacted me, I was wary at the start. I searched for his name before agreeing to talk with him. There are also many fake followers out there, people from overseas chasing bitcoin. I won't dissect every one of them, but I try not to accept fake followers and instead focus on loyal followers who engage with my stories and posts."

From patch to plate
Name: Lee Sullivan
Profession: Urban gardener
Handle: @urbanveggiepatch
Followers: 145,000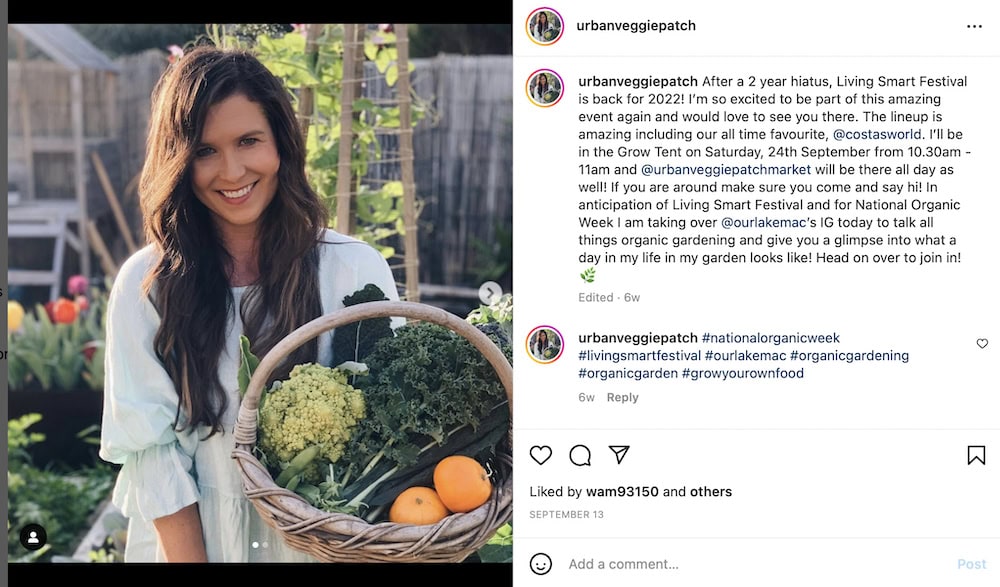 "I started Urban Veggie Patch six years ago – an online store that sells seeds, flowers, tubers, fruit, vegetables and gardening tools. Our best-selling product is an illustrated garden planner that helps people plan their gardens," Lee says, who lives in Blacksmiths, a suburb of Lake Macquarie.

"Instagram has definitely been my most powerful marketing tool. As I learned more and more about urban gardening I started sharing knowledge, and my following just grew organically. There is great PR (public relations) value in having people following your 'journey' – it creates a platform to launch and grow a business because people love stories."

Lee uses her garden planner as an example. "Posting photos are great as they show off the product, but the real cut-through I get is from creating videos – what Instagram calls Reels – that show people how to use it in everyday life.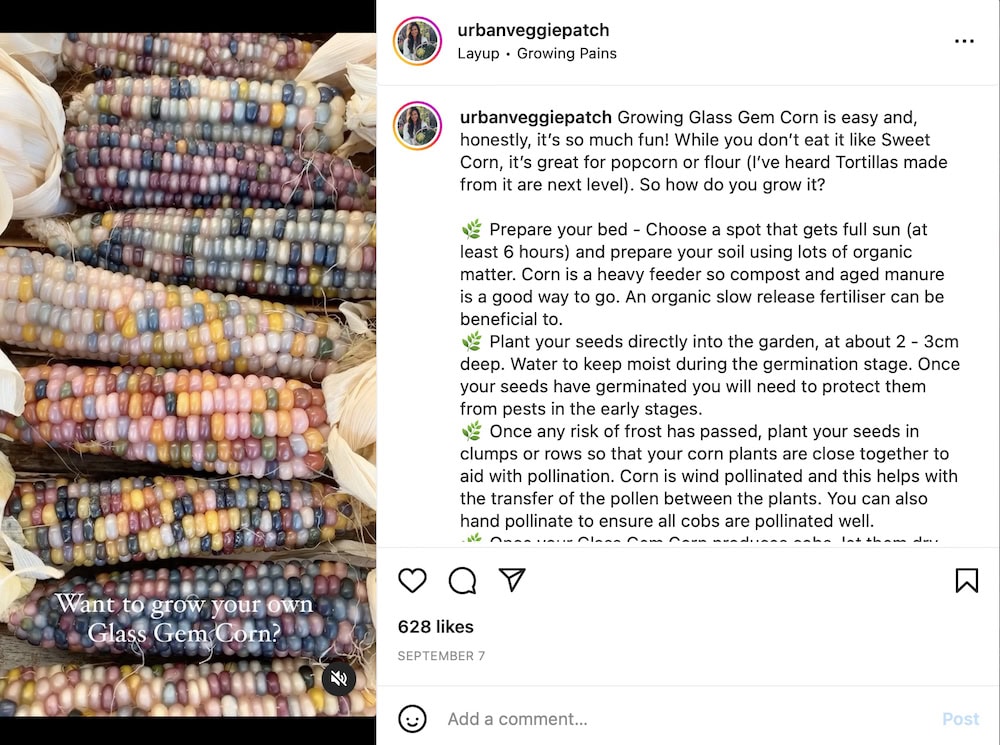 "In one Reel we recently posted, my business partner shows how she draws her gardening bed in the planner," Lee explains. "You don't need any big equipment to make Reels. I use my iPhone – it's one of the latest models and comes with some pretty good in-built editing tools – but there are also some apps you can buy such as Splice, that will help you."
Lee points out that Instagram is an ever-changing product, so things can change quickly.
"When I started using Instagram photos were the thing. So I would post a nice photo with written information – a caption – and I felt that is what got people in and had them learning. Then Instagram started promoting the Reel format and I had to make the change towards video, but I still add written captions as it allows me to give my followers more specific information."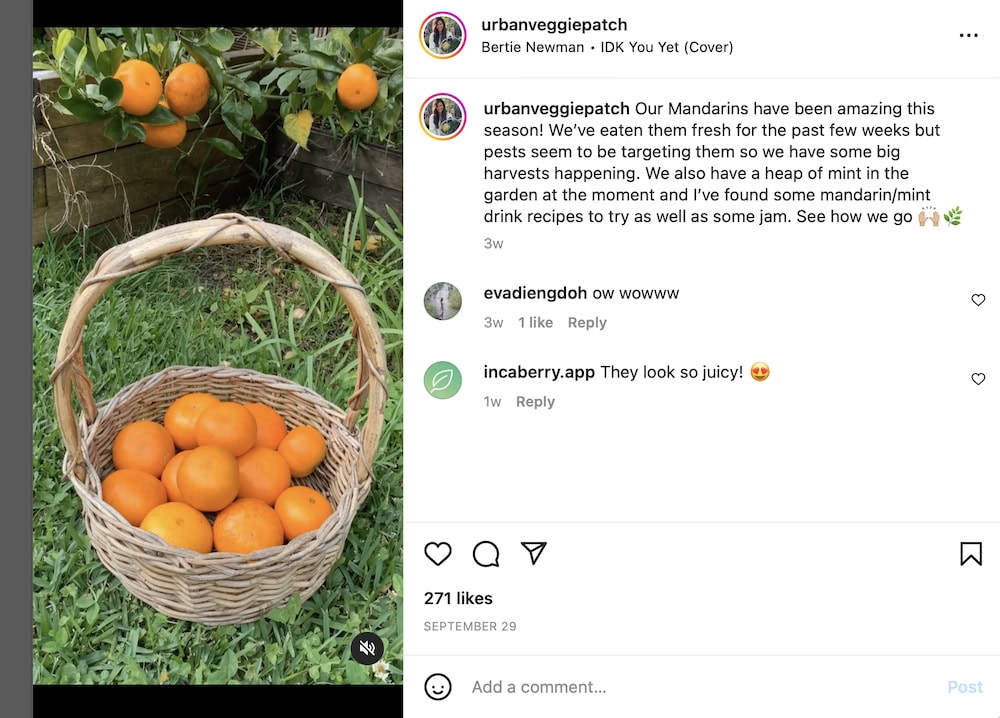 So how does Lee think you can get started?
"Firstly, sign up for an Instagram business account instead of a regular account. You can use it to link your website and products, so when you promote a specific product you can add a link that people click on and it takes them directly to that product on your online store," she says.
"I have been doing this for a long time and I understand how it all works. But if you are new to Instagram I do see how there is value in hiring someone who is well-versed in social media to get you started."

Lee Williamson, Urban Veggie Patch.
The cow whisperer
Name: Emme Williams
Profession: Veterinary study
Handle: @eemmewilliams
Followers: 14,700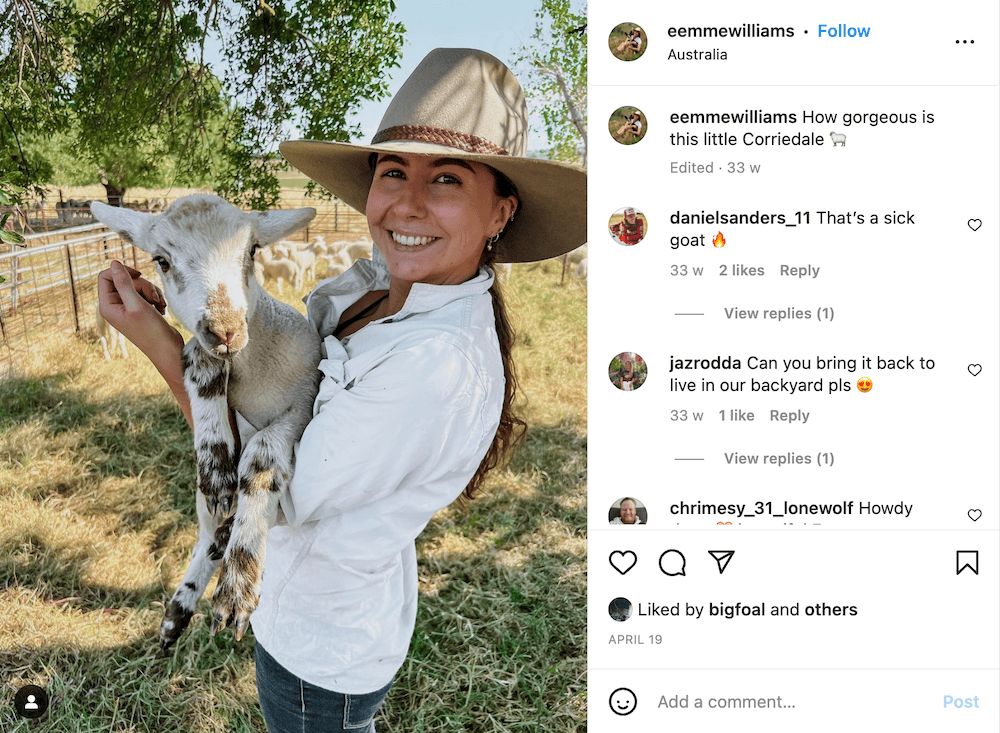 Emme Williams is a final-year veterinary student at Charles Sturt University in Wagga Wagga and the 2022 recipient of the NSW Farmers John White Memorial Tertiary Scholarship.
"I started using Instagram because I like the idea of sharing what it's like to be a vet, how the crops are going and why living and working in the country is so incredible."

Emme Williams, veterinary student.
"Instagram is also a great tool to connect and it's helped me make friends with many different people who I'd otherwise never meet. I also follow other students who share stories about how they are getting through vet school and veterinarians who share stories about their work."

Emme explains that all of her followers are organic – they came about naturally. "I didn't do any 'business' marketing. It's just continued to grow over the years because I share stuff that appeals, like riding my horse around our amazing property, though I also share other stuff," she says.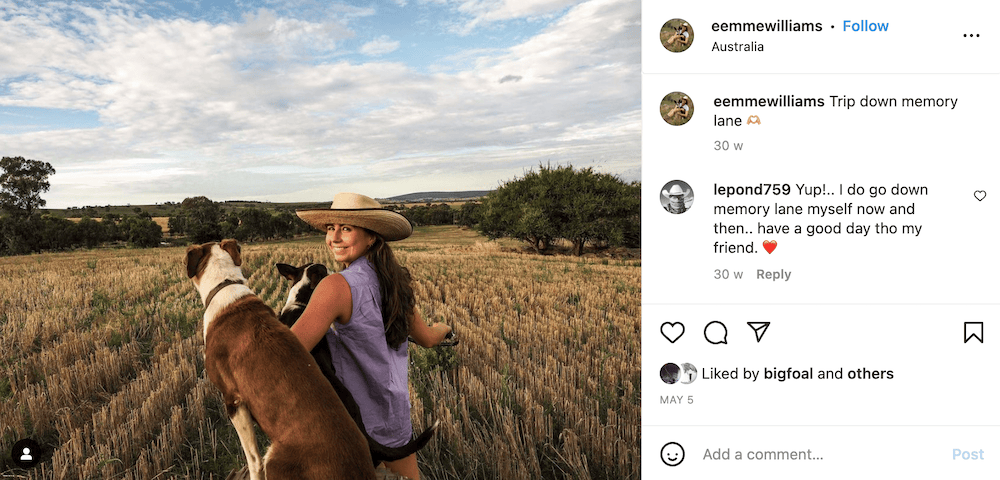 "One of the most popular photos I ever posted was of a cow caesarean where I was up to my shoulders in blood. People were shocked but not in a good way, because that's what real life is like on a farm. My content is reliable and honest."

Emme doesn't have her own business to promote on Instagram, but she works with companies such as Eukanuba – a dog food brand. "So I post images of my dogs eating it and show how much they love it and in return, I get dog food and a cash payment. I only work with companies whose products I use and whose ethics align with mine."

Emme says that Instagram has so many benefits but she warns that it can also be a big time-waster. "I use timers to set time limits on how long I spend on it and other forms of social media, and I only give myself 20 minutes a day. When that bell rings, I know it's time to get off my butt and do some work instead of just staring at a screen all day."
If this story on farmers using social media was of interest to you, you might like to read our feature on the online community at Ability Agriculture.