Australia's largest coal export port should also become a grain export powerhouse.
Thats according to the state's peak agricultural body, who sent a delegation to the Port of Newcastle last week to inspect grain terminals and discuss how to unlock supply chain congestion.
NSW Farmers Vice President Xavier Martin growing grain export capacity at Newcastle would slash farmers' transport costs and improve access to export markets.
"There's no point growing food and fibre if you can't ship it to your customers and the Port of Newcastle has enormous potential to help our farmers be more globally competitive,"

NSW Farmers Vice President Xavier Martin
He said a new container terminal at Newcastle and railway-to-port connections could save farmers $16-$22 per tonne on rail freight, or up to $2.8 billion over the next 30 years.
"Our grain growers have just had two of the biggest growing seasons in history here in NSW, but we have this dysfunction that effects supply chain efficiency in the transport and logistics chain that's costing our farmers."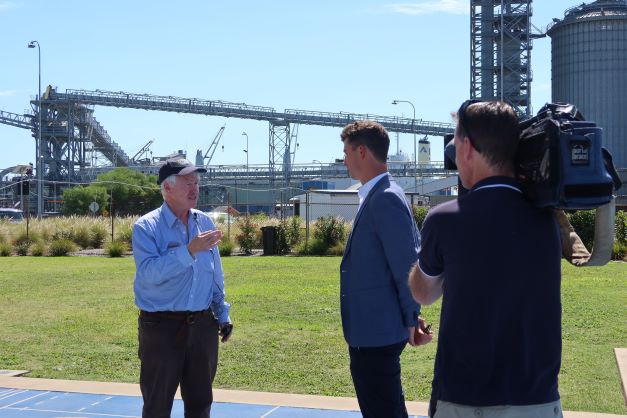 Three Port Terminal Service Providers for bulk grain exports currently operate in NSW across four different ports. GrainCorp operates port terminal facilities at Carrington (Port of Newcastle) and Port Kembla, Newcastle Agri Terminal (NAT) operates a facility at the Port of Newcastle, and Quattro operates a facility at Port Kembla.
A record harvest in in NSW led to the largest bulk and containerised export shipping years on record (5.7 and 1.2 million tonnes, respectively) in 2020-21.
According to ACCC's Bulk grain ports monitoring report – 2020–21, NSW's highest volume bulk export facility was Port Kembla.
Mr Martin said freight operators heading to Port Kembla are competing with more passenger trains for space on rail lines and traffic congestion in Sydney.
He said its one of the reasons why NSW Farmers backs expanding grain exports out of Newcastle, including a new container terminal.
Containerised grain exports from NSW increased from 174,000 tonnes to a record 1.2 million tonnes, representing 10 per cent of grain usage in 2020–21. (Source: ACCC Bulk grain port monitoring report- 2020-21). There is currently only one container terminal in NSW at Port Botany.
The Port of Newcastle has developed a concept for an automated container terminal development at its Mayfield site. The site has direct water frontage and potential for a deep water berth.
Port of Newcastle modelling indicates that a new container terminal would create 4,600 more jobs and enable $800 million in extra exports.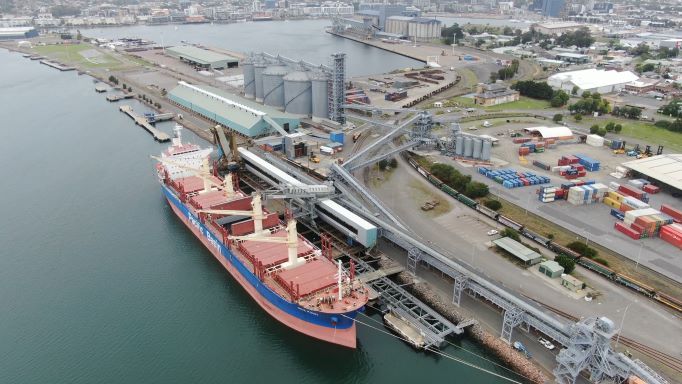 Deeds hold back export container plans
A key stumbling block has been the Port Commitment Deeds signed when Port Botany, Port Kembla and the Port of Newcastle were privatised.
The deeds contain provisions that would effectively see the Port of Newcastle compensating Port Kembla and Port Botany if it developed a container terminal above a specified capacity.
The ACCC alleged this was anti-competitive and makes the development of a container terminal at Newcastle uneconomical, and took its case to Federal Court in 2019.
The Federal Court dismissed the case in June 2021 and the ACCC are appealing the decision.
"There are some other challenges that also need to be addressed but allowing the Port of Newcastle to increase its export potential would make a big difference for farmers," Mr Martin said.
"Newcastle's close proximity to major NSW export and import hubs provides a shorter journey by road or rail, making it the efficient option for container imports and exports to central, north, north-western and far-western NSW.
"However, as a related infrastructure challenge, currently grain travels by rail past Newcastle to Sydney before returning to Newcastle, which is an inefficiency for grain producers."
This is exacerbated by efficiency challenges of the regional rail network, including limits on freight train speeds and capacities as a result of low axle weight capacity, track speed, and siding and passing loop lengths.
Increasing axle weight capacity to has been a long-standing issue for NSW Farmers which is calling for a lift to main line capacity to a minimum of 25 tonne Total Axel Load (TAL)
"Investing in a large grain handling facility in the north west and rail line upgrades direct to Newcastle – along with tackling anti-competitive policies and systems – would make farmers far more competitive globally and remove some of the pressure on the supply side."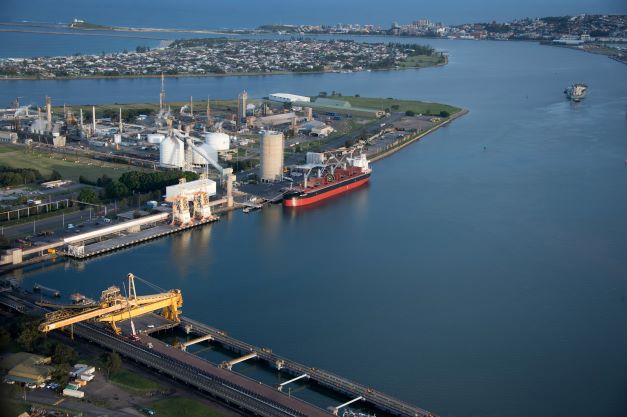 Grain exports grow out of Newcastle
More than 3.3 million tonnes of grain was exported through the two grain terminals at Port of Newcastle in the 2021 calendar year.
This represents a 900 per cent year on year growth, while fertiliser imports grow 69 per cent year on year.
Executive Manager of Business Development, Matthew Swan said its the highest volumes since 1990 and there is a positive outlook for 2022.
"These volumes demonstrate the Port's capability to support local industry and a willingness to work with farmers and others in the supply chain to promote the improvements in efficiency," Mr Swan said.
He said the Port of Newcastle is investing $28.4 million in mobile harbour cranes and terminal upgrades in 2022.
"This will increase our container handling capability and provide opportunities for farmers to export containers to global markets."

Port of Newcastle Executive Manager of Business Development, Matthew Swan
"This new supply chain option can provide overall cost savings for farmers and provide an additional container export option in NSW to improve service standard."
NSW's antiquated and inefficient supply chains have been barely keeping up for years. Read more about this here.