Dorrigo beef and dairy farmers have delivered five truckloads of fodder donations to their fellow north coast farmers in the flood ravaged Northern Rivers region.
The much-needed delivery of 180 wrapped silage bales arrived on Sunday at five locations for farmers in the Coraki, Lismore and Murwillumbah areas.
Dorrigo cattle farmer Dave Gibson said they hope to deliver another two convoys of fodder donations this week.
"The problem is that the wet weather has not stopped, which is causing problems for logistics," Dave said.
Dave and four other locals provided their trucks and time for the 14-hour donation run on Sunday.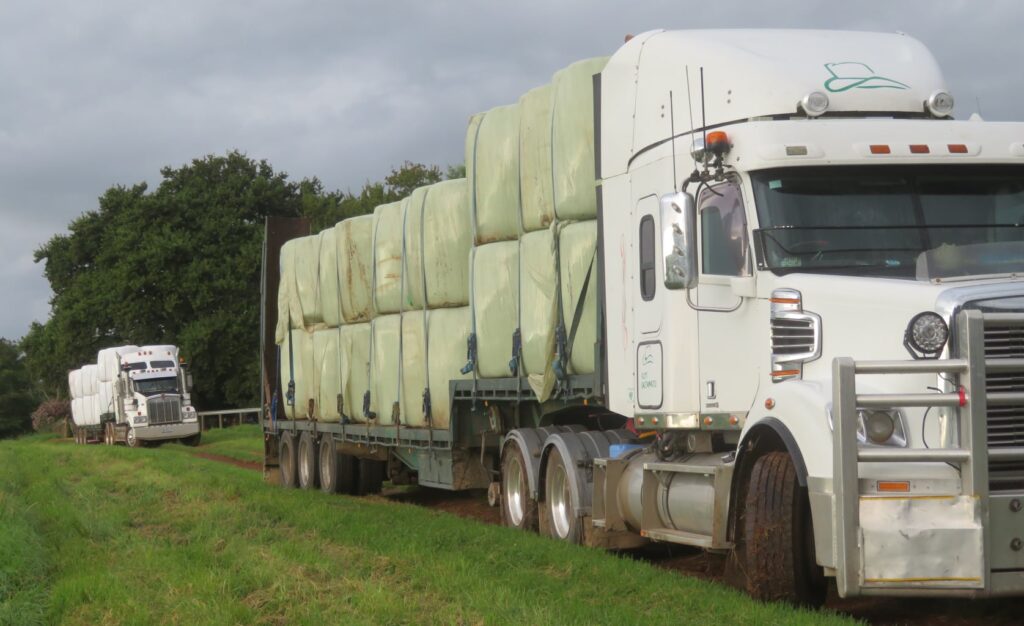 "From Dorrigo, we were able to get up to Grafton. The Pacific Highway was still closed on Sunday, but the Summerland Way to Casino had just opened."
"We then met up with a couple of mates of mine, Darryl Boyd and Dwight Wyatt, who knew where it needed to go and how to get it there."
Sue Francis from Onward Murray Greys on the Dorrigo Plateau said local beef and dairy producers couldn't help but respond to the suffering of their fellow farmers.
"This was a flood of epic proportions. The stories unfolding from farmers I know, and the levels of the flood water have been beyond comprehension," Sue said.
"Our fodder donation is only a drop in the ocean as to what is needed, but as the saying goes, every drop counts."

Sue Francis, Onward Murray Greys, Dorrigo
"The responsibility of care for livestock is felt by all. It's a driving force to do all you can to help the animals and to somehow, if at all possible to help soften the anguish felt by their owners."
ABC North Coast also reported fodder donations this week involving 18 trucks carrying about 550 bales of hay to farms around Lismore and Casino, organised by Wauchope farmer Andrew Carroll.

Graham Cockerill from Need for Feed Australia said offers of fodder donations had come from as far as Western Australia and New Zealand.
Need for Feed also delivered its first convoy of fodder donations to farmers in the Northern Region and South East Queensland this week.
Graham urged those wanting to donate fodder to contact Need for Feed via email at lionsneedforfeed@yahoo.com.au or through the webpage needforfeed.org
"We've got a team of 10 people working on this and it's full on," Graham said.
Graham was one of the drivers for this week's Need for Feed fodder donation convoy.
"I'm 66 and a half years old and seen a lot of flood damage, but I have never seen anything like this in the Northern Rivers."

Graham Cockerill, Need For Feed Australia
Rural Aid is also taking fodder donation enquiries and raised almost $200,000 for flood affected farmers in 24 hours last week.
Farmers affected by the tragic events are eligible to receive cash payments from Rural Aid as a direct result of the generous donations coming in. They can also access Rural Aid's full suite of free support measures.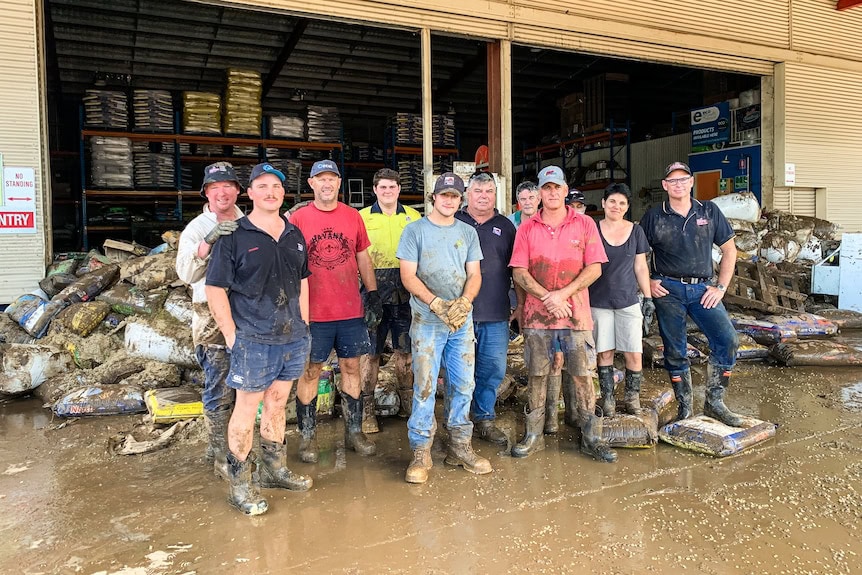 Rural Aid CEO John Warlters said the outpouring of donations was one of the strongest shows of support in the leading rural charity's recent history.
He said the sense of loss and despair caused by the flooding tragedy has been felt right across the nation.
"Rural Aid's counsellors are flat out right now. They're comforting farmers in the Northern Rivers who've had hundreds of their cattle swept out to sea."

Rural Aid CEO John Warlters
"They're calling Lockyer Valley growers, who've lost their entire crop under metres of water."
There are currently 15,600 farmers registered with Rural Aid across the country. More than 1,800 of the registered primary producers live in flood affected zones.
Rural Aid farmers in the 18 disaster-declared Local Government Areas are eligible to apply for Rural Aid's financial assistance. Registering with Rural Aid is quick and simple and best done via the website www.ruralaid.org.au.
"Rural Aid also provides free counselling, fodder and water drops, and access to our amazing volunteer platform, Farm Army."
"We are so grateful for our generous supporters who never hesitate to dig deep when a crisis strikes. Thank you to all those who've donated so far," Mr Warlters said.
Donations can be made online at www.ruralaid.org.au/flood-appeal-2022 or by calling 1300 327 624.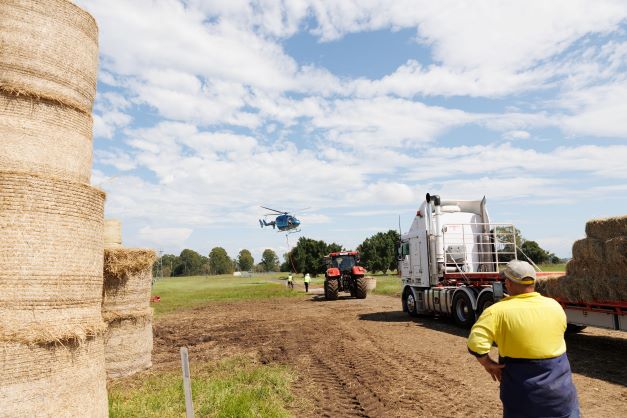 Deputy Premier Paul Toole said the Agricultural and Animal Services Functional Area hotline (1800 814 647) has received more than 800 calls from farmers requesting emergency fodder, aerial surveillance and veterinary assistance for flood-affected livestock.
"Many farmers hit by these record floods have not only lost their homes, but also their livelihoods – and we're throwing every resource at helping them get back on their feet as quickly as possible," Mr Toole said.
"Already, more than one million kilograms of fodder has touched down in places like Lismore, Casino and Grafton, including about 135,000 kilograms of that delivered by air to places with limited access."
"Primary producers across the Northern Rivers face a long road to recovery, and this fodder – currently being sourced from the NSW Northern Tablelands and North West regions – will make a real difference on the ground right now."
The 1800 814 647 hotline is jointly run by the Department of Primary Industries (DPI) and Local Land Services (LLS) and continues to receive a large volume of calls. A dedicated email has also been created for the hotline with land holders now able to lodge requests by emailing aasfa@emergency.dpi.nsw.gov.au

How to help Northern Rivers farmers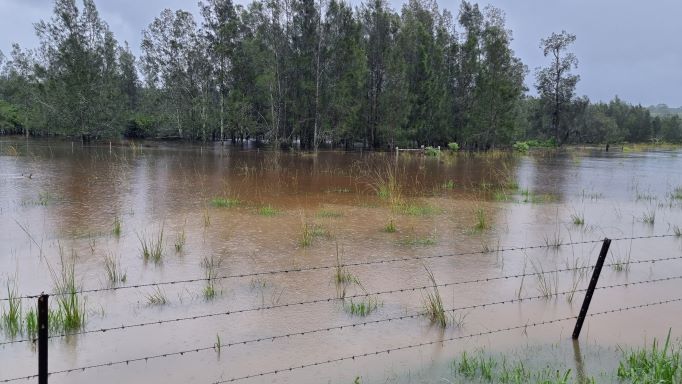 There are specific charities for farmers and other charities that support rural communities more broadly who are coordinating donations for the flood affected Northern Rivers farmers.
NSW Farmers' does not specifically endorse any single charity. Below are a list of registered charities if you are considering donating.
Additionally, the NSW Farmers Natural Disaster Relief Fund is a long-standing registered charity established by NSW Farmers with a focus on disbursing donations to primary producers who have suffered loss as a result of natural disasters.

Primary Producer focused charities

BlazeAid – a volunteer-based organisation that works with families and individuals in rural Australia after natural disasters such as fires and floods, working alongside the rural families to rebuild fences and other structures that have been damaged or destroyed. blazeaid.com.au/

Rural Aid – Rural Aid supports primary producers through free fodder and water deliveries, financial assistance and mental wellbeing counselling. Rural Aid is committed to supporting Australian farmers through its Disaster Assistance initiatives and its Stronger Futures programs. Donations can be made at www.ruralaid.org.au/donate/
Aussie Helpers – Co-founded by Brian and Nerida Egan Aussie Helpers aim is to stay in touch with 100's of farming families to ensure their well-being and survival through good and bad times. aussiehelpers.org.au/
Community and faith-based charitable organisations
Salvation Army – salvos.org.au/
Mission Australia – www.missionaustralia.com.au/
Anglicare Australia – www.anglicare.asn.au/
Lions Clubs – www.needforfeed.org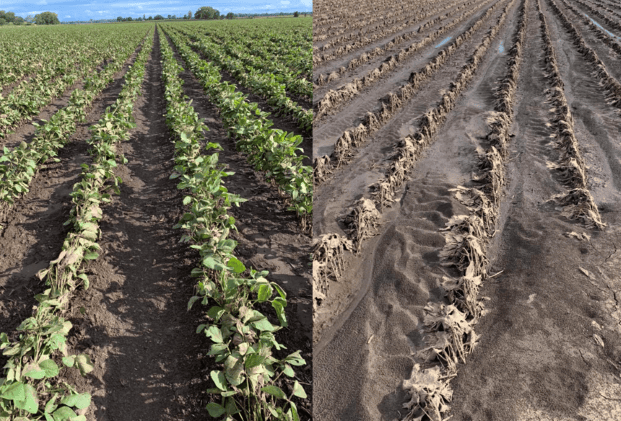 NSW Farmers welcomes disaster declarations
The state's peak agricultural body has welcomed disaster declarations for 45 Local Government Areas (LGAs) in NSW affected by heavy rain and flooding.
Flood affected farmers in these LGAs are encouraged to apply for joint State and Commonwealth Special Disaster Grants of up to $75,000.
Once approved, eligible farmers can access $15,000 in assistance up-front, with a further $60,000 in financial assistance available thereafter upon submission of valid tax invoices.
NSW Farmers Business, Economics and Trade Committee Chair Bill McDonnell said affected communities will need all the support they can get.
"We have never seen anything quite on the scale of this devastation in the state's north, and our hearts go out to the families and friends of those who have lost loved ones,"

NSW Farmers Business, Economics and Trade Committee Chair Bill McDonnell
"Time and again this important agricultural area has been hit by torrential rains and flooding, and we are already looking at ways to help farmers recover from the devastation."
"It will be a long road to recovery, but together we will get through this."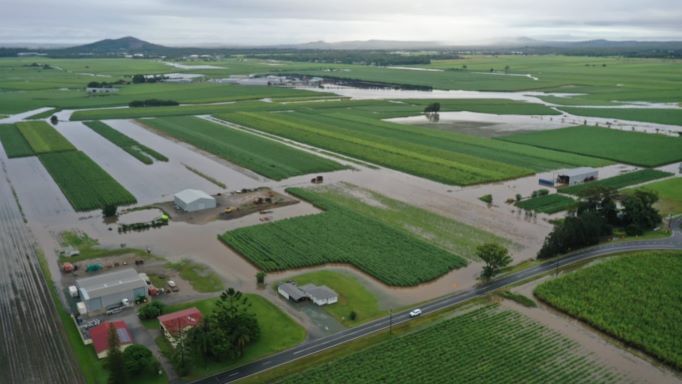 NSW Farmers Dairy Committee Chair Colin Thompson said there were some practical things that needed to be done as communities moved into the clean-up and recovery phase, such as safely surveying damage and disposing of stock in an appropriate manner.
"Picking up the pieces after something like this can be tough stuff even for those who have spent their whole lives on the land, but it's really important to do things properly and safely both for yourself and your neighbours," Mr Thompson said.
He said the Department of Primary Industries and Local Land Services have put things in place to assist flood-affected farmers and land managers across NSW.
"Any farmers affected by this flooding should call the Agricultural and Animal Services emergency hotline on 1800 814 647 to request assistance with livestock assessment and veterinary support, emergency fodder where access allows, and euthanasia and burial if required."
The NSW Government's Agricultural and Animal Services has established a state coordination centre to oversee the response and work with affected landholders, with local control centres at Grafton, in the Hunter, on the South Coast and in Sydney.
"While the focus has been quite rightly on evacuation and keeping people safe and warm, we're going to need to inspect and assist stock and properties very soon," Mr Thompson said.
"Farmers affected by the floods should complete the NSW Department of Primary Industries natural disaster damage survey as soon as it's safe so the government can get a good idea of what's needed and where."
The road to recovery for farmers after natural disasters is a long one. Read more here.