"It all started for me with the Ride for Resilience, an Active Farmers charity bike ride in September 2019," explains 31-year-old, fifth-generation Coleambally irrigation farmer Joe Briggs. "I decided to give it a go as a big fella to help me take my mind off the drought. It was 420 kilometres and I'd never ridden a bike before. I borrowed one, and some shoes and a helmet. Everybody sponsored me because nobody thought I could do it. We clicked over $31,000 between the charity auction and my personal sponsorship."
Next was an eight-week fitness challenge in February, where 60 blokes turned up the first week in a town of just 660.
"There was a barbecue afterwards and the atmosphere was just like at the local pub with farmers chatting about the bloody crops or other difficulties. It breaks the isolation," says Briggs. "We had everyone from the age of 23 to 75 there." 
Establishing Active Farmers
Founder of Active Farmers, Ginny Stevens, explains that "Our overarching aim is to have an impact on the physical and mental health of rural communities as they're the ones who feed and clothe us all. By offering a proactive program of affordable health and wellbeing initiatives in small farming towns, which often have little more than a public hall and sports oval, we believe we can help build stronger and more resilient rural communities."
According to the Australian Institute of Health and Welfare, on average, Australians living in rural and remote areas have shorter lives, higher levels of disease and injury, and poorer access to and use of health services, compared with people living in metropolitan areas. The Royal Australian College of General Practitioners says that suicide rates (especially among men) in rural and remote Australia are significantly higher than the national average and are rising.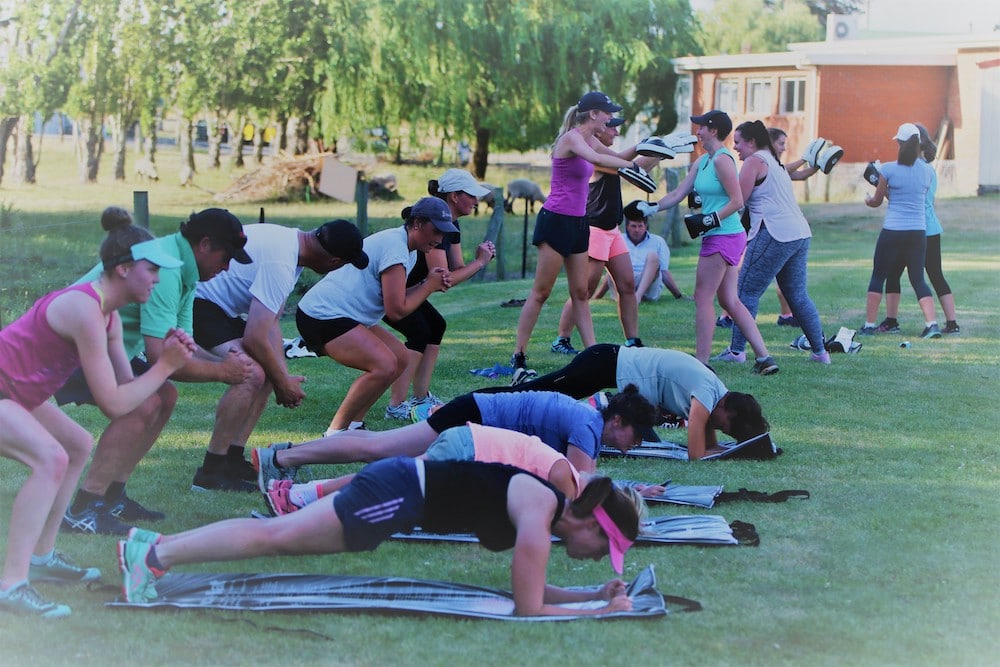 Tessa Cummins, Program Manager for the Centre for Rural and Remote Mental Health's Rural Adversity Mental Health Program (RAMHP) says, "Research has been telling us that exercise is important not just for our physical health but also for our mental health. Being involved in regular fitness activities can also provide an opportunity to be socially connected, which is also good for our mental health. This is particularly important for people in rural communities who face the challenges of isolation."
Ginny started Active Farmers in March 2015 when she moved to her husband's family's dry land cropping and sheep farm in Mangoplah. Having grown up on a farm in Tasmania, worked as a jillaroo in the Northern Territory, studied agricultural science at Melbourne University and worked for eight years in agribusiness banking, she's always been concerned about the health of farmers and others living in remote, regional Australia.
After developing the group fitness model first in Mangoplah, she expanded Active Farmers to nearby Uranquinty. When Delta Agribusiness came on board as a foundation sponsor in January 2017, Ginny left her job and began working on Active Farmers full time with the goal to expanding the service to more rural communities. In March 2018, it was registered as a not-for-profit health promotion charity.
"The focus is the same as when we began as there's lots to be done. I still have the same concerns about the mental health and suicide rates among farmers and others living in remote areas. Some figures state that the suicide rate is double that of urban populations."

Founder of Active Farmers, Ginny Stevens.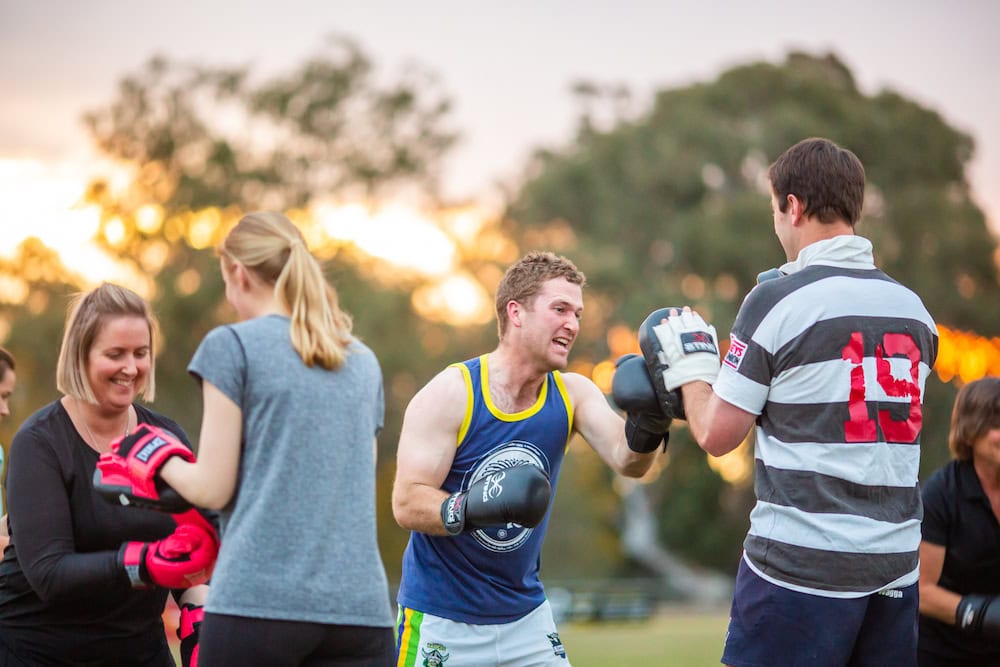 Physical strength and a sense of community
"As technology improves, farmers do less physical work and can operate more on their own, which is great for the bottom line but not great for the soul. Farmers don't tend to look after their health and they also lose a sense of connection with others, especially when they're in remote areas," says Ginny.
Dugald McKay, a 58-year-old mixed farmer and an early adopter of the Active Farmers group fitness programs in Mangoplah, agrees. "Besides the fitness benefits, it's a wonderful thing to re-engage with your own community, which you tend to do playing sport when you're younger but, as you start having kids, fitness and social interaction go by the wayside," he says. "Active Farmers is a great thing for males as we're generally pretty hopeless. We feel like we've got to just work, work, work.
"Once I started and it became part of my routine, I could see the benefit from the extra strength I developed and haven't had any problems with over-lifting on the farm. Not only that, but I also find it helpful to share experiences with my neighbours.

"Regular exercise has certainly given me more mental clarity to make better decisions on the farm so I've become a better business person, too."

Dugald McKay, a 58-year-old mixed farmer and an early adopter of the Active Farmers.
Fitness for mental health across the state
Today, through Active Farmers, a team of 31 qualified personal trainers runs more than 200 classes a month for over 1,000 regular participants in 43 communities across rural Australia
Within New South Wales, 24 communities are serviced, mainly with a focus on the Riverina region, while programs operate as far as Hughenden in Queensland, Tambellup in Western Australia and Campbell Town in Tasmania. Many additional communities are in the pipeline.
"Communities get in touch with us when they hear about Active Farmers," explains Marliese Heffernan, who was acting CEO in 2020 while Ginny was on maternity leave with her third child. She is now Active Farmers Trainer Manager.
"We're on Instagram as activefarmers, and on Facebook, which is such a fabulous free marketing platform for not-for-profit organisations like ourselves. We're also launching sponsorship opportunities for communities to underwrite their own personal trainer programs."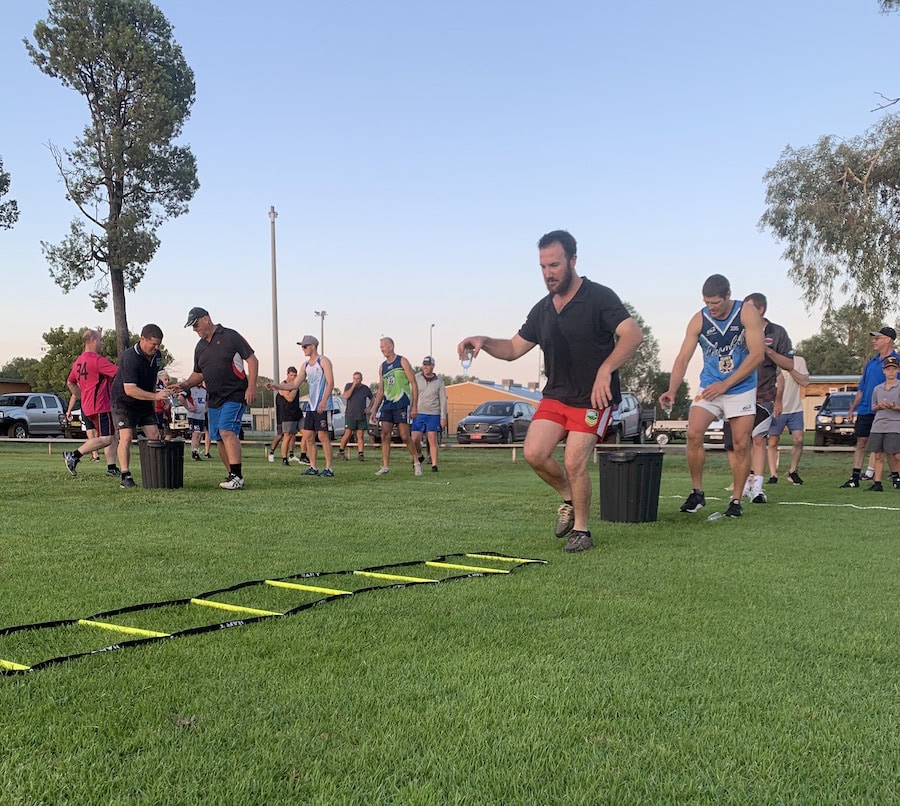 In addition, Active Farmers runs fundraising events, such as the Ride for Resilience and Run for Resilience, which not only raise money but also are great awareness building campaigns. The Active Farmers Games is another fun and challenging community-building event that reinforces the importance of rural physical and mental health.
Active Farmers also offers intermittent health-related workshops on topics such as mental health first aid, nutrition and mindfulness.
"When people are working on their fitness and having fun with others in the community they're helping their mental health without really realising it. Our goal is to expand Active Farmers to 100 regional communities around Australia within four years."

Founder of Active Farmers, Ginny Stevens.
As Joe Briggs says, "Looking after your mental health is so important. Rural suicide rates are too high. Active Farmers is a great way to help strengthen people's connections so they can give moral support to each other. I've had blokes ringing me asking, 'When are we starting again?' It's about breaking a cycle before the cycle even starts."
Accessing other groups and services
For farmers who don't have access to Active Farmers, below are some other options.
Mallee Sustainable Farming – in conjunction with Shane Morrison of Mildura's Lime Therapy – has developed a free on-line stretching program called Cabin Fever which can be done against the wheel of a tractor and inside the cabin. These basic exercises, which help prevent muscles seizing up, are particularly useful for broadacre farmers spending long hours inside fully automated tractors.
Ifarmwell is a free website that's been designed by Australian farmers to help other Australian farmers cope effectively with life's challenges and get the most out of every day.Five short modules, which can be completed at home, in the tractor or shed, offer new practical tools to help farmers deal with stressful situations and difficult thoughts and feelings so they can focus on the things that make them happy.
Check out the Rural Adversity Mental Health Program (RAMHP) website for more information and tips on how to look after your mental health. It includes the downloadable Take Time magazine and Let's Talk podcasts as well as information about how to find your local RAMHP coordinator by using the postcode locator on the home page.
If you enjoyed this feature, you might like our story on how country shows are back.