Anyone who has ever worked in a bakery would know it is a gruelling occupation. Your day starts at around 3am and sleep becomes a luxury that you learn to live without.
Do that for 20 years straight to supply a variety of wholesale clients, schools, universities with baked goods – not to mention endless lamington drives – and you would think you could handle just about anything that life could throw at you, right?
NSW Farmers' Small Farm members Geraldine and Alston McKay owned the McKay Bakery in Walcha from 1982 to 2001 until they decided to retire to their farm at Hanging Rock in the Northern Tablelands.
It seemed like a great idea until the millennium drought dug its heels in, causing more stress than getting up in the middle of the night to bake cakes and biscuits ever did.
The couple had always made jams and pickles from what was grown on their own orchard and a friend suggested they take them, as well as their delicious range of cakes, biscuits and slices, to sell at the Tamworth Farmers' Market as a way to help keep the money coming in during the drought.
"We thought we would give it a go so off we went to the Tamworth Farmers Market and we brought in some cash-flow money. We thought – 'Hey, this isn't all that bad and it's a great day out' so ever since we have been doing markets regularly in the Tamworth, Quirindi and further west of there," Geraldine told The Muster.
It soon dawned on the farming couple that selling their home-baked cakes, biscuits, jams and pickles at various farmers markets was a whole lot easier than running a wholesale and retail bakery and more fruitful then farming, so they decided to blend the two together and McKays Farm Baked Cakes was born.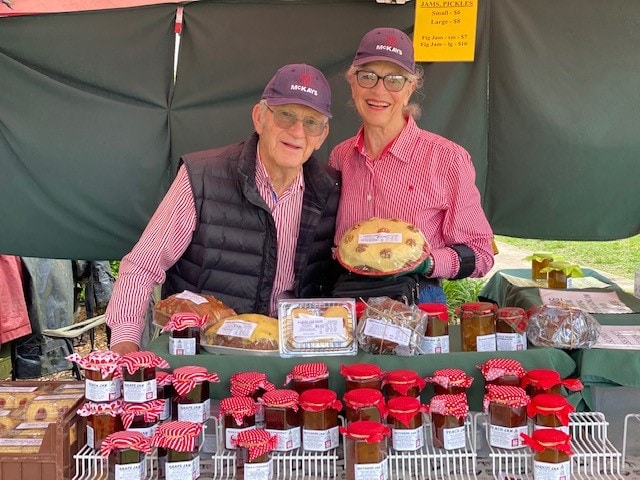 Where to from here
Part of the new plan included taking a look at where they actually wanted to live. After all, they no longer needed their grazing property at Hanging Rock as their time breeding quarter-horses was also done, and so they thought it would make sense to be located closer to the thriving regional centre of Dubbo.
"My husband put a pin in the map and said – 'That's where we should be'. It was actually just down the road from where we are now in Mullaley," Geraldine said. "And this area gives us a better climate and the fertility of the country is phenomenal. We would like a bit more reliable rainfall as would all the rest of the farmers in Australia, but we've got easy access to Dubbo and Narrabri."
Minnows in a broadacre farming area
The savvy farming couple bought a 105-acre property, making them relative minnows in an area that is dominated by broadacre farms.
"Out property is only 105 acres, and our neighbour for instance, has 12,000 acres, but he's got an aggregation that is over 20,000 odd thousand acres plus, so we are minnows in a broadacre farming area," Geraldine said.
"But we are doing something that is entirely different to what anyone else does in the area and we are making a living off a small acreage. We also have cash flow, which is really important, except for when COVID-19 shut everything down!"

At Mullaley, the McKays have a small orchard with around 70 tree varieties – including apple, fig, nectarine, peach, apricot, plum and mulberry trees. They also have a full suite of citrus trees growing including cumquats, oranges and mandarins.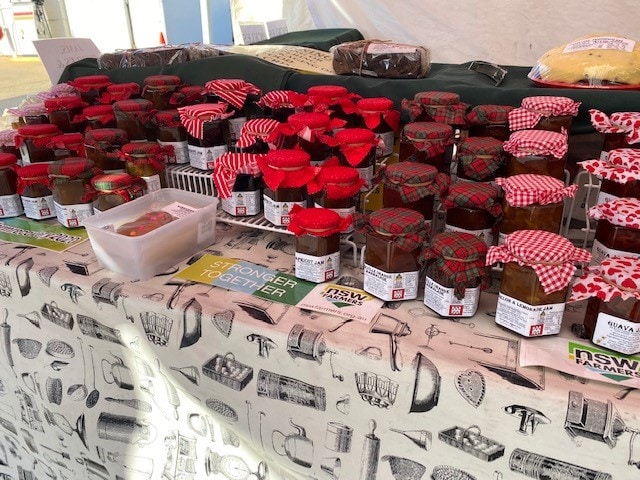 Where they differ to many growers, is they are adding value to their own produce through baking. "We are not selling at a wholesale price. We value-add to what is produced off the trees and from the vegetable plantings into jams, pickles and relishes," said Geraldine.
"Our orange cake uses our oranges, just like our passionfruit slice uses our passionfruit, our lemon uses our lemons, and the apple cakes are made using our apples," Geraldine said. "When most people think of farm produce, they think of fresh fruit and vegetables and cereals, but we are applying the paddock-to-plate phrase to baking."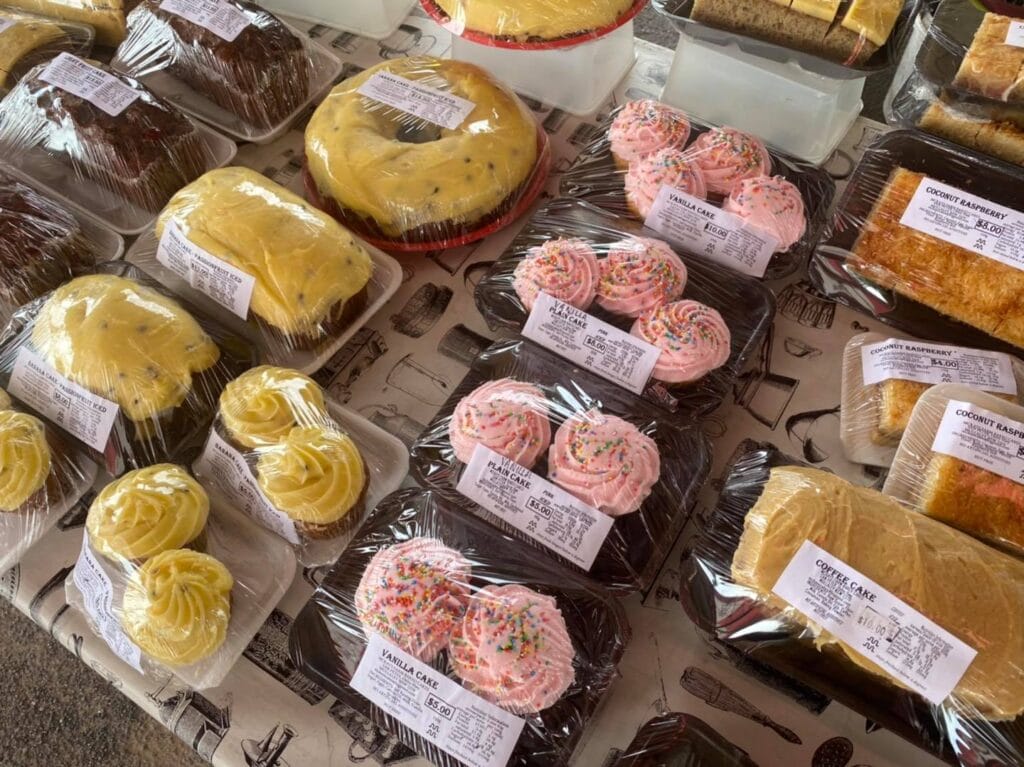 Our farming couple hits the road…
Market life has now become a central theme for our ambitious farming couple, and driving long distances is no problem for them as they traverse central NSW to attend regular farmers markets at Dubbo, Narrabri and Singleton. Although this did grind to a halt when the markets were forced to close during the COVID-19 crisis. But the markets are now re-opening and they are back on the road.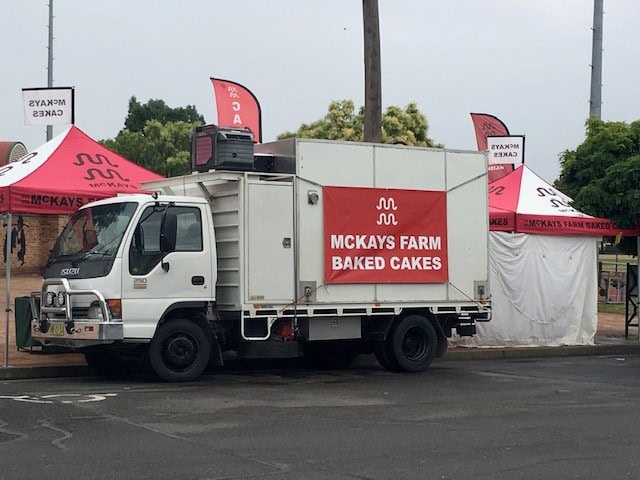 "Our main focus is on our Dubbo market, and we do a pop-up at the Inland Servo on Cobra Street," Geraldine explained.
"Dubbo is such a huge area for people to go to for their major shopping, so we have regular shoppers coming from Parkes, Nyngan, Bourke, Cobar and Mudgee. We are there most Wednesdays and we do the Rotunda Market in Dubbo on the fourth Sunday of the month."
and hits the big time…
When you see the beautifully presented jars of jams and pickles, you would think Geraldine and Alston are making these delights in their domestic kitchen at her home. But think again.
Since moving to Mullaley, the couple have built a full commercial bakery on the farm. It is a serious enterprise and the fact that her smallest mixing bowl has a 20-litre capacity is proof of the size of the operation.
But while the kitchen is industrial, the recipes Geraldine uses call on a bygone era and come from members of her family. Importantly, they also use minimal ingredients and don't expect to find any strange additive numbers on the labels of her products.
"We use the recipes that our family have always used," she said. "Grandma's recipes, my husband's sister's recipes and we also source them from old-time recipe books – back when there was a minimum amount of ingredients and no artificial additives.
"It is very important because if you keep the artificial ingredients out, then you have less likelihood of running foul of people who have dietary issues and health issues," Geraldine said. "Eating simply, and eating what we produce as treats, as opposed to having them as a daily staples and gorging yourself silly, makes all the difference. This is how we attempt to market our products to the public."
McKays Farm Baked Cakes are sold each Wednesday in a pop-up store at the Inland Petroleum service station at 123 Cobra Street, Dubbo. They are also available on the last Sunday of each month at the Dubbo Rotunda Market, and other country markets.
If you enjoyed this story, you would like our business story on Hall Family Orchards.