Having worked as a podiatrist for nearly 30 years, Penny Crawford has treated every foot shape, size and condition. "Many patients have had nail and skin issues or general foot pain, but others had more serious injuries sustained from poor foot biomechanics, ill-fitting footwear or harsh working conditions," she says.
"Nowhere was the latter more apparent than with patients employed as underground miners – working long hours, in difficult conditions, and donning unsupportive gumboots," Penny adds. "Some of their injuries were a direct result of a slip, trip or fall. Other longer-term injuries manifested as a result of intrinsic muscle fatigue."
Penny explains that the amount of energy expended and muscle fatigue experienced by someone wearing ill-fitting gumboots is equivalent to running a marathon in a pair of thongs.
"When wearing them you tend to shuffle to stop the boots slipping with each step, toes gripping to maintain stability. And you know what happens when you step in mud – the boot stays put and the foot comes out. Imagine navigating all this in the dark with heavy equipment on your toolbelt, while concentrating on the work task."

Penny Crawford, owner and founder of Crawford Boots.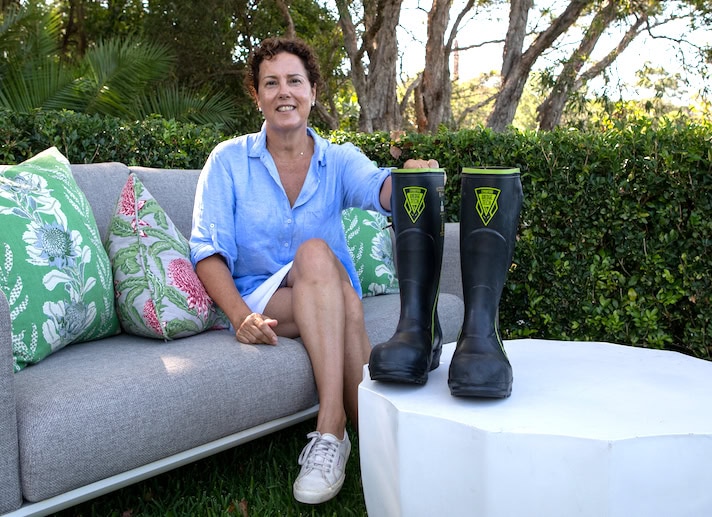 This is why Penny knew that she needed to design and build a better boot for these patients: one that gave them the comfort, stability and fit of a leather boot, with the waterproof capabilities of a gumboot.
As Penny tells all of her patients, our feet are our foundations. They allow you to stay upright, balance and walk properly.
"Crawford Boots are designed to maximise stability and give your foundations structural integrity. The opposite creates cracks in those foundations, leading to problems at the base and higher up.

"It's similar to your house. You wouldn't build your house on weak foundations because you know it will only lead to a world of pain in the long run."

Penny Crawford.
It was working directly with clients and taking the time to understand their needs and pain, that drove Penny to creating her renowned boots.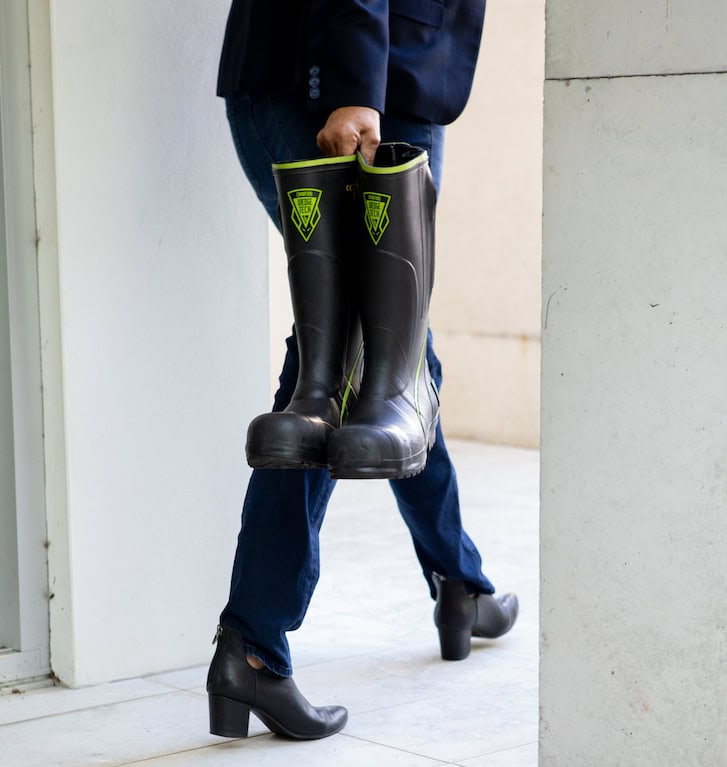 "I knew the foot and lower limb biomechanics involved in ensuring a strong, stable foundation and walking pattern. I knew the important role supportive footwear plays in providing that extra stability.

And I knew first-hand the fit, comfort and safety problems associated with the gumboots currently available. That's why I created the WedgeTech inserts."
Three different sizes of the inserts come with all boots, allowing the wearer to personalise the fit to their individual foot shape. Essentially, the wearer ends up with waterproof boots that offer the fit, comfort and stability of leather boots.
Running a successful business
As anyone who has established a business knows, there are always multiple challenges to overcome. "Sometimes you just have to focus on the outcomes you want to achieve, even if you don't know how you will get there. It's one foot after the other, and do excuse the pun!" Penny says.
As well as running her business, Penny is married to a farmer and they run cattle on a property near Gunnedah.
"In 2018 like many others, we were forced to de-stock due to the drought which was devastating for us both emotionally and financially. However it was also a bittersweet moment as it enabled me to fund my first shipment of boots," she says.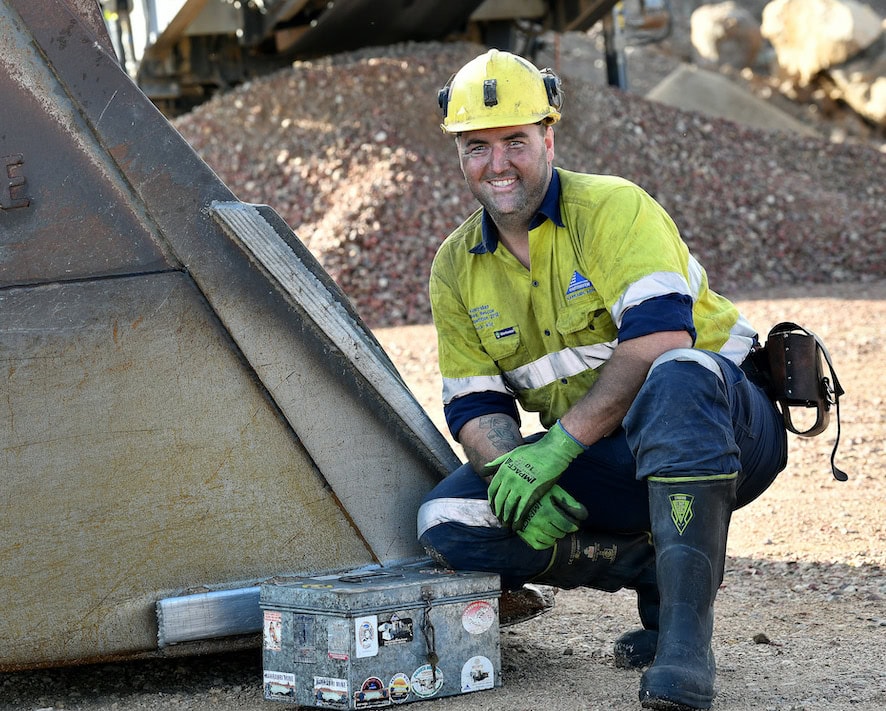 Penny advises those starting out in business to not navigate the journey alone. Her team includes an industrial designer who was instrumental in helping develop Penny's concept to a patented product, manufacturers, a sales, marketing and business adviser, and a graphic designer.
"Surround yourself with a team of experts and align with people who can help you succeed," she says. "For me that meant building a team that could aid with a multitude of things, from turning a concept into a manufacturable product, to distributing it across Australia. It sounds straightforward, but this has been an eight-year journey. Resilience is key to helping your business not only survive, but thrive."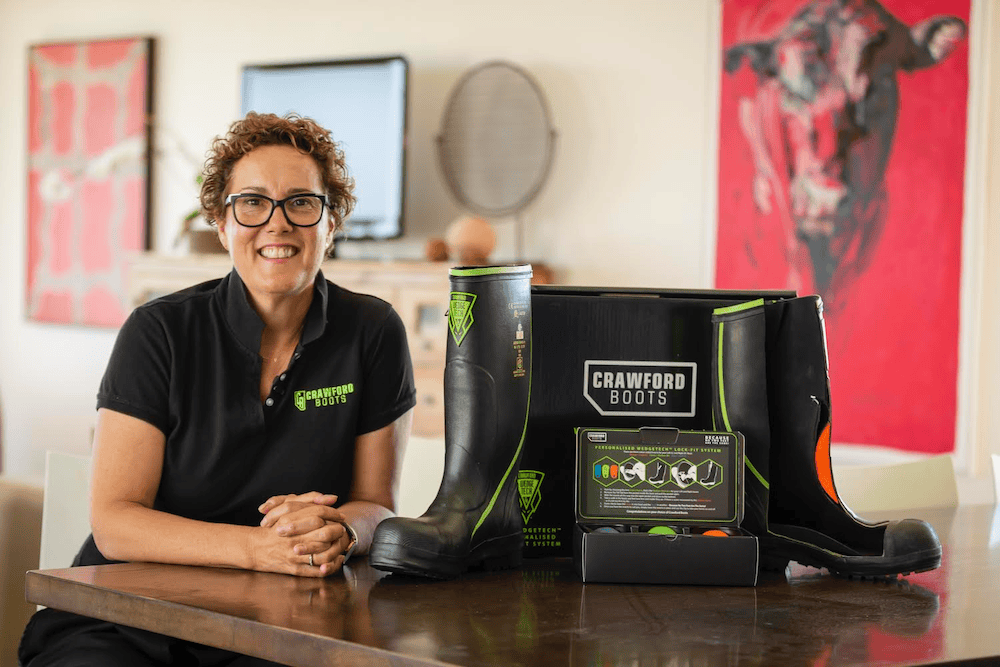 Penny's three significant business moments
"Trialling the boots for the first time and getting such great feedback has to be one of my proudest moments," Penny says. "Seeing the reaction on people's faces and hearing comments such as – 'Where have you been all my life?' was such a fantastic feeling.
I knew in that moment I had created something really unique."
2. Winning the 2019 NSW Minerals Council Health Innovation Award in conjunction with Whitehaven Coal. "It bestows Crawford Boots with the credibility and industry validation that cannot always be achieved through feedback," Penny says.
3. Having patents granted in Australia, New Zealand, Malaysia, Europe and Canada, plus design patents in the US. This is a huge achievement because it opens the opportunity for Crawford Boots to go global. It makes me incredibly excited about the future!" she says.
If you enjoyed this feature on Crawford Boots, you might like our story on starting a successful business.