Mohair farming is "the best kept secret in agriculture," says Nick Gorrie, President of Mohair Australia. The lustrous fibre has seen sales surge by 35 per cent in the past two years and Nick believes there's potential for more growth to come.
With the worldwide shortage in mohair, new markets are emerging. And with lamb, sheep and cattle prices high, farmers are looking for alternatives.
"We just need to compete with that top-of-mind awareness, so farmers know what the market is, what they need to do and what the return on investment is," says Nick. "For instance, you can easily buy an angora goat for $150 to $180 and you should be able to make that back in a year."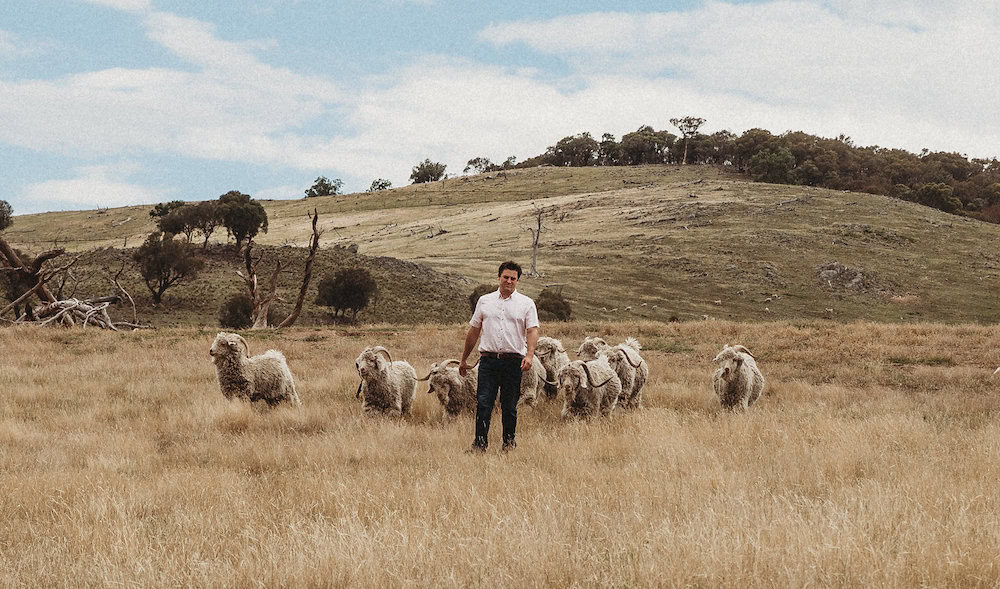 While Covid-19 smashed many industries, it's been good for mohair.
"The knitting market has exploded. Across the world, more people were at home and doing craft. Also, fashion trends have seen more big brands offering mohair jumpers and cardigans, liking the look and the fact improved genetics have bred out the itchiness."

Nick Gorrie, President of Mohair Australia
At present, Australia produces just one to two per cent of the world's mohair. "I think we're an industry that could grow 20 per cent a year without causing any impact on demand or changing the pricing," Nick says.
"There's not enough mohair being produced plus people like natural fibres and the qualities of mohair, such as its ability to take dyes well and to bounce back and not crease."
In addition, high-end buyers are keen to buy from and pay a 5-10 per cent premium to growers who've met Responsible Mohair Standards.
This covers both animal welfare and looking after the land with a large number of Australian growers now having RMS certification.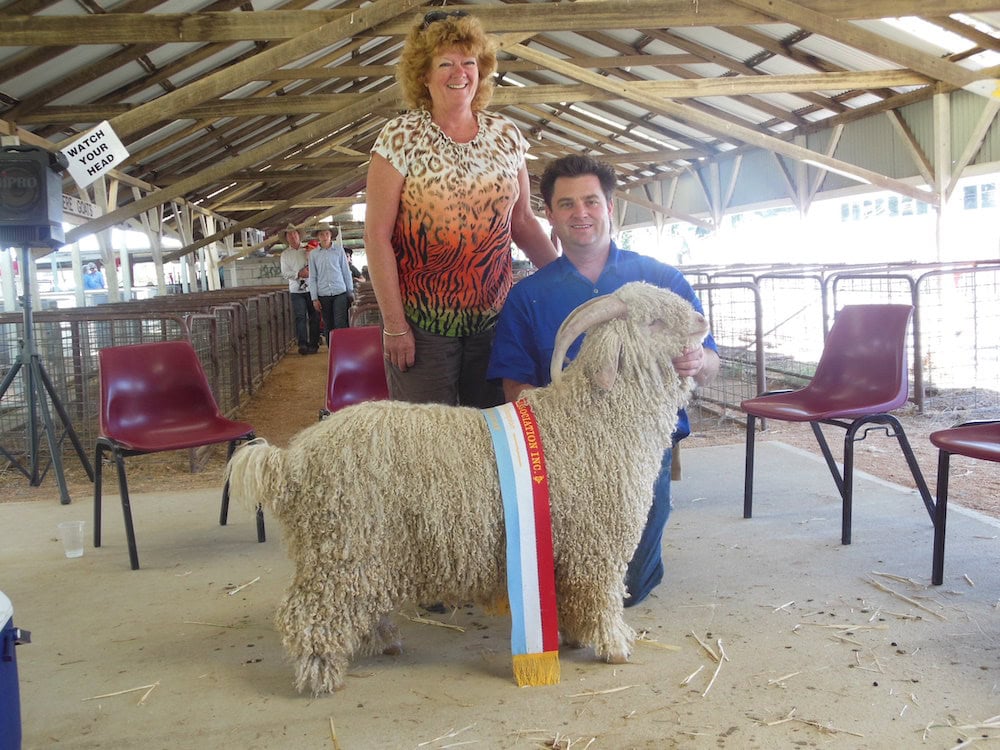 Nick believes there's further room for opportunity in sales of angoras. "It's an area in which we haven't performed very well. If you're selling all your surplus animals to the abattoir that's a waste but some growers have been doing that.
"We don't tend to send goats to saleyards and that's an area we need to improve on. Those saleyard agents are well networked and we miss out not being involved in that network."
He was pleased recently to see an entire stud sold to a sheep farmer in the Wagga Wagga district which saw a new grower established, but he wants to see more of that.
"The more growers you have, the better, because every two or three years you need to change your bucks and we haven't got that commercial base," he says.
Mohair farmers reaping the rewards
So, what kind of farmer might like to look at angora goats?
"If you've already got the infrastructure like shearing sheds, yards and shelter, it's ideal," Nick says. "Angoras don't graze pastures very heavily so, in rotation with other livestock, they can be good because they're looking for different things in pastures.
"Older goats can utilise marginal, hilly land and although it's best to start slowly and build up your skill set, you can increase herds very quickly when the market is strong. Goats often have twins so, with one or two kiddings, you can capitalise on good fibre prices."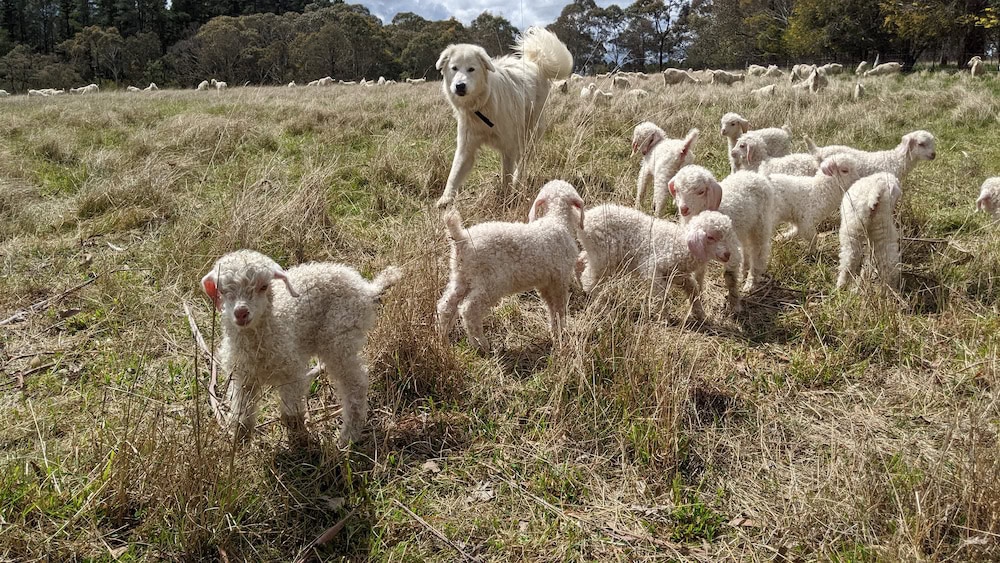 Nick went to a school in the Hills of Hall region that had angora goats, so he got interested in them there. When he left school, he was going to buy a horse but decided to buy four angoras instead. He now has around 1,000 of them.
"At the start, we ran it as a bit of a hobby but we're now a commercial operation and I own a farm of 170 hectares, plus rent some land from a neighbour," Nick says.
"We sold $72,000 worth of mohair last year off basically 500 goats, plus I then kidded another 300 and kept my wethers from the year before as well as sending older wethers to the abattoirs where prices for goat meat are good. It's pretty phenomenal."

Nick Gorrie, President of Mohair Australia
Nick says that they are very rewarding animals, especially the kidding. "The babies are so gorgeous when they're little."
Getting ahead with mohair mentoring
Grant Forsdick from Burragate is originally from South Africa, the capital of angora goat farming. "We were actually part time fruit farmers but after the farm was acquired by the government, we decided to start again in Australia," he says.
"I didn't even think about angora farming but when we bought Currajong Common, the vendor said we couldn't have it unless I took the 160 goats as well."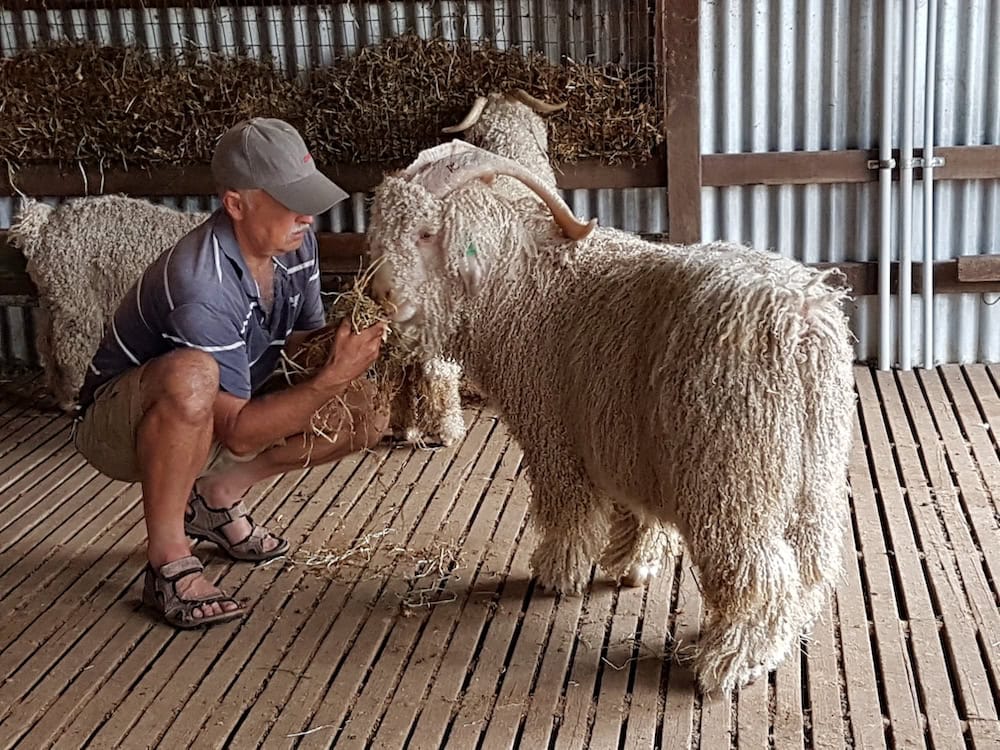 Grant decided to give it a go and found a very good mentor whose breeding advice has allowed him to seriously improve the quality of mohair he produces.
"I'm involved in the Weaving Project so what we do is slightly different to traditional mohair producers," he says. "Our mentor identified that the top of the market wanted a longer fibre. You get a premium price for that, especially if it's very fine. It means I shear at seven months instead of six."
At the last assessment, 100 per cent of Grant's kids' fibre were approved for the Weaving Project, meeting the criteria for purity and length. They all produced sub-20 micron fibres.
"We improve price further with RMS certification and at the last sale, the best RMS fine kid mohair sold for a premium," Grant says. "My wife Jenny and I currently have 400 adults and 110 kids across 42 hectares, and we really enjoy them.
"We apply regenerative farming practices and they're so smart, they're easy to move. All we do is call and shake a bucket of feed and they go."

Grant Forsdick, Chairperson of the Australian Mohair Marketing Organisation
Because the couple shear twice a year, they find themselves better off when it comes to cash flow than when dealing with sheep, although goats are more difficult to shear because they have thin skin and less body fat.
"They're lighter and more docile and shearing takes a bit longer so we have to pay a bit more for shearing," Grant says.
"I'm Chairperson of the Australian Mohair Marketing Organisation (AMMO) so one of our current challenges is how to increase qualified goat shearers."
Learning as they go
Nolani McColl and her husband Peter are from Braidwood and they decided to buy angora goats after meeting Grant Forsdick at a holistic management course.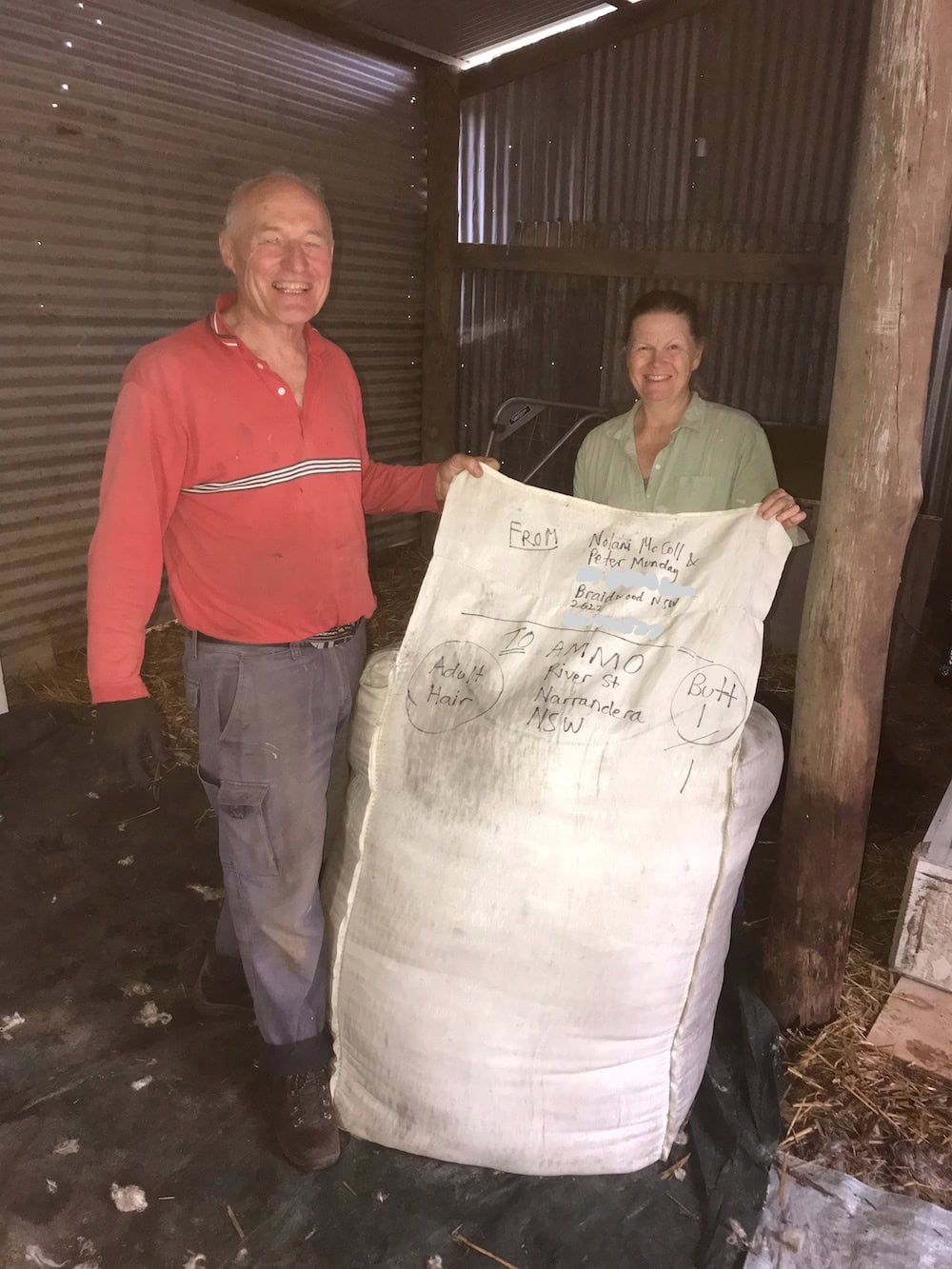 "We visited his farm and ended up buying our first pregnant does in June 2021," Nolani says. "I like the fact that goats are a small animal so I can handle them, and I also like the structure of the industry. We can focus on growing and then, once they are shorn, we can send the fibre to AMMO and they dealt with the selling."
Nolani is interested in spinning and textiles so in the future she'd like to sell into the home spinners market.
"Angoras' fleece is so beautiful – it has a lustre and takes natural dyes really well. Unlike sheep wool, it's a solid fibre."

Nolani McColl, angora goat farmer from Braidwood
"Although I work for the Mulloon Institute (an environmental and sustainable research resource for farmers), we don't have farming backgrounds but we've had lots of help from Grant and Nick plus our local shearer David Lillis who is on the AMMO board and focusses on angoras."
The couple say that getting the goats has been very satisfying, and now they have a herd of 95.
"We haven't got a return on them yet as things such as infrastructure, buying equipment and intestinal worm drenches have been expensive," Nolani says. "I'm hoping that down the track, we'll get ahead but that's not why we're doing it. We had 37 hectares and it seemed unconscionable to have land and not use it."
If you enjoyed this feature on mohair, you might like our story on diversification for wool growers.