Texas Angus Stud was founded in 1936, by The Scottish Australian Company. The stud's name connects geographically to where it was originally established, in Texas, Queensland.
When the stud was established it was home to 21 stud heifers and one bull, Kirkton Eroll, champion of the Scottish Angus Show – imported them to Australia by The Scottish Australian Company. To this day, those heifers and bull remain the core genetics for Texas Angus Stud.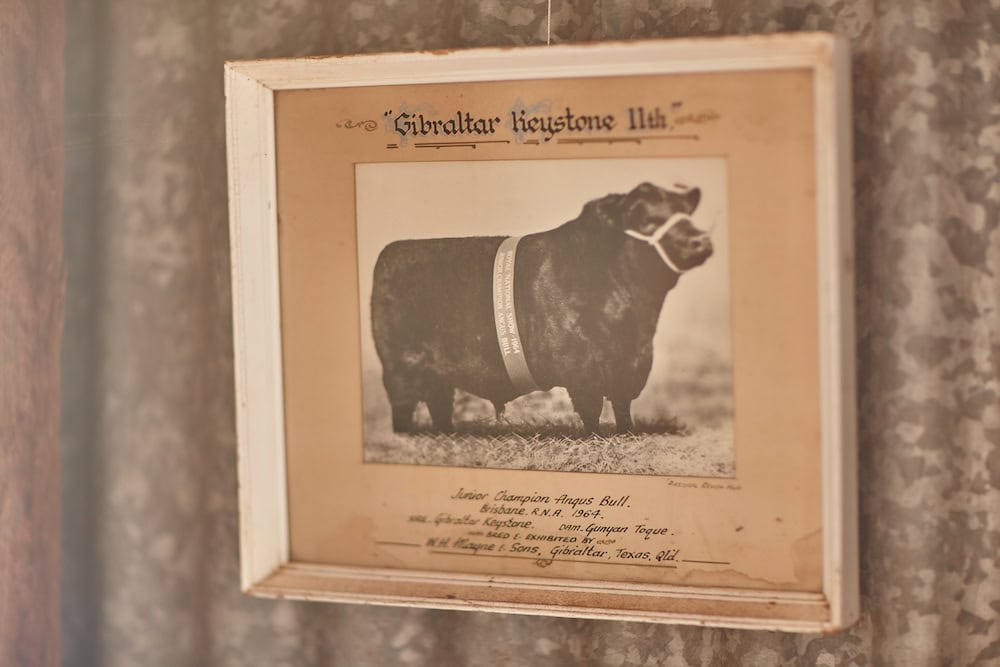 In 1955, the herd was dispersed and the next-door neighbour, Mr WHC Mayne, purchased several cow families and the stud sire – Paidrew of Kildinny. He formed the Gibraltar Angus Stud and his cattle went on to win a number of championship awards at the Royal shows at Brisbane and Sydney.
After 26 years in 1981, Gibraltar Stud was dispersed, and Bill and Judy Mayne purchased 21 registered cows with heifer calves-at-foot, all with direct lineage to the original imported cattle, and they re-established the Texas Angus Stud.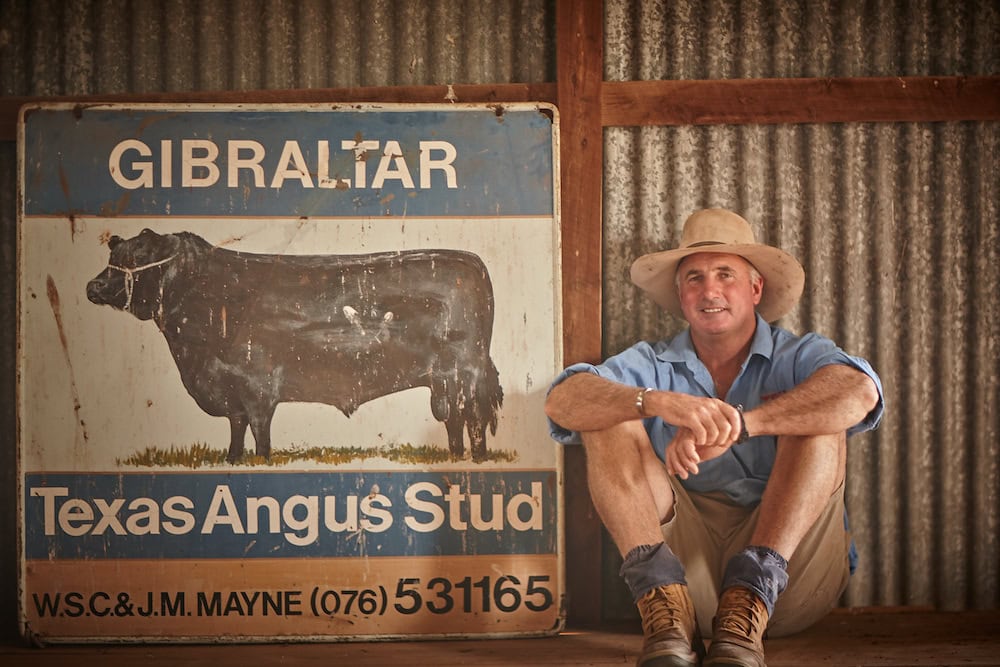 New home in Warialda
In 1999, Texas Angus Stud moved to 'Doongara' farm at Warialda, NSW, to be run as a stud and commercial herd, and succession planning saw Bill and Judy's son, Ben, come into the business. Ben was joined by wife, Wendy, who also came into the business with a strong background in running family-owned cattle studs. Eventually, Ben and Wendy took over the entire business.
The commercial herd has been dispersed in recent years, as a way of managing long-term drought impacts, but the stud – with 650 registered breeding cows – continues.
"Every cow family at Texas Angus Stud relates to the 21 heifers and one bull that came out from Scotland. These strong maternal female lines are the core breeding base," Wendy says. "We feel it results in a very even line of cows and bulls."
Ben and Wendy have created change in the past decade, building on the work of their forebears and in response to customer needs and consumer demands. They also run the stud as a commercial herd, with similar expectations for performance in breeding, growth and carcase quality. Their breeding program has a spring and autumn calving, enabling them to provide a range of 18-months-old and two-year-old bulls for their customers.
"We focus on breeding a consistent product that has enhanced carcase quality," Ben says. "Every one of our customers should see the same results in their herds."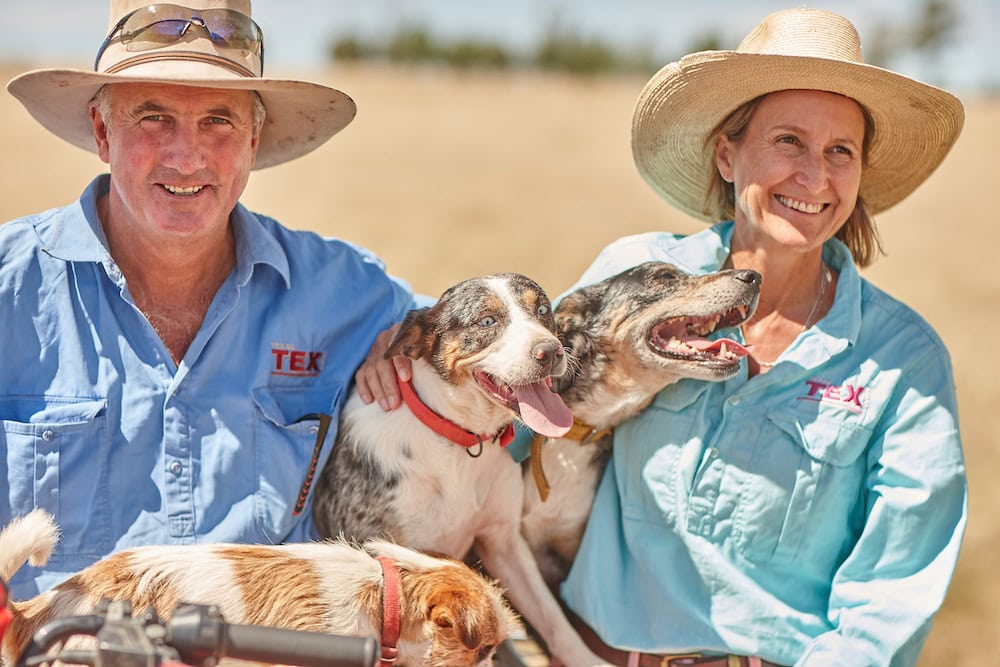 So, how do they do this? They continue to build on more than 80 years of running the stud with a commercial focus.
"Our program focusses on breeding Angus cattle that can adapt quickly into many different environments," Ben says.
The late Bill Mayne had a reputation for breeding high performing Angus cattle with correct conformation and true-to-type.
"Dad retired from the stud 11 years ago. I learned just about everything I know from him and his passion for cattle was amazing," Ben says. "Dad was a practical person and a very, very good cattleman. His eye for cattle was phenomenal."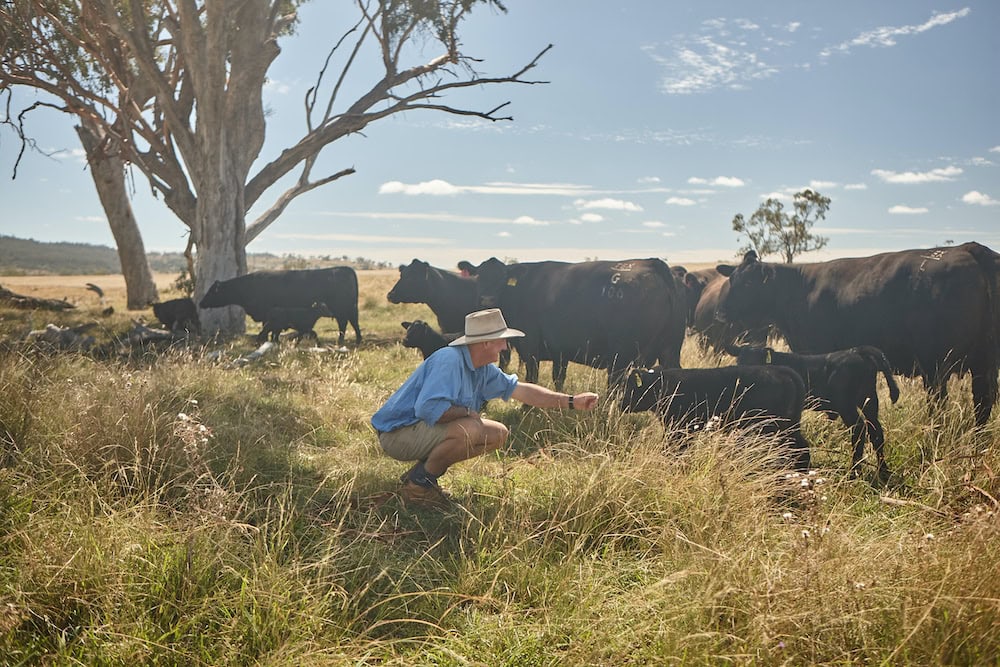 The new generation
Since Bill's retirement, Ben and Wendy continue to focus on those practicalities. They also use technology for record keeping and data comparison, along with recording animal nutrition and soil health information, to continue to improve their herd.
"We've been able to build on dad's legacy with significant investment in Breedplan, genomics and embryo transfer, to exponentially grow the business. Dad had a program he believed in and we still believe in that."

Ben Mayne
"We've got 50-60 years of breeding data, which helps us identify our highly productive, fertile cows; the cow families that will breed every year," says Ben. "And we're able to use technology to bring it all together with the practicalities of breeding."
With a focus that includes making money for everyone along the supply chain, for many years Ben and Wendy have been entering pens of heifers and steers into feeder and carcase trials at Rockhampton and Sydney.
In 2018, Texas Angus won the 100-day export class at the tri-annual Beef Australia competition, in Rockhampton. Ben and Wendy Mayne were also awarded The Weekly Times Beef Farmer of the Year in 2018.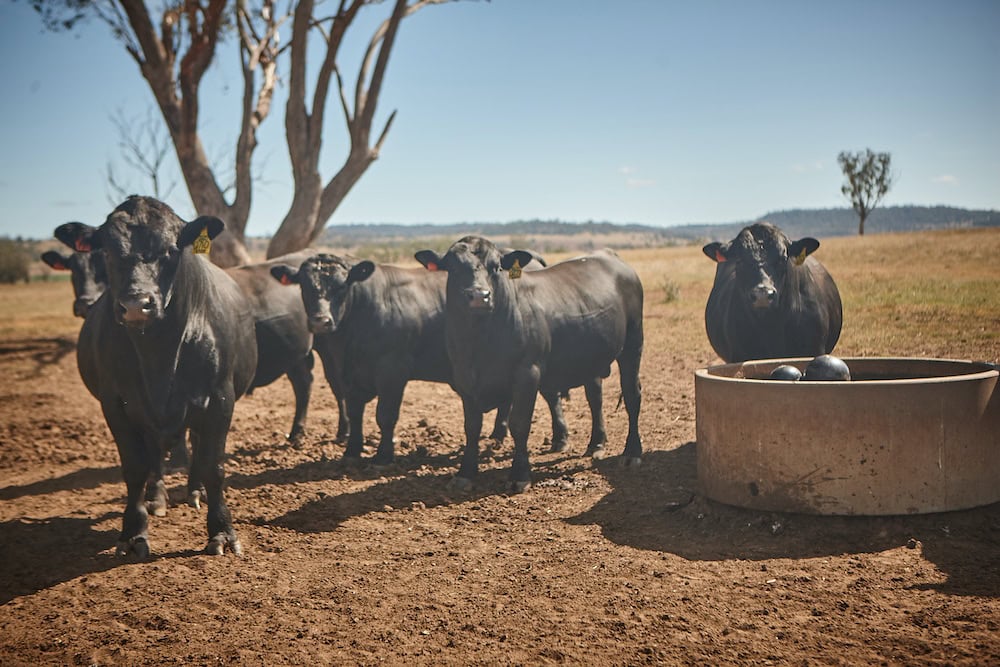 Since 2014, the stud has been winning categories consistently in the Royal Agricultural Society of NSW Beef Challenge at the Sydney Royal Show.
In 2019, Texas Angus cattle featured strongly in the major export section (100 days on feed) at the Sydney Royal Show. The stud was awarded Champion team with a pen of Angus heifers, Reserve Champion team with a pen of Angus steers, and Champion individual with an Angus steer. An Angus heifer was awarded Reserve Champion Individual in the domestic section for daily weight gain, where cattle spend 70 days on feed. A pen of steers was second in the live assessment section.
On the carcase grid, Texas Angus topped the table with a pen of export steers; one of these steers finished second on the leader board in the export individual category. Texas Angus cattle took out the category for profitability with a pen of heifers in the domestic section, as well as the individual; and a pen of heifers in the export section.
The data they receive from these competitions feeds directly into their breeding program, with a focus on values like weight-for-age, profitability and carcase quality.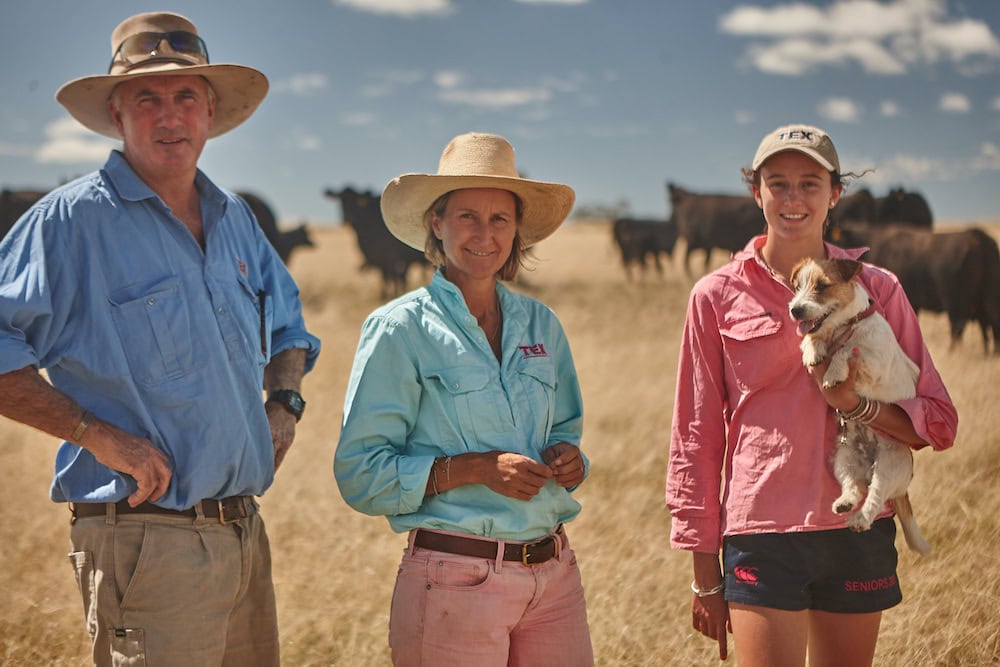 "We decided 10 years ago to review our breeding program. We were among the first Angus breeders to enter the Beef Challenge at the Sydney Royal Show. We enter steers and heifers into these competitions to benchmark our breeding program."

Wendy Mayne, Texas Angus Stud
Ben says that this information is very valuable for their future breeding decisions. "Large genetic lines of cattle that can consistently have live calves, higher growth rates and hit all carcase specifications, will attract premiums for all sectors of the beef chain."
Texas Angus Stud was rewarded for their perseverance in 2020 at their annual on-property sale, with a full clearance of their biggest line of bulls – 122 – and receiving their highest price for a bull, at $108,000. Many commercial breeders bought a posse of bulls, demonstrating their confidence in the beef market, in the Angus breed and in Texas Angus Stud in particular.
Ben and Wendy have endured years of drought to prove their bulls can perform. Their proof is in a returning customer base that extends from the southern States to Northern Queensland.
In May 2021, the couple are planning a field day to showcase their breeding plan, animal health practices and talk about why they believe soil health is important for achieving their goals.
If you enjoyed this feature on Texan Angus Stud, you might like our business feature on Pecora Dairy.