It is often said that oyster farmers are a diverse bunch. Some are multi-generational, some are weekend hobby farmers and others, like new Port Stephens oyster grower and Brazil native, Caju Barbosa, are marine biologist cattle farmers that decided to give it a go.
But despite their differences, they all face common farming challenges.
An oyster farmer's paddock is an estuary – a complex ecosystem that no fence or gate can protect. For the most part, water quality is of the highest standard but unwanted inputs can easily find their way into an estuary from ash and rainfall to sewage and other runoff to deoxygenated water from floodplains.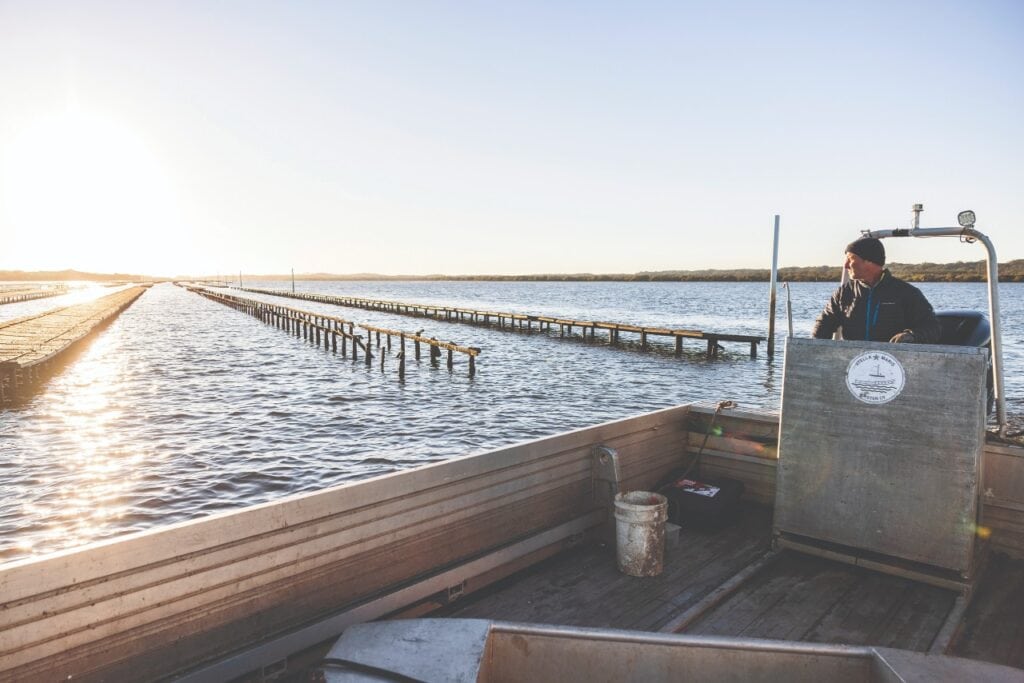 Any significant change to water quality prompts an immediate estuary closure with some shutdowns, in the event of a sewage spill, lasting for 30 days. Estuary closures, while essential for food safety and consumer confidence, prevent oyster farmers from harvesting which means no income while the bills roll in.
Natural disasters are also huge challenges. This was laid bare in March when a severe flood caused over $16 million worth of aquaculture infrastructure damage and stock loss.
The North Coast was the hardest hit with farmers losing millions of oysters and millions of dollars in infrastructure including sheds, forklifts, grading gear and oyster cultivation equipment.
Step back a year and the 2019/20 'Black Summer' bushfires coated estuaries in a lethal ash.
Lace a global pandemic over the top which stopped demand dead in its tracks, add that it is impossible to insure anything on-water and the difficulties faced by oyster farmers become crystal clear.
Prior to the big flood, NSW's oyster industry was worth $58 million with around six million dozen oysters produced annually. It is the state's most valuable seafood sector with 33 estuaries from the far South Coast to Tweed Heads farmed by around 260 oyster farmers.
It takes two to three years to grow more oysters and to do that you need spat – microscopic baby oysters. Spat like the winter months so it could be Spring before re-stocking can start – which is yet another challenge.
Staying positive and looking ahead
However, even with all of these hurdles, many farmers like Caju Barbosa are staying positive.
Caju discovered oyster farming on a visit to Port Stephens when he was working for French boat-builder, Beneteau.
Captivated, he later returned with his family and set up Stella Maris Oyster Co. at Tilligerry Creek with the farm named after a legendary 44-foot vessel, Stella Maris, which served the Port Stephens oyster industry from 1934 to 1980.
Caju is quick to point out that other farmers were hit harder than him with infrastructure loss, but he sustained massive stock loss due to low salinity levels.
"When I say I lost 20 to 30 per cent of my stock, it doesn't look too bad, but when we started to count the numbers, the losses were quite significant," he says.
Water quality is also a big issue, made worse by a nearby sewage treatment plant overflowing twice this year.
"Our bay is very fragile, and we are talking to the NSW Government to see how we can improve the sewage plant that was designed 20 years ago when the population was not what it is now," Caju says, adding that another 1000 homes are due to be built next year.
"Whenever we have a flood, the system either breaks because the pipes crack or the tanks are too full, and it overflows. This makes the damage for us worse because we then are closed for harvest for 21 or 30 days which means we cannot sell. It is a huge problem."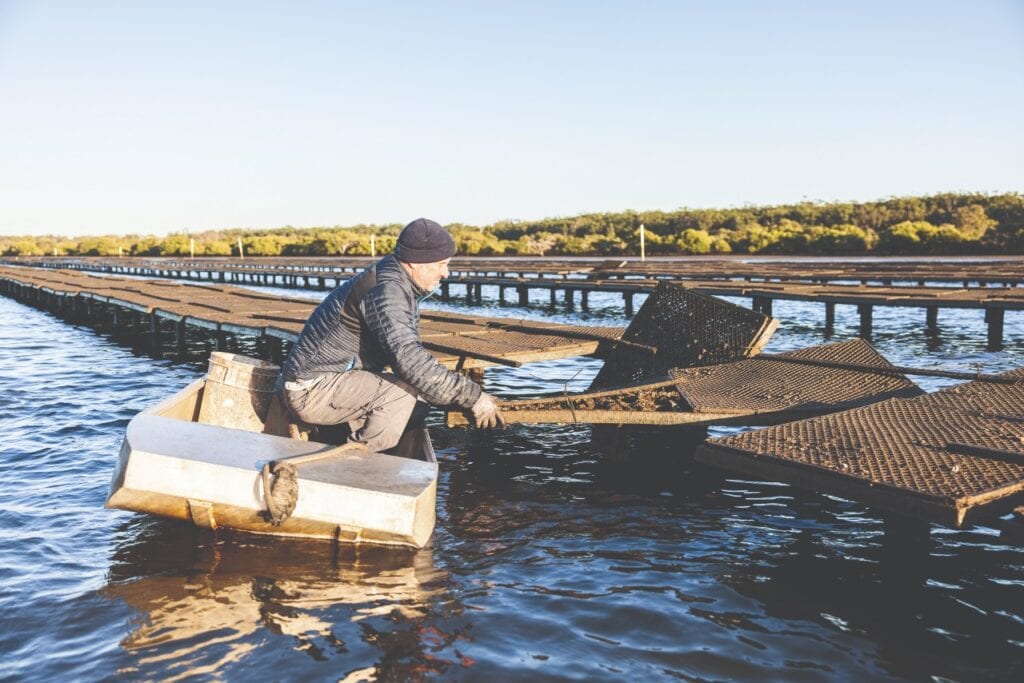 'Real Time' Water Monitoring Innovation
Low salinity levels and water temperature changes can also prompt estuary closures. To help reduce estuary closure time, an innovation has been developed which relays real-time data to farmers and authorities in 13 oyster producing estuaries in NSW.
Funded through the Federal Government's Bushfire Industry Recovery Package Sector Development Grants, the project aims to increase oyster farm productivity by 6.1 per cent by adding 21 harvest days per harvest area per year.
NSW Farmers is working with oyster farmers, Food Agility Cooperative Research Centre, NSW Food Authority, NSW Department of Primary Industries, University of Technology Sydney and the Western Australian Agriculture Authority on the project.
Caju says that a sensor in his estuary is already helping.
"It speeds up the process and helps us with farming. The data comes almost automatically – exactly from where the oysters are to be collected," he said.
It includes water quality and covers all parameters like temperature and salinity, so it is really important to his operation.
Further north at Camden Haven, second- generation oyster farmer Brandon Armstrong suffered horrific flood losses on the estuaries he farms at Nambucca, Port Stephens and Pambula Lake on the NSW South Coast.
He uses three different types of oyster infrastructure but found the FlipFarm basket system – a relatively new invention from New Zealand – held up the best in the flood.
"Nambucca was a real war zone. We had 100 per cent losses of all infrastructure, they all went either to sea or on the sandbanks near the beaches," Brandon says, adding his Nambucca losses were 50,000 dozen but this could have been doubled if he had finished moving his stock north for winter when the flood hit.
NSW Department of Primary Industries Aquaculture Manager, Ian Lyall, said spat loss is a significant issue for the rebuild.
"We are undertaking an industry survey to see how much wild spat is available and what the demand for hatchery spat is," Ian says.
"DPI are looking at ways to support increased spat production and seeking government support for additional funding for spat. The inroads made by DPI for disease resistant, faster growing Sydney Rock Oysters are important to fast- track industry recovery."
But he said what is also helping the industry recover is the real-time water quality data project which he described as "ground-breaking" as it will help farmers manage their leases better and increase harvest opening times.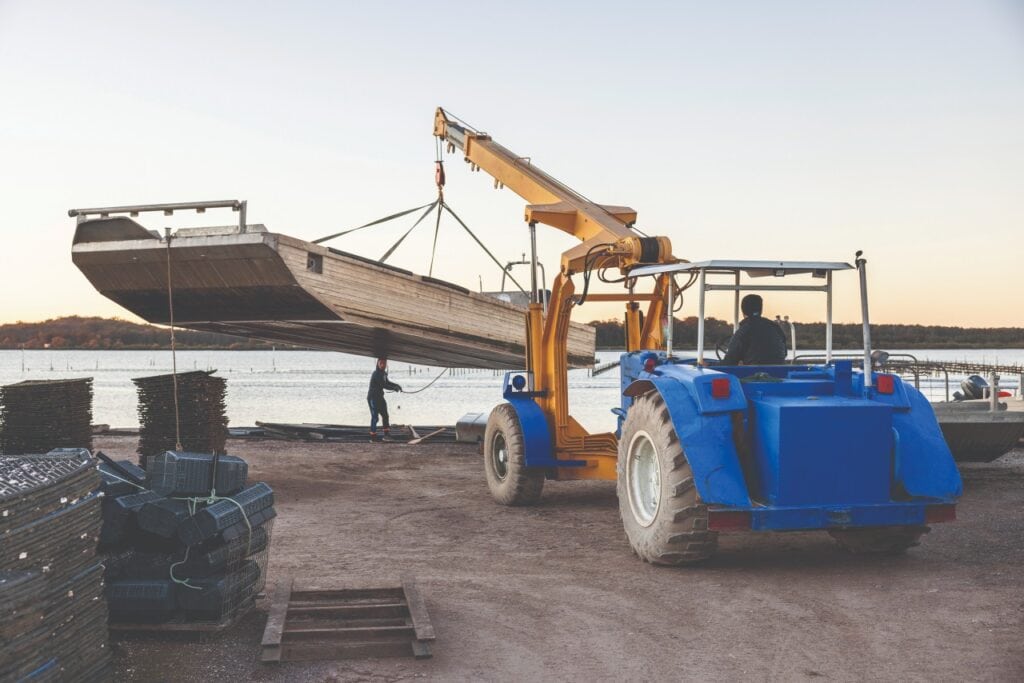 Sue McIntyre, a former NSW Farmers Oyster Committee Member who also farms at Pambula Lake, has suffered through bushfires, COVID and the floods, which claimed 40 per cent of stock and large parts of infrastructure in Pambula Lake.
"We have been here for 24 years and we've never had the flood come up into our oyster sheds, but we had about 25 centimetres of water flow through, so it was a huge flood," Sue says.
The issues of farming in one of the most complex ecosystems in the world is not lost on Sue.
"Water quality is a really big factor for the oyster industry and that is why we spend a lot of time working with council and Local Land Services to make sure activities in the catchment including housing developments and agriculture have controlled offsite run-off," she says.
"It is about educating catchment landholders about the downstream impact."
Sue is also a supporter of the data project to reduce estuary closure time.
"A lot of the information that they are gathering is around algae loads that are coming into the lake," she says.
"We are particularly interested in whether there is contamination from humans or birdlife coming into the estuaries as this is going to have different impacts on human health depending on where the contamination is coming from."
NSW Farmers is also working with OceanWatch to deliver an education project to help oyster farmers strengthen for the future. An oyster marketing program is also set to run later this year.
How 'real time' water data helps oyster farmers:
The Environmental Risk Management System: Innovation for Resilience in the NSW Oyster Industry program has resulted in the installation of electronic water sensors in 13 oyster producing estuaries in NSW as part of a Food Agility Cooperative Research Centre project.
The sensors measure salinity and water temperature, and this data is transmitted in real time to oyster farmers' phones to help them with farm business planning.
The data is also used by NSW authorities when deciding on estuary closures.
The project includes studying weekly oyster, bacteria and algae samples, oyster growth data and nutrient levels in certain estuaries.
The system is expected to increase oyster farm productivity by 6.1 per cent with 21 days of extra harvesting time per harvest area added each year.
This alone could grow the sector by $3.48 million each year.
They also look at bacteria and algae samples and provide monthly oyster growth data in selected estuaries.
The project will link with land managers to ensure that project outcomes result in long term risk reduction and risk management for the oyster industry.
NSW Farmers is partnering with oyster farmers, Food Agility Cooperative Research Centre, University of Technology Sydney and the Western Australian Agriculture Authority on this innovation.
Two other projects will launch later this year to help the industry recover. These include education for oyster farmers and a retail marketing campaign.
If you enjoyed this story on the NSW oyster industry, you may like this read this article on why this is a unique season for truffle farming.