A new cattle industry update from Meat & Livestock Australia (MLA) forecasts slaughter rates to hit their lowest level in 36 years, indicating producers are looking to capitalise on significant rainfall to rebuild herds decimated by drought.
This comes despite the Eastern Young Cattle Indicator (ECYI) pushing over the 900 cents per kilogram barrier last month for the first time in history.
The MLA predicts the cattle herd will grow by five per cent in 2021 to 25.9 million head, which it was close to in 2019 before the drought sent stock numbers down to 24.6 million in 2020.
This is a five per cent increase to what the MLA predicted in its January report.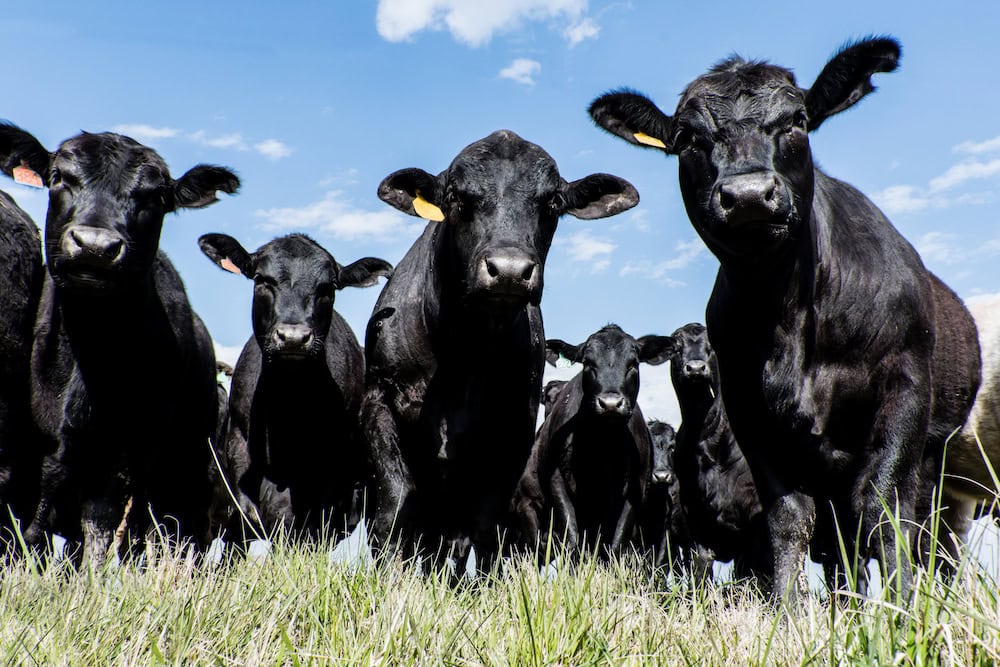 But it also predicts lower slaughter rates and reduced supply of cattle through saleyards, a sign the rebuild is gathering momentum.
MLA Market Information Manager, Stephen Bignell, says significant rainfall in northern Australia across summer has led to sufficient pasture germination for the up-coming dry season, boosting producer confidence and translating into record high livestock prices.
Mr Bignell said lower slaughter numbers and reduced supply of cattle through saleyards demonstrate that the herd rebuild is gathering momentum.
"As producers look to retain cattle and take advantage of the improved seasonal conditions, cattle slaughter is expected to fall 11 per cent from 7.2 million head in 2020 to 6.4 million head in 2021," Mr Bignell said.
"The need to rebuild the national herd following the drought, and the current and forecast growth in demand for Australian beef internationally, has intensified the rebuild. Many producers are focusing on the longer-term outlook of their beef operations and rebuilding herd numbers. There is also a significant number of producers trading cattle in order to take advantage of current grass levels."
In terms of exports, Mr Bignell said the fall in slaughter and production would flow onto export volumes, but demand for Australian beef remained high.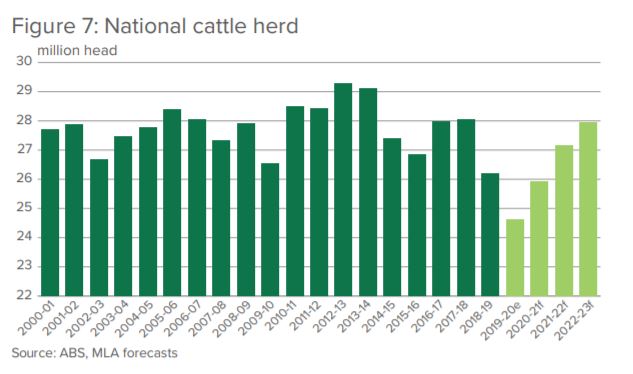 Thomas Elder Markets analyst Matt Dalgleish told the ABC's Country Hour the price could reach 920 to 930 cents per kilogram as winter approaches.
"I think we aren't far away from a top price for young cattle," Mr Dalgleish told the ABC. "Producers looking at buying these animals are going to have to consider what they will get when they turn them off, and when you do the numbers – purely on a grass-fed trade – I think you are at that 920-930 cent a kilo level would be towards the top price, based on where the finished price is likely to be.
"I wouldn't be surprised if, as we head into winter, we might just grind a little higher and get to those levels, but I'd be most surprised if we head up towards that 950 mark. Those numbers don't work, if you are looking at making any money out of this type of a trade."
Mr Dalgleish said tight supply has pushed the price up, but the most recent move has been the rain in northern areas which has created a lot of action with restocking in Queensland.
"If you look at the breakdown of buyers and cattle yards that are driving this move, it is mainly the rain we saw up in the northern areas. Some of the rain into Queensland had the re-stockers quite active, and if you look at the breakdown, the most recent 910 cents price, pretty much 50 per cent of what is driving that market is Roma and Dalby in Queensland and the Wagga Wagga market in New South Wales."

If you enjoyed this feature on herd rebuilding, you might want to read our story on Texan bulls with Scottish lineage.