OzHarvest – a not-for-profit food rescue organisation – is on the hunt for primary producer food donations as NSW Government funding for its Mobile Market, which delivers much needed food to rural communities across the state, nears its end.
Since winning a NSW Government grant last year as part of a Waste Less, Recycle More initiative, OzHarvest has been buying food to donate from local IGAs and fruit and vegetable suppliers.
As funding runs out, the North Western run has been put on hold. OzHarvest are still continuing to service the Riverina and South Coast in flood, drought and bushfire affected areas such as Nerrigundah, Cobargo, Mogo and Kiah. You can find more information here.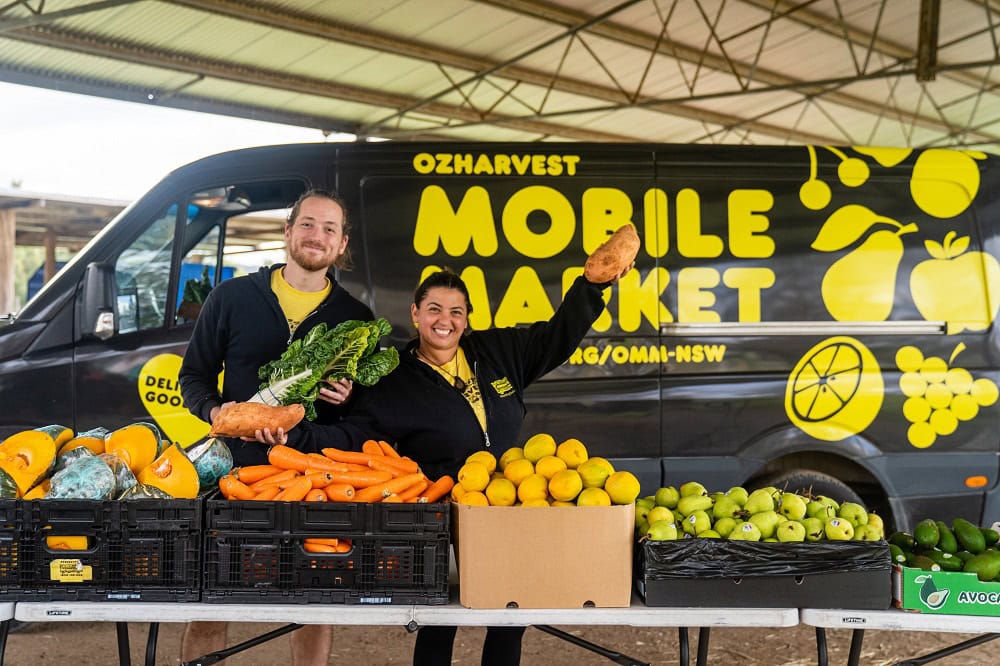 "Purchasing food has been a new thing for us. We're all about rescuing good food that goes to landfill. The funding will run out in the next two weeks and we are looking at ways we can continue this program.

"We're looking at the farm and producer level by accepting donations of food that don't make it to the supermarket. Essentially, to keep the project going we need to swap the purchased food we've been buying and look at rescuing food or getting donations."

Richard Watson, NSW State Manager for OzHarvest
Food relief demand increasing
Since May last year there has been a huge increase in need for food relief. The impact of droughts, floods, bushfires and the ongoing COVID-19 pandemic has also meant the need for food relief in rural areas has increased.
"We drive to regional towns, buy local produce and hand it out in the form of hampers, free of charge," Mr Watson said.
Ongoing needs for the Mobile Market
OzHarvest is hoping to work with producers directly and redistribute food relief hampers within the local area. Dairy, meat and dry stock donations such as rice, pasta and tinned food are always welcome alongside the much needed fresh fruit and vegetable donations.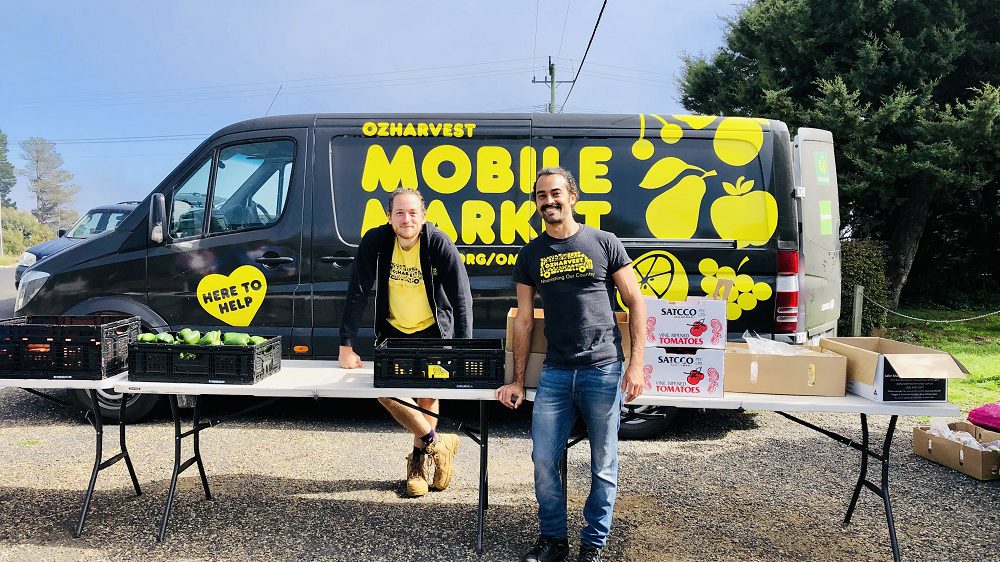 "You do have to be a registered business. We don't accept donations off of households. We advise individuals to take donations directly to a local charity in their area and connect them that way, as opposed to taking it through us," Mr Watson told The Muster.
"The mental health impact on these regions is far greater than we expected. It took months to build a level of trust that we would continue to return. We'll continue to deliver food to those that need it for as long as we possibly can.
"We're looking for financial partners, to keep the mobile market going. We're still working with government to see if they can continue to fund this project and other projects that we've got. While the demand is so high, we're certainly not seeing a decline."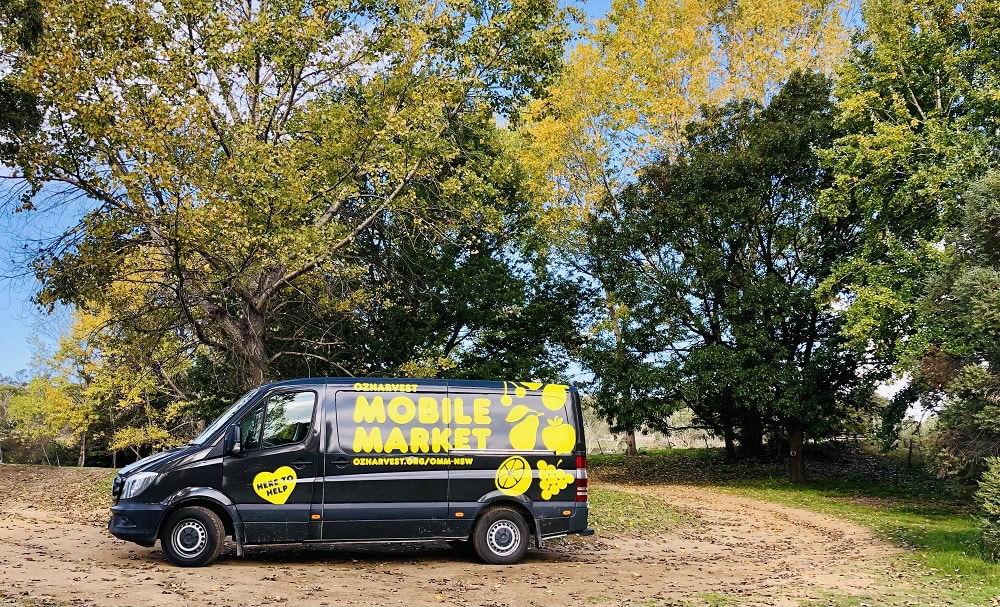 The long term goal of OzHarvest is to reduce food waste by 2030. Their OMM service is designed to directly relieve pressures regional communities are facing.
Mr Watson said there's no proof required to accept food from the OMM. Unlike other companies that operate with similar models, OzHarvest does not ask for accreditations, pension or welfare cards.
"If you need food, we'll give you food. No questions asked," he said.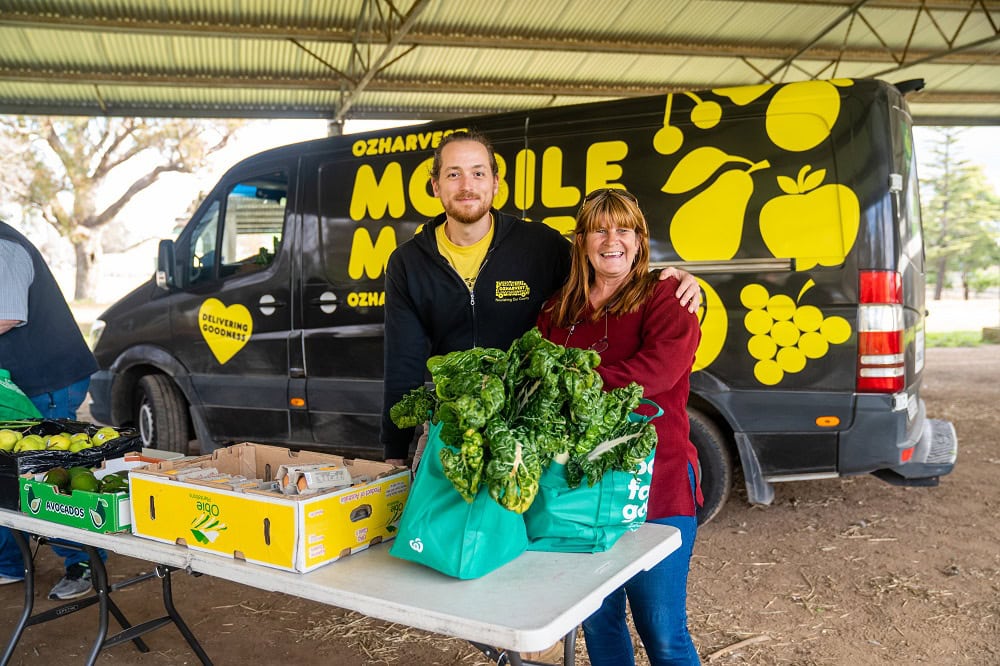 "Food waste is one of the biggest contributors to climate change and that's not something a huge amount of people know," Mr Watson said."

"Ten per cent of global green house gasses originate from food waste.

"It makes perfect sense to lower the impact of climate change and also support the people who need help. Approximately 7.3 million tons of food is wasted each year at a cost of $20 billion to the economy."
So far, OMM has visited over 32 towns and delivered over 400 pop up markets since June 2020. The Mobile Market supports around 500 people per week for essential food needs.
Updates on the OMM can be found each week on their website or group Facebook page.
If you would like to donate, please visit the website or email, info@ozharvest.org