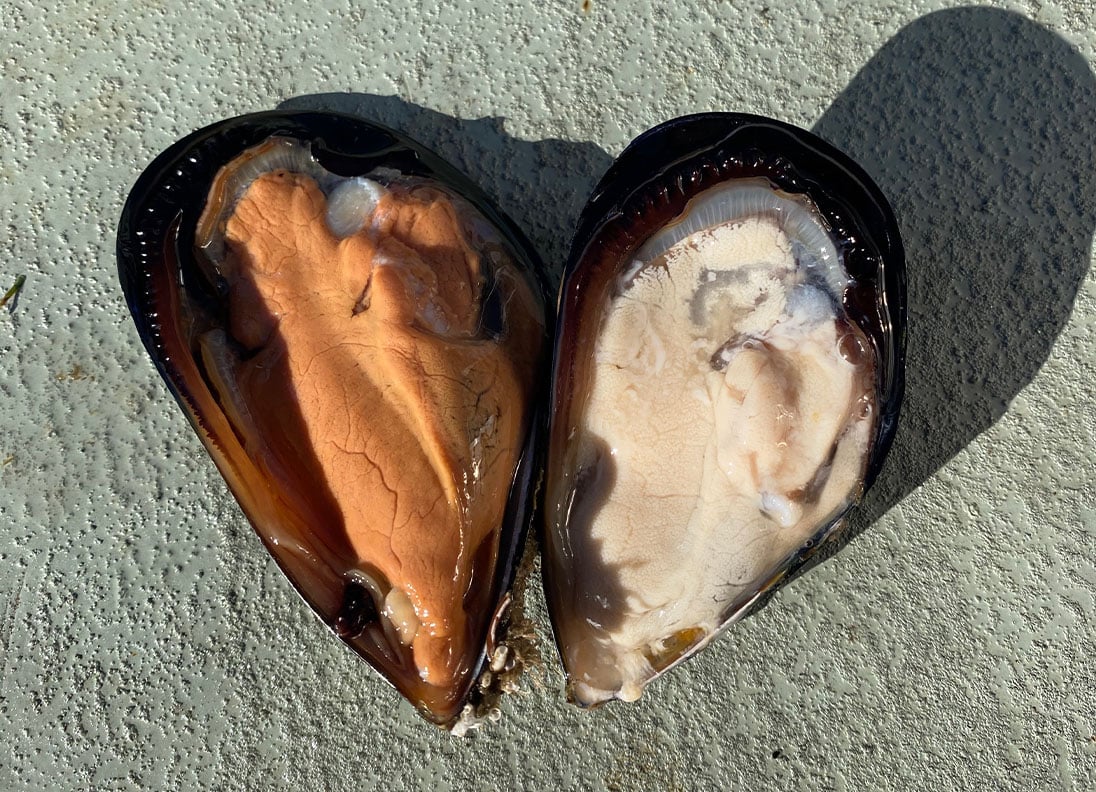 Mussel farming captures a highly nutritious and popular animal that is raised in nutrient-rich warm marine waters, in sheltered bays. In NSW, there are two licensed farms. One is a 50-hectare marine farm lease site in Twofold Bay, Eden, where mussel spats are grown and harvested; the spats are the baby molluscs and can only be harvested under licence.
In NSW, Twofold Bay is the only known reliable area for spat settlement. The second farm, also a 50-hectare leased site, is in the Marine Park of Jervis Bay, where the spats are replanted and blue mussels are grown out and harvested for market.
Both farms are leased by Blue Harvest, founded in 2005 as a sales and marketing agency representing shellfish farmers. In 2018, the principals of Blue Harvest formed South Coast Mariculture (SCM), and that business has been developing the mussel farms since 2021.
"Our mussel farm grew out of an opportunity to invest in Jervis Bay, within the marine park," says SCM managing director Sam Gordon.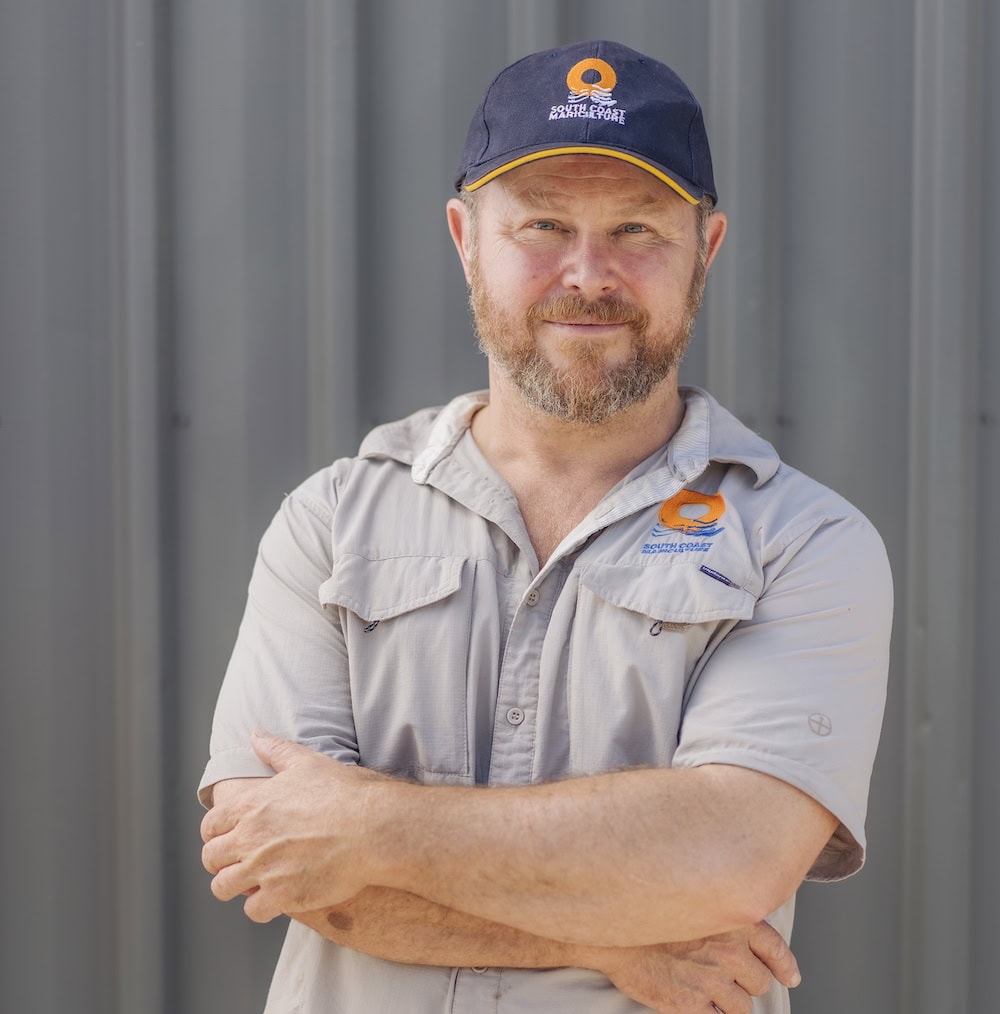 The journey to be mussel farmers began before then for Sam Gordon, Jim Doyle and their partners. Already operating Blue Harvest in the retail, hospitality and restaurant sector, they were frustrated with the undeveloped potential of a NSW mussel industry.
This included opportunities to value-add the product, develop a sustainable processing practice, and identify export opportunities for the Australian blue mussel, so they 'put their money where the mussel was' and invested in downstream supply chains to further develop the industry.
"We knew we had a market demand, and we knew we had natural competitive advantage with access to markets and incredibly fertile water for our 'paddocks'," Sam says.
Along the way the team has dealt with the triple whammy of bushfire, COVID-19 and floods, and the consequent effects on their mussel beds.
They've also invested to create a sustainable business that now employs 30 people between Jervis Bay and Eden, and at peak production operates 52 weeks a year.
Operating as a marine farm
Mussel farming is commonly practiced on longlines or rafts. Long ropes are anchored and looped, and raft-farming uses ropes suspended from an anchored raft.
In NSW, longlines are preferred over rafts, for aesthetic reasons. Using longlines also enables the farm to complement recreational diving and boating activities by the general public.
The NSW government has authorised mussel farming (under licence) within the Jervis Bay Marine Park, and that, in itself, creates a shared user component. Of course there will always be a proportion of the farmed stock lost through fishing by humans and predation by marine life.
"It's a very positive story to be working in a marine park," Sam says.
"Mussel farming creates an artificial reef that's a floating area. We encourage recreational fishers and divers to be in the lease area. The whale-sighting tourist boats have incorporated the reef into their tours."
Operating in a marine park creates an overlay of additional complexity, but Sam has found a way of dealing with it.
"There's more reporting, independent audits and studies (in partnership with universities and research agencies) that need to be undertaken because it's a marine park," he says. "We deal with more than 20 government departments.
"I had to take up meditation to deal with all the paperwork."
"We knew we had a market demand, and we knew we had natural competitive advantage with access to markets and incredibly fertile water for our 'paddocks'."

SAM GORDON
Managing director of South Coast Mariculture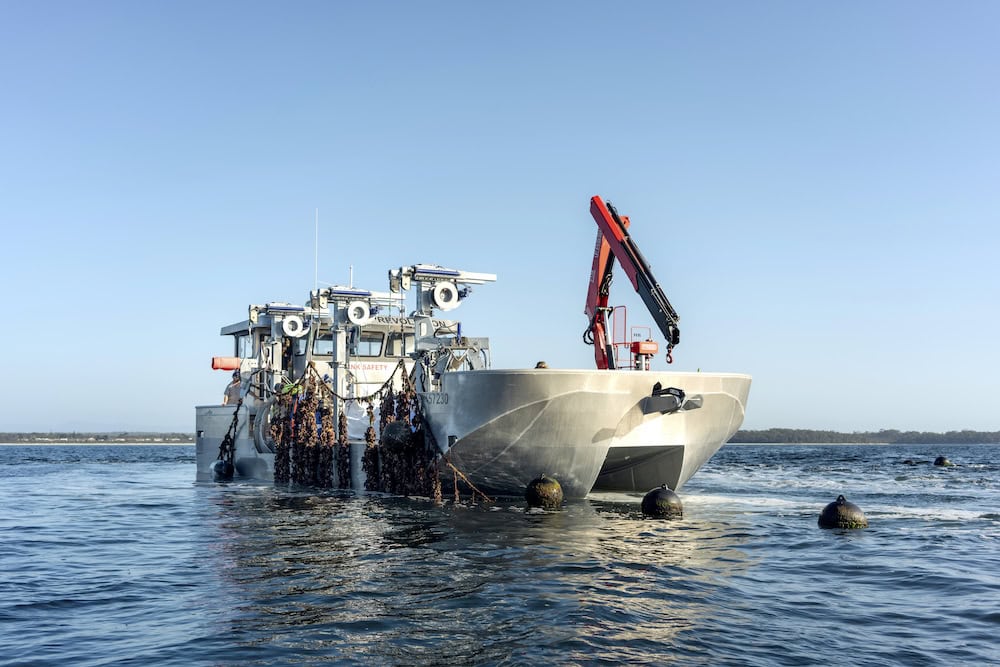 The downside
The 2019/2020 bushfires that impacted the Shoalhaven and Sapphire coastlines of NSW left behind burned trees around Twofold Bay. The subsequent flash floods in early 2021 washed this timber into Twofold Bay, and Jervis Bay saw an influx of round bales swept off surrounding farmland into the marine environment.
"The logs washed into our leases and got tangled in our spat lines," Sam says. "We lost about $1 million of spat.
"The round bales washed into our leases in Jervis Bay, creating problems there."
Natural runoff was also compounded by the excessive floods – with excess nutrients flooding into the Bay and the risk of e-coli, the mussel leases were closed to harvest.
While a seasonal occurrence of macroalgal blooms was expected, no one could plan for an influx on this scale.
The effects of natural disaster were compounded by supply chain problems that meant ongoing challenges with establishing and expanding the business.
"When COVID-19 hit we were still in the start-up phase," Sam says. "We were getting a purpose-built boat constructed in Tasmania. We were trying to import specialised pieces of equipment from overseas, and needing them to be commissioned here.
"We wanted marine drill specialists from New Zealand to help us set up the artificial reef, but they couldn't come to Australia.
"Instead we purchased a marine drill that leaves a minimal environmental footprint and we had to wait for that to be imported; but it means we have that asset we can use when we want to.
"Of course, everything was affected by border closures." While the effects of historical events – floods, macroalgal blooms – were part of the company's risk management plan, it was based on Jervis Bay being normally closed for six days a year.
"In 2022, the mussel farm in Jervis Bay was closed to harvesting for 25 weeks," Sam says.
"Mussels are filter feeders, and the advantage of Jervis Bay is the confluence of warmer waters coming from the east intersecting with cold water coming up from the Antarctic.
"The water flowing from Antarctica is oxygen rich and carries a lot of plankton and krill. These nutrients mixing with the warm water creates a (healthy) bloom, which the mussels feed on."
Unfortunately the additional nutrients created a dangerous bloom that led to substantial stock losses, as the mussels continued to grow and eventually became too heavy for the ropes they are growing on. They fell off.
"Mussels take 14 months to two years to grow to harvest size," Sam says.
"We can normally harvest 12 months of the year, but because we had to stop from March to July, our production cycle was thrown out and the mussels got too heavy and fell off the lines."
"Looking to the future, and the risk of climate change impacts, we've broadened our supply base and are bringing Victorian mussels to Sydney markets."

SAM GORDON
Managing director of South Coast Mariculture
Improving the process
The idle harvest period enabled Sam and his partners to improve their meat processing system, invest in a significant warehouse facility, and install a solar power facility and water recycling equipment.
The live holding tanks have ultraviolet light and biological filtering installed in a closed loop system. The company has also installed a specialised deep chill ice machine from Canada that extends the shelf life of live mussels.
They invested in eco-friendly packing materials: compostable mesh bags accredited to European Union export standard and recyclable trays that enable the mussels to be modified atmosphere packed.
The company also doubled the size of the farm within the existing lease in Jervis Bay.
Production has increased to meet demand for fresh mussels, transported daily to Sydney, and for value-add products. Sam says that the company is also exploring export opportunities.
"Starting this month (July) we'll be packing our processed meat products, as well as fresh mussels." There are a lot of value-add opportunities for mussel meat.
"We're looking to do mussel pots and pickling, brining and smoking mussels – processing mussels makes the meat more accessible for people who don't want to eat a live animal.
"A lot of products are made out of dried mussel meat: omega-3 health products and pharmaceuticals, equine health products, and dog pet food treats. What you're able to do with mussel meat protein is up to your imagination, according to Sam.
"Business continuity is your friend, and we're able to harvest more mussels by value-adding from products stored in our warehouse."
South Coast Mariculture is also spreading its risk against other natural disasters and extreme weather impacts. They recently broadened their supply base and are collaborating with mussel farmers around Port Arlington, in Victoria.
"Looking to the future, and the risk of climate change impacts, we've broadened our supply base and are bringing Victorian mussels to Sydney markets," Sam says. The logistics involve collecting the Victorian mussels and keeping them moist and cool during road transit to Jervis Bay. These mussels are then placed in the live holding tanks.
"They get a nice refresh, and then they're able to be processed," Sam says.
He also says that disease and cross-contamination risks from the Victorian mussels are mitigated by the ultraviolet light and biological filtering in a closed loop system in the live holding tanks.