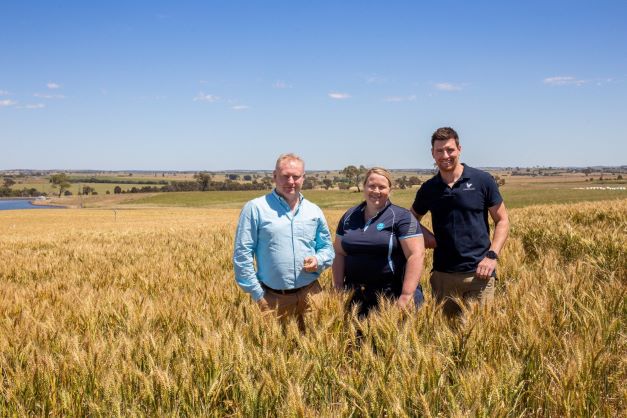 Using ultra high-resolution imagery, Agronomeye's Digital Foundation and AgTwinTM delivers a detailed, digital representation of the farm, with advanced modelling capabilities and dynamic overlays enabling farmers to understand the risks and opportunities for their property.
"There's already a huge amount of data available to farmers but the missing piece is the ability to integrate different datasets and visualise this at the farm level. AgTwin delivers that," Agronomeye Co-founder and CEO Stu Adam explains.
"There's already a huge amount of data available to farmers but the missing piece is the ability to integrate different datasets and visualise this at the farm level. AgTwin delivers that," Stu says.
Agronomeye enables all manner of software and hardware integrations.
"Once the Digital Foundation has been laid, it's a matter of just hooking up the rest of the farmer's data and technology to make the AgTwin come to life," Stu says.
"That might be yield or soil data, or dynamic data from satellites, sensors, or livestock movements. We bring it all together to create a living, breathing version of the digital farm that helps to drive optimisation. The more analytics and insights that can be delivered at the farm landscape level, the better."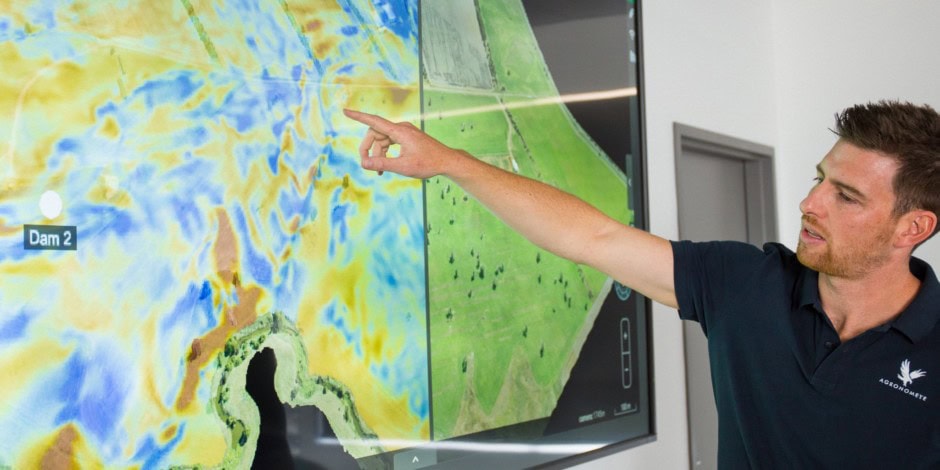 Agronomeye has now mapped and modelled over two million hectares of agricultural land in New South Wales, available for farmers to purchase to help make more informed decisions on-farm.
"Seeing the data in 3D is when the clarity and confidence really clicks in. Farmers are empowered to optimise what they do in a whole range of ways, from small changes like better placement of a pipe to gravity feed a trough, to major redevelopment of irrigated cotton fields," Stu says.
"By providing a digital 'source of truth', it's easy for the farmer to share with their bank, their insurers, in natural capital transactions, to optimise business outcomes, too."
While privacy and data sharing concerns remain limiting factors in the uptake of big data solutions, Agronomeye is on the front foot.
"We're all about being farmer first, so our view is the farmer owns the Digital Foundation. It's theirs to use and share as they see fit," says Stu.
Digital twins are already used in the construction, automotive and mining industries, to 'stress test' assets under different scenarios. And Stu sees a similar use case for Agronomeye.
"Where AgTwin really comes into its own is in throwing scenarios at it and seeing how the farm responds. Under existing management practices, how will your farm respond to a 1:50 year drought, for example?" Stu asks.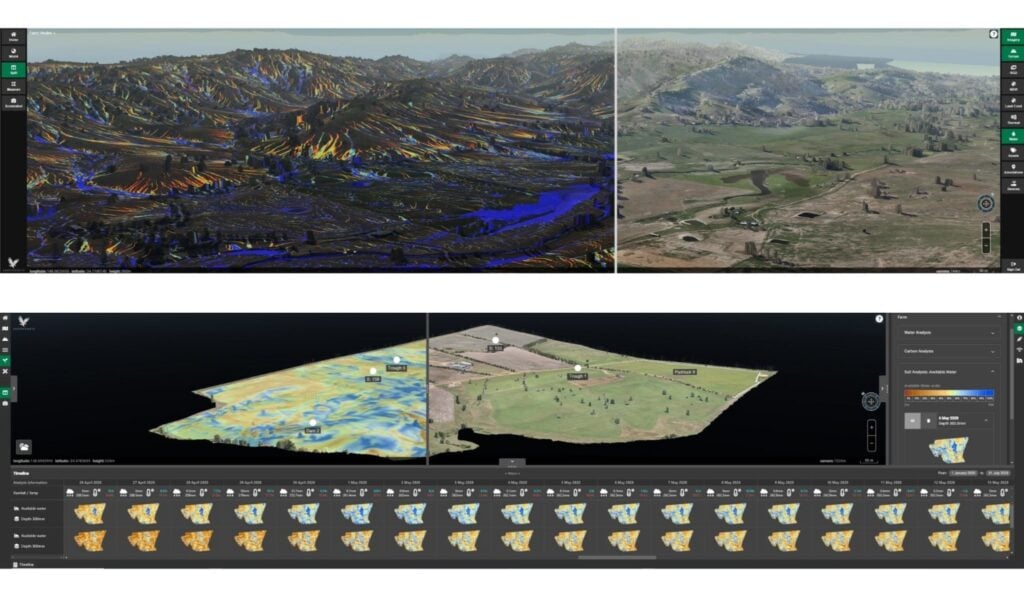 "The next step is, what happens if we build in some virtual optimisations across the farm and then run those same scenarios? What does that future look like?"
A collaboration with Microsoft's Azure FarmBeats technology is helping Agronomeye's users to make sense of disparate datasets.
"Combining soil sensors and satellite imagery to provide insights related to soil moisture across the farm is one example of the ways FarmBeats takes data and creates insights.
"But these insights need to be delivered in the context of the farm landscape, and Agronomeye is excited to be working with Microsoft to put this complete picture in the hands of farmers," adds Stu.
For the full article visit evokag.com
Agronomeye to feature at evokeAG. 2023
Agronomeye has been selected to participate in evokeAG. 2023 and will exhibit alongside 29 other startups as part of Startup Alley in Adelaide on 21-22 February 2023
The startup will join the brightest and the best together to talk about global agrifood innovation and tech and how these collide, intersect, connect, translate, complement, and challenge our most important assets – our farms, our Earth, our soil, our water.
The aim of evokeAG. is to connect the agrifood innovation community across the Asia Pacific and around the world through providing a digital platform and a premier annual agrifood tech event.
In a first, evokeAG. has launched a speaker-open call to identify speakers and themes in the lead up to next year's evokeAG. event – Down to Earth.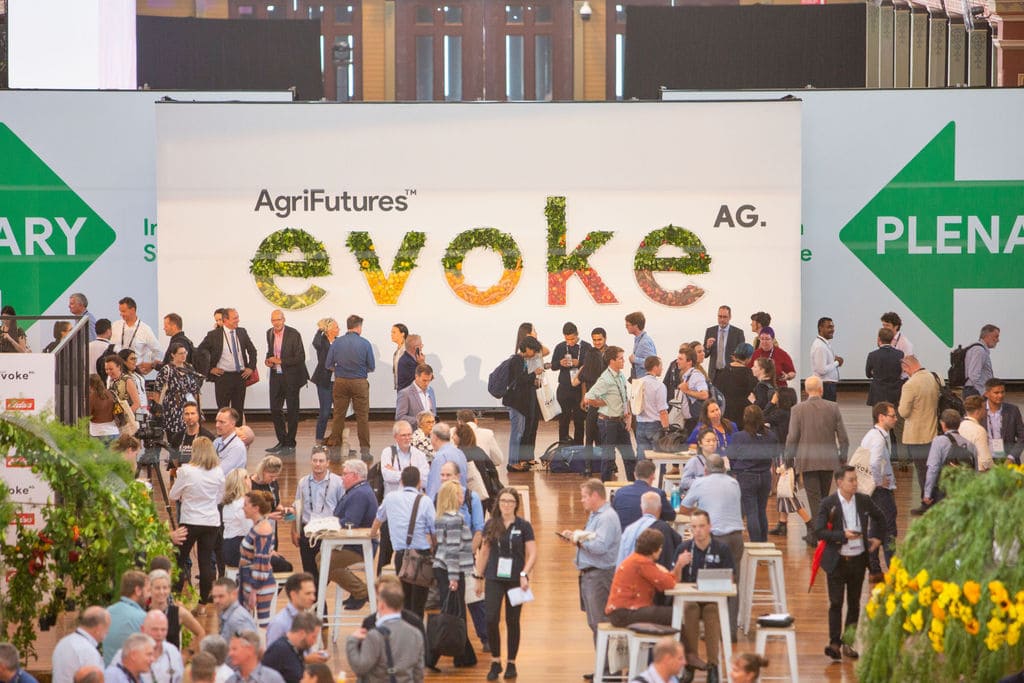 AgriFutures Australia Managing Director, John Harvey, says the speaker-open call seeks to unearth speakers, locally and globally, to talk about global agrifood innovation and tech with an international audience.
"evokeAG. attracts 100+ speakers, and even more enquiries from people asking how they can secure a spot on the evokeAG. program," John says.
"While the evokeAG. team will continue to look for local and global talent for the program, we are excited to see the variety of speakers that express interest and the ideas they bring with them."
"evokeAG. 2019 and evokeAG. 2020 were sell-out events, and with international borders reopening we anticipate an increased number of global delegates and are encouraging delegates – locally and globally – to secure their tickets sooner rather than later."

AgriFutures Australia Managing Director John Harvey
Early bird tickets for evokeAG 2023 now on sale at evokeag.com/events
The evokeAG. 2023 speaker open call is now open and closes on Tuesday, 31 May 2022 at 12pm (noon) AEST. Submit an expression of interest in the speaker open call here.
*Agronomeye was selected to showcase its technology at evokeAG. 2022 Sydney. Due to the cancellation of the 2022 event all Innovation Station participants will have the opportunity to exhibit in Startup Alley at evokeAG. 2023 to be held in Adelaide. Applications for Startup Alley will reopen later in 2022, and a further 20 startups will be selected to showcase their technology at evokeAG. 2023 – Down to Earth.