Luckily, the humble mushroom's divine properties have once again been recognised in recent years, and the mushroom industry continues to grow. Even better, 95 per cent of mushrooms eaten in Australia today are fresh.
In September, Hort innovation reported that in the previous year mushrooms had grown 7.2 per cent in terms of dollars, and 5.9 per cent in terms of volume. These figures are quite remarkable considering the number of mushroom growers in Australia is relatively small. 
"We have seen the mushroom industry consolidate since the 1980s when Australia had about 140 mushroom growers," says Martine Poulain, Relationship and General Manager of The Australian Mushroom Growers Association (AMGA). "By 2016, we had only 42 growers, and this figure has remained stable. But, our growers are still producing the same volume as when we had over 100 farmers."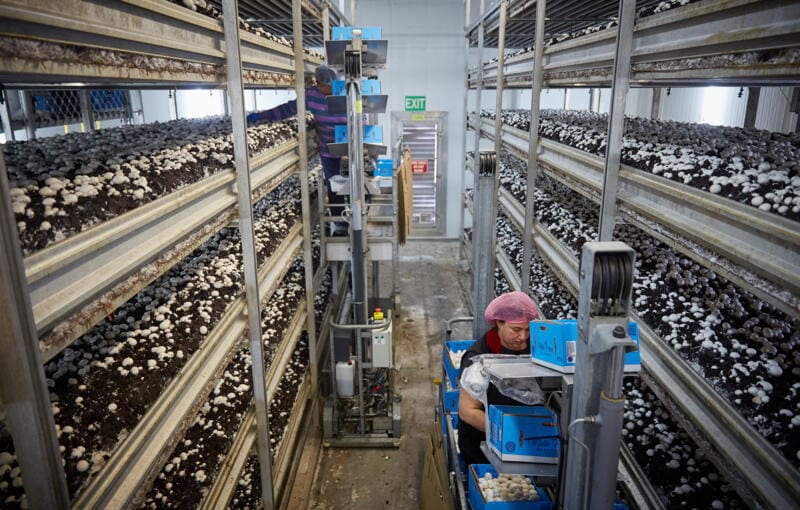 Commercial mushroom growing in Australia can be traced as far back as 1933, and mushrooms are now Australia's sixth most valuable horticulture crop, and the third most valuable fresh produce item in the vegetable section of the supermarket after potatoes and tomatoes. According to the AMGA, more than 85 per cent of Australian households purchase fresh mushrooms regularly, with 55 per cent buying them at least once a week. 
Any disruption to the industry would be keenly felt by Australian consumers, and while mushrooms are grown indoors and aren't impacted by seasonal issues like other crops, the drought has impacted the availability of straw – vital for making compost in which to grow the mushrooms – and electricity costs and labour prices have continued to increase dramatically in the past five years, eating into profit margins.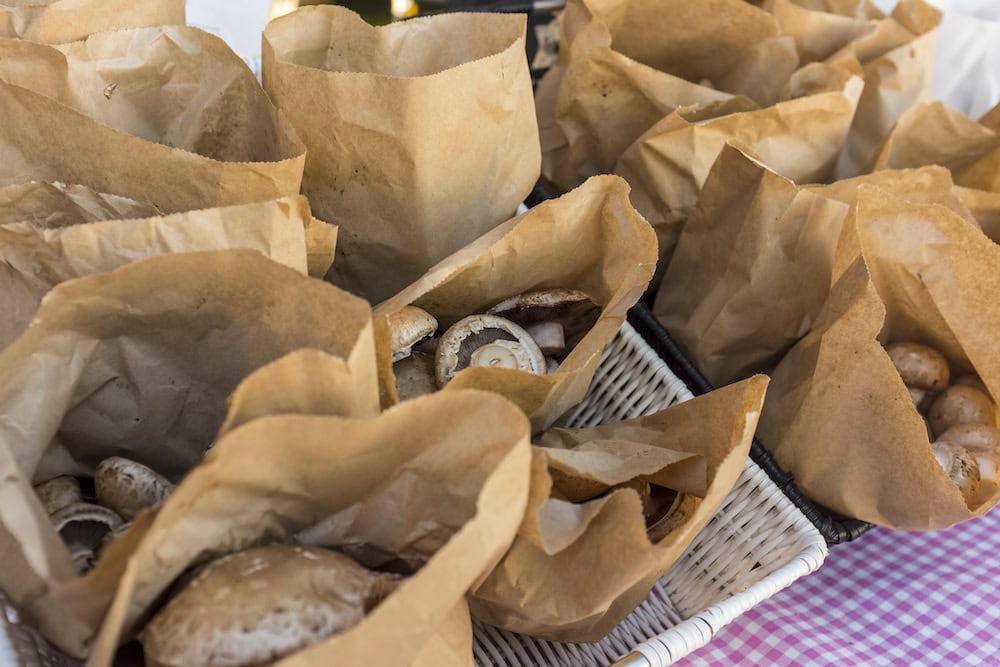 "Australia's producers of Agaricus bisporus currently produce over 70,000 tonnes of mushrooms annually at a farm gate value of over AU$440 million. As a highly labour intensive industry, those businesses rely on a workforce of over 3,500 employees working in a wide cross-section of roles. But the job the pickers do is vital to the reputation of the grower. If they do a rough job, 24 to 48 hours post-harvest you'll see that damage," describes Poulain.
NSW is the second largest producer of Australian mushrooms with 22,500 tonnes grown in 2018-2019, just behind Victoria's 25,500 tonnes. However Australia's largest privately owned mushroom business, operated by the Tolson family and producing 14 million kilograms a year, is based in NSW.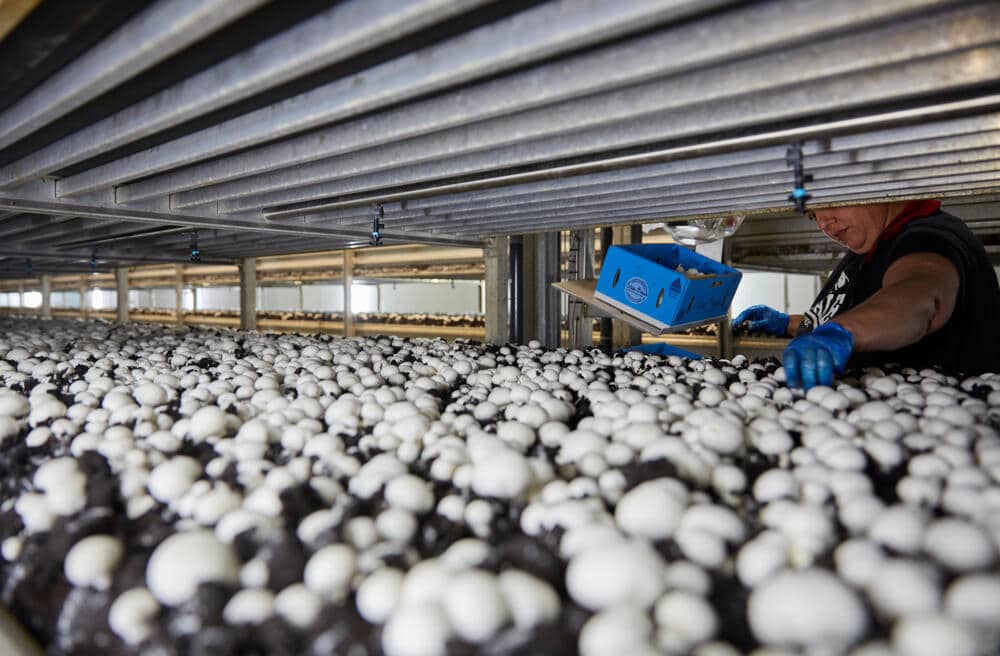 A healthy mushroom industry
There are 14,000 known species of mushrooms around the world, with possibly another 150,000 yet to be named or described, and while they can differ radically in appearance, taste and growing method, there is one thing they all share – mushrooms are overflowing with health benefits.
"The rise in health consciousness among consumers across the globe is one of the key factors driving the growth of the market here in Australia," explains Poulain. "Owing to shifting preferences toward plant-based diets and vegan foods, mushrooms are being preferred as a protein-rich, vitamin-rich and mineral-rich substitute to meat."
While the AMGA only represents those farmers that grow Agaricus bisporus mushrooms – the common varieties like button, portobello, cup, flat and swiss brown – alternative mushrooms, like king oyster and lion's mane, are also surging in popularity due to their health benefits and ability to act as nutritious meat substitutes. A review of 5,000 global studies undertaken by Hort Innovation in July 2020 discovered that mushrooms are shown to reduce inflammation, increase fullness and reduce hunger, and improve gut health.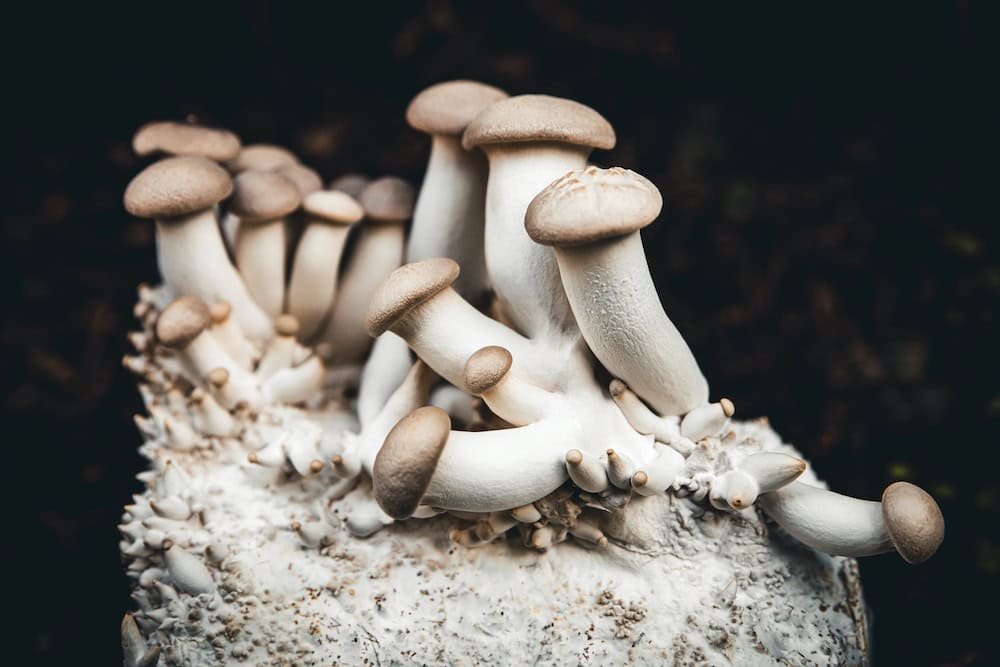 "The immunity and health benefits of mushrooms, and their capacity to store Vitamin D (once exposed to sunlight), has meant that they are regarded as a super health food during this pandemic. Consumers are looking at their health more than ever and we have seen a solid increase in mushroom sales over 2020," notes Poulain. 
New type of fungi
The AMGA claims that 90 per cent of people over the age of 25 either like or love mushrooms (only half of children do). Considering that in 2018-2019 Australia was a net importer of fresh mushrooms, with more than 82 per cent of imports coming from South Korea, there is plenty of room for new growers to enter the market, especially in the exotic and alternative categories. For instance, the reported neuroprotective properties of lion's mane mushrooms have pushed its retail price as high as AU$85 a kilogram.
While new technologies are creating more efficient mushrooms farms that can shorten cropping cycles and double production, mushroom roots and spores are also now being used for other innovations, like manufacturing 'fungi leather'. Biodegradable, sustainable and ethical, fungal leather prototype products, including watches, purses and shoes, were released in the US, Italy and Indonesia last year, and are expected to be on sale soon. The industry has certainly come a long way since the canned mushrooms of the past.
"There is no typical Australian mushroom grower. Our industry is made of a few large players, but our growers are mostly smaller, family-run, generational businesses, and the AMGA will continue to 'promote and protect' the industry and support growers in the future as we do today," concludes Poulain.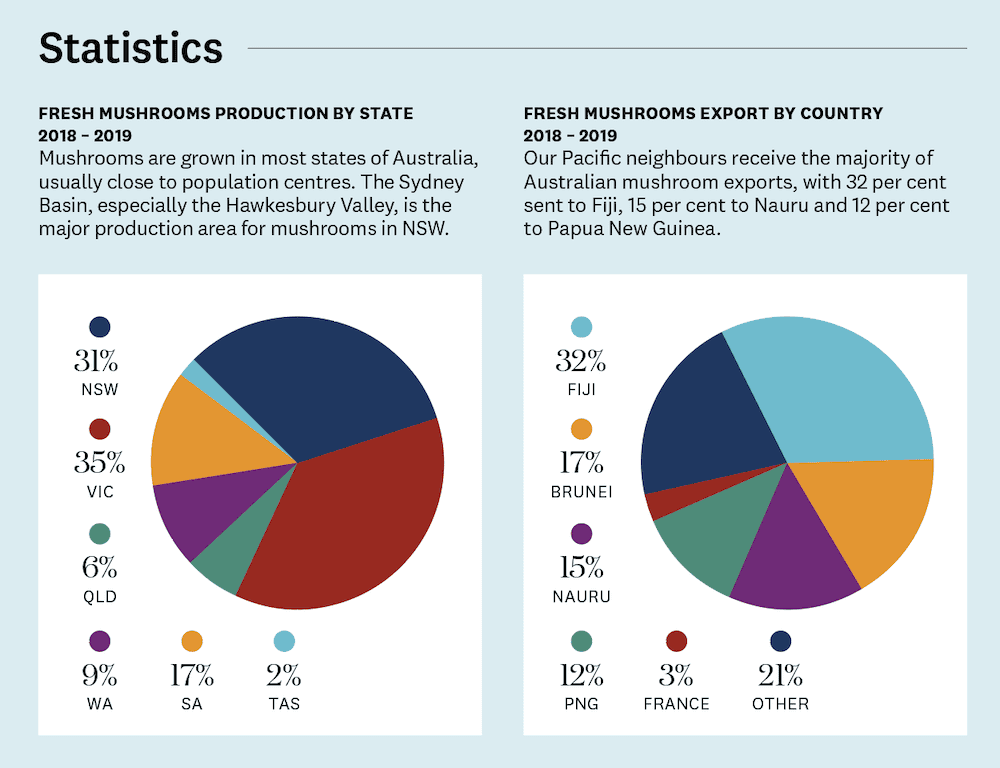 If you enjoyed this story on the mushroom industry, you might like our feature on the lavender industry.